Local and national COVID update for August 26, 2021
A pediatric patient has died of COVID, poison control is flooded with calls about ivermectin, and more records.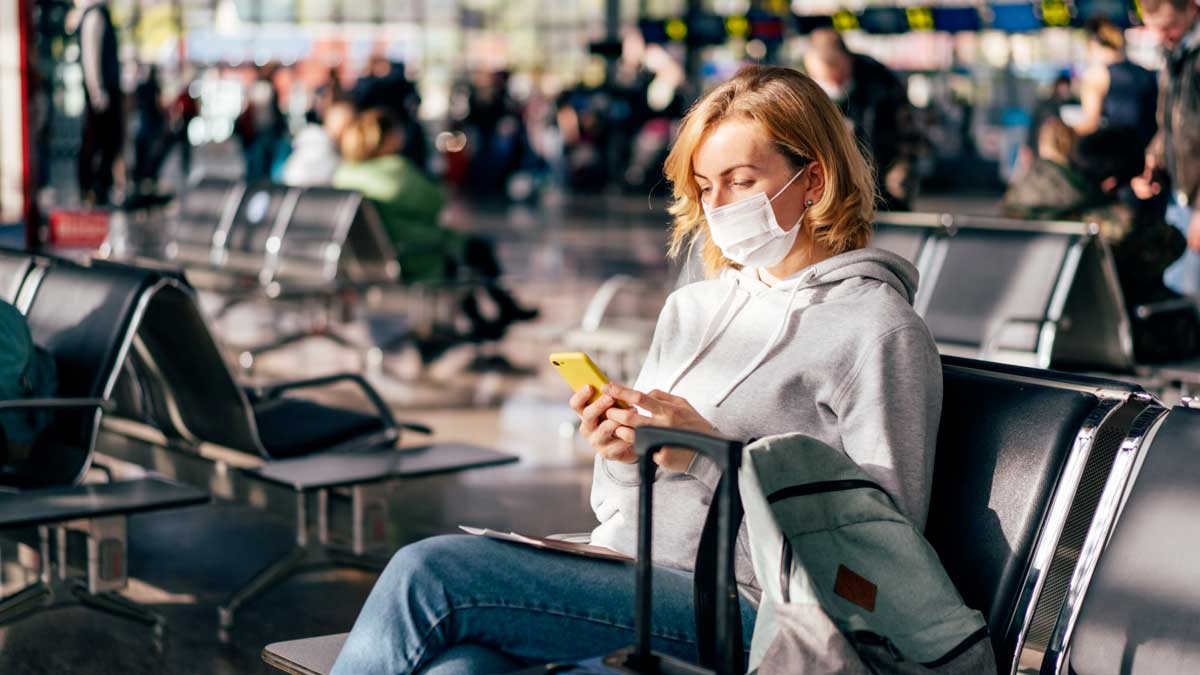 Knowledge is the best tool to fight against fear. A wise person chooses to be informed so they can make sound decisions. To join the fight against COVID misinformation, you can share this update through your social media platform of choice.
[KING COUNTY, Wash.] – (MTN) The United States has over 100,000 people hospitalized due to COVID for the first time since January, a six-fold increase of patients in nine weeks. Local health officials reported a pediatric patient has died of COVID in the state and 9 people have required treatment for Ivermectin poisoning. There is some fresh misinformation circulating about the Pfizer vaccine on social media.
We really want to bring you some good news, and the power is in your hands.

This update uses the latest data from the Washington State Department of Health released on August 26, 2021.
---
Washington State Update for August 26, 2021
Washington state COVID update
Another day, another record, and another sign that the epidemiological curve for new cases is slowing down. Through August 18, the 14 day rolling average Washington grew again to 525.6 COVID cases per 100K, which is another record. Benton (1,101.1 per 100K), Cowlitz (1,072.4 per 100K), and Franklin (1,210.2 per 100K) continue to have an extreme number of new cases. Asotin, Douglas, Grant, Lewis, and Lincoln counties are not far behind.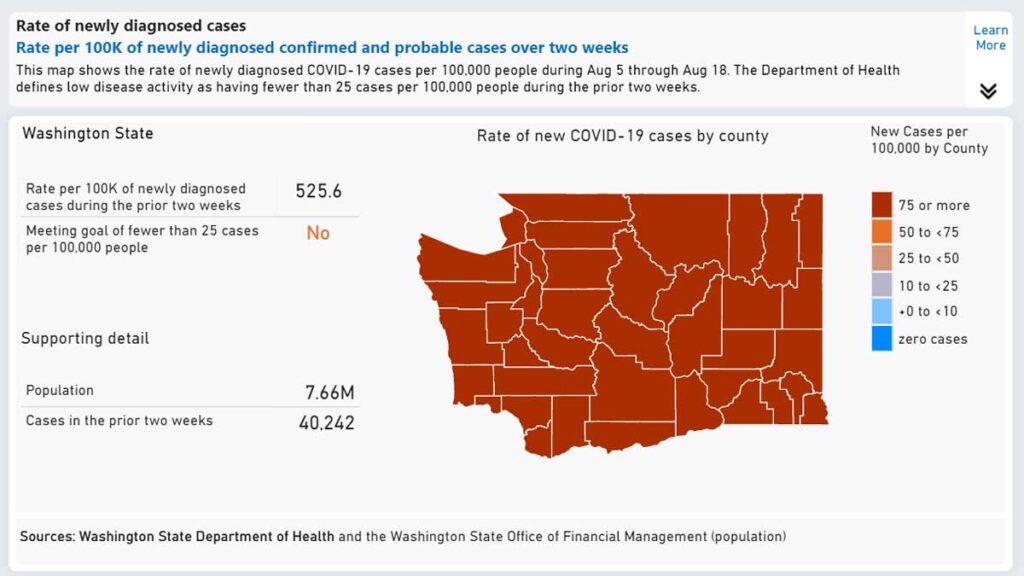 The Washington State Department of Health reports a data backlog for test positivity, with the published number 14 days old. According to Johns Hopkins University Medicine, the positivity rate for the last 30 days is 12.78%, and over the previous 7 days, 12.41%. These numbers indicate continued widespread community transmission driven by the unvaccinated and under testing of the population
The USA Today COVID Tracker reported 31 COVID-related deaths in Washington yesterday.
Washington State Department of Health issues statement on Ivermectin as poisoning calls flood the state
Washington state has treated nine people since the beginning of August after they misused Ivermectin meant for livestock such as horses and sheep. The increasing calls into poison control and people seeking medical assistance force the state to address the issue in a news release this afternoon.
The Washington State Department of Health (DOH) warns people should not take ivermectin to prevent or treat COVID-19, following today's Health Alert Network advisory released by the Centers for Disease Control and Prevention (CDC). Ivermectin is an antiparasitic drug used commonly in humans and animals. Although it is approved by the U.S. Food and Drug Administration (FDA) for the treatment of some parasitic worms, external parasites, and skin conditions, evidence shows it is ineffective against treating the COVID-19 virus and the side effects can be potentially dangerous.
Side effects may include but are not limited to, skin rash, nausea, vomiting, diarrhea, stomach pain, facial or limb swelling, dizziness, seizures, confusion, a sudden drop in blood pressure, and liver injury (hepatitis). Drugs prescribed for animals are often highly concentrated because they are used for large animals and therefore may be toxic to humans. The FDA has received multiple reports of people who were hospitalized after self-medicating with ivermectin intended for horses. In July 2021, poison control centers across the country reported a five-fold increase in the number of calls for human exposure to ivermectin.
Despite the dangers, nationwide the CDC has seen a sharp increase in both providers prescribing and patients requesting ivermectin for COVID-19. According to the CDC, during the second week of August more than 88,000 prescriptions were reported nationwide, which is 24-times higher than the number of prescriptions written before the pandemic and more than double the previous peak of prescriptions written in early January 2021. The FDA has established a cross-agency task force that closely monitors for fraudulent COVID-19 products that claim to prevent, diagnose, treat, or cure COVID-19.
Eatonville School District scraps contact tracing program for student athletes
The Eatonville School District's attempt to implement the same contact tracing technology used by the National Football League (NFL) hit a brick wall after community outcry, forcing the program to be shelved. Student-athletes and coaches would wear monitors to provide precision contact tracing, regardless of their vaccination status.
The NFL implemented this program because without it if a player were to test positive for COVID, the whole team would have to be quarantined. This would result in forfeited games, lost revenue, and local impact on employees at stadiums.
In a story done by KIRO, they reported they talked to some players and all of them were favorable about the program.
Western Washington ICU nurses don't want to face this latest wave
Last week we reported how anti-mask and anti-vaccination protesters were outside of Providence Everett Hospital, which was the first medical facility in the nation to treat a confirmed COVID case. It seems some inside heard their message, but this probably isn't the response they expected.
A KING 5 story highlighted the emotional toll on one ICU nurse, Kristina Zeh.
"I got to the point where I felt that the cost of working directly with COVID patients in the ICU was too high to be worth it," explained Zeh. "I decided to leave because I just couldn't emotionally or mentally get through another surge of COVID. A big part of me felt like I was needed, my skillset was needed, but I also needed to take a step back and take care of myself first."
Zeh said the breaking point came as she watched more COVID-19 patients filling up the hospital, most of them were unvaccinated.
This situation is playing out across the United States, with traveling nurses refusing to go to Texas or Florida despite offers as high as $13,000 a week. We reported yesterday that Mississippi has lost 2,000 nurses since the start of the year.
We are waiting to hear from the Department of Health Public Information Officer
We've been working with our partners in the Department of Health and we got an update that answers to your questions are coming. What we've passed along includes
Explanation on the data difference between the Washington Hospital Association and the Washington State Department of Health, the preliminary answer we have is the DoH numbers are the accurate ones and they are looking into how the WHA counts their numbers
How many Pediatric ICU beds are in Washington state, and if they will start providing tracking information on PICU occupancy
How is the state working to address the shortage of long-term care facilities and what progress has been made
Can we get more granular information on pediatric COVID cases, and we ask specifically if they could break out the data from birth to 11 and 12 to 19 years old
Thank you for your questions, and we will keep trying to find you the answers.
New IHME Forecast predicts the crest of the fifth wave comes in October
The closely watched IHME forecast is projecting almost 3,000 additional COVID deaths in Washington state between now and December 1, 2021. The gloomy model now predicts new cases will peak at the end of September and hospitalizations will peak in the third week of October. The same predicts that if Washington state remains masked with high compliance, the number of fatalities could decline by 1,400.
SPOG President Mike Solan warns of an exodus of Seattle police officers over vaccine mandate
On Solan's podcast, Hold the Line, he stated, "I can tell you right now, we could potentially have a lot of officers that could be terminated by this mandate." Currently, the city has 29 officers who have tested positive for COVID and 33 employees in isolation or quarantine. Embattled Mayor Jenny Durkan, who opted not to seek reelection is unphased.
"Every person who makes a decision not to get vaccinated is not just jeopardizing their own health," she told KUOW, "they're jeopardizing the health of the people around them," Durkan said.
Vaccination
Johnson & Johnson reported yesterday that getting a second dose of their vaccine provided a ninefold increase in antibodies, in an ongoing study. The Johnson & Johnson vaccine uses a more traditional vaccination strategy using a neutralized adenovirus as a messenger to the immune system.
Pfizer, which was the first vaccine to receive full FDA approval, is in phase 3 clinical trials for their booster shot and found there was a threefold increase in antibodies.
We reported yesterday that data out of Israel was showing very encouraging news about the effectiveness of COVID booster shots.
Hospital Status
On August 25, 87.8% of available adult staffed acute care beds in Washington state have patients. The data indicated there were 1,091 acute care beds available statewide and 242 in King County. The state has gained 31 staffed beds since yesterday. The Northwest, North Central, and South Central Regions were over 80% utilization, and the West, Central, and East Regions are over 90%. According to the Washington State Department of Health, there are 1,401 adult COVID patients in acute care, 94% unvaccinated. This is an increase of 25 from yesterday, which is 15.7% of all acute care patients.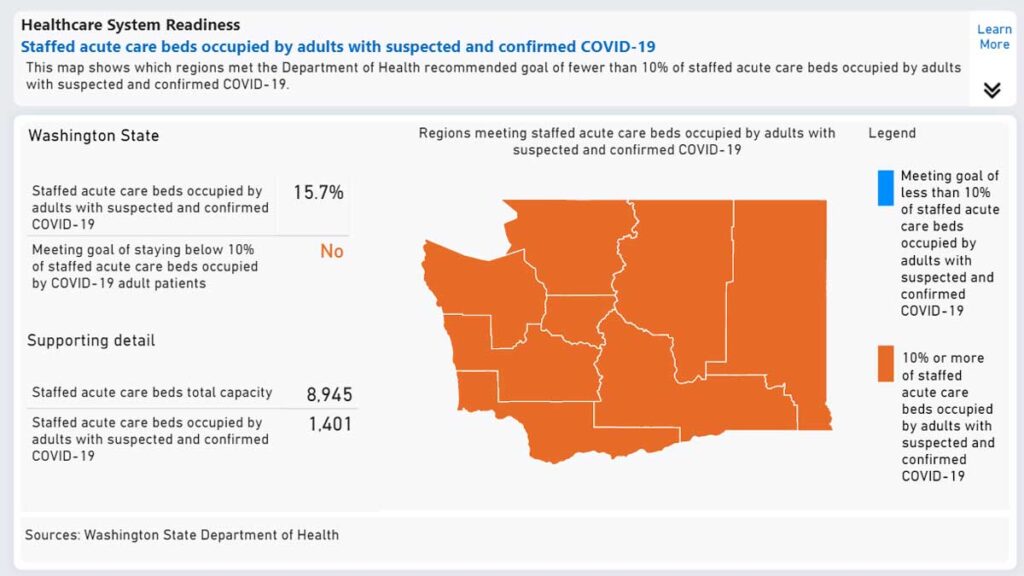 Statewide ICUs were 87.4% occupied with 153 staffed beds available, 53 located in King County. The number of COVID patients statewide in the ICU increased to 354 and the state gained 13 staffed ICU beds. A combined 1,755 adult patients are hospitalized in Washington state, breaking yesterday's record.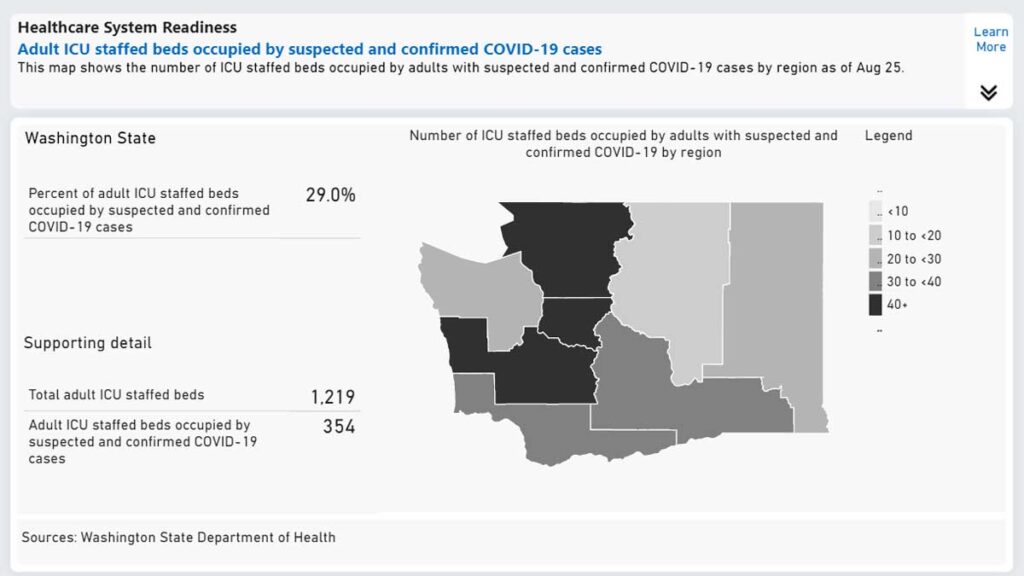 A hospital is considered to be under "extreme stress" when more than 20% of their total patients have COVID, according to the Institute for Health Metrics and Evaluation at the University of Washington. Another factor is how many ICU patients a hospital has. If COVID is impacting more than 30% of patients in intensive care, a hospital is considered to be under "high stress," and at 60% it is considered to be under "extreme stress."
Apply this measurement to Washington State Hospital Regions, only the Central Region which includes Seattle and Bellevue, and the East Region, which includes Spokane, are not stressed. The West, North Central, Southwest, and South Central regions are under extreme stress with acute care patients and the North and Northwest regions are under high stress due to ICU patients.
The North Central District, which includes Okanogan, Chelan, Douglas, and Grant counties is of particular concern with 21.1% of acute care patients and 56.3% of ICU patients being treated for COVID.
Washington state continues to have a critical shortage of blood, with a less than 24 hour supply for five out of eight blood types. The situation has deteriorated since August 3. There will be a blood drive in Kirkland on August 30 and 31. We will publish additional details when they become available.
The East Region remains critically low on ICU capacity with 10 beds available in the latest report.
In breaking news, Providence Health announced that Sacred Heart Medical Center and Holy Family Hospital in Spokane are pausing "additional" surgeries. The cutback has been made due to staffing shortages and patient load. The hospital added in the announcement that over 90% of its patients are unvaccinated.
Back to School
First day of school for area districts:
Lake Washington School District – September 1
Bellevue School District – September 1, 1st through 12th, September 3, kindergarten
Northshore School District – September 1, 1st through 12th, September 1 or September 2 for kindergarten on a staggered start
The next board meeting for the Lake Washington School District is September 13, 2021, at 7:00 PM and will be remote only.
Kirkland-Bellevue-Woodinville
No update
National Round-Up
Johns Hopkins University reported over 148,143 new cases and 1,456 deaths yesterday. This is the second day in a row where national deaths have exceeded 1,400 people. John Hopkins also reported that over 100,000 people are hospitalized with COVID in the United States. Two states, Florida with 17,164 cases and Texas with 13,928 cases represent 31% of hospitalizations for COVID. California has 8,661 cases statewide, but officials are reporting that the cases are leveling off and hospitalizations are starting to decline.
The IHME adjusted their COVID forecast and is predicting another 100,000 fatalities in the United States by December first if more action isn't taken.
Arkansas
Arkansas has reported they have run out of ICU patients with a record-breaking 354 patients on ventilators (Washington state has 354 ICU patients total in contrast).
Georgia
Georgia continues to set new records with 90% of all ICU beds in use. Almost 50% of the ventilators available in the state are in use. Wellstar Health System, which runs several large hospitals in Georgia reported that 91% of all COVID patients are unvaccinated and 97% of ICU patients are unvaccinated.
Florida
Governor Ron DeSantis continues to refuse to declare a state of emergency as liquid oxygen shortages start to impact state infrastructure and space operations. Tampa Bay residents, already reeling from Red Tide and COVID have been asked to conserve water. In a statement on Wednesday, Tampa Bay Water announced they would have to replace oxygen with bleach to purify water, impacting 2.5 million customers. Officials are sounding the alarm noting that hospitals need oxygen and clean water to operate.
Space launch operations for SpaceX and ULA have also been directly impacted due to a lack of liquid oxygen, required for rocket launches. Blue Origin doesn't have a planned launch until early next year but was notified the launch could be impacted due to the tight supply. NASA's planned launch of Artemis I mission was planned for 2021, which could also be impacted.
Florida hospitals are using 300% to 400% more oxygen than normal treating over 17,000 patients. A recent survey indicates that 68 hospitals in the state have less than a 48-hour supply of oxygen on site. Twenty-nine hospitals have gotten to a 12 hour supply or less since July 1.
Hawaii
Leaders from the Native Hawaiian community held a joint press conference at the state Capitol urging the native community to get vaccinated and wear masks.
"We are asking the Hawaiian community – based on our history of disease – to take charge and consider getting the vaccine, wearing a mask indoors and outdoors, and social distancing."
The Department of Health issued a swift rebuke against the Pono Coalition for Informed Consent for spreading misinformation.
"The Pono Coalition for Informed Consent is spreading misinformation about these lifesaving vaccines. This is dangerous. The Coalition proliferates misinformation about the severity of the disease and the safety of the vaccines."
Dr. Lorrin Pang, the Maui District Health Officer is a co-founder of the organization and was not mentioned in the statement.
Idaho
Idaho hospitals are on the brink of collapse as state officials are now asking for volunteers to provide support in struggling medical facilities.
"There's a wide variety of positions available, a wide variety of skill sets — we need positions in every part of the state," Elke Shaw-Tulloch, administrator for the Department of Health and Welfare's Division of Public Health, said at the briefing, according to The Associated Press.
The state also announced they were opening three monoclonal antibody treatment centers in North Idaho, East Idaho, and the Treasure Valley. The program hopes to capture symptomatic COVID patients before they require hospitalizations. Monoclonal antibodies are effective if given within 96 hours of treatment and for patients who don't require oxygen support.
Kootenai Health in Coeur d'Alene had to convert a classroom into a patient care unit to avoid running out of staffed beds. The hospital is housing a record 97 COVID patients, 37 in ICU and 97% of all COVID patients are unvaccinated.
Illinois
Illinois joined a growing list of states requiring vaccinations for teachers and healthcare workers. PreK through grade 12 teachers and staff and higher education personnel and students, will have to be fully vaccinated by September 5 or receive weekly testing. The same applies to a range of healthcare workers in the state.
Governor J.B. Pritzker has also issued a statewide indoor mask mandate that will begin on Monday. The governor got into a testy exchange with WIND radio talkshow host Amy Jacobson during the announcement, which led to accusations of her spreading, "misinformation." Jacobson has been an outspoken critic of COVID mitigation programs and in 2020 compared the governor to Hitler, at a rally to protest lockdowns.
Civil Rights leader Jesse Jackson spoke with the Associated Press from the hospital briefly and told the agency he was doing "fairly well" and responding to treatment. Jackson was hospitalized 3 days ago along with his wife. Jackson was vaccinated in January, however, his wife Jacqueline was not due to a pre-existing health condition.
Maine
All four hospital networks held a joint press conference, appealing for residents in the state to get vaccinated. Maine is experiencing a surge in cases that rivals the April wave, and shows no signs of slowing.
"Stats of the day: there are 133 people in the hospital with COVID-19 in Maine right now. Fifty-nine are in the ICU and 27, on ventilators. Of 332 total ICU beds in Maine, 34 are available right now. Yesterday (Wednesday), there were 39 available beds. And on Tuesday, there were 52," Shah said in a tweet. Maine hospitalizations for COVID peaked at more than 200 in mid-January.
Maine is roughly the same size as Indiana.
Mississippi
The Mississippi State Department of Health reported that a sixth child has died of COVID. Officials reported on Wednesday that the child was under 5 years old. Mississippi has been teetering on the brink of a systemwide hospital collapse, forcing officials to issue the strictest quarantine rules in the United States. Hospitalizations appear to be leveling off, but officials may be looking at their next major challenge with Tropical Depression 9 expected to be a major hurricane this weekend.
Nebraska
Nebraska reversed course after deciding to stop reporting COVID data publicly on June 30 and is sharing data again. The state joins Florida and Iowa, providing a weekly snapshot. 70% of states, including Washington, no longer provide daily COVID data updates.
North Carolina
State officials are reporting there are 3,503 people hospitalized with COVID a fourfold increase from a month ago. Only 49% of all North Carolinians are vaccinated, and 94% of hospital patients with COVID are unvaccinated.
Oregon
CBS News ran a report from Asante Rogue Regional Medical Center in Medford, Oregon while anti-vaccination protesters chanted and honked horns outside. Oregon ICUs are at 93% capacity.
"We have patients waiting to get onto life support," ICU Dr. Somnath Ghosh said. "The turnaround is so rapid, it's pretty sad."
ICU nurse Clarissa Carson said relatives used to be able to stay in rooms to grieve after loved ones passed as long as they wanted. Now, they have to be out in less than an hour so another COVID patient waiting down the hall can get in.
Pennsylvania
KISS fans who want to rock and roll all night, and party every day will have to wait for another date. Singer Paul Stanley tested positive for COVID-19 canceling the Burgettstown show. On Twitter, the band indicated that everyone on the tour is vaccinated, "both the band and the crew."
You might remember Margaret Ann Cirko, now 37, from March 2020. Cirko coughed and spit on over $35,000 worth of groceries in a Wilkes-Barre grocery store as staff and customers watched in disbelieve. In June she pled guilty to a felony count of making bomb threats.
Cirko apologized and said she was drunk at the time of the incident. A Luzerne County judge called Cirko's conduct "totally outrageous" and sentenced her to one to two years in jail, to be followed by eight years of probation. She also was ordered to pay nearly $30,000 in restitution.
Tennessee
On the early topic of the NFL and contact tracing, nine players of the Tennessee Titans have tested positive for COVID, including quarterback Ryan Tannehill. Team officials report that 97% to 98% of the Titans are vaccinated – but they did not indicate if that included just players, or players, coach staff, and back office.
Texas
Health officials in Houston reported a child died of COVID while having no other underlying medical conditions. This is the seventh pediatric death in the nation's fourth-largest city. The Health Department stated the child was from 10 to 19 years old and was unvaccinated.
"This tragedy serves as a reminder that children, even without underlying health conditions, can get seriously ill and die from COVID-19," said Dr. David Persse, chief medical officer for the City of Houston. "Getting vaccinated is not only about protecting you, it's about protecting everyone close to you, especially your family, from serious illness and death."
The Texas Supreme Court struck down the Bexar County mask mandate for schools on the same day the county reported 45 COVID deaths in two days, all unvaccinated.
"It's so distressing to see the governor of this state doing everything else he can possibly do to stop us from saving (children)," Wolff said.
The case will go back to the Fourth Court of Appeals in San Antonio, who will further consider the temporary injunction.
Misinformation
A burst of content has been spread stating that the FDA did not give full authorization to the Pfizer vaccine. Instead, the agency only extended emergency approval, and sometimes they provide an end date.
The FDA Fact Sheet for Healthcare Providers Administering Vaccine document which was released on August 23, 2021, is where this misinformation is coming from. Through some selective editing, and ignoring pages 1 through 15, you reach this guidance.
"Pfizer-BioNTech COVID-19 Vaccine is authorized for use under an Emergency Use Authorization (EUA) for active immunization to prevent coronavirus disease 2019 (COVID-19) caused by severe acute respiratory syndrome coronavirus 2 (SARS-CoV-2) in individuals 12 years of age and older."
That looks like the case is closed, but it isn't. The first page of the document states clearly that the Comirnaty vaccine produced by Pfizer is an FDA-approved COVID-19 vaccine for individuals 16 years of age and older. It is also authorized for emergency use in individuals 12 to 15 years old.
"COMIRNATY (COVID-19 Vaccine, mRNA) is an FDA-approved COVID-19 vaccine made by Pfizer for BioNTech. It is approved as a 2-dose series for the prevention of COVID-19 in individuals 16 years of age and older and is also authorized for emergency use in individuals 12 through 15 years and to provide a third dose to individuals 12 years of age and older who have been determined to have certain kinds of immunocompromised. The FDA-approved COMIRNATY (COVID-19 Vaccine, mRNA) and the EUA-authorized Pfizer-BioNTech COVID-19 Vaccine have the same formulation and can be used interchangeably to provide the COVID-19 vaccination series."
Misinformation based on some degree of fact can be the most dangerous because it can be harder to disprove. We rate this as mostly false. The Pfizer vaccine has full FDA approval for individuals 16 and older.
Like, Share, Follow, Support