Local and national COVID update for August 27, 2021
Hospitals continue to rise along with cases as the start of school and a holiday weekend looms ahead.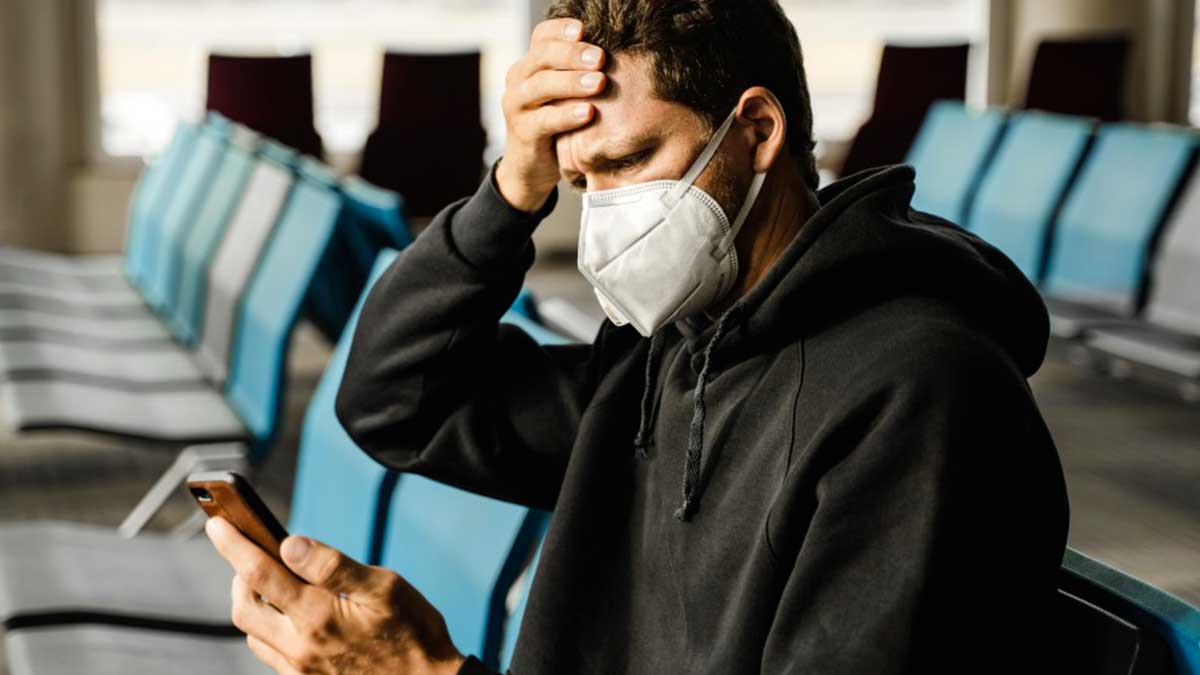 Knowledge is the best tool to fight against fear. A wise person chooses to be informed so they can make sound decisions. To join the fight against COVID misinformation, you can share this update through your social media platform of choice.
[KING COUNTY, Wash.] – (MTN) King County Health Officer Dr. Jeff Duchin held another briefing today, COVID cases reach another record, and there are changes coming in how the state is reporting COVID information next week. Overlake Hospital discussed the stress they are under as a facility, and in Eastern Washington, Tri-Cities hospitals have been diverting emergency patients every day this month.
To summarize tonight's update – hope for the best and expect the worst.

This update uses the latest data from the Washington State Department of Health released on August 27, 2021.
---
Washington State Update for August 27, 2021
Washington state COVID update
The state of Washington is retiring the Governor's Risk Assessment Dashboard on Monday. The Washington State Department of Health website states that the data can be found on the Department of Health COVID dashboard. Currently, the granular data on hospital resources is not available on that dashboard. We urge the state of Washington to continue to make this information available to the public.
The epidemiological curve for new cases continues to slow down. Through August 19, the 14 day rolling average for Washington grew to 534.4 COVID cases per 100K. Benton (1,088.5.1 per 100K), Cowlitz (1,107.7 per 100K), and Franklin (1,180.2 per 100K) continue to have an extreme number of new cases. Asotin, Chelan, Douglas, Grant, Lewis, and Lincoln counties are not far behind.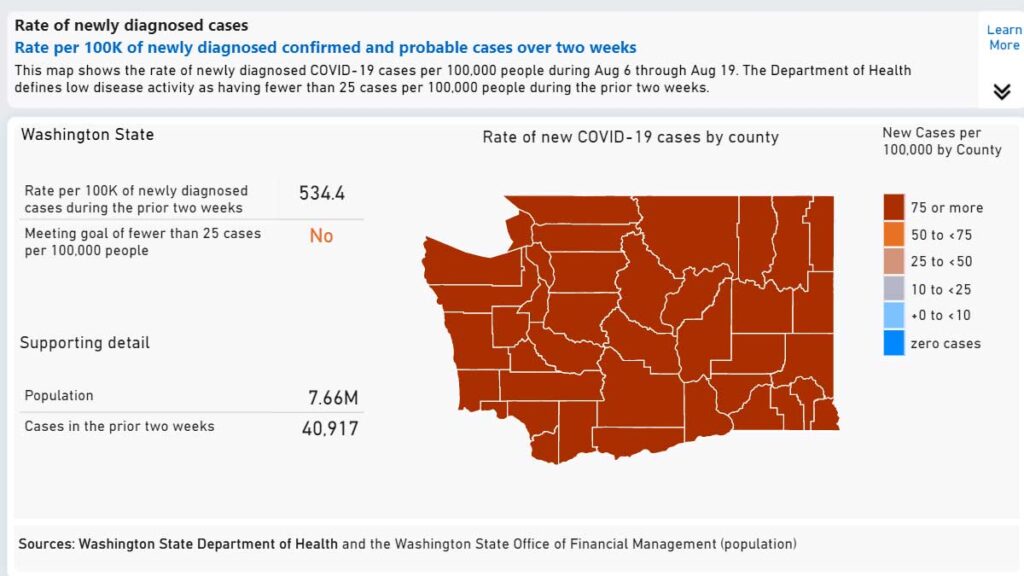 The Washington State Department of Health reports a data backlog for test positivity, with the published number 14 days old. According to Johns Hopkins University Medicine, the positivity rate for the last 30 days is 13.15%, and over the previous 7 days, 12.52%. These numbers indicate continued widespread community transmission driven by the unvaccinated and under testing of the population
The USA Today COVID Tracker reported 23 COVID-related deaths in Washington yesterday.
We learn more about the patient who died in Eastern Washington
Earlier this week it was reported that a patient died in Eastern Washington while waiting for available medical resources. In an interview on Fox Q13 with Dr. Steve Mitchell with Harborview Medical Center. The individual arrived at an Eastern Washington hospital suffering from sepsis related to an issue with their bowels. They needed surgery and an ICU bed for post-surgical care. Over the period of approximately 7 hours, officials tried to find a facility that had surgical expertise and an ICU bed. A facility was secured in Western Washington, but it was too late for the individual.
King County Health Officer Dr. Jeff Duchin provides data on the unvaccinated
We weren't able to attend the press conference today (we all have "real" jobs) so thanks to King 5 for their summary and clip. Dr. Jeff Duchin provided insight on the risks of catching COVID, becoming hospitalized, and dying if you're unvaccinated while adjusting for factors such as age.
The unvaccinated have a sixfold risk of catching COVID-19, 37 times more likely to be hospitalized and 67 times more likely to die. Dr. Duchin pointed out that looking at the common data without weighting for other factors isn't particularly useful.
He also reported that case rates within King County have plateaued over the last 10 days, while hospitalizations have continued to rise.
"I'm cautiously optimistic. This disease, this COVID-19 is highly unpredictable," Duchin said, adding that the death rate has seen a small uptick with the latest delta surge.
Northwest ICE Processing Center in Tacoma must test all immigrant detainees before arrival
A federal court ruled that Immigration and Customs Enforcement violated the rights of detainees at the Tacoma detention center by not testing detainees prior to arrival. The case was presented by the Northwest Immigrant Rights Project, the American Civil Liberties Union's Washington chapter, the National Prisoner Project, and the Immigrants' Rights Project. The facility is slated to be closed in 2025 both by state and federal mandate.
University of Washington eliminates philosophical objection for COVID-19 vaccine
The University of Washington has updated its COVID-19 vaccination requirements, eliminating philosophical objections.
Exemptions may [be] sought for documented medical conditions and sincerely held religious beliefs. Philosophical exemptions will no longer be granted for students or personnel, and the vaccine attestation systems are being updated to account for this change. Individuals who claimed a philosophical exemption will be contacted in the near future.
Additionally, Gov. Inslee's proclamation mandating vaccines for state employees, health care workers, and higher education personnel as a condition of employment requires documentation to be provided when seeking a medical exemption or an exemption for a sincerely held religious belief. The University is updating its policies and systems to comply with this mandate. Personnel who obtained one of these exemptions will be contacted in the near future regarding steps they need to take.
We got one question answered by the Washington State Department of Public Health
Starting on August 30, COVID case data for children birth to 19 will be broken out into more granular age groups. You asked, they answered!
Vashon Island Fire Chief refuses COVID-19 vaccine
Vashon Island Fire and Rescue Chief Charles Krimmert has stated he will not comply with the state vaccination requirement. "If the district wants to keep me, they'll keep me, if they want to fire me, they'll fire me," Krimmert told the Vashon-Maury Island Beachcomber.
Krimmert became fire chief in 2017 and is an EMT. Vashon Island's Board of Fire Commissioners held a special session yesterday to discuss the matter and voted 4-1 to prevent Krimmert from administering healthcare as an EMT until he is vaccinated.
Firefighters who are EMTs or paramedics are required to be vaccinated for COVID under the state healthcare work mandate. This could be a compromise that could keep Krimmert as chief if he agrees to not practice emergency medicine.
School Districts that don't comply with health mandate can lose funding
Washington school districts that "willfully" violate state COVID-19 health mandates are at risk of losing state funding, the state's top school official said Wednesday, but they will be given at least two chances to come into compliance.
Chris Reykdal, state superintendent of public instruction, filed an emergency rule outlining the penalties for school districts that fail to comply with Washington's COVID-19 health measures, including the statewide mask mandate and the vaccine requirement for school employees. His office announced the penalty for districts that don't follow state rules in July.
"These safety measures work, and they are not at the discretion of local school boards or superintendents," Reykdal said in a notice sent Wednesday to school district officials.
OPINION: This is a bad decision that penalizes students for the actions of administrators and school boards. We are not supportive of this action.
Southeast Spokane County Fair canceled due to COVID
Organizers of the Southeast Spokane County fair have called off this year's event, citing safety concerns and fewer volunteers.
The fair board voted unanimously to cancel the event. Held each year in Rockford, this was supposed to be the 77th annual event. The board said it also wants to ensure the safety of its volunteers and the community at large.
Earlier this month, Spokane officials canceled the Pig Out in the Park scheduled to run from September 1 to 6.
Vaccination
The Department of Health is reporting that the vaccination rate increased 21% in the last 7 days and 34% in the last 14 days in the state of Washington, with another 100,000 eligible residents getting the jab. Convers over Delta, vaccination mandates, and back-to-school is believed to be driving the increase. There are still 1.9 million Washingtonians who are eligible for vaccination.
Hospital Status
On August 26, 89.5% of available adult staffed acute care beds in Washington state have patients. The data indicated there were 924 acute care beds available statewide and 226 in King County. The state has lost 140 staffed beds since yesterday. The Northwest, North, North Central, and South Central Regions were over 80% utilization, and the West, Central, and East Regions are over 90%. According to the Washington State Department of Health, there are 1,454 adult COVID patients in acute care, an increase of 53 from yesterday, which is 16.5% of all acute care patients.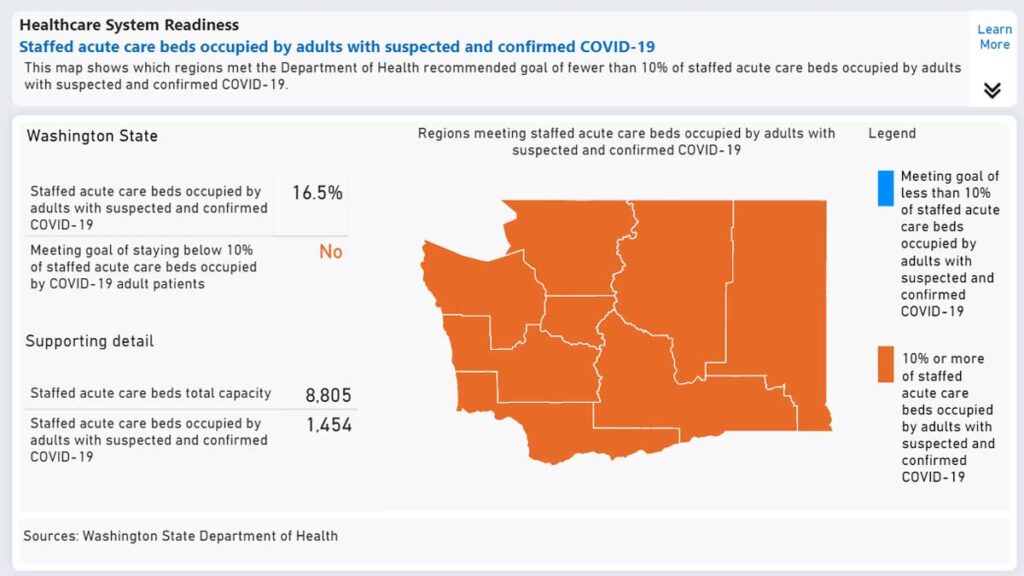 Statewide ICUs were 89.0% occupied with 134 staffed beds available, 42 located in King County. The number of COVID patients statewide in the ICU increased to 394 and the state lost 3 staffed ICU beds. A combined 1,850 adult patients are hospitalized in Washington state, breaking yesterday's record. The DoH is reporting 179 of the patients in the ICU are on ventilators. Almost 95% of all COVID patients are unvaccinated.
Data for pediatric patients for acute care and PICU is not available.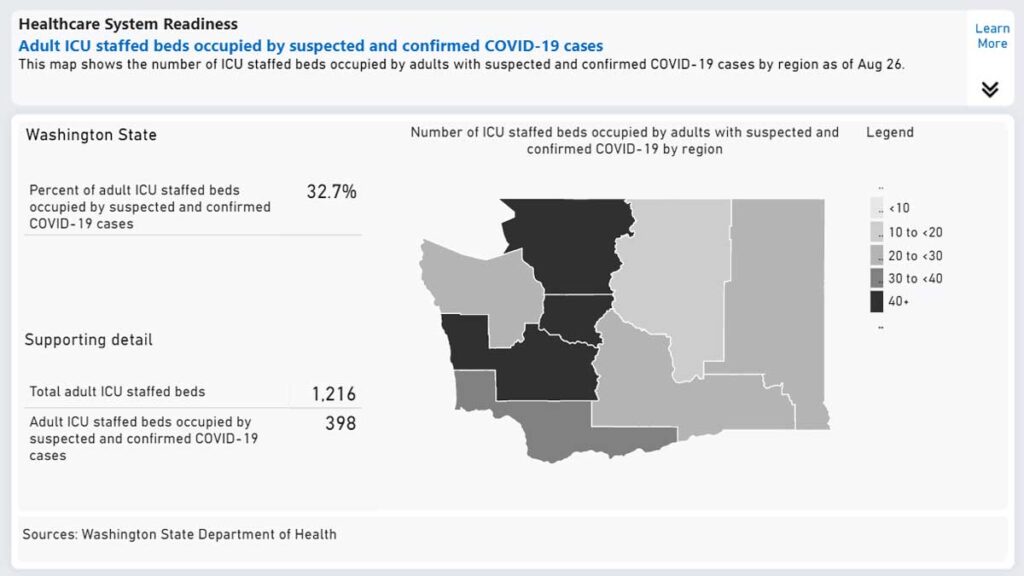 Washington state continues to have a critical shortage of blood, with a less than 24 hour supply for five out of eight blood types. The situation has deteriorated since August 3. There will be a blood drive in Kirkland on August 30 and 31. We will publish additional details when they become available.
The North Central Region which includes Wenatchee and Chelan had one ICU bed remaining this morning. The East Region which includes Spokane had 10, the South Central Region which includes Tri-Cities and Yakima had 8, and the West Region had 17.
Dr. Todd Freudenberger of Overlake Medical Center in Bellevue told Fox Q13 that the hospital is having to cancel critical care for patients at an alarming level.
"There are people who will die within a day or two if they don't have surgery," Dr. Todd Freudenberger with Overlake Medical Center said.
Freudenberger says this may be yet another wave of COVID, but he says it's different.
"This time around it's much different, patients are much sicker, we are losing much more of them for sure," Freudenberger said.
He says patients coming into the hospital are also not just sicker but younger. Echoing reports from Providence Hospital in Everett and Harborview Medical Center in Seattle, burnout and the emotional toll is putting a huge strain on the staff.
In the Tri-Cities area, the situation is worse. One or more of the Tri-Cities hospitals were too busy to take ambulances patients every day in August. Dr. Amy Pearson in a briefing on Thursday reported that on one day, all three hospitals in the region were on divert status, with their doors closed to ambulance patients.
One of the issues first responders are facing is people calling for ambulances for asymptomatic or mild COVID cases, clogging the system.
Up to 95% of people treated for COVID-19 at Kadlec Regional Medical Center in Richland, the Tri-Cities largest hospital, have not been vaccinated, said Dr. Brian York, speaking on the Kadlec on Call podcast Wednesday.
Back to School
First day of school for area districts:
Lake Washington School District – September 1
Bellevue School District – September 1, 1st through 12th, September 3, kindergarten
Northshore School District – September 1, 1st through 12th, September 1 or September 2 for kindergarten on a staggered start
The next board meeting for the Lake Washington School District is September 13, 2021, at 7:00 PM and will be remote only.
Kirkland-Bellevue-Woodinville
No update
National Round-Up
Johns Hopkins University reported over 161,331 new cases and 1,292 deaths yesterday. The nation hit another milestone, logging 1,090,000 new COVID cases in the last week.
Almost 75% of United States insurance providers have stopped waiving fees associated with treatment for COVID, and another 10% will end fee waivers by the end of October. With vaccinations widely available, many insurers are ending the low deductible or no deductible waivers, which will put a larger burden on patients who are hospitalized. The only large insurer that will maintain waivers for the rest of 2021 is Humana.
Kraft-Heinz will require vaccination for all office workers, joining an expanding list of Fortune 500 companies. Intel and the Vanguard Group are taking a different approach, offering cash incentives to employees who get vaccinated.
Arkansas
Some good news is coming out of Arkansas, which was on the brink of having to move to a crisis care model earlier in the week with the numbers appearing to have hit a plateau. Resources remain on a razor's edge. In not-so-good news, pediatric cases represent the fastest-growing groups in the state at the end of the week. Children from birth to 10 were the fastest-growing age group, followed by children 11 to 17.
Earlier this week we reported on Dr. Robert Karas prescribing ivermectin to inmates at an Arkansas county jail. Yesterday all inmates refused to take the drug, and the Arkansas Medical Board is now investigating Dr. Karas. A review of medical records indicates he has written "thousands" of prescriptions for the anti-parasitic drug.
The ACLU condemned Dr. Karas' actions, calling it medical experimentation on prisoners. Karas denies he is doing experiments or clinical trials and claims he is taking the medication himself as a preventative. In the same statement, he also told station KFSM he has had COVID twice.
Arizona
Arizona became the 13th state to have more than one million COVID cases as hospitalizations surged 400% in the last eight weeks. Hospitalizations, ICU utilization, and new cases have reached February 2020 levels and almost all of the critically ill are unvaccinated.
California
Although the data out of California indicates that cases have peaked, the state of over 39 million has areas with significant cases. The rural counties of Amador, Del Norte, Humboldt, Lake, Mendocino, Shasta, and Tuolumne have all seen record high COVID hospitalizations this month. Hospitals in Sacramento are at capacity providing support to the rural regions.
The CDC traced a superspreader event in a Marin elementary school back to a single unvaccinated teacher. The elementary school has 205 students from kindergarten to 8th grade and 24 faculty. In its investigation, the CDC determined that the teacher, and the first patient, were the only two unvaccinated. Local health officials would later identify 27 total cases. The teacher took off her mask to read to students in her class. The school followed all CDC guidelines of social distancing and ventilation.
In the two rows seated closest to the teacher, 8 of the 10 students became ill.
Florida
Leon County Circuit Judge John C. Cooper struck down Governor Ron DeSantis' executive order banning masks in Florida schools. After four days of testimony in a virtual hearing, which at times got heated, the judge ruled that DeSantis' order "is without legal authority."
The judge also noted that two Florida Supreme Court decisions from 1914 and 1939 found that individual rights are limited by their impact on the rights of others. For example, he said, adults have the right to drink alcohol but not to drive drunk, because that endangers others. There is a right to free speech, but not to harass or threaten others or yell "fire" in a crowded theater, he said.
"It's not surprising that Judge Cooper would rule against parents' rights and their ability to make the best educational and medical decisions for their family, but instead rule in favor of elected politicians," spokeswoman Taryn Fenske said in a statement. "This ruling was made with incoherent justifications, not based in science and facts — frankly not even remotely focused on the merits of the case presented."
In a sign that the worst is yet to come, South Florida hospitals are using refrigerated trucks to hold corpses as funeral homes become overwhelmed. Five health systems are utilizing the refrigerated trailers or have them on standby. In addition, FEMA is sending 14 portable morgues that will be distributed to nine healthcare systems throughout the state.
Hawaii
The backlash against Dr. Lorrin Pang, the Maui District Health Officer, and her connection to COVID misinformation being spread by The Pono Coalition for Informed Consent is growing. Yesterday the organization was criticized for "misinformation about the severity of the disease and the safety of the vaccines" while failing to mention Dr. Pang.
A letter was sent to Governor David Ige asking for Pang's firing.
"He's undermining the whole public health message and public trust by going along with these — for lack of a better term — conspiracy theories and bad information," state Senator Roz Baker told The Associated Press on Thursday. "So I think he needs to be canned as soon as possible because he's a direct threat to my constituents."
Idaho
Idaho narrowly avoided going to "crisis care management" on Thursday evening as cases continue to surge. Some hospitals are reporting that patients are on ventilators in the emergency department with no ICU beds available, and no hospitals willing to accept a transfer.
"Our forecast is bad, to put it real bluntly," said Dr. Frank Johnson, the vice president of medical affairs at St. Luke's Health System.
Coronavirus-related hospital admissions have been doubling every two weeks since July 24, he said. Thursday there were between 162 and 170 COVID-19 patients hospitalized in St. Luke's facilities.
"If we take that over the next two weeks and double that, we're in a real, real difficult state that is well above any of the prior peaks that we had," Johnson said. "We don't have room for those numbers to double."
The troubles go beyond COVID patients. St. Luke's had three stroke patients come into the emergency department on Thursday, all needing ICU beds. In Idaho, 98% of ICU patients are unvaccinated.
In the Idaho panhandle, they are so backed up with COVID tests, that individuals who tested positive as far back as late July still have not been notified.
Iowa
The midwest state set a record for COVID hospitalizations with 498 patients. The state is faring better than others with community transmission, with test positivity at 8.3%.
Louisiana
I've written that the worst-case scenario for the Gulf Coast would be a major hurricane striking the region as hospital systems are struggling. That worst-case scenario could play out this weekend in Louisiana. Hurricane Ida is forecasted to make a direct hit on New Orleans as a catastrophic Category IV hurricane, 16 years to the day Category III Katrina ravaged the city.
A hurricane warning has been issued by the National Weather Service advising residents to prepare for Category III winds or higher. The forecast does not anticipate a significant storm surge, which is a key difference between Katrina. The hurricane is expected to move slowly once it makes landfall, raking the area with tropical storm and hurricane-force winds for 12 to 16 hours, and up to 12 inches of rain.
Any tent facilities along the Louisiana Coast will become unusable in these conditions, and hospitals are already at maximum capacity. The medical community will have a severe challenge maintaining staffing levels and treating storm related injuries. During the peak of the storm, EMS calls will go unanswered if conditions are unsafe. People congregating in evacuation centers will spread COVID further. Extended power outages and boil water orders will only add to the misery.
This is no attempt to be dramatic – this has the potential to completely overwhelm hospitals in Louisiana and Mississippi. Officials in Louisiana are optimistic and are expressing they learned a lot of lessons during Katrina.
Louisiana Governor Jon Bel Edwards is planning to issue a vaccine mandate to some state employees or require regular, mandatory testing for the unvaccinated.
Maine
Not sure how we missed this, but two weeks ago Governor Janet Mills announced a vaccine mandate for Maine healthcare workers. Mills said health care workers include any individual employed by a hospital, multi-level health care facility, home health agency, nursing facility, residential care facility or intermediate care facility for individuals with intellectual disabilities that are licensed by the state.
The emergency rule also requires those employed by emergency medical service organizations or dental practices to be vaccinated for COVID-19. Workers have until October 1 to get vaccinated.
A religious group has filed a lawsuit in federal court to block the directive, on the grounds that workers cannot object to the vaccine due to their religious beliefs.
In a written response provided to WMTW News, Maine Attorney General Aaron Frey said the vaccine mandate for healthcare workers was constitutional and based on a deamination from public health officials to limit the spread of COVID-19.
"For many years the state has required health care workers to be vaccinated against various communicable diseases and, to our knowledge… The state has now simply added an additional disease – COVID-19," Frey's statement read in part. "Federal courts, including the United States Supreme Court, have consistently upheld mandatory vaccination requirements."
Mississippi
Mississippi Governor Tate Reeves reported that hospitalizations have plateaued for the last 10 days, and up to 1,000 additional healthcare workers being deployed, along with FEMA support will free up hospital beds.
"Because we'll have those staffing needs met by tomorrow, those additional beds should be open which should alleviate a significant portion, if not eliminate, the staffing requirements that are needed at our hospitals," said Reeves.
Oregon
Since July 9, hospitalizations have increased almost %1000 as officials predict the worst is yet to come. Health officials reported 3,207 new cases on Friday, a new record for the state. The 1,098 Oregonians in the hospital are also a new record. There were 20 reported deaths, including a 29 year old woman.
Texas
Caleb Wallace from Texas was an organizer of rallies against "COVID tyranny" and was against masks and vaccinations. He is the founder of the San Angelo Freedom Defenders and as recently as July, organized a "Freedom Rally" to campaign against government control.
He became ill at the end of July and refused to get a COVID test, because he didn't, "want to add to the COVID statistics." He self-treated himself at home with ivermectin, aspirin, Vitamin C and Zinc, according to his wife, Jessica Wallace.
He became sicker, and on August 8 was placed on a ventilator at Shannon Medical Centre in San Angelo, Texas. On Wednesday, hospital officials told Ms. Wallace that her husband have fibrosis and they were out of medical options. Despite his hopeless prognosis, she insisted they continue to keep him on a ventilator.
She set up a GoFundMe for medical bills and has collected over $20,000 at the time of publication. Ms. Wallace says her views are not as conservative as her husband's and that she wore a mask in public.
Between August 16 and August 22, Texas reported 14,033 positive cases among students across the Lonestar state.
The situation on both sides of the border between Texas and Mexico is deteriorating. Governor Abbott is opening up a monoclonal antibody treatment center in Edinburg, Texas, the second facility to be opened in the southern part of the state. Laredo, Texas sued the federal government to stop sending undocumented immigrants to the city, and buses stopped coming on Tuesday. The Supreme Court maintained a Trump order that people crossing the border seeking asylum would need to wait in Mexico, so many immigrants are being turned away. However, Mexican officials are refusing to take back anyone younger than 6 years old, so those families are passing into U.S. custody.
Misinformation
A doctor in Idaho has created a stir with a video that has received over a million views, claiming that the mRNA vaccines from Pfizer and Moderna are causing cancer. Dr. Ryan Cole was hosted by Idaho's Lieutenant Governor Janice K. McGeachin, who is a known COVID denier.
Dr. Cole used a classic misinformation tactic when he cites a 2018 paper published in the journal Nature Reviews Drug Discovery that reviewed trials of earlier mRNA vaccines. The problem is, the paper doesn't support his claims.
"Currently, mRNA vaccines are experiencing a burst in basic and clinical research. The past 2 years alone have witnessed the publication of dozens of preclinical and clinical reports showing the efficacy of these platforms. Whereas the majority of early work in mRNA vaccines focused on cancer applications, a number of recent reports have demonstrated the potency and versatility of mRNA to protect against a wide variety of infectious pathogens, including influenza virus, Ebola virus, Zika virus, Streptococcus spp. and T. gondii "
Nowhere in the paper does it state mRNA vaccines increase cancer rates, on the contrary, the paper outlines promising research on mRNA vaccines for the treatment or complete prevention of cancer including lung and pancreatic – two of the deadliest forms of cancer today.
Further, in the same paper Dr. Cole cites, it clearly states that mRNA vaccines have key advantages over DNA therapies, doesn't require live viruses, and debunks two other pieces of misinformation.
"The requirement for safety in modern prophylactic vaccines is extremely stringent because the vaccines are administered to healthy individuals. Because the manufacturing process for mRNA does not require toxic chemicals or cell cultures that could be contaminated with adventitious viruses, mRNA production avoids the common risks associated with other vaccine platforms, including live virus, viral vectors, inactivated virus and subunit protein vaccines. Furthermore, the short manufacturing time for mRNA presents few opportunities to introduce contaminating microorganisms. In vaccinated people, the theoretical risks of infection or integration of the vector into host cell DNA are not a concern for mRNA."
The paper does address that additional research should be done on potential autoimmune diseases. Dr. Cole uses a second misinformation technique in his presentation.
"A possible concern could be that some mRNA-based vaccine platforms induce potent type I interferon responses, which have been associated not only with inflammation but also potentially with autoimmunity. Thus, identification of individuals at an increased risk of autoimmune reactions before mRNA vaccination may allow reasonable precautions to be taken."
The first misinformation technique is to quote a paper as proof of your point, even when the paper doesn't support your position. The presenter assumes that the average person isn't going to read through an entire medical research paper to educate themselves on what it says (trust me, it isn't pleasant).
However, the best misinformation is tinged with some truth, making it harder to disprove. The paper does address autoimmune response to mRNA vaccines, but there are three key words, "possible concern could." Additionally the paper states a clear mitigation strategy of identifitying people with an increased risk of autoimmune disorders before giving them an mRNA vaccine.
There is one other flaw with this claim, the Johnson & Johnson vaccine is not mRNA.
We rate the claims by Dr. Cole as false, and we will add that Lt. Governor McGeachin represents a danger to the citizens of Idaho.
Like, Share, Follow, Support