Multiple attacks in Russia and Crimea, ammo stored at nuke plant – August 18, 2022 Ukraine update
Ukraine appears to have launched multiple long range attacks as video reveals Russian ammo inside Zaporizhzhia NPP.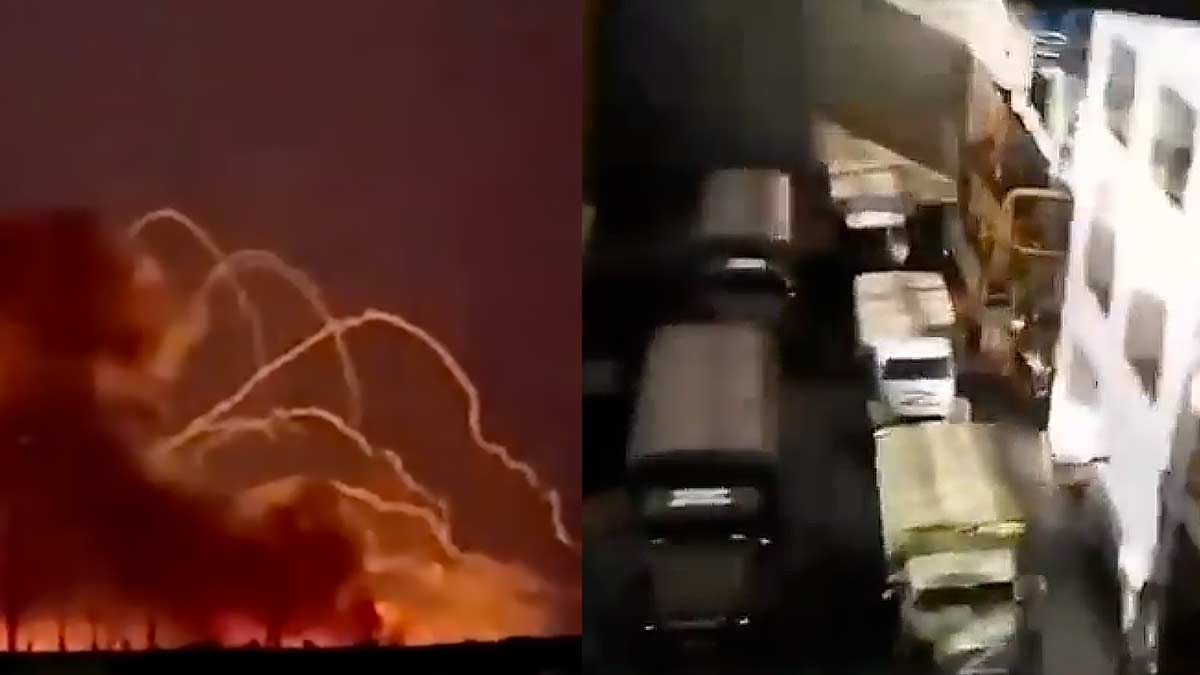 [UKRAINE] – MTN It has been 3,094 days since Russia occupied Crimea on February 27, 2014. Here is our latest update. You can visit our Russia-Ukraine War Center to find more news about Ukraine. You can also listen to our in-depth podcast, Malcontent News Russia Ukraine War Update, hosted by Linnea Hubbard.
Breaking News
An open-air Russian ammunition depot in Timonovo, Russia, exploded on Thursday evening, causing the evacuation of two towns and a military base. Videos from the area showed multiple secondary explosions, including rockets, missiles, thermite, and potentially white phosphorus. Fire and rescue crews were standing off because it was too dangerous to approach the area. Satellite images before the explosion show the depot, located 30 kilometers from the Ukrainian border, is 147,500 square meters (1.6 million square feet) and contained dozens of military vehicles.
There are conflicting reports that Belbek Military Airfield in Sevastopol was attacked and had an explosion. Videos from the area showed air defenses had been activated and recorded explosions and sonic booms in the area. A video allegedly showing a large explosion at an ammunition depot was deemed to be falsely attributed to the airfield.

There are fresh reports that the helicopter base in Stary Oskol, Russia, has been attacked.
Russian air defenses were activated at the Kersch Bridge, which connects Russian-controlled Crimea with the Russian mainland. Russian officials claim they shot down a Ukrainian drone. There was no damage to the bridge.
Social media reports are claiming that Enerhodar, where the Zaporizhzhia Nuclear Power Plant is located, is under heavy attack. A video from earlier today showed Russian military vehicles and ammunition stored in the reactor one complex. An earlier video showed military equipment moving in and out of the machine shop area of reactor one, but the amount of hardware inside was unclear. The ammunition is stored in the same building that houses the generation turbine deck for the reactor one complex.
Northeast Donetsk
There was limited fighting in northeast Donetsk, with Russian forces attempting to advance on Vesele supported by the Russian air force from Bilohorivka [Donetsk]. The advance was unsuccessful. Ukrainian forces were able to overrun the first line of Russian defenses near Bilohorivka.
Russian forces attempted to maneuver to Vyimka but lacked the troop strength to advance across the open territory.
Bakhmut
Russian forces and their proxies tried to improve their positions within the KNAUF-GIPS sheetrock factory in Soledar but did not most the line of conflict. Russian forces also attempted to advance into Bakhmutske without success.
PMC Wagner Group, Russian airborne VDV forces, and elements of the LNR 2nd Army Corps attempted to advance on Bakhmut from two directions without success.
Russian forces and their proxies also attempted to advance on the T-0513 Highway through Zaitseve (10 kilometers southeast of Bakhmut) and were unsuccessful.
In the Svitlodarsk Bulge, PMC Wagner Group and LNR separatists attempted to advance on Kodema without success.
Russian forces also attempted to advance on Zaitseve from Holyivskyi and tried to capture the Mayorsk border crossing. Neither offensive was successful.
Southwest Donetsk – Zaporizhia
Russia-backed separatists of the DNR were able to advance from Spartak to the edge of Opytne and are attempting to consolidate their gains.
Fighting to reach the village of Nevelske has been intense. DNR used white phosphorus munitions on established Ukrainian positions. DNR forces attempted to cross open territory from Lozove toward Pervomaiske and cross the Ukrainian positions along the E-50 Ring Road. They were unsuccessful.
A railway bridge was hit by an apparent single HIMARS rocket in Makiivka, destroying the tracks, the tunnel, and supports.
Ukraine attacked Russian-controlled Panteleymonovka. One person was killed in the strike.
A Russian ammunition depot in Amvrosiivka was destroyed by rockets fired from HIMARS. The initial blast shattered windows and damaged buildings up to 1.6 kilometers away.
In the southern part of the Donbas, fighting for control of Novobakhmutivka continued, with Ukrainian positions hit by artillery.
Ivan Fedorov, the exiled mayor of Melitopol, said that Russian occupying forces had sealed the city and forcing everyone to go through filtration. The city has been rocked by almost daily partisan attacks, including a series of explosions on August 17.
In Russian-controlled Kyrylivka, Russian ammunition and military equipment reportedly exploded due to insurgent activity.
Kharkiv
Russian missiles hit an apartment building in the Saltiva district of Kharkiv. The building was destroyed in the attack, killing seven and wounding 20. The city was hit a second time in the Slobidskyi District. A hostel was partially destroyed before sunrise killing two and wounding 18.
Rockets also struck Krasnohrad at 4:00 AM while people were still asleep. Two people were killed, and another two were wounded.
Visit our Russia-Ukraine War Map
The Malcontent News Russia-Ukraine War Map is updated as events occur. Map not appearing in your RSS Feed or Google News App? You can review the most up-to-date information by visiting our custom Google Map.
Kherson
Operational Command South of the Armed Forces of Ukraine and the General Staff reported conflicting information about Bilohirka on the Inhulets River bridgehead. The General Staff reported that Russian forces attempted to advance on the settlement and were unsuccessful. Operational Command South reported that a Russian ammunition depot in Bilohirka was destroyed.
Dnipropetrovsk
The settlement of Nikopol was shelled overnight. A school was damaged, and one woman was hospitalized.
There has been no progress on efforts to demilitarize the Zaporizhzhia Nuclear Power Plant. United Nations Secretary-General Antonio Guterres arrived in Lviv for talks with Ukrainian and Turkish officials about the situation in Zaporizhzhia.
Sumy and Chernihiv
Dmytro Zhyvytskyi, Sumy Oblast Administrative and Military Governor, reported that 176 artillery shells hit border towns on August 17. The settlements of Bilopillia, Velyka Pysarivka, Esman, Krasnopillia, Yunakivka, Myropillia, Shalyhyne, and Buryn were attacked.
Odesa-Crimea-Black Sea
Reports by Russian state media that the naval airbase in Russian-controlled Hvardeyskye, Crimea, experienced a fire with several explosions was a disinformation campaign. Satellite images show there was no damage, and the base was operating normally.
Daily Assessment
The 1st Army Corps of the Donetsk People's Republic and the 2nd Army Corps of the Luhansk People's Republic are combat ineffective.
Ukraine continues to destroy ammunition depots, troop positions, and military equipment deep in Russian-occupied territory.
Russian forces launched a series of punitive strikes on civilian targets in Mykolaiv, Zatoka, and Kharkiv, and we expect more attacks through the rest of the week.
To read the rest of our report, become a Patreon! For as little as $5 a month, you get access to the daily Russia-Ukraine War Situation Report. The report provides analysis, maps, detailed information about all the axes in Ukraine, international developments, information about war crimes and human rights, and economic news. As an added benefit, you get access to flash reports, breaking news, and our Discord server.