Russian offensive to capture Avdiivka falters – August 17, 2022 Ukraine update
Russian forces launched small offensives across a broad area probing for weaknesses in Ukrainian lines.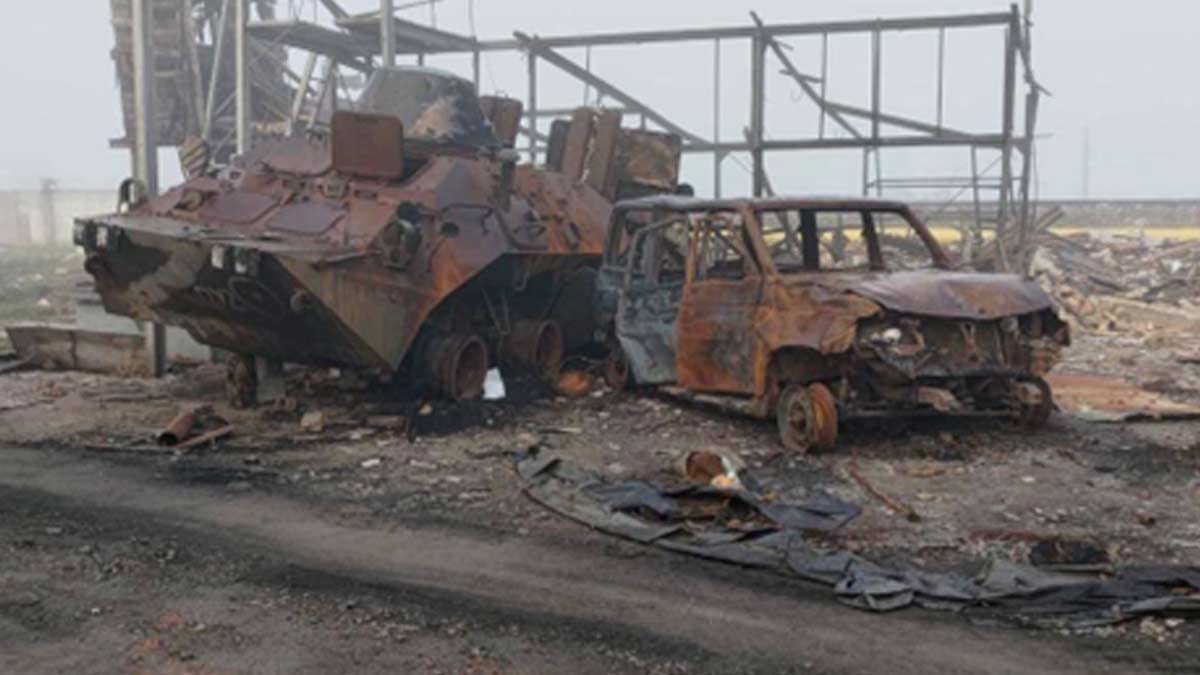 [UKRAINE] – MTN It has been 3,093 days since Russia occupied Crimea on February 27, 2014. Here is our latest update. You can visit our Russia-Ukraine War Center to find more news about Ukraine. You can also listen to our in-depth podcast, Malcontent News Russia Ukraine War Update, hosted by Linnea Hubbard.
Northeast Donetsk
Russian forces gaining additional protection from the Russian air force withdrew from the area of Ivano-Darivka back to the Verkhnokamyanka oil refinery.
The former offices of the Ukrainian Intelligence Service in occupied Lysychansk were destroyed in a rocket attack launched by High Mobility Rocket Artillery Systems (HIMARS). Governor Haidai reported the building was occupied by the 2nd Army Corps of the Luhansk People's Republic (LNR). It is claimed over 100 were killed.

On August 15, an ammunition depot in Russian-controlled Rodakove was destroyed in a probable HIMARS attack.
Officers of the 2nd Army Corps on the LNR accidentally revealed the location of their command post in Lysychansk when they posted pictures on social media. The photos included all the metadata, including the precise geolocation.
Bakhmut
Reconnaissance units probed Ukrainian defenses in Soledar near the area of the KNAUFF-GIPS sheetrock factory and returned to their positions. In support of the attempted advance on Soledar, Russian forces continue to attempt to advance on Bakhmutske.
Russian forces tried to move into Zaitseve (10 kilometers southeast of Bakhmut) using reconnaissance in force and were unsuccessful.
In the Svitlodarsk bulge, Russian forces attempted to advance into Zaitseve (north of Horlivka) but were unsuccessful.
Elements of the 1st Army Corps of the Donetsk People's Republic (DNR) attempted to advance through the Mayorsk border crossing after Russian forces shelled Ukrainian positions to the north and were unsuccessful. Following an artillery barrage on Shumy, DNR forces attempted to advance into the settlement and were unsuccessful.
Southwest Donetsk – Zaporizhia
Near Donetsk, elements of the 1st Army Corps attempted to advance on Nevelske and Opytne. The advance on Nevelske was unsuccessful, and fighting was ongoing in Spartak, southeast of Opytne.
After fighting to secure the Butivka Mine Ventilation Shaft compound on the southeast edge of Pisky, DNR forces abandoned their positions without a fight. We have recoded Pisky as contested based on social intelligence, the General Staff report, and Russian state media reports.
Ukrainian forces shelled a water treatment plant in Donetsk city, causing additional damage to the facility, which was previously attacked on March 16.
Russian missiles destroyed several warehouses and electrical infrastructure in Kurakhove.
In the southern part of the Donbas, fighting for control of Novobakhmutivka continued, with Ukrainian positions being hit by airstrikes and artillery.
Russian forces attempted an advance on Shevchenko and were unsuccessful.
The International Red Cross now claims that its employees were able to visit the Russian penal colony in Olenvika, Donetsk, on two occasions. The revelation reverses earlier claims that they had never been allowed inside the compound. The ICRC stated they had no opportunities to meet with prisoners face-to-face, and Russian proxy forces would not allow unsupervised meetings, violating the Geneva Convention. For background information, you can read our Special Report: Anatomy of a botched false flag attack at Detention Camp 52.
Kharkiv
Members of the Azov Battalion conducted a special operation in Russian-controlled Ternova, northeast of Kharkiv. The unit destroyed two Russian BMP infantry fighting vehicles, an ammunition depot, and an observation post. Russian forces responded by remotely mining the settlements of Peremoha and Ukrainka.
Southeast of Kharkiv, Russian forces launched offensives toward Bazaliivka and Lebyazhe – neither were successful.
Russian forces shelled Ukrainian civilians and civilian infrastructure along the entire line of conflict, including firing rockets from MLRS into the Saltivka District of Kharkiv.
Visit our Russia-Ukraine War Map
The Malcontent News Russia-Ukraine War Map is updated as events occur. Map not appearing in your RSS Feed or Google News App? You can review the most up-to-date information by visiting our custom Google Map.
Izyum
South of Izyum, Russian forces continued their attempts to recapture Mazanivka and were unsuccessful. A new offensive to recapture Bohorodychne was launched, resulting in Russian forces being pushed back.
Russian forces shelled and then remote mined Dibrovne. The General Staff reported that Russian forces were advancing in the area of Nova Dymtrivka and were unsuccessful.
Near the village of Rudneve, Russian forces were ambushed by Ukrainian forces in the so-called "Sherwood Forest" region, west of Izyum.
Kherson
Russian efforts to push Ukraine from the Inhulets River bridgehead failed. Russian Special Operation Forces (SOF) attempted to flank Ukrainian positions in Bilohirka by advancing a platoon toward Bila Krynsytsya. The unit was discovered, suffered heavy losses, and retreated.
Simultaneously Russian forces from Davydiv Brid advanced on Bilohirka, contested the town, and then were pushed back, suffering heavy casualties in the failed offensive.
Russian forces made a second attempt to advance on Novohryhorivka, northwest of Kherson city and were unsuccessful.
There are reports that units of the Chechen Rosgvardiya have been redeployed east of the Dnipro River to prevent deserters from trying to leave their positions in Kherson. There have not been reports of widespread desertion, but morale is reported to be low, with the 25,000 Russian troops west of the river cut off.
Dnipropetrovsk
The settlement of Nikopol was shelled overnight. There was damage to the Nikopol highway and six homes but no casualties.
There has been no progress on efforts to demilitarize the Zaporizhzhia Nuclear Power Plant.
The Russian Ministry of Defense and Volodymyr Rogov, the Russian-appointed head of Zaporizhzhia, accused Ukraine of shelling the power plant and damaging the cooling circuit.
UN Secretary-General Antonio Guterres will meet with Ukrainian President Zelenskyy and Turkish President Recep Tayyip Erdoğan in Lviv on August 18. Topics will include grain shipments, economics, and the situation at Zaporizhzhia. After the meeting in Lviv, Guterres will travel to Odesa.
Sumy and Chernihiv
Dmytro Zhyvytskyi, Sumy Oblast Administrative and Military Governor, reported that 130 artillery shells hit border towns on August 16. The settlements of Khotin, Billopillia, Myrolaiivka, Shalyhyne, and Krasnopillia were attacked.
The settlement of Kamianska Sloboda in the Chernihiv oblast was shelled from across the international border. There were no reports of casualties.
Odesa-Crimea-Black Sea
The seaside resort town of Zatoka was struck by two Kh-22 air-to-sea cruise missiles fired by Russian air force Tu-22M3 heavy bombers. The attack destroyed up to seven seaside hotels and over a dozen summer homes. This was the 11th attack on Zatoka since the start of the war.
Russian state media reported that the naval airbase in Russian-controlled Hvardeyskye, Crimea experienced a fire with several explosions. Two squadrons of the 37th Composite Aviation Regiment are stationed at the base.
Zhytomyr
Two Russian Kh-59 air-to-sea cruise missiles fired by Russian Su-34 aircraft operating in Belarusian airspace struck the Ukrainian air force base in Ozerne. Ukrainian officials reported the runway was cratered, and several non-aviation vehicles were damaged.
Beyond Ukraine
Russian officials are blaming Ukrainian Special Operation Forces for destroying multiple power transmission towers in the Kursk region. Russian FSB reported that between August 4 and 12, six towers for electrical distribution carrying from 110 to 750 kilovolts connected to the Kursk Nuclear Power Plant were destroyed.
Daily Assessment
Russian forces continue to make operational security errors contributing to Ukrainian successes.
The 1st Army Corps has likely abandoned direct assaults on Avdiivka and Marinka and may be reallocating troops already from Pisky.
Ukrainian military leaders have maintained defensive lines across Ukraine despite having fewer resources and an artillery deficit.
To read the rest of our report, become a Patreon! For as little as $5 a month, you get access to the daily Russia-Ukraine War Situation Report. The report provides analysis, maps, detailed information about all the axes in Ukraine, international developments, information about war crimes and human rights, and economic news. As an added benefit, you get access to flash reports, breaking news, and our Discord server.