National pride or white nationalism?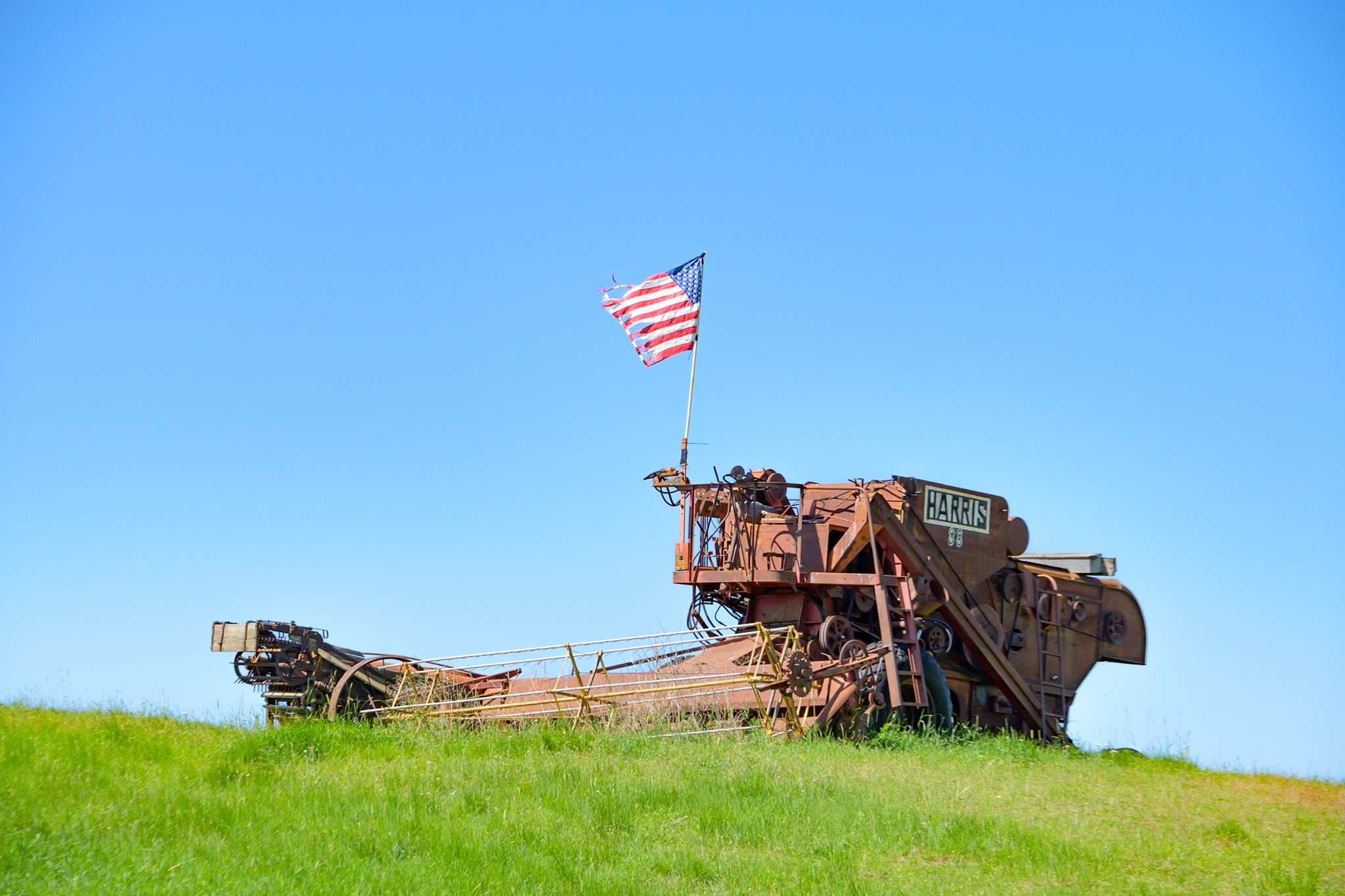 Update: June 19, 2019:
Thanks to some Malcontents who did a bit of research, we have an answer to the question, is this national pride or white nationalism.
The answer is – national pride. The story behind the story is actually pretty fascinating, and you can watch this video to learn more.
I'm back from a break and our annual photography trip to the Palouse region of Washington state. We spent four days covering almost 1200 miles taking pictures from sunup to sundown. Last night I discovered I snapped 1059 images on my primary camera, and maybe 50 to 100 more on my cellphone. I also shot a handful of video clips.

When I saw this picture right after I snapped it, I had a lot of thoughts going on in my head. Here is a piece of rusting farm equipment with a tattered American flag flying off of it. The field of wheat it sits in appears lush and healthy, but the soil is parched, and the plants are shorter than our last trip, which was a full month earlier in the growing season. The state has been in a drought, and there isn't much relief to come.
Depressed prices have rocked United States grain farmers along with extreme weather, changing growing seasons, tariffs, and the changing American diet. Chapter 12 farm bankruptcies are accelerating in 2019, but are nowhere near peak levels during the 1980s.
Last night I poured through a thousand images and selected about 80 for post-processing, including this photo, which I posted on Instagram and Facebook while on my trip. I had planned on Thoughtful Tuesday to write about the struggles of the American farmer, the strategic role they play for the nation, and the dying of rural America. That was my plan. Then I did post-production on this photo.
If you're not familiar with the photography process, the first step is to zoom in on an image as part of the selection process. You're looking to see how crisp the picture is. A perfect photo with proper focus will have crisp details in the areas you want to pull the viewer to and the required depth. The fastest way to figure that out is to zoom in on key features. Text, numbers, and words are an excellent choice for this process.
My two choices for this picture was the American flag and the word, "Harris," on the equipment. The stars on the American flag were surprisingly crisp as the tatters were in motion with a stiff wind blowing. When I zoomed into the "Harris," I suddenly felt sick to my stomach. There below the Harris, in smaller font but equally crisp the number 88.
The number 88 is associated with white nationalism and Neo-Nazis, with the letter H being the eighth letter in the alphabet. In these circles, the number 88 is a hidden in plain sight reference to, "Heil Hitler." The problem, of course, is the number 88 could also be completely innocuous. The farm could have been established in 1888; the person who put this here could have some connection to 1988, or 1888. There may be no connection with white nationalism at all, or there may be.
Three years ago I wouldn't have given this a second thought. I still knew of the 88 connection to white nationalism, but I wouldn't even consider someone would be this brazen, but that was then, and this is now. Located on the Idaho panhandle border, a known hotbed of white nationalism, the Pandora's box open and supporters of the doctrine almost as visible as the civil rights unrest of the 1950s and 1960s, or when the German American Bund was active in the 1930s.
There are so many seeds of distrust sown in our nation due to social media and political agendas, ironically some of it backfiring on the architects of this erosion. US allies have been told for almost three years that US intelligence arms can't be trusted, and now the same administration is saying, "trust us, our intelligence agencies say Iran attacked two oil tankers!" All but our most ardent ally, the UK, is looking at us going, "we'd like to see other intelligence, as you've been saying you can't trust your own."
So is this a monument of white nationalism? A homage to MAGA and a proclamation that greatness is achieved when we are white? Is this a symbol of hate? Or is this simply a number on a rusting piece of equipment? A monument to a time when rural America had a path to prosperity supported by the local businesses? In 2019, it is really hard to tell.
Think about it.
Malcontent, out!