I always feel like, somebody's watching me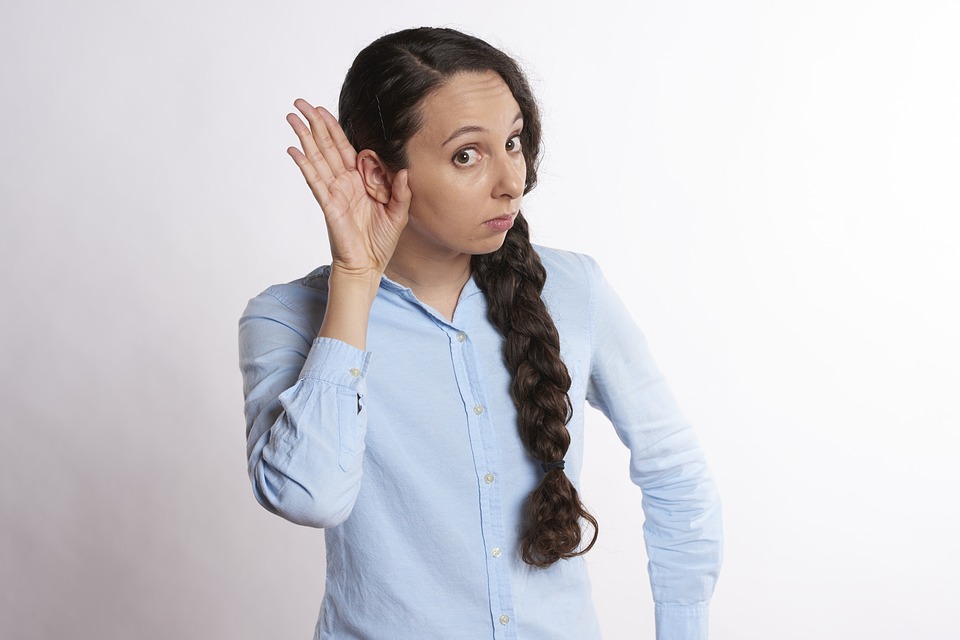 A lot of keystrokes have been dedicated to the subject of "is Facebook listening to my conversations?" The general conclusion is a resounding, no to at the worst, highly unlikely. I feel like I need to adjust my tinfoil hat because I've had a couple of incidents lately that have me take pause and wonder, is AI listening to my conversations and using it for marketing?
Before I take this leap, let me provide a bit of background. I was, up until two weeks ago, the head of Product Marketing at a company that specializes in providing TV ad attribution to upper and lower funnel KPIs, as well as conversion events, to brands and networks. The ability to go this TV displayed this ad in this household, and then this phone or PC visited this website, or bought this item, or walked into this store, or, well you get the idea, is both very simple and very complex. The capability to do it to the level of an individual is possible. To be 100% clear, my company does not in any way engage in that level of tracking, nor do we use or even accept or process Personally Identifiable Information (PII). We also have a crystal-clear opt-in process. Those that know me, I mean know me, know I would quit tomorrow if I thought for one minute, we were doing something crooked. I've been under the hood.
The point of this is, I "understand," this technology. I understand that between tracking pixels, cookies, UID, MAID, device IDs, and connecting all this data using LiveRamp or Adobe, as two examples, exists. It is completely true that when all your browsing, search, location, and social information is aggregated, even in an "anonymous" way, a very detailed picture of you emerges. A few years ago it was common that if you searched refrigerators online that you would see ads for refrigerators for the next six months – everywhere – even if you already bought a refrigerator. Now it seems that if you even thought about a fridge or said, "Hey honey, I think we need a new refrigerator," ads appear. It could be as simple as you walked into a Best Buy store, followed by Frys, followed by Sears, and the location data was used to conclude you were looking at appliances. Yes, that simple.

Back to my tinfoil hat. Case study number one.
About a month ago at work, we were talking about printers and high-quality printers for photo production or other work. I had mentioned that years ago, I had owned a Minolta color laser printer that created amazing quality prints for years. That I had it until the drum had worn out, and the cost was prohibitive for replacement, so I got rid of it.
That same day, on Facebook, I was served an ad for Minolta color laser printer cartridges. I haven't looked at replacement printers in a year. I certainly didn't search for anything. I have gone into some office supply stores but not outside of my usual patterns. I hadn't made any Amazon purchases related to Minolta anything, or anywhere else for that matter. I hadn't even thought or dreamed about my Minolta printer, that I got rid of 7 years ago after five years of service. There it was, an ad for Minolta laser printer cartridges in my Facebook feed. I honestly went, "meh," because I understand the technology for ad optimization.
Case study number two.
Today I was driving my daughter around to pick up a prescription. I told her about the massaging seats in my somewhat, new to us, car as we were traveling. I told her where the button was to turn it on and how it feels good on the back. She found the button and described it as like a cat kneading you and that it felt good. Her prescriptions were not back pain related; I have done no searches about back pain, or sciatica, or any other type of back-related pain. I did have an MRI on my shoulder about six weeks ago, but no ads were shown to me for pain management, back issues, or any other issue related to the back. I have done no searches about back or back-related problems. I haven't been to a chiropractor or any other place where location data could go, hey, maybe we should show him this. So I get home and well, look for yourself.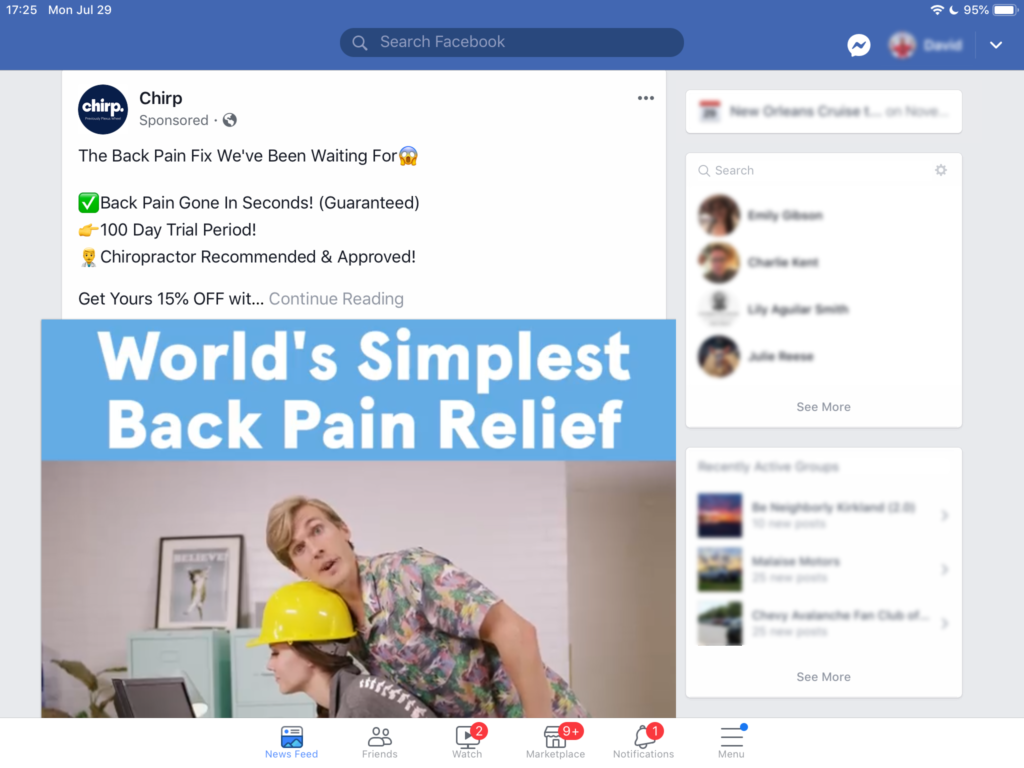 So now color me very skeptical, because leveraging what I know, it is getting harder for me to believe that Samsung, or Apple, or Facebook, or Google, or Amazon, or someone is not listening to my conversations and showing me ads related to those conversations. Case study one I can write off to bizarre coincidence. This second one makes it harder for me to accept that there is something deeper going on. Neural nets, artificial intelligence, and remarketing algorithms are good (well, in reality, they are pretty flawed, but they are getting better), but they are nowhere near that good.
Excuse me; I need to tighten my tinfoil hat.
Like, Share, Follow, Support