New Covid cases decline and kids 5 to 11 get first vax doses – local, state and national update for November 3, 2021
Washington healthcare providers work to ramp up vaccination efforts statewide.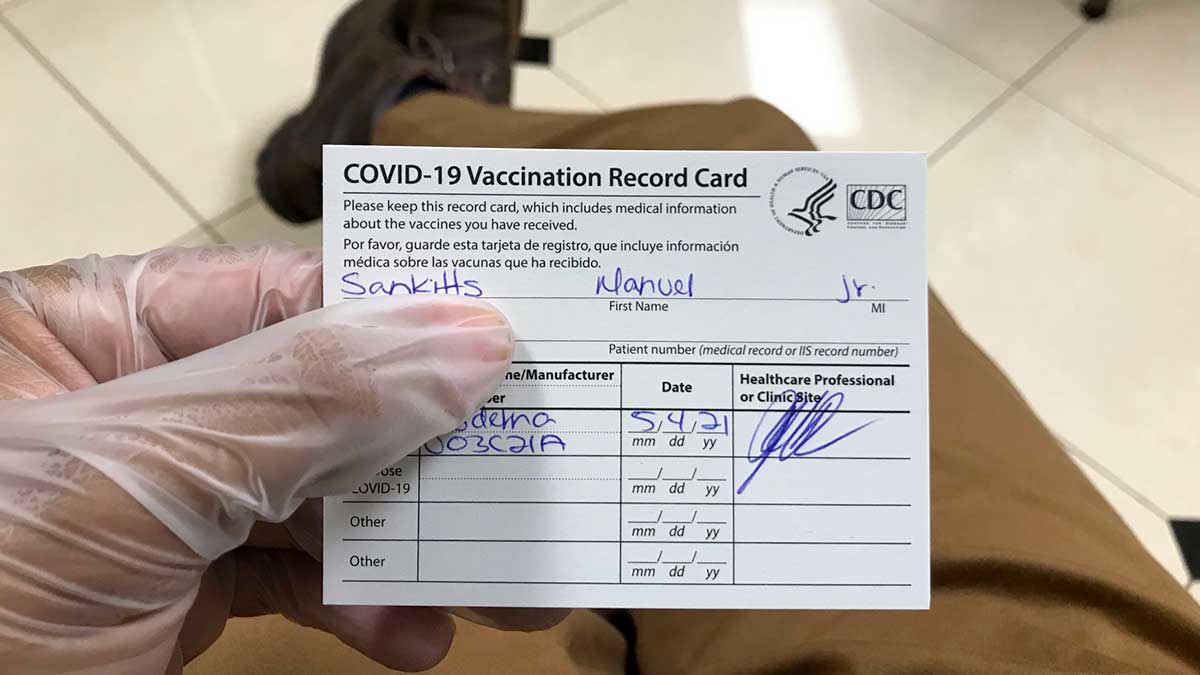 Knowledge is the best tool to fight against fear. A wise person chooses to be informed so they can make sound decisions. To join the fight against COVID misinformation, you can share this update through your social media platform of choice.
[KING COUNTY, Wash.] – (MTN) New COVID cases are down 10% this week providing the strongest signal yet the fifth wave is winding down in Washington. Hospitalizations remain on a plateau but if new cases continue to decline, the number of Covid-19 patients should start to drop in another 10 to 14 days.
Washingtonian children between 5 to 11 got the first doses of the Pfizer COVID vaccine, with thousands more expected in the coming days. The Western States Safety Review Workgroup recommended the vaccine today. Healthcare providers and pharmacies are asking for patience as supply catches up with demand. Children vaccinated by November 15 will be fully immunized by Christmas. For three Tri-Cities children, the vaccine didn't come soon enough.

A Benton County sheriff deputy who is a school resource officer for multiple districts is unvaccinated, creating a conundrum for officials due to a loophole. Malcontent News received more information about the Eatonville School District, where three employees remain on unpaid leave, and school district attorneys believe they are not at risk of losing state funding. Kenton Gartrell, who was a candidate for the Yakima School District was warned he had to wear a mask or face a trespass order.
Palmer Davis, one of the key people for spreading COVID disinformation and arranging protests in Oregon and Washington announced on her blog she is selling her house, and implied will leave Washington state. A report in The Guardian called out Sinclair Broadcast Group and Clark County Today for spreading COVID disinformation.
The U.S. Air Force announced 800 active duty service members refused to get vaccinated and could face disciplinary action or discharge. Another 5,000 are awaiting a decision on their exemption requests.
A pilot with American Airlines and seller of online supplements has set up a website to support Southwest Airline employees in the name of medical freedom and donations.
Green Bay Packers Quarterback Aaron Rodgers said he was vaccinated. Turns out he isn't and he has COVID. If he is asymptomatic he can return to the field on November 13.
Colorado joined Alaska, Idaho, and Montana declaring crisis standards of care due to a significant number of COVID patients, and we have updated our travel advisory list.
This update uses the latest data from the Washington State Department of Health (WSDOH), released on November 3, 2021.
---
Washington State Update for November 3, 2021
Washington state Covid-19 update
For the first time since we have tracked data by total population vaccinated, all groups have a 14 day new case rate below 400.0. Twelve Washington counties are reporting 7 day moving average case rates below 100 and three counties, Columbia, Garfield, and San Juan are below 25. A new case rate under 25 indicates Covid-19 is endemic in those counties.
The statewide vaccine mandate deadline for hundreds of thousands of workers was 16 days ago. For the holdouts that waited until the last minute, peak protection against Covid-19 was reached this week. The sharp drop in new cases is happening concurrently with peak protection being reached by tens of thousands across the state.
The inversion of new cases rates between counties 40% to 49.99% vaccinated and 50% to 59.99% vaccinated is statistically insignificant.
| Percent of Total Population Fully Vaccinated | Total Population in Group | Average 14-Day New Case Rate |
| --- | --- | --- |
| 70% or above (3 counties) | 2,343,250 | 200.4 |
| 60.00% to 69.99% (4 counties) | 1,242,200 | 335.0 (down) |
| 50.00% to 59.99% (15 counties) | 3,433,900 | 354.3 (down) |
| 40.00% to 49.99% (9 counties) | 599,225 | 347.8 |
| 31.20% to 39.99% (8 counties) | 158,300 | 367.0 (down) |
14-Day New Covid-19 Cases per 100K average by Vaccination Rate for Total Population, Adjusted for Population by County
Through November 2, Washington's statewide 14-day rolling average is 304.8 Covid-19 cases per 100K – a significant drop from yesterday. If this trend can continue hospitalizations should start to decline faster in two to three weeks.
Lincoln and Skagit counties have new case rates between 600.0 to 799.9 – both are in the low 600s.
Asotin, Chelan, Douglas, Grant, Ferry, Klickitat, Lewis, Okanagan, Skamania, Spokane, and Stevens counties have a new case rate between 400.0 and 599.9. Cowlitz, Mason, and Pend Oreille were just under 400.
The 7 day case rate was down across all groups. Hospitalization rates were mostly unchanged except for people 65 to 79, which saw a decrease, and those 80 and above which saw a slight increase.
| Age Group | 7-Day Case Rate | 7-Day Hospitalization Rate |
| --- | --- | --- |
| Ages 0-11 | 132.8 | 0.5 |
| Ages 12-19 | 117.8 | 0.9 |
| Ages 20-34 | 124.3 (down) | 3.9 |
| Ages 35-49 | 137.9 (down) | 7.5 |
| Ages 50-64 | 105.3 | 11.7 |
| Ages 65-79 | 79.6 (down) | 17.4 (down) |
| Ages 80+ | 78.3 | 22.1 (up) |
7-day case rate and 7-day hospitalization rate is per 100K within the age group – the target for 7-day case rate is <25.0, but there are other factors such as vaccination rates within the age groups, how many total tests within the 7-day period, and the positivity rate within each age group
The USA Today COVID Tracker reported 34 deaths on Tuesday.
Western States Scientific Safety Review Workgroup recommends Covid-19 vax for children 5 to 11
The governors of California, Nevada, Oregon, and Washington approved the use of the Pfizer vaccine for children 5 to 11 after the information provided by Pfizer, the FDA, and CDC was reviewed by the Western States Scientific Safety Review Workgroup. Dr. Arthur Reingold, MD, and Chair of the group released a letter today in support of vaccinating children 5 to 11 to protect them from Covid-19.
The Western States Scientific Safety Review Workgroup thoroughly reviewed the evidence from the clinical trial in children ages 5-11 years of the 10 µg PfizerBioNTech COVID-19 vaccine presented to the U.S. Federal Drug Administration's Vaccine Related Biological Products Advisory Committee (VRBPAC) on October 26, 2021 and the U.S. Centers for Disease Control and Prevention's Advisory Committee on Immunizations Practices (ACIP) on November 2, 2021 and considered the committees' discussions.
The Workgroup carefully assessed the safety data for the vaccine, including the absence of any severe adverse events among vaccine recipients in the clinical trial. Reactions were mild, self-limited, similar to those seen in adolescents and adults and with other vaccines routinely recommended for children and were less common in those ages 5-11 years than in those 16-25 years. Based on the substantial experience in older children and adolescents, the Workgroup concluded that the risk of myocarditis following receipt of the lower dose vaccine in children 5-11 years of age is likely to be low.
The Workgroup noted the vaccine's efficacy of more than 90% against symptomatic COVID-19 disease in this age group. Expanding COVID-19 vaccination in this age group will protect children 5-11 years of age who are vaccinated and allow them to more safely engage in educational and other activities important to their health and development; give parents a means of further protecting their children; and contribute to control of the COVID-19 pandemic in our states. The Workgroup strongly urges that states make every effort to reduce or eliminate disparities in the availability and uptake of COVID-19 vaccines in children 5-11 years of age, as well as in older children, adolescents, and adults.
Based on this review, the Workgroup concluded the vaccine is safe and effective in this age group. Because substantial numbers of children of this age remain at risk of COVID-19 illness and its complications, including hospitalization and death, the Workgroup is confident that the benefits of this vaccine for children ages 5-11 years substantially outweigh any known or likely risks. Therefore, the Workgroup supports its use under Emergency Use Authorization (EUA) as a two-dose series of 10 µg per dose given three weeks apart.
Benton County Sheriff deputy is unvaccinated school resource officer
Brad Klippert, who has been a Benton County sheriff school resource officer for the Kiona-Benton City school district for more than 20 years, told the Tri-City Herald he has not gotten a COVID-19 vaccination nor been asked for a medical or religious exemption from the requirement.
He also fills in as the school resource officer for the Finley School District.
That flies in the face of a new state requirement that began Oct. 18 that any employee or contractor working with children in Washington schools needs to have either the vaccine or an exemption, according to the Office of the Superintendent of Public Instruction.
"In this case, the Kiona Benton School District contracts with the Benton County Sheriff's Department for school resource officer (SRO) services," Katy Payne, the office's director of communications, told the Herald. "The sheriff's department is required to verify the vaccination status and process requests for exemptions of any SROs they send to school districts."
The Washington state vaccine mandate did not require sheriff deputies to get vaccinated, so deputy Klippert is in compliance with the department. However, the mandate did require anyone working within public or private schools to provide proof of vaccination or receive an exemption.
King County sheriff deputies were required to get vaccinated by October 18 by a mandate established by the County Council and King County Executive Dow Constantine.
Three Tri-Cities students ages 10 to 19 have died of Covid-19 in 2021
Currently, in the Tri-Cities, the highest rate of new cases of COVID-19 is in ages 15 to 39 according to the Tri-City Herald. The newspaper also reported three Tri-Cities students between 10 and 19 have died from COVID complications.
Whatcom County has had 9 Covid-19 related deaths in the last 10 days
Whatcom and Skagit counties have become Covid-19 hot spots in the last couple of weeks, with the virus tearing through pockets of unvaccinated people.
The death reported Tuesday was for a resident who first tested positive for COVID-19 on Oct. 11, The Bellingham Herald's analysis of the state's epidemiological data showed. It represents the ninth epidemiological death the county has seen in October and increased the county's total number of deaths since August 1 to 52, the Bellingham Herald found.
Eatonville School District teacher termination tempest in a teacup
There have been multiple stories about the Eatonville School District and the School Board defying the Superintendent of Public Instruction Chris Reykdal, Eatonville over the removal of unvaccinated staff in the district.
On October 25, Jeff Lucas, Chairman of the Eatonville School District Board of Directors reported in an e-mail only three staffers are unvaccinated and don't have an approved accommodation. Additionally, the letter indicates school district attorneys do not believe district funding from the state is at risk.
"First, despite what the whole world is saying, the mandate does not specify people be terminated. They are "prohibited from engaging in work". OSPI and our attorneys have told us that means these folks are not working and therefore not being paid."
"Second, that is exactly what's happening. We haven't opened the door for a COVID free for all. All the masking and distancing requirements remain. We have 3 people, not 15 as most think, that are refusing vaccine and any accommodation. They haven't been to work for 2 weeks and will not return until they get the vaccine or agree to accommodations."
"Third, there is not a funding threat as we are not violating the mandate. It's certainly a bit of semantics but if they were determined to terminate these employees, they could have very easily used that exact language, and should have."
Yesterday, Superintendent Reykdal indicated the district was at risk of losing funding and said Eatonville was the only district that has not started the termination process for unvaccinated staff.
Leader of Covid-19 disinformation group Waking Up Washington calling it quits
Palmer Davis has been a principal organizer of Covid-19 anti-mask, anti-vaccine, and anti-mask rallies. She has aligned herself with America's Frontline Doctors, Scott Miller, Joey Gibson, and Patriot Prayer, the Proud Boys, and runs websites that sell fake COVID cures.
In a blog on one of the websites she manages, Davis announced she was calling it quits and likely leaving Washington.
"A sign wave in the snow. Waking Up WA was just a way to give back to the freedom community. It was never a brand I wanted to build, it was never about me… I never even wanted WA to be a state that needed such a huge ecosystem of activists to try to save it."
"Many protests and rallies later, I am proud of the work we've done. Never perfect, never finished – just … better. A sign wave outside Costco is always better than shopping at Costco."
"I don't want to leave, but I also have to be honest. I have to sell my house, my folks have gone to Idaho, and I have… no skin… in this game."
"My name is Palmer, and I started Waking Up WA in early 2021 to do sign waves in Vancouver. I am not the biggest, I am not the boldest, and I am not the bravest activist in this state."
Earlier in the summer, Davis was able to draw hundreds at events across the state, sometimes charging admission fees of $20 per person. The last event the group promoted was on October 30 in Winlock for "Freedomween." A planned protest at Harborview Medical Center on September 25 drew no interest, and the Free to Choose protest on October 18 outside of Seattle City Hall drew about 100 people from across the state. A protest in Olympia on October 22 drew a scant group.
Report in The Guardian calls out Sinclair Broadcast Group and Clark County Today for platforming Covid-19 misinformation
The Guardian released an article today outlining how anti-vaccination and Covid-19 disinformation creators moved from national news outlets to local news, creating deeper distrust and confusion across the United States. One of the news outlets highlighted was Washington state's Clark County Today.
Clark County Today has published content from prominent anti-vaccine groups or advocates for unproven Covid-19 treatments. Although they have innocuous names that mimic traditional local news outlets, their content often promotes anti-vaccine views or furthers Covid-19 conspiracy theories. Researchers have come to call these types of organizations "pink slime" outlets and they have become a growing part of the media landscape in recent years.
"The problem that occurs with this is that they don't have the same journalistic standards – many of them have a decided political agenda to them," Abernathy said.
In one post from early October, Clark County Today, which was founded by David Madore, a wealthy Republican donor who has bankrolled local candidates in Washington state, republished an article from the anti-vaccine Children's Health Defense in full. Another article on the site covers local support for Scott Miller, a physician's assistant whom the state medical commission suspended in October for advocating ivermectin, but does not mention allegations that he attempted to bully local hospital staff into prescribing the drug and spread medical misinformation that resulted in the suspension.
The publication responded to The Guardian stating in part "the site's coverage of the pandemic was informed by the "one-sided" approach from "mainstream news media, social media and even Big Tech."
Yakima School District warned school board candidate to wear a mask or get a no trespass order
According to the letter sent by Yakima School District's director of safety and security, Sara Cordova, Kenton Gartrell was in violation of a Yakima School District Operational Procedure – Disruption of School Operations and RCW 28A.28A.635.20 willfully disobeyed school administrative personnel while at his daughter's open house at Nob Hill Elementary at the beginning of the school year.
In a report provided by KOMO News, Gartrell said the confrontation between him and two school administrators began after he claims he was told he needed to leave because he refused to put a mask on.
The letter obtained from the district says as Gartrell and his family were leaving, two administrators met them outside to reiterate the expectation that all people inside the building must wear a mask. The letter says Gartrell began recording the interaction, where he argues with the principal that the mask requirement is not law, and that he expects accommodations for him and his child regarding masks and vaccines, then calls her a "bureaucratic bully."
In early results, Gartrell was losing in his election bid.
Travel Advisories
With new cases starting to decline statewide, we continue to hope the East Hospital Region travel advisory can end in the next seven to 14 days. For now, we're maintaining our recreational travel advisory to the region, including Adams, Asotin, Ferry, Garfield, Lincoln, Pend Oreille, Spokane, Stevens, Wahkiakum, and Whitman counties. Acute care and ICU capacity remain limited.
Additionally, we are maintaining the travel advisory for the Northwest Hospital Region. The region includes Clallam, Jefferson, Kitsap, and Mason counties.
We are adding Colorado to our list of states to avoid all nonessential travel. On Sunday, Governor Jared Polis signed an executive order implementing crisis standards of care. We continue to strongly advise against all nonessential travel to Alaska, Idaho, and Montana. Alaska and the Idaho Panhandle are experiencing an extreme number of Covid-19 hospitalizations. Hospital resources in these regions are constrained, and you may receive inadequate care if you experience a serious medical emergency.
We are downgrading our travel advisory for Wyoming and recommend avoiding recreational travel at this time. The situation has improved significantly in the last two weeks.
Thank you
Thank you to our new subscribers and those of you who have made one-time contributions. On behalf of the entire team, thank you for helping us keep the lights on!
Vaccination
Vaccinate Washington web portal now includes Pfizer-BioNTech pediatric ages 5 to 11 vaccine locator
Despite up to 316,000 doses of the Pfizer vaccine for children ages 5 to 11 expected to arrive in Washington this week, officials are asking for patience and kindness as parents scramble to make appointments. The Washington State Vaccine Locator provided by the Washington State Department of Health has added Pfizer-BioNTech pediatric ages 5 to 11 as a filter for searching for appointments and locations.
To find a location for your child, or a booster for yourself, you only need to provide your zip code at the Vaccinate WA website. On the results page, you can click on the down arrow to add filters, and select Pfizer-BioNTech Pediatric age 5 – 11.
A search this afternoon provided four locations in Seattle including Docere Center for Natural Medicine, UW Medicine at two locations, and Harborview Medical Center.
CVS, Rite-Aid, Walgreens, and Walmart are also accepting appointments online.
Hospital Status
According to the DoH COVID Dashboard, 91% of all staffed acute care beds are occupied, and 15.0% of patients have Covid-19. Statewide, hospitals have the staff to support approximately 648 additional acute care patients.
ICUs are at 88.5% of capacity statewide, with 25.0% of ICU patients fighting Covid-19 – an estimated 295 patients with 58.0% on ventilators. The state has the staff to support approximately 138 additional ICU patients.
On Tuesday, the 7-day rolling average hospital admission rate for new COVID patients was 94. The Department of Health reported 1,045 Covid-19 patients statewide on November 2, with 170 requiring ventilators.
Hospital Region readiness was largely unchanged from yesterday.
| Hospital Region | Counties | ICU Occupancy | ICU COVID Patients | Acute Care Occupancy | Acute Care COVID Patients |
| --- | --- | --- | --- | --- | --- |
| East | Adams, Asotin, Ferry, Garfield, Lincoln, Pend Oreille, Spokane, Stevens, Wahkiakum, Whitman | 88.3% | 33.8% | 90.4% | 20.0% |
| North | Island, San Juan, Skagit, Whatcom | 61.3% | 27.5% | 63.5% | 12.5% |
| North Central | Chelan, Douglas, Grant, Okanogan | 89.0% | 56.1% | 78.4% | 23.9% |
| Northwest | Clallam, Jefferson, Kitsap, Mason | 88.5% | 35.2% | 96.5% | 19.2% |
| Puget Sound | King, Pierce, Snohomish | 92.9% | 20.4% | 96.0% | 12.7% |
| South Central | Benton, Columbia, Franklin, Kittitas, Walla Walla, Yakima | 91.6% | 23.4% | 84.1% | 19.2% |
| Southwest | Clark, Cowlitz, Klickitat, Skamania | 73.1% | 22.0% | 88.7% | 13.5% |
| West | Grays Harbor, Lewis, Pacific, Thurston | 89.6% | 30.2% | 91.2% | 17.3% |
Hospital status by region – ICU Occupancy should be below 80%, ICU COVID Patients should be below 20%, Acute Care Occupancy should be below 80%, and Acute Care COVID Patients should be below 10%
Back to School
School District
Status
Less than 10 Active Cases
10 or More Active Cases
Bellevue

YELLOW

– Ardmore (1*)
– Bennett (1*)
– Highland (2*)
– Newport Heights (2*)
– Sammamish (2*)
– Stevenson (3*)
– Tyee (1*)
– Woodridge (1*)
None
Lake Washington

YELLOW

– Alcott (5)
– Bell (24)
– Blackwell (5 – see notes)
– Carson Elementary (6)
– Clara Barton (3)
– Eastlake High (48)
– Ella Baker (6)
– Finn Hill Middle School (6)
– Frost (5)
– ICS (4)
– Juanita Elementary (1)
– Juanita High (17)
– Kamiakin Middle School (25)
– Keller (6)
– Kirk Elementary (10)
– Lakeview Elementary (7)
– Lake Washington High School (7)
– McAuliffe (1)
– Muir Elementary (1)
– Redmond Middle School (1)
– Redmond High School (52)
– Rockwell (2)
– Sandburg/Discovery (4)
– Timberline Middle School (28)
– Twain Elementary (15)
None

Northshore

YELLOW

– Arrowhead Elementary (2)


– Bothell High School (20**)


– Canyon Creek Elementary (3)
– Canyon Park Middle School (2)
– Crystal Springs Elementary (17)
– East Ridge Elementary (3)
– Fernwood Elementary (5)
– Frank Love Elementary (10)
– Hollywood Hills Elementary (7)


– Inglemoor High School (23**)


– Kenmore Elementary (22)
– Kenmore Middle School (5)
– Kokanee Elementary (7)


– Lockwood Elementary (12**)




– Maywood Hills Elementary (2)


– Morelands Elementary (1)
– North Creek High School (20**)
– Northshore Middle School (13)
– Ruby Bridge Elementary (10**)
– Shelton View Elementary (8)


– Skyview Middle School (17**)


– Timbercrest Middle School (4)
– Wellington Elementary (8**)
– Westhill Elementary (19)


– Woodin Elementary (8**)


– Woodinville High School (4)


– Woodmoor Elementary (11)

None

Local Districts Scorecard – * indicates positive cases only ** indicates 5 or more confirmed positive cases
We redefined the school district statuses. Information for classroom and building closures has been a challenge to obtain, both for closures and reopening. We are adopting moving any school with more than ten active COVID cases reported into the red, and we've adjusted the third column to reflect this change.
There was a parent confirmed Covid-19 case reported at Blackwell Elementary in the Lake Washington School District on Monday and an additional parent confirmed COVID case on Tuesday, including three in quarantine. Because LWSD updates data weekly, we add a footnote for parent-reported cases during the week.
We continued to encourage parents to request daily updates from the Lake Washington School District. We would also encourage parents to request the Bellevue School District include data on close contacts. These two changes would bring the three school districts we track into alignment.
Kirkland-Bellevue-Woodinville
Kirkland Health Fair and Community Vaccination Event on November 6
The Kirkland Health Fair and Community Vaccination Event will be held on Saturday, November 6, from 10 a.m. to 2 p.m at Juanita High School. Hosted by the City of Kirkland in partnership with Public Health – Seattle and King County, the event will provide Covid-19 vaccination, information, education, and more.
At this time, organizers are not planning to provide vaccinations for children 5 to 11 years old, according to David Wolbrecht, Senior Neighborhood Services Coordinator with the City of Kirkland. We do have an inquiry in with the City to learn if this will change now that the vaccination is approved and doses are available.
National Round-Up
Johns Hopkins University Cumulative Case Tracker reports 72,754 new cases and 1,461 deaths nationwide on Tuesday. The United States broke 750,000 confirmed Covid-19 related deaths since February 29, 2020 today. That is close to every man, woman, and child in the state of North Dakota dying in 21 months.
800 U.S. Air Force personnel refuse to get vaccinated by deadline
The United States Air Force (USAF) and Space Force reported that 800 active duty service members among a force of 326,000 have refused to get vaccinated or seek an accommodation. The number is well below the 12,000 figure shared last week.
Just under 5,000 USAF personnel have a questionable future, among almost 8,500 who remain unvaccinated. Almost 5,000 have requested a religious exemption and are awaiting a decision. Another 2,700 will retire before April 1, 2022, and under Pentagon rules, do not have to get vaccinated.
The remaining 800 could face disciplinary action or discharge, although USAF leaders have not announced what the next course of action will be. The Military Times reported that local commanders would make final decisions. Airmen and officers who receive a less than honorable discharge will be ineligible for veterans' benefits, according to the same report.
The Pentagon reported 315,500 were fully vaccinated or completing their final doses and just under 2,000 had been granted accommodations on medical grounds.
Different branches have different deadlines, with the Air Force having the earliest requirement. The United States Navy reported almost 99% of their active duty force was at least partially vaccinated, the highest of the military branches. The last group required to get vaccinated is reservists and the National Guard, with a deadline of June 30, 2022.
CDC issues Level 4 travel advisories to four nations due to Covid-19 risk
The CDC added Belgium, Burkina Faso, Russia, and Slovakia to its list of Level 4 countries representing a very high risk of Covid-19 exposure.
Level 4 is the highest rating and advises people to avoid all travel if possible. COVID cases have been surging in Europe and the Covid VUI-21, also known as Delta Plus, continues to grow in the United Kingdom, Russia, and Denmark, where the variant has been identified.
Other European nations with a Level 4 travel advisory include Albania, Austria, Belarus, Bosnia and Herzegovina, Bulgaria, Estonia, Georgia, Greece, Kosovo, Latvia, Lithuania, Moldova, Norway, Romania, Serbia, Switzerland, Turkey, Ukraine, and the United Kingdom.
Denmark is under a Level 3 travel advisory.
The travel advisories come as the United States will allow vaccinated international tourist and business travelers to return to the United States starting on November 8.
Southwest Airlines Covid-19 disinformation website and Telegram group run by person selling supplements on Tik Tok
Southwest Airlines has been the subject of a number of headlines after thousands of flight cancelations rocked the airlines, backtracking on COVID vaccination requirements after pressure from Texas governor Greg Abbott, and a pilot that announced the Joe Biden insult, "Let's go, Brandon," on a flight.
The disruption to flights happened just hours after Southwest announced they would require the Covid-19 vaccine for its employees. The airline blamed air traffic control issues and weather for the disruption. The pilot union blamed a 28% staff reduction in 2020 and insisted that aircrews were not staging a sick out.
Despite the claims no organized action was taken, there was only a single, short-lived disruption of air traffic control in Florida and some weather delays in Texas. A bipartisan group of congressional leaders is calling for Southwest and other airlines to be investigated after they received billions in aid to protect payroll and retain employees and now blame poor service on staffing reductions.
Now a new public-facing website called Southwest Freedom Fliers has created the illusion of a broader vaccination revolt behind the scenes.
"Southwest Freedom Flyers is a grassroots collection of Southwest Airlines Employees fighting in opposition to vaccine mandates" the website states.
"We are an independent group but coordinating with an industry wide effort to preserve our religious and medical freedoms."
The website does have a disclaimer, "We do not speak for or represent Southwest Airlines or any unions. We are not affiliated with Southwest Airlines or any unions."
According to Yahoo News, the person behind the website is Shawn Alexander Walker. Walker, in a video that has gone viral in the anti-vaccination community and was amplified by Candace Owens, explains part of the reason why he formed the movement.
"I have to choose between putting food on the table for my family, and freedom of choice," Walker says before opining about the nature of America on top of footage of a Civil War reenactment. He then warns that "shifting baseline syndrome" will destroy the nation's conception of freedom entirely, complete with pseudoscientific graphics of brain activity to bolster this point. The video ends with Walker directing viewers to a website for a group of pilots, dubbed the U.S. Freedom Flyers, who oppose the vaccine mandate.
Walker doesn't even appear to work for Southwest Airlines, appearing in Tik Tok videos wearing an American Airlines lanyard. He is also a rep for the supplement Cell Sauce, which he promotes heavily on his channel.
Medical freedom is coded language for the antivaccination movement and the site has the option to donate to Walker's group, which he claims is listed as a 501(c)(4) charitable organization.
Aaron Rodgers claimed he was vaccinated, turns out he isn't and is now COVID positive
Green Bay Packers quarterback Aaron Rodgers has tested positive for COVID-19 and will not play against the Kansas City Chiefs on Sunday, a source confirmed to ESPN.
The NFL has considered Rodgers as unvaccinated since the start of the season, despite his statement that he was vaccinated during a press conference earlier this year..
Rodgers was placed on the league's reserve/COVID-19 list along with cornerback Isaac Yiadom on Wednesday, and the NFL said it would look into how the Packers have handled the league's Covid-19 protocols.
State Updates
Alaska
Alaska reported 195 Covid-19 patients in hospitals across the state and hospitalized and 688 new cases on Wednesday. Test positivity dropped to 8.2% while the 7 day moving average for new cases held steady at 589 per 100,000 residents. The state had 27 ICU beds available. Reluctantly accepted emergency measures in Anchorage combined with colder weather creating more isolation are starting to drive numbers down.
It isn't all good news. This past week's 7 day case total for the Yukon-Kuskokwim region was the 14th highest since the beginning of the pandemic and the sixth highest in 2021 according to KYUK Public Media. The hospital in Bethel has been operating under crisis standards of care for weeks.
The Yukon-Kuskokwim Health Corporation reported 254 new COVID-19 cases in the region from Oct. 25 to Oct. 31. YKHC also reported two new hospitalizations in-region, two medevacs, and the deaths of three residents due to the virus during this one week period.
On Tuesday, Governor Mike Dunleavy signed an executive order that prohibits all state agencies from participating in or assisting with federal vaccine mandates for employers. The order also tasks the state's attorney general with reviewing all federal vaccine mandates and looking for ways to challenge them in court.
Colorado
Hospitals in Colorado are being allowed to turn away patients as the state experiences its worst COVID surge in a year, according to a report by NBC News.
An order signed Sunday by Gov. Jared Polis gives health care professionals the authority to prioritize crisis care under the direction of the state health department.
While the state has a nearly 80 percent partial vaccination rate, unvaccinated people with severe Covid-19 are overwhelming hospitals, many of which reported being over 90 percent capacity, according to Scott Bookman, Covid-19 incident commander for the Colorado Department of Public Health and Environment.
Colorado has the fifth-highest number of COVID patients in the nation, and 80% to 90% are unvaccinated.
Montana
Montana reported 356 people were hospitalized and 873 new cases. Big Sky Country currently has 9,052 residents that are COVID positive.
Hospitals remain in crisis standards of care.
Disinformation
Taking the night off