Protest brings housing and eviction crisis to Seattle mayor Jenny Durkan's doorstep
Seattle Police were able to respond with a significant force despite reports of staffing issues.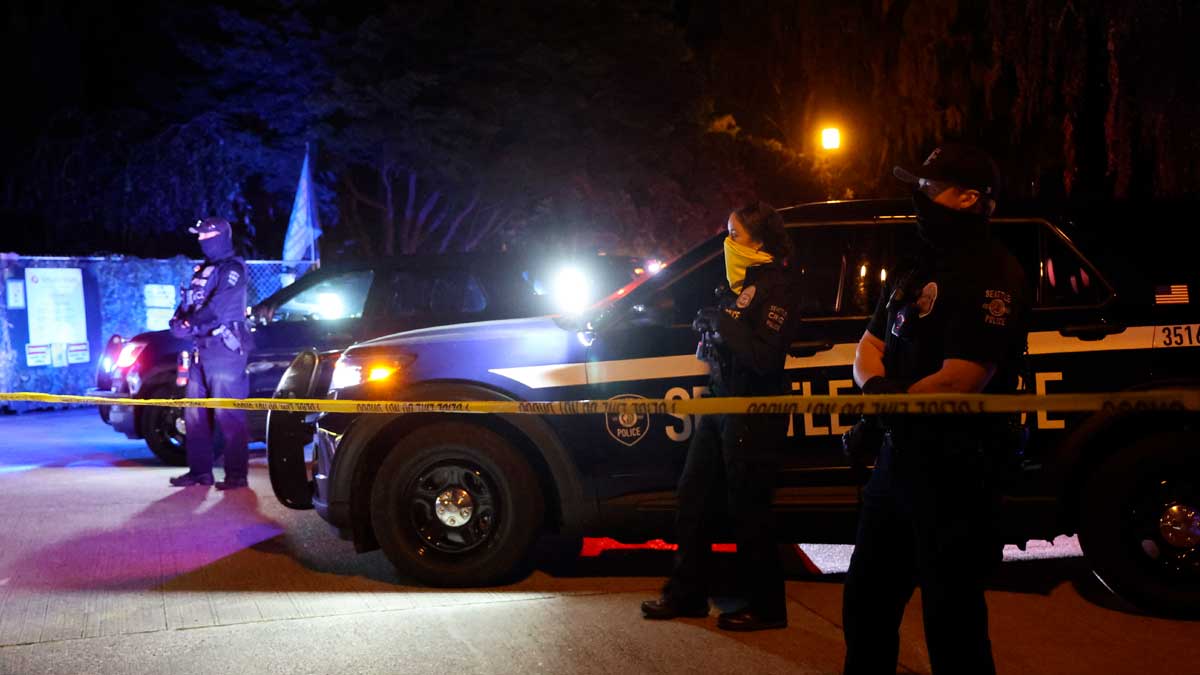 Photo Credit – Renee Raketty copyright 2021, Malcontent News
[SEATTLE, Wash.] – (MTN) A group of protesters brought the issue of housing affordability and the looming eviction crisis to the doorstep of Mayor Jenny Durkan last Friday night. They chanted: "Jenny Durkan, you can't hide. Pay the rent. Keep folks inside."
Approximately 15 officers with the Community Response Group (CRG) within the Seattle Police Department sectioned off the roadway outside Durkan's mansion in the Windermere neighborhood of Seattle.

A booming voice from an LRAD speaker atop a police cruiser pleaded with protesters to take their case to city hall. However, the protesters — most dressed in black bloc — began to taunt police for acting as her private security.
"How much money did you guys make providing personal security outside this house," asked Tru, an organizer with FTP206. "My tax dollars should afford me and future generations better than this.
"When I call 9-1-1, I shouldn't be dealing with just emergency cops, emergency ambulances, and emergency fire. What about the real emergency when people are evicted? My taxes should afford me more options."
After marching through the neighborhood and attempting to deliver their message to Durkan for more than an hour, the protest appeared to end without incident. There were no arrests.
Tru later told Malcontent News that the protest went to "Jenny's house because that's who is in charge in our local executive city position" and has a "critical say in the budget as well."
"Jenny is waiting to pass the problem onto the next administration but we need the rent paid now," he said. "All that Jenny's done is allow people to further accumulate debt.
"We can and we should release and reallocate funds to the communities in the most need so people can just live. The hope is to get ahead of this tsunami of evictions getting ready to roll out in our streets."
Last month, Durkan announced her 2022 budget proposal that called for increases in funding for housing and law enforcement. The Seattle Times reported the budget includes $50 million for new affordable housing, $25 million for food programs and homeless shelters, and $115 million to the Human Services Department to address homelessness. The budget also calls for $1 million in officer hiring incentives and adding an additional 35 new officers to the force.
The City of Seattle's budget committee will hold public hearings on Oct. 12 and Nov. 10 to hear public testimony on the budget.
Like, Share, Follow, Support