8,000 Washingtonians lost and counting – local and national update for October 11, 2021
New cases and hospitalizations drift downward and the state vaccine mandate deadline is just a week away.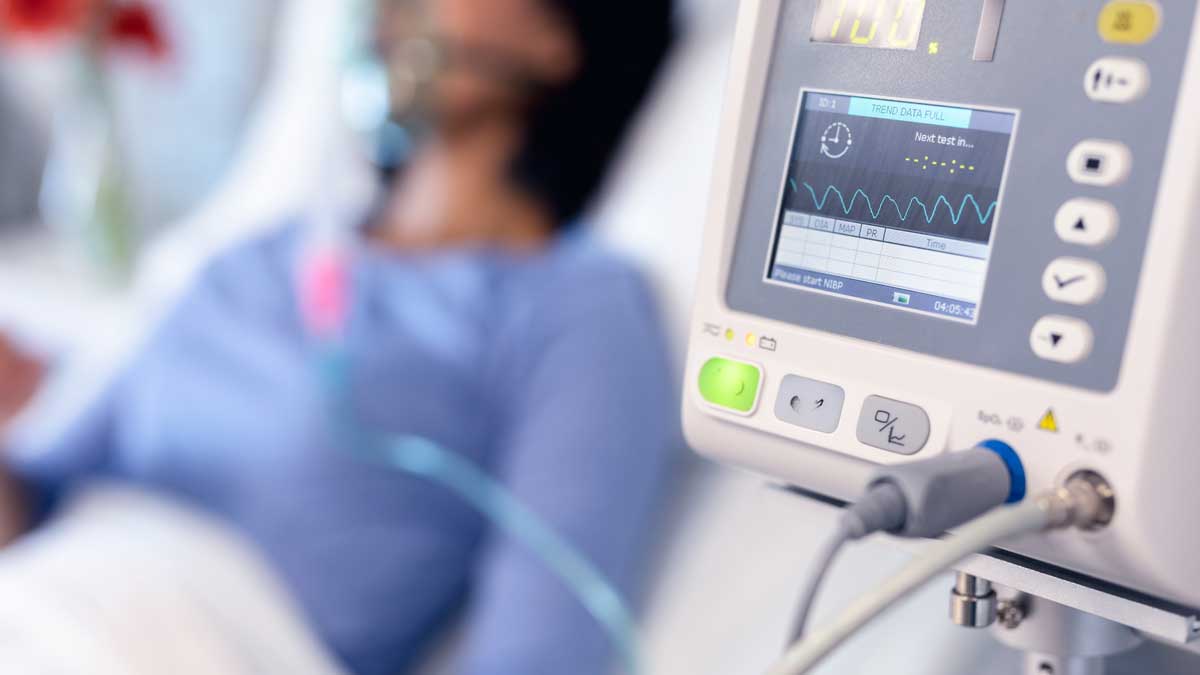 Knowledge is the best tool to fight against fear. A wise person chooses to be informed so they can make sound decisions. To join the fight against COVID misinformation, you can share this update through your social media platform of choice.
[KING COUNTY, Wash.] – (MTN) More than 8,000 Washingtonians have died from Covid-19 since February 29, 2020, as new cases and hospitalizations continue to slowly decline.
Vaccination rates increased across the state, although the gap between the most vaccinated and least vaccinated counties barely narrowed. Pediatric and adolescent hospitalizations increased over the weekend and we learned that Washington state is taking in 110 hospital patients from Idaho a week.

Almost 92% of Washington state employees are fully vaccinated or have an approved exemption and the Washington State Hospital Association reported over 88% of all medical workers are inoculated.
After multiple threats of a sickout, Washington State Ferry workers crippled operations over the weekend. Up to 170 WSF employees remain unvaccinated and years of system neglect amplified the staffing issues over the holiday.
Washington State University football coach Nick Rolovich announced he was opting for a special play when it comes to getting vaccinated and filed for a religious exemption. The day before the Seattle Kraken make their NHL debut, five players are under Covid-19 protocols.
Unvaccinated King County residents are 16 times more likely to die from Covid-19, and while vaccination rates in the Bellevue-Kirkland-Woodinville area continue to increase, Bothell and the northern half of Kirkland continue to lag behind the rest of the local area.
The Northshore School District moves to red status, with 12 confirmed Covid-19 cases at Lockwood Elementary. New cases were also reported in the Bellevue and Lake Washington school districts.
In local news, Amazon has announced it is indefinitely delaying the return of 50,000 officer workers due to the ongoing Covid-19 situation.
Merck and Ridgeback Biotherapeutics formally applied for emergency use authorization for the anti-viral medication molnupiravir, which has shown promising results in helping minimize Covid-19 symptoms.
Alaska, Idaho, Montana, and Wyoming remain Covid-19 hot spots we are watching closely due to the impact transfer patients have on our hospitals.
This update uses the latest data from the Washington State Department of Health (WSDOH), released on October 11, 2021.
---
Washington State Update for October 11, 2021
Washington state Covid-19 update
New cases were flat over the weekend which is significant. Historically, the data has shown an artificial bump on Mondays because it includes some data from the weekend. This is the first time since mid-August the data has shown a spike at the start of the week, providing a strong indicator that cases continue to decline.
Monday also provides updated countywide vaccination numbers. In Clallam County, 60.2% of all residents are fully vaccinated. The number of new cases in the least vaccinated counties is threefold higher than the most vaccinated.
| Percent of Total Population Fully Vaccinated | Average 14-Day New Case Rate (unadjusted) |
| --- | --- |
| 60.00% or above (5) | 249.1 |
| 50.00% to 59.99% (14 counties) | 482.9 |
| 40.00% to 49.99% (12 counties) | 608.9 |
| 29.90% to 39.99% (8 counties) | 749.1 |
14-Day New Covid-19 Cases per 100K average by Vaccination Rate, Not Adjusted for Population
Through October 10, Washington's statewide 14-day rolling average is 388.2. Covid-19 cases per 100K.
Ferry County continues to be the Washington state hot spot with 1,175.7 new cases per 100K residents.
Counties in the 800.0 to 999.9 per 100K range include Columbia, Garfield, Grant, Klickitat, and Stevens.
Counties in the 600.0 to 799.9 per 100K range include Chelan, Douglas, Franklin, Grays Harbor, Lincoln, Mason, Okanogan, and Pend Oreille.
New cases were unchanged or drifted upward with one exception – adolescent cases and hospitalizations for 12 to 19-year-olds increased significantly over the weekend. Pediatric hospitalizations also increased from birth to 11, while all other age groups were flat or drifted downward.
| Age Group | 7-Day Case Rate | 7-Day Hospitalization Rate |
| --- | --- | --- |
| Ages 0-11 | 168.6 | 1.1 (up) |
| Ages 12-19 | 208.8 (up) | 1.6 (up) |
| Ages 20-34 | 174.1 (up) | 3.6 |
| Ages 35-49 | 180.4 | 7.8 (down) |
| Ages 50-64 | 128.1 (up) | 13.9 (down) |
| Ages 65-79 | 94.3 (up) | 15.5 |
| Ages 80+ | 96.7 | 35.2 (down) |
7-day case rate and 7-day hospitalization rate is per 100K within the age group – the target for 7-day case rate is <25.0, but there are other factors such as vaccination rates within the age groups, how many total tests within the 7-day period, and the positivity rate within each age group
The USA Today COVID Tracker reported 50 deaths on Friday. The state of Washington is not reporting the percentage of positive cases. More than 8,000 Washingtonians have died from Covid-19 since February 29, 2020. The state crossed the sad milestone over the weekend.
Washington state hospitals accepting an average of 110 Idaho patients a week in 2021
An analysis of RHINO data from the Washington State Department of Health indicated that hospitals have been admitting approximately 110 patients from Idaho a week during 2021. The number represents a fraction of total average hospital admissions, which hovers around 500,000 patients in a normal year.
The data does not provide information on how many hospital admissions were Covid-19 patients and the report did not provide a weekly analysis. Eastern Washington hospitals reported last week they were feeling increased strain due to Idahoans crossing the border looking for medical care.
With 7 days to go, almost 92% of all Washington state employees are fully vaccinated or have been granted an exemption
Data released by the Washington State Office of Financial Management provided the clearest picture yet on how many state employees are vaccinated. On October 4, 89.5% of all state employees had provided proof they are fully vaccinated. Another 2.4% had medical or religious exemptions approved.
The same report indicated the Washington State Patrol was 89.9% fully vaccinated on October 4. Last week, the Seattle Times reported the WSP was 93% vaccinated on October 7. Using that data point as a barometer, it is estimated 94% to 95% of Washington state employees are fully vaccinated or have an approved exemption, with 7 days ago.
Only two organizations with more than 500 workers have vaccination rates below 85% – Washington National Guard at 79.1% and DSHS – Rainier at 83%. It is worth noting the Pentagon has given Army National Guard servicemembers until June 30, 2022 to be fully vaccinated.
Almost 93% of the 6,608 Washington State Department of Transportation employees are vaccinated or have received an exemption. Almost a third of DOT employees work for Washington State Ferries. Three weeks ago there were 450 WSF workers who had not confirmed their vaccination status. The number dropped to 250 on Thursday and 170 on Friday. Despite a full vaccination rate approaching 93%, unvaccinated ferry workers made their presence known this weekend.
As of October 4, 1,228 state workers had requested medical exemptions, with 866 approved. Officials are still evaluating 75 requests and 258 exemption requests were withdrawn. Another 315 employees had requested some degree of accommodation, with 255 approvals.
The state also received 4,849 religious exemption requests and so far has approved 4,219 with 42 still under evaluation. Only 184 religious exemptions have been denied, while 404 requests were withdrawn.
Approximately one percent of all state employees have joined a lawsuit attempting to block the state mandate. It is unlikely the plaintiffs will get relief. Both federal courts and the Supreme Court have sided with municipalities, counties, states, businesses, and schools in a number of similar court cases filed across the country.
88% of all Washington hospital workers are fully vaccinated
From janitorial services, cooks, and med techs to nurses, surgeons, and administrators, 88% of Washington state's hospital staff will be fully vaccinated by October 18, according to a survey by the Washington State Hospital Association.
Cassie Sauer, CEO reported in a briefing today the remaining 12% include people who don't plan on getting vaccinated, are partially vaccinated, have an approved exemption, have an exemption under review, or are waiting to learn if an existing exemption has been approved.
"The 2-5%, I want to emphasize, is a statewide number. There are some places that are going to have less and some places that are going to have more. And the place that seems to have the likeliest, biggest impact is rural eastern Washington," Sauer said.
In New York, the state saw similar numbers among hospital workers days before its mandate went into effect. Final vaccination rates ranged from 85% to 100% depending on the role, type of facility, and location. Vaccination rates among nursing homes and long-term care facilities lagged behind hospitals.
Officials believe 95% to 98% will be fully vaccinated, on a path to vaccination, or have an approved exemption by October 18. Hospitals and facilities in Eastern Washington, particularly in rural areas, are expected to see more workers quit or face termination.
In Western Washington, 97% of EvergreenHealth and 98% of University Washington Medicine employees are fully vaccinated.
More than 200 Washington State Ferry sailings canceled due to years of neglect and a weekend sickout
Passengers and businesses were frustrated when Washington State Ferries canceled over 150 sailings on Friday, 120 on Saturday, and 50 on Sunday. A sickout by WSF employees in protest of a looming vaccination mandate was the final blow, that contributed to the chaos this weekend. However, the sailing issues have been two decades in the making.
In 2000, a Tim Eyman led initiative slashed Washington state car tab fees, and with it, a significant portion of the Washington state ferry budget. Two decades later the state lacks the funds to replace several ferries that are far past their useful life. The outdated equipment suffers more frequent breakdowns, forcing route cancelations and smaller vessels into temporary service.
A lack of vessels, a graying staff, and unpredictable work schedules was already straining the system. Disruptions due to equipment and crew failures were becoming more common before Covid-19 arrived in the Evergreen state in January 2020.
The number of ferry workers has also declined for two decades, and the Department of Transportation has problems recruiting people who are interested in doing maritime work.
WSF workers have attempted several other sickouts with little to no impact, but this past weekend was different. Officials have indicated that even 170 employees leaving could have a devastating impact on operations – and required Coast Guard certifications will make hiring new staff challenging.
Washington State Ferries is the largest ferry system in the United States and second-largest in the world. The state operates 23 vessels that sail 10 routes to 20 destinations. The oldest ferry is the MV Tillikum built in 1959 and rebuilt in 1994. Over 70% of all funding comes from fares. In 2020 due to Covid-19 ridership was only a fraction of normal. By the end of summer in 2021, ridership was 80% of normal.
The ferry system is converting three Jumbo Mark-II class ferries to electrical propulsion between 2022 and 2024. The Puyallup, Tacoma, and Wenatchee are slated for update with the Wenatchee was supposed to already be back in service but had an engine room fire in April 2021.
Washington State University football coach Nick Rolovich applies for religious exemption
As many have suspected for quite some time, Washington State coach Nick Rolovich finally confirmed that he remains unvaccinated and is in fact seeking a religious exemption to the state's Covid vaccination mandate, he said after the Cougars' 31-24 victory over Oregon State on Saturday.
A report in Coug Center explained Rolovich was responding to questions prompted by a report from USA Today published on Saturday morning.
"I'll confirm that," he said. "I'm not terribly happy with the way it happened. I hope there's no player that I coach that has to wake up and feel the way I felt today. I don't share it (to be) malicious, but that wasn't a great thing to wake up to, to be honest with you."
Rolovich is the highest-paid state employee in Washington, making almost $3.3 million per year.
Several Seattle Kraken players under Covid protocols day before NHL debut
The Seattle Kraken are expected to be without five players for the season opener at Vegas due to COVID-19 protocols, coach Dave Hakstol said Monday, according to the Associated Press.
Forwards Jared McCann, Joonas Donskoi and Marcus Johansson, and defenseman Jamie Oleksiak were placed on the league's COVID-19 protocol list on Monday. Forward Calle Jarnkrok has been in the protocol since late last week. McCann, Oleksiak, Donskoi and Johansson were all missing from Monday's final practice before the team departed for Las Vegas.
Travel Advisories
Due to an increase in acute care hospitalizations, we're adding a recreational travel advisory to the East Hospital Region. This includes Adams, Asotin, Ferry, Garfield, Lincoln, Pend Oreille, Spokane, Stevens, Wahkiakum, and Whitman counties. Acute care and ICU capacity have become limited, and the ratio of Covid-19 patients to other hospital patients is extremely high. Please reconsider non-essential travel plans to these counties.
We strongly advise against all nonessential travel to Alaska, Idaho, Montana, and Wyoming. Hospital resources in these regions are constrained, and you may receive inadequate care if you experience a serious medical emergency.
We are also not adding a travel advisory for the Northwest Hospital Region which includes Clallam, Jefferson, Kitsap, and Mason counties but don't recommend engaging in risky recreational behavior on the Olympic Peninsula. Although hospitals are very constrained, the region is adjacent to the Puget Sound and West Hospital Regions, which have adequate resources.
Thank you
Thank you to our new subscribers and those of you who have made one-time contributions. On behalf of the entire team, thank you for helping us keep the lights on!
Vaccination
Unvaccinated King County residents are 16 times more likely to die from Covid-19
The first doses of the Covid-19 vaccine became available in Washington state on January 17. Since that time 82% of all Covid-19 cases were among the unvaccinated, 90% of hospitalizations, and 90% of deaths.
Unvaccinated individuals are three times more likely to get Covid-19, 12 times more likely to end up in the hospital, and 16 times more likely to die.
Pfizer vaccine booster shots are now available
Booster shots for eligible individuals are now available statewide. Individuals who received both doses of the Pfizer vaccine more than six months ago, are 65 or older, or are immunocompromised can receive their third dose immediately.
In the Kirland-Bellevue-Woodinville area, Walgreens, Rite-Aid, Bartell's, and QFC are offering booster shots. Additionally, the third dose is available at the CVS located within the Target store at 17,700 NE 76th Street in Redmond.
Most locations require an appointment, which can be scheduled online.
Hospital Status
According to the DoH COVID Dashboard, 91% of all staffed acute care beds are occupied, and 16.9% of patients have Covid-19. Statewide, hospitals have the staff to support approximately 649 additional acute care patients. ICUs are at 86.7% of capacity statewide, with 28.0% of ICU patients fighting Covid-19 – an estimated 335 patients with 50% on ventilators. The state has the staff to support approximately 144 additional ICU patients.
The 7-day rolling average hospital admission rate for new COVID patients dipped to 103. The Department of Health reported 1,193 Covid-19 patients statewide on October 7, with 166 requiring ventilators.
| Hospital Region | Counties | ICU Occupancy | ICU COVID Patients | Acute Care Occupancy | Acute Care COVID Patients |
| --- | --- | --- | --- | --- | --- |
| East | Adams, Asotin, Ferry, Garfield, Lincoln, Pend Oreille, Spokane, Stevens, Wahkiakum, Whitman | 92.0% | 42.3% | 91.1% | 26.9% |
| North | Island, San Juan, Skagit, Whatcom | 66.5% | 26.9% | 75.3% | 20.1% |
| North Central | Chelan, Douglas, Grant, Okanogan | 89.1% | 47.3% | 75.3% | 20.1% |
| Northwest | Clallam, Jefferson, Kitsap, Mason | 91.5% | 42.1% | 95.7% | 25.2% |
| Puget Sound | King, Pierce, Snohomish | 90.5% | 24.2% | 94.6% | 13.9% |
| South Central | Benton, Columbia, Franklin, Kittitas, Walla Walla, Yakima | 88.0% | 31.5% | 83.9% | 22.2% |
| Southwest | Clark, Cowlitz, Klickitat, Skamania | 66.8% | 29.3% | 85.1% | 17.9% |
| West | Grays Harbor, Lewis, Pacific, Thurston | 78.0% | 19.8% | 86.5% | 15.2% |
Hospital status by region – ICU Occupancy should be below 80%, ICU COVID Patients should be below 20%, Acute Care Occupancy should be below 80%, and Acute Care COVID Patients should be below 10%
The East and Northwest Hospital Regions remain highly stressed.
Back to School
School District
Status
Less than 10 Active Cases
10 or More Active Cases
Bellevue

YELLOW

– Ardmore (2*)
– Bellevue (7**)
– Big Picture (1*)
– Cherry Crest (1*)
– Clyde Hill (1*)
– Chinook (4*)
– Eastgate (2*)
– Enatai (3*)


– Highland (9**)


– Interlake (3*)
– Lake Hills (6**)


– Newport (6**)


– Newport Heights (1*)
– Puesta del Sol (1*)
– Sammamish (4*)
– Sherwood Forest (2*)
– Spiritridge (1*)
– Stevenson (2*)
– Tillicum (1*)
– Wilburton (3*)
– Woodridge (3*)
None
Lake Washington

YELLOW

– Bell Elementary (4*)
– Blackwell Elementary (1*)
– Carson Elementary (2*)
– Dickinson/Explorer Elementary (1*)
– Eastlake High (3*)
– Finn Hill Middle School (4*)
– Franklin Elementary (1*)
– Frost Elementary (2*)
– ICS (1*)
– Inglewood Middle School (2*)
– Juanita Elementary (3*)
– Juanita High School (4*)
– Kamiakin Middle School (2*)
– Keller Elementary (1*)
– Kirkland Middle School (1*)
– Lakeview Elementary (4*)
– Lake Washington High School (2*)
– Mead Elementary (2*)
– Muir Elementary (1*)
– Northstar Middle (1*)
– Redmond Elementary (2*)
– Redmond Middle School (1*)
– Redmond High School (2*)
– Rosa Parks Elementary (3*)
– Rose Hill Middle School (1*)
– Timberline Middle School (2*)
None

Northshore

RED

– Arrowhead Elementary (4)


– Bothell High School (30**)


– Canyon Creek Elementary (15)
– Canyon Park Middle School (11)
– Cottage Lake Elementary (3)
– Crystal Springs Elementary (17)
– East Ridge Elementary (2)
– Fernwood Elementary (1)
– Frank Love Elementary (19)
– Hollywood Hills Elementary (35)
– Inglemoor High School (1)
– Innovation Lab High School (2)
– Kenmore Elementary (4)
– Kenmore Middle School (21)
– Kokanee Elementary (14)
– Leota Middle School (3)


– Maywood Hills Elementary (7**)


– Moorlands Elementary (1)


– North Creek High School (13**)


– Northshore Middle School (1)
– Secondary Academy for Success (4)
– Shelton View Elementary (5)
– Skyview Middle School (12)
– Sunrise Elementary (8)
– Timbercrest Middle School (4)


– Wellington Elementary (26**)


– Westhill Elementary (58)
– Woodin Elementary (15)
– Woodinville High School (10)


– Woodmoor Elementary (19**)

– Lockwood Elementary (12**/22)

Local Districts Scorecard – * indicates positive cases only ** indicates 5 or more confirmed positive cases
We redefined the school district statuses. Information for classroom and building closures has been a challenge to obtain, both for closures and reopening. We are adopting moving any school with more than 10 active COVID cases reported into the red, and we've adjusted the third column to reflect this change.
Monday provides the best snapshot of the three school districts we track. The Northshore School District moved to status red again with 12 confirmed Covid-19 cases at Lockwood Elementary. Five other schools have 5 to 9 confirmed cases.
Highland Middle School in the Bellevue School District has 9 confirmed cases between students and faculty, and several other schools with more than 5 cases.
The Lake Washington School District updated its dashboard adding six schools with confirmed cases.
We continued to encourage parents to request improved daily data reporting from the Lake Washington School District.
Kirkland-Bellevue-Woodinville
Amazon delays return to office indefinitely – leaves final decision to business directors
Amazon announced that it was indefinitely delaying the return of 50,000 office workers in a public memo released on Monday from Andy Jassy, CEO. The announcement impacts downtown Seattle and the South Lake Union area, as well as downtown Bellevue.
"For our corporate roles, instead of specifying that people work a baseline of three days a week in the office, we're going to leave this decision up to individual teams," Jassey wrote in his memo.
"This decision will be made team by team at the Director level. We expect that there will be teams that continue working mostly remotely, others that will work some combination of remotely and in the office, and still others that will decide customers are best served having the teamwork mostly in the office. We're intentionally not prescribing how many days or which days—this is for Directors to determine with their senior leaders and teams. The decisions should be guided by what will be most effective for our customers; and not surprisingly, we will all continue to be evaluated by how we deliver for customers, regardless of where the work is performed."
Microsoft and Facebook previously announced delaying their return to office and have mandated their employees, contractors, and vendors to get vaccinated.
King County releases updated vaccination data
King County Public Health updated the vaccination rates by zip code, with the numbers improving throughout the region. The northern half of Kirkland and parts of Bothell continue to lag behind the rest of the eastside.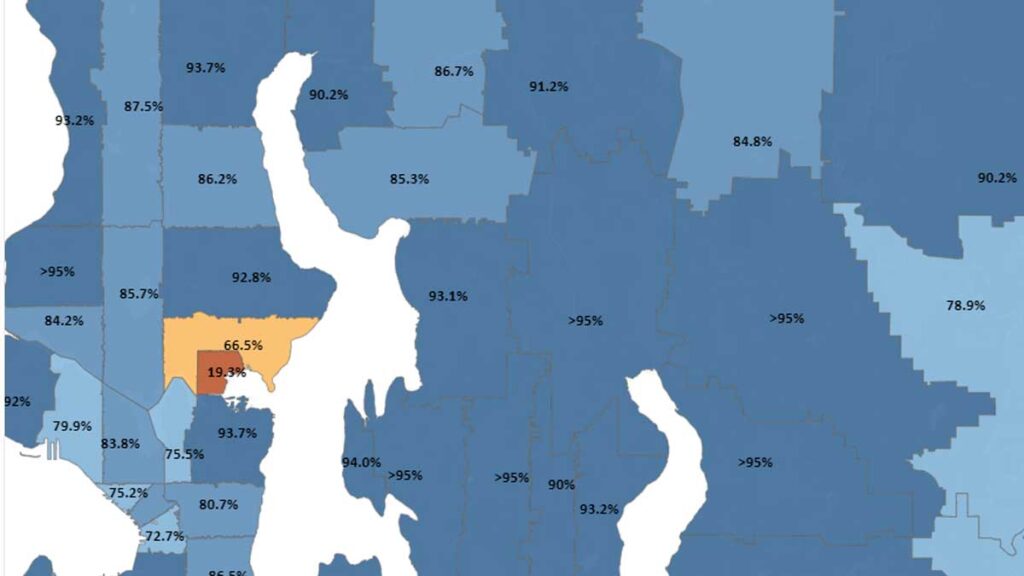 | Zip Code | Percent vaccinated, at least one dose, 12 and older |
| --- | --- |
| 98155 | 93.7% |
| 98028 | 90.2% |
| 98011 | 86.7% |
| 98034 | 85.3% |
| 98033 | 93.1% |
| 98072 | 91.2% |
| 98052 | >95.0% |
| 98004 | >95.0% |
| 98039 | 94.0% |
| 98005 | >95.0% |
| 98007 | 90.0% |
Vaccination rates for those 12 and older by zip code – at least one dose
National Round-Up
Johns Hopkins University Cumulative Case Tracker is reporting 22,194 new cases and 255 deaths nationwide on Monday. Most states do not report data over the weekend, and Monday is a bank holiday so the numbers do not indicate the current national trend.
Merck and Ridgeback Biotheraputics official apply for emergency use authorization for molnupiravir
Pharmaceutical companies Merck & Co. and Ridgeback Biotherapeutics announced Monday they requested emergency use authorization to the Food and Drug Administration for molnupiravir, an antiviral drug that offers the promise that COVID-19 could soon be treated by a pill. USA Today reported the two drugmakers have officially applied for the authorization.
Molnupiravir, an orally ingested antiviral pill, is used to treat mild to moderate adult cases of COVID-19 that are at risk of worsening to severe COVID-19 or hospitalization, according to the companies. It was created by researchers at Emory University in Atlanta and is given as four pills taken twice a day for five days.
An interim analysis from a clinical trial found the antiviral medicine reduced the risk of hospitalization or death by approximately 50%.
Alaska
Alaska reported an increase in new cases and the number of Covid-19 tests with positive results this weekend. After progress last week, the new case rate increased to 836 per 100K people and test positivity jumped to 10.7%. Officials also reported more than 2,750 new cases, mostly among people under 50 years old.
Hospitals are treating 184 Covid-19 patients, down slightly from last week. Resources remain very constrained – there were 18 ICU beds available statewide Monday morning. New
Hospitals in Anchorage, Bethel, and Valdez continue to be the most impacted by the ongoing surge.
Idaho
Idaho officials did not update data on Monday due to the Columbus Indigenous Peoples Day. The 7 day moving average for new cases has exploded to 1,366 per 100K residents. Parts of the state has been operating under crisis standards of care for a month now with no end in sight.
Boise Public Radio reported the Idaho Medical Association filed a complaint against Dr. Ryan Cole over his claim that he prescribed ivermectin for COVID-19 patients. Ivermectin has not been proven to effectively treat COVID-19 and doctors say it could be harmful.
Idaho Medical Association CEO Susie Keller says while the association is disturbed by Cole's spreading of misinformation, including dissuading people from getting the COVID-19 vaccine, the complaint is narrowly focused on the claim Cole prescribed an unproven drug.
"We believe that he has violated sections of the Idaho Medical Practice Act by providing care that fails to meet the community standard of care by promoting the sale of drugs that are not medically indicated and by engaging in conduct that constitutes an abuse or exploitation of a patient arising out of the trust and competence placed in a physician by a patient," Keller said.
Cole as referred to the vaccination as "needle rape," is opposed to mask mandates, and has spoken at right-wing anti-vaccination events that have included speakers calling for violence and making Nazi comparisons. He is one of the key policymakers in Ada County, which includes Boise, in managing the Covid-19 response in the Gem State.
Montana
Officials did not update data on Monday due to the Columbus Indigenous Peoples Day. Hospitals reported caring for 463 patients, which is nearly unchanged from Friday.
According to Montana Public Radio, 191 people died of Covid-19 in September, the most fatalities in a single month.
Texas
Governor Greg Abbott and 2024 Presidential hopeful signed an executive order prohibiting vaccine mandates by any entity in the state of Texas.
He has called for a third special session to pass legislation to turn his executive order into law.
Wyoming
Officials reported 834 confirmed cases, and hospitalizations increasing to 223. Fifteen of 36 hospitals have ICU capacity – with nine having one or two beds remaining each. Additionally, Cheyenne Veterans Affairs Medical Center has three ICU beds remaining.
Covid-19 test positivity increased to 19.42% – a negative trend.
Just days after Wyoming hospitals asked state officials to draft plans for statewide implementation of crisis standards of care, state Representative Chuck Gray has called for a special session to block vaccine mandates.
"I wanted to update everyone about the special session vote," Gray said on Wednesday. "We have received notification that we have successfully received over 35% of the votes in the first round of balloting. Next week, we will now proceed to the second round, where we need a majority."
Legislators are being asked to consider convening the special session from October 26-28 according to the report in Oil City News. Gray said he would like to see the special session move forward in order to have a bill banning vaccine mandates pass prior to Banner Health's (which operates the Wyoming Medical Center) deadline requiring employees get fully vaccinated by November 1 takes effect.
Misinformation
Taking the day off