New Covid-19 cases in Washington plummet – local and national update for October 12, 2021
More than 71% of all eligible Washingtonians are fully vaccinated and 77.6% have received at least one dose.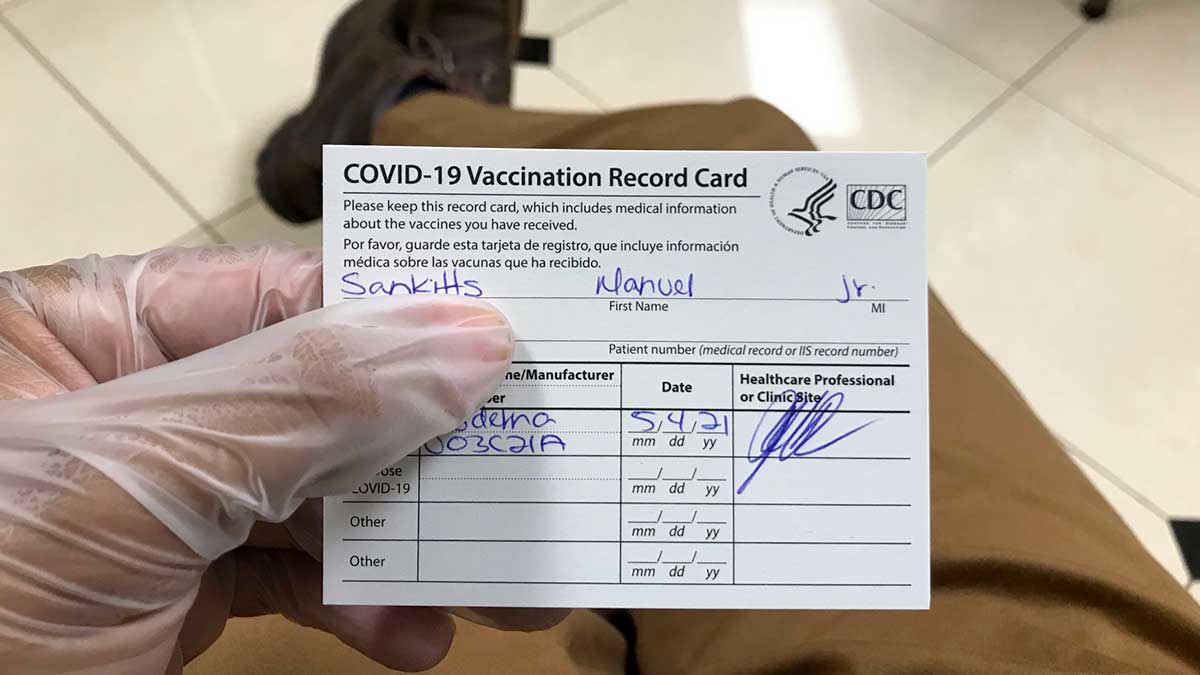 Knowledge is the best tool to fight against fear. A wise person chooses to be informed so they can make sound decisions. To join the fight against COVID misinformation, you can share this update through your social media platform of choice.
[KING COUNTY, Wash.] – (MTN) Cases are down significantly while vaccination rates increase in what is almost entirely good news about Covid-19.
New cases in Washington state were down significantly statewide, including many counties east of the Cascades. The Washington State Department of Health reported 71.4% of eligible Washingtonians are fully vaccinated, and 77.6% have at had at least one dose. School Superintendent Chris Reykdal shared that back-to-school in Washington has gone vastly better than in states such as Texas, Georgia, and Florida.

It appears the FDA will not approve a booster shot for the Moderna vaccine due to trial results that indicated the third dose didn't significantly increase immunity. The Biden Administration is poised to buy 1.5 million doses of the oral antiviral molnupiravir, which in Phase 3 testing reduced Covid-19 related hospitalizations and deaths by 48%. The Mu variant has disappeared from North America where Delta continues to reigns supreme.
Another poll was released today that indicates the anti-vaccination movement is moving into irrelevancy despite the noise you may be hearing and seeing on social media.
The Northshore School District moved back to status yellow with a significant reduction in the number of confirmed Covid-19 cases and quarantines.
Boeing announced its 125,000 employees will have to provide proof of vaccination or get a valid exemption by December 8.
The City of Kirkland provided guidance on proof of vaccination requirements to participate in or visit Kirkland Park and Recreation programs.
Alaska, Idaho, Montana, and Wyoming remain Covid-19 hot spots with all four states having at least one hospital operating under crisis standards of care.
This update uses the latest data from the Washington State Department of Health (WSDOH), released on October 12, 2021.
---
Washington State Update for October 12, 2021
Washington state Covid-19 update
New cases dropped significantly statewide, as we predicted yesterday. There remains a significant gap between the least and most vaccinated counties but the ongoing improvement is undeniable.
| Percent of Total Population Fully Vaccinated | Average 14-Day New Case Rate (unadjusted) |
| --- | --- |
| 60.00% or above (5) | 234.1 (down) |
| 50.00% to 59.99% (14 counties) | 444.4 (down) |
| 40.00% to 49.99% (12 counties) | 564.7 (down) |
| 29.90% to 39.99% (8 counties) | 674.8 (down) |
14-Day New Covid-19 Cases per 100K average by Vaccination Rate, Not Adjusted for Population
Through October 11, Washington's statewide 14-day rolling average is 362.8 Covid-19 cases per 100K.
Ferry County remains the one outlier reporting 1,074.6 new cases per 100K residents.
Only three counties reported new case rates between 800.0 to 999.9 per 100K – Garfield, Grant, and Klickitat.
Counties in the 600.0 to 799.9 per 100K range include Chelan, Columbia, Lincoln, Pend Oreille, and Stevens. Douglas, Grays Harbor, and Mason counties are just under the 600 threshold and today's report is the best data in two months.
New cases were down significantly across all age groups and hospitalizations decreased for ages 12 and above.
| Age Group | 7-Day Case Rate | 7-Day Hospitalization Rate |
| --- | --- | --- |
| Ages 0-11 | 141.2 (down) | 0.9 |
| Ages 12-19 | 177.5 (down) | 1.1 (down) |
| Ages 20-34 | 156.8 (down) | 2.9 (down) |
| Ages 35-49 | 157.0 (down) | 6.1 (down) |
| Ages 50-64 | 114.1 (down) | 11.4 (down) |
| Ages 65-79 | 86.6 (down) | 13.7 (down) |
| Ages 80+ | 84.4 (down) | 30.8 (down) |
7-day case rate and 7-day hospitalization rate is per 100K within the age group – the target for 7-day case rate is <25.0, but there are other factors such as vaccination rates within the age groups, how many total tests within the 7-day period, and the positivity rate within each age group
The USA Today COVID Tracker reported 42 deaths on Monday.
71.4% of all eligible Washington residents are fully vaccinated
In the latest update from the Washington State Department of Health, 71.4% of all eligible residents are fully vaccinated and 77.6% have received at least one dose of the Covid-19 vaccine. San Juan County continues to have the highest vaccination rate in the state with 73.9% of all residents fully vaccinated. In contrast, only 29.9% of all Stevens County's residents are fully vaccinated, the lowest rate in the state.
Eight of the ten least vaccinated counties are east of the Cascades.
Boeing to require Covid-19 vaccination by December 8 for 125,000 employees
Boeing will require its roughly 125,000 U.S. employees have to show proof of Covid-19 vaccination or have an approved religious or medical exemption by December 8, CNBC reported today. As a government aerospace and defense contractor, Boeing employees fall under the umbrella of the Biden Administrators vaccine mandate.
The exemptions would "be based on a disability or sincerely held religious belief," Boeing said in a statement. "Boeing will continue to carefully monitor guidance from public health agencies, and requirements from federal, state, and local governments to inform our COVID-19 policies."
In March 2020, Boeing union employees demanded aircraft production be halted after multiple employees became infected with Covid-19, and one died on March 23. The company suspended operation in Everett, Washinton on March 24 for 14 days.
The Everett Herald reported that many employees were "fed up" with Boeing's inadequate response at the start of the pandemic.
For weeks, workers on the factory floor complained to news media about a lack of cleaning supplies and told of overwhelmed and overworked cleaning crews as a growing number of them, at the Everett plant and other locations, called for the company to shut down.
Last week, an impromptu protest erupted inside the Everett factory in the work area of an employee who had tested positive for COVID-19. Co-workers were angry for not being allowed to self-quarantine, a Boeing worker who witnessed the event said in an email.
"Most of the area halted work in protest, crane crews blew their horns for an extended period of time, mechanics drove their rivet guns loud and the other employees started yelling 'What's wrong with this' to the management crew and senior levels. Security was called and dispersed everyone," the worker wrote.
Microsoft, Alaska Airlines, and Holland America are other large Washington state employers that have implemented a vaccine mandate.
After 7 weeks, Washington state's back to school efforts are going well
For many parents, even one Covid-19 case detected in a school is one too many but compared to other states back-to-school has gone smoothly in Washington.
Though parents should prepare for more closures this year, state Superintendent Chris Reykdal does not anticipate a complete shutdown of all schools, KING 5 reported.
"We have the strictest health protocols which is why we are not seeing what we saw in Florida, Texas, [and] Georgia when their schools cranked up," Reykdal said. "By the tens of thousands, they were shutting down."
A handful of classrooms or schools have had to close down in school districts such as Eatonville, Medical Lake, Kent, and Lake Washington, but these have been the exception.
Travel Advisories
Due to an increase in acute care hospitalizations, we're adding a recreational travel advisory to the East Hospital Region. This includes Adams, Asotin, Ferry, Garfield, Lincoln, Pend Oreille, Spokane, Stevens, Wahkiakum, and Whitman counties. Acute care and ICU capacity have become limited, and the ratio of Covid-19 patients to other hospital patients is extremely high. Please reconsider non-essential travel plans to these counties.
We strongly advise against all nonessential travel to Alaska, Idaho, Montana, and Wyoming. Hospital resources in these regions are constrained, and you may receive inadequate care in Alaska, Idaho, and Montana if you experience a serious medical emergency.
We are not adding a travel advisory for the Northwest Hospital Region which includes Clallam, Jefferson, Kitsap, and Mason counties but don't recommend engaging in risky recreational behavior on the Olympic Peninsula. Although hospitals are very constrained, the region is adjacent to the Puget Sound and West Hospital Regions, which have adequate resources.
Thank you
Thank you to our new subscribers and those of you who have made one-time contributions. On behalf of the entire team, thank you for helping us keep the lights on!
Vaccination
FDA says booster recommendation for Moderna vaccine unlikely
Scientists at the U.S. Food and Drug Administration said on Tuesday that Moderna Inc had not met all of the agency's criteria to support the use of booster doses of its COVID-19 vaccine, possibly because of the efficacy of the shot's first two doses has remained strong.
Yahoo!News reported FDA documents indicated Moderna's vaccine data indicated a booster did increase protective antibodies, but the difference in antibody levels before and after the shot was not wide enough, particularly in those whose levels had remained high.
The documents were released ahead of a meeting later this week of the FDA's outside expert advisers to discuss booster doses of the vaccine.
Pfizer vaccine booster shots are now available
Booster shots for eligible individuals are now available statewide. Individuals who received both doses of the Pfizer vaccine more than six months ago, are 65 or older, or are immunocompromised can receive their third dose immediately.
In the Kirland-Bellevue-Woodinville area, Walgreens, Rite-Aid, Bartell's, and QFC are offering booster shots. Additionally, the third dose is available at the CVS located within the Target store at 17,700 NE 76th Street in Redmond.
Most locations require an appointment, which can be scheduled online.
Hospital Status
According to the DoH COVID Dashboard, 91% of all staffed acute care beds are occupied, and 16.7% of patients have Covid-19. Statewide, hospitals have the staff to support approximately 660 additional acute care patients. ICUs are at 86.4% of capacity statewide, with 28.0% of ICU patients fighting Covid-19 – an estimated 328 patients with 48% on ventilators. The state has the staff to support approximately 144 additional ICU patients.
The 7-day rolling average hospital admission rate for new COVID patients dipped to 103. The Department of Health reported 1,157 Covid-19 patients statewide on October 11, with 159 requiring ventilators. Data for Sunday was adjusted to 1,155 patients and 170 on ventilators.
The East and Northwest Hospital Regions remain highly stressed and the remaining hospital regions are caring for an inordinate number of patients, Covid-19 patients, or both.
| Hospital Region | Counties | ICU Occupancy | ICU COVID Patients | Acute Care Occupancy | Acute Care COVID Patients |
| --- | --- | --- | --- | --- | --- |
| East | Adams, Asotin, Ferry, Garfield, Lincoln, Pend Oreille, Spokane, Stevens, Wahkiakum, Whitman | 91.3% | 41.3% | 91.3% | 26.4% |
| North | Island, San Juan, Skagit, Whatcom | 64.8% | 24.8% | 75.2% | 20.4% |
| North Central | Chelan, Douglas, Grant, Okanogan | 90.9% | 48.2% | 75.2% | 20.4% |
| Northwest | Clallam, Jefferson, Kitsap, Mason | 91.9% | 41.7% | 95.9% | 23.9% |
| Puget Sound | King, Pierce, Snohomish | 90.1% | 24.1% | 94.6% | 13.9% |
| South Central | Benton, Columbia, Franklin, Kittitas, Walla Walla, Yakima | 88.9% | 29.7% | 83.4% | 22.3% |
| Southwest | Clark, Cowlitz, Klickitat, Skamania | 64.5% | 27.8% | 85.2% | 17.1% |
| West | Grays Harbor, Lewis, Pacific, Thurston | 79.4% | 21.1% | 86.8% | 15.8% |
Hospital status by region – ICU Occupancy should be below 80%, ICU COVID Patients should be below 20%, Acute Care Occupancy should be below 80%, and Acute Care COVID Patients should be below 10%
The East and Northwest Hospital Regions remain highly stressed.
Back to School
School District
Status
Less than 10 Active Cases
10 or More Active Cases
Bellevue

YELLOW

– Ardmore (2*)
– Bellevue (7**)
– Big Picture (1*)
– Cherry Crest (1*)
– Clyde Hill (1*)
– Chinook (4*)
– Eastgate (2*)
– Enatai (3*)


– Highland (9**)


– Interlake (3*)
– Lake Hills (6**)


– Newport (6**)


– Newport Heights (1*)
– Puesta del Sol (1*)
– Sammamish (4*)
– Sherwood Forest (2*)
– Spiritridge (1*)
– Stevenson (2*)
– Tillicum (1*)
– Wilburton (3*)
– Woodridge (3*)
None
Lake Washington

YELLOW

– Bell Elementary (4*)
– Blackwell Elementary (1*)
– Carson Elementary (2*)
– Dickinson/Explorer Elementary (1*)
– Eastlake High (3*)
– Finn Hill Middle School (4*)
– Franklin Elementary (1*)
– Frost Elementary (2*)
– ICS (1*)
– Inglewood Middle School (2*)
– Juanita Elementary (3*)
– Juanita High School (4*)
– Kamiakin Middle School (2*)
– Keller Elementary (1*)
– Kirkland Middle School (1*)
– Lakeview Elementary (4*)
– Lake Washington High School (2*)
– Mead Elementary (2*)
– Muir Elementary (1*)
– Northstar Middle (1*)
– Redmond Elementary (2*)
– Redmond Middle School (1*)
– Redmond High School (2*)
– Rosa Parks Elementary (3*)
– Rose Hill Middle School (1*)
– Timberline Middle School (2*)
None

Northshore

YELLOW

– Arrowhead Elementary (2)


– Bothell High School (29**)


– Canyon Creek Elementary (9)
– Canyon Park Middle School (12)
– Cottage Lake Elementary (3)
– Crystal Springs Elementary (26)
– East Ridge Elementary (2)
– Frank Love Elementary (14)
– Hollywood Hills Elementary (41)
– Inglemoor High School (2)
– Innovation Lab High School (2)
– Kenmore Elementary (4)
– Kenmore Middle School (36)
– Kokanee Elementary (15)
– Leota Middle School (3)


– Lockwood Elementary (19**)




– Maywood Hills Elementary (6)


– Moorlands Elementary (1)


– North Creek High School (14)


– Northshore Middle School (9)
– Ruby Bridge Elementary (4)
– Secondary Academy for Success (6)
– Shelton View Elementary (7)
– Skyview Middle School (16)
– Sunrise Elementary (2)
– Timbercrest Middle School (13)


– Wellington Elementary (26**)


– Westhill Elementary (11)
– Woodin Elementary (27)
– Woodinville High School (12)


– Woodmoor Elementary (15)



Local Districts Scorecard – * indicates positive cases only ** indicates 5 or more confirmed positive cases
We redefined the school district statuses. Information for classroom and building closures has been a challenge to obtain, both for closures and reopening. We are adopting moving any school with more than 10 active COVID cases reported into the red, and we've adjusted the third column to reflect this change.
The Northshore School District dropped back to status yellow and a number of schools reported a significant reduction in active cases and quarantines. There were no reported changes in the Bellevue or Lake Washington School Districts.
We continued to encourage parents to request improved daily data reporting from the Lake Washington School District.
Kirkland-Bellevue-Woodinville
The City of Kirkland will require proof of Covid-19 vaccination or a negative test when participating in or visiting Kirkland parks and recreation programs and facilities starting Monday, October 25, 2021. Pursuant to King County's Local Health Officer Verification of Vaccination Order, indoor recreation program participants and community center visitors ages 12 and older must show proof of vaccination against COVID-19 upon entry to recreational facilities, including Peter Kirk and North Kirkland Community Centers, van trips, and any other indoor facilities where Kirkland recreation programs are held.
Valid forms of verification include a CDC vaccination card or photo of vaccination card, documented proof of vaccination from medical record or vaccine provider, printed certificate or QR code from MyIR Mobile, or a negative FDA-approved polymerase chain reaction (PCR) test administered within the last 72 hours. You do not need to show identification with proof of vaccination.
It is important to note that a home, physician, clinic, or pharmacy-provided rapid Covid-19 test is not an accepted form of validation.
National Round-Up
Johns Hopkins University Cumulative Case Tracker is reporting 116,202 new cases and 1,182 deaths nationwide on Tuesday. Many states didn't update data on Monday due to the federal holiday, so these numbers are likely inflated.
Biden Administration prepared to buy 1.5 million doses of molunpiravir
On June 9, Health and Human Services signed an agreement with Merck to purchase 1.7 million doses of molnupiravir, contingent on successful trials. Pending Emergency Use Authorization by the FDA, officials are prepared to purchase 1.5 million doses. Australia and New Zealand have already agreed to purchase the antiviral medication, which in testing reduced Covid-19 hospitalizations and deaths by 48%.
Pharmaceutical companies Merck & Co. and Ridgeback Biotherapeutics announced Monday they had formally requested emergency use authorization.
Molnupiravir, an orally ingested antiviral pill, is used to treat mild to moderate adult cases of COVID-19 that are at risk of worsening to severe COVID-19 or hospitalization, according to the companies. It was created by researchers at Emory University in Atlanta and is given as four pills taken twice a day for five days.
Unlike monoclonal antibodies which require a series of injections or intravenous administration, the oral antiviral can be prescribed and taken at home. The drug is also significantly cheaper than monoclonal antibodies, but more expensive than the existing Covid-19 vaccinations.
Another poll indicates the anti-vaccination movement is shrinking to irrelevance
If you've spent time on social media or reading some of the – other – headlines, you probably have an understandable sense of doom over how politicized the Covid-19 response has become. Last week reported a U.S. Census Bureau survey indicated the ranks of never vaxxers had declined to 12%. Another survey out today provides similar data and more insights.
A Yahoo!News/YouGov Poll released today indicated 15% of Americans say they will not get vaccinated.
The wide-ranging poll covered a number of topics including lockdowns, masks, and vaccine mandates. Only 27% of Americans indicated they were against school mask mandates. Among people who self-identified as aligning with the Republican Party, 40% reported wearing masks and 70% reported they have been vaccinated for Covid-19 or plan to.
Remember the Mu variant
Dr. Katelyn Jetelina provided an update on the Mu variant today, indicating the variant of interest has disappeared from the United States.
In North America, Mu was introduced in April 2021 and started spreading quickly. However, Delta came along in June 2021 and quickly became the dominant variant by August. In the United States, specifically, the CDC is now reporting zero cases of Mu.
Farewell Mu, we hardly knew you.
Alaska
Alaska reported new cases are stabilizing while the number of positive Covid-19 tests increased dramatically on Tuesday. Another 475 cases were confirmed while test positivity jumped to 10.78%. In Anchorage, Alaska where the city has scaled back testing positivity increased to 12%. Most new cases are among people under 40 years old.
Hospitals are treating 186 Covid-19 patients, two more than yesterday. Resources remain very constrained – there were 26 ICU beds available statewide Tuesday morning.
Hospitals in Anchorage, Bethel, and Valdez continue to be the most impacted by the ongoing surge.
Alaska Public Radio reported an array of Republican state lawmakers and activists are pressing Governor Mike Dunleavy's administration and the state pharmacy board to make it easier for Alaskans to get access to ivermectin, the unproven Covid-19 treatment that state and federal agencies caution against using.
In recent weeks, Palmer GOP Sen. Shelley Hughes has spoken with Dunleavy and his health commissioner to encourage them to consider supplying Alaskans with vitamins and drugs, including ivermectin, "that some Alaskan physicians are prescribing but pharmacies aren't filling," she said.
Three Republican representatives and a pair of Dunleavy's appointees to the Alaska Commission on Aging, meanwhile, also testified about ivermectin at a recent pharmacy board meeting — where some asked board members to lean on pharmacists who are denying prescriptions for the drug.
Board members, however, were largely unmoved.
Chair Justin Ruffridge, a Kenai Peninsula pharmacist, pointed testifiers toward a draft ivermectin Q&A document under consideration by the board that highlights a joint position statement from three national doctors and pharmacists groups: They "strongly oppose" dispensing the drug outside of a clinical trial.
There are two prominent peer-reviewed studies now that indicated Ivermectin was ineffective as a preventative or treatment. In one study, researchers found for the sickest patients the controversial anti-parasitic drug was contraindicated and made patients sicker.
Florida
The Florida Department of Health on Tuesday issued a $3.5 million fine to the Leon County government for violating the state's ban on vaccine passports, according to a report in The Hill.
The Florida Department of Health called the requirement a "blatant violation of the law relating to the ban of vaccine passports in our state."
"It is unacceptable that Leon County violated Florida law, infringed on current and former employees' medical privacy, and fired loyal public servants because of their personal health decisions," Florida Governor Ron DeSantis said in the announcement of the fine.
Idaho
Idaho officials reported 2,937 new cases and 40 deaths over the long weekend as cases appear to have leveled out – for now.
For the first time in more than three months, the state is finally seeing a slight decline in community spread. However, this does not necessarily mean the state has peaked in terms of cases and hospitalizations, according to Dr. Steven Nemerson.
KTVB reported over the past several weeks, there has been a steady increase in the number of admissions to the intensive care unit (ICU). Despite the state operating under crisis standards of care, Saint Alphonsus continues to see record numbers of COVID-related and non-COVID-related patients.
Nemerson acknowledged that the hospital has shut down all but "medically necessary, time-sensitive" procedures at this time, and said patients are getting sicker due to the delays.
Amid all the challenges the hospital is facing, Nemerson said the biggest challenge is rehabilitating the staff, who have experienced trauma and mental and emotional fatigue from what they have witnessed for nearly two years.
Nemerson said his staff continues to be harassed and threatened by patients and their families on a daily basis.
"We've lost the war. COVID is here to stay," Nemerson said. "Because we can't vaccinate enough of the public to eradicate it."
Idaho Dept. of Health and Welfare (IDHW) Director Dave Jeppesen echoed Nemerson's sentiments about the toll the pandemic has taken on healthcare workers, asking the public to thank a healthcare worker for the work they have done for nearly two years.
Jeppesen also shared recent hospitalization data from the state. As of Oct. 9, 704 COVID-19 patients are in the hospital, 181 patients are in the ICU and 127 patients are on a ventilator statewide, according to Jeppesen. While these numbers are down slightly from previous records, they still exceed hospital resources.
The 181 ICU patients are an improvement, however, Idaho normally has 170 staffed ICU beds.
Montana
New case numbers and hospitalization numbers in Montana are alarming as the situation continues to deteriorate in Big Sky Country. Officials reported 2,227 new Covid-19 cases over the long weekend and 15 deaths. There are now 489 people hospitalized in a state with just 1.09 million people. In contrast, Washington state has 1,157 Covid-19 patients including out-of-state transfer patients, and a population of 7.76 million.
Officials in Missoula are voting tonight on whether to continue the mask mandate in public schools. When the mandate was initiated six weeks ago, it called for a review. Since schools opened, Covid-19 cases among students have increased 70%.
Vitalant is Montana's largest supplier of blood to hospitals and communications manager Tori Robbins is asking for 1,000 more donations, according to a report in the Montana Standard.
Those recovering from COVID can donate 14 days after their last symptom presents, Robbins said.
As the relentless Delta variant pounds the state, more drives are being canceled and more people are working from home in order to social distance.
"COVID is making everything much more challenging. There are more difficulties to host blood drives, more difficulties to host school blood drives and more people working from home when their place of work holds a drive," said Montana Red Cross Communications Director Matt Ochsner. "With the rise of Delta people are hunkering down."
Nationwide, Red Cross usually keeps five days worth of type O blood on hand, but now, only a half-day's supply is available.
"Why we're so alarmed right now is because we usually see a dip in the summer, and then we see donations go back up in the fall, and we're not seeing that right now," Ochsner said. "Then the holidays are a busy time for families and that's when we see another dip in donations, so this dip in the fall is alarming."
Texas
NBC News is reporting the Justice Department has charged and arrested Scott Eli Harris, 51, of Aubrey, following the unsealing of a grand jury indictment that contained a single allegation of threatening a doctor over her vaccine advocacy.
It says he "knowingly and willingly transmitted in interstate commerce a threat to injure the person of another" on July 12. In a statement, the Justice Department alleged that Harris texted the threats to the victim, identified in the indictment only as "Dr. L.W., who had been a vocal proponent" of vaccination.
The victim was identified as Dr. Leana Wen, the former Baltimore health commissioner and onetime national president of Planned Parenthood. She didn't immediately respond to a request for comment when contacted through the Brookings Institution, where she is a nonresident senior fellow.
Wyoming
State officials have not commented on multiple hospital requests to move to crisis standards of care as the Wyoming Department of Health reported 275 more confirmed Covid-19 cases and 208 more probable cases.
Unlike Montana and Idaho, Wyoming officials have been working to be more transparent in the data they are providing the public and health officials. Since May 1, 284 residents have died of Covid-19 in the sparsely populated state – nine were vaccinated. Only 23 people of the 872 hospitalized for COVID since the start of May were fully vaccinated.
Hospitalization data had not been updated at the time we went to press, however, test positivity for Covid-19 jumped back up to 21.2%.
Misinformation
Taking the day off