Protester struck by car outside East Precinct, one arrested, driver is under investigation
The driver was released from the scene without being cited.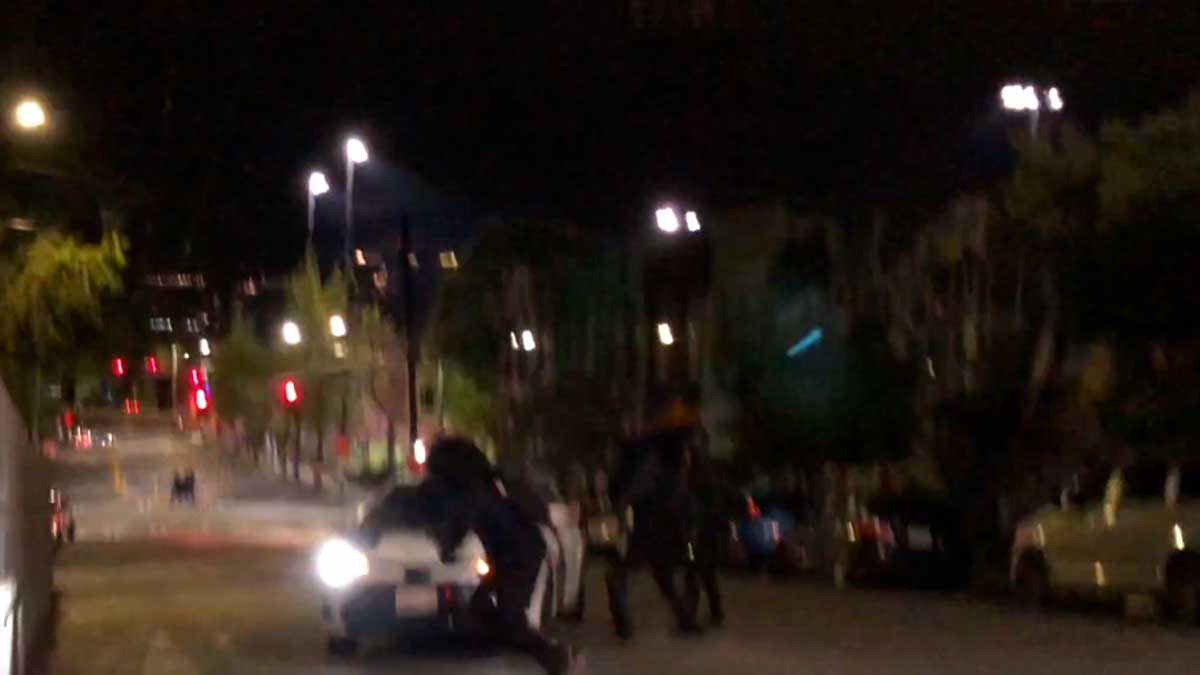 [SEATTLE] – (MTN) A protester was injured and arrested, another appears to have been struck, and the driver is under investigation after a car drove through a group of activists outside of the East Precinct at approximately 11 p.m. on Saturday.
A group of about 30 protesters marched from Cal Anderson Park and were protesting outside of the East Precinct at 12th and Pine. Seattle Police gave a dispersal order to the group around 10:20 PM, and they left without incident.
The group returned and blocked Pine and 12th and according to Detective Patrick Michaud of the Seattle Police Department, SPD decided to disengage with the protesters. Video from the traffic camera at the intersection, an independent journalist, and on Twitter showed several cars driving toward the intersection and turning around without incident.

According to eyewitness accounts, a white Toyota Camry driving east on Pine initially slowed at the dispersed group of protesters, appeared to start to turn around, and then lurched forward. One protester jumped up to avoid being struck and landed on the hood. Another protester appears to be struck while running out of the way. The driver then continued east on Pine until they were stopped by Seattle Police at 13th where the person on the hood was ejected.
Video from the scene shows a brigade of police officers on bikes blocking protesters and journalists from advancing further on Pine to where the car had been stopped.
Detective Michaud stated that the protester initially said they were uninjured, and then complained about a head injury. The driver was released from the scene and not cited, but the case has been referred to the Traffic Collision Investigation Squad, per department policy. There was no information provided on the condition of the second protester.
The person who ended up on the hood was ultimately arrested and booked into King County Jail with 3 charges including Pedestrian Interference, Reckless Endangerment, and Property Destruction.
There have been approximately two-dozen documented cases of cars driving through protests in Seattle since June 2020, sometimes with tragic results. On July 4 Summer Taylor was killed and Diaz Love was critically injured after Dawit Kelete drove down I-5 despite the highway being closed. Former Seattle police officer Molly Clark was documented driving through two different protests, and retired shortly after an investigation was announced. The OPA has recommended another Seattle police officer be disciplined for driving at protesters and up on the sidewalk on August 12, 2020.
Image credit to Street Photo Journalism