Russia has exhausted its combat capabilities in Ukraine
Russian forces launch small attacks across Ukraine but haven't gained much territory since early July.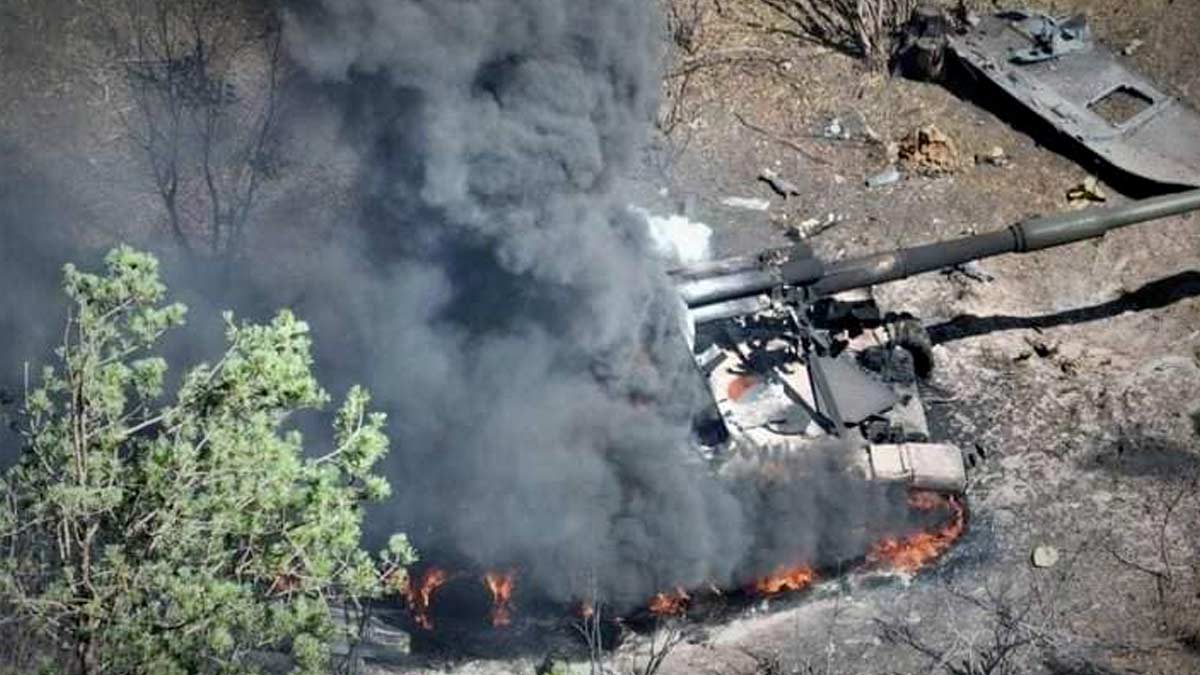 August 22, 2022, Russia-Ukraine War Update
[UKRAINE] – MTN It has been 3,098 days since Russia occupied Crimea on February 27, 2014. Here is our latest update. You can visit our Russia-Ukraine War Center to find more news about Ukraine. You can also listen to our in-depth podcast, Malcontent News Russia Ukraine War Update, hosted by Linnea Hubbard.
Breaking News
Russian cruise missiles struck Zatoka for the twelfth time since February 24. Russian cruise missiles hit the disabled Zatoka Bridge. There are no reports of injuries.
Northeast Donetsk
Russian forces were attempted an advance on Vesele [Donetsk] from Spirne while Siversk and the surrounding settlements were shelled, as was Ivano-Daryivka.

An ammunition depot in Alchevsk was destroyed in a rocket attack launched by HIMARS.
Bakhmut
PMC Wagner Group and elements of the 2nd Army Corps of the Luhansk People's Republic (LNR) attempted to advance into Soledar and Bakhmutske without success.
Private Military Company (PMC) Wagner Group, supported by the LNR separatists, remains on the outskirts of Bakhmut. The 58th Mechanized Brigade of Ukraine shot down a Russian Su-25 ground attack aircraft.
Russian forces continued their attacks on Zaitseve, 10 kilometers southeast of Bakhmut, striking from two directions.
In the Svitlodarsk bulge, Russian forces attacked Kodema from three directions but failed to dislodge Ukrainian defenders.
Southwest Donetsk – Zaporizhia
North of Donetsk, an attempt to advance on Niu York ended in failure. DNR separatists fought positional battles near Krasnohorivka but could not improve their tactical situation.
West of Donetsk, elements of the 1st Army Corps of the DNR attempted to advance on Optyne and Pisky using reconnaissance in force without success.
The village of Nevelske was attacked from two directions, but a lack of tanks made moving across the open fields near impossible for light infantry forces.
DNR separatists tried to improve their positions in eastern Marinka using reconnaissance in force. They also attempted to flank Markina from Luhanske without success.
In Donetsk, rockets fired from HIMARS made a precision strike on a large ammunition depot in the eastern part of the city.
On the Donetsk-Zaporizhia administrative border, Russian forces tried to advance on the Velyka Novosilka suburb of Neskuchne and were unsuccessful.
Kharkiv
North of Izyum, Russian forces launched offensives on Dementiivka and Pytomnyk, but they were unsuccessful.
Visit our Russia-Ukraine War Map
The Malcontent News Russia-Ukraine War Map is updated as events occur. Map not appearing in your RSS Feed or Google News App? You can review the most up-to-date information by visiting our custom Google Map.
Izyum
South of Izyum, Russian forces maintained tradition with attempted advances on Dmytrivka and Bohorodychne using reconnaissance in force. They weren't successful. Russian units attacked Ukrainian positions in Dibrovne, Dolyna, and Karnaukhivka. They also tried to advance in the direction of Nova Dmytrivka from Brazhkivka. They were not able to gain new territory.
Kherson
Rockets fired from HIMARS hit the Antonivsky Bridge in Kherson, producing a major fire and a large explosion. Rockets also hit the bridge and Russian bases in Nova Kakhovka.
Russian airborne troops (VDV) continued their attempts to advance on Tavrijs'ke from Oleksandrivka. They could not improve their positions. Russian forces attempted to capture all of Blahodatne [Mykolaiv] but remained unsuccessful.
Ukrainian forces launched offensives on Novohrednjeve and Sukhyi Stavok, intending to expand the Inhulets River bridgehead. Fighting was described as intense. However, Ukrainian troops did not capture either settlement.
Dnipropetrovsk
The situation at the Zaporizhzhia Nuclear Power Plant is unchanged. None of the parties involved in negotiations to allow inspectors into the power plant have set a date for when the International Atomic Energy Agency will arrive.
Valentyn Reznichenko, Dnipropetrovsk Oblast Administrative and Military Governor, reported that Nikopol was hit by Grad rockets fired from the Zaporizhzhia NPP region.
Sumy and Chernihiv
Dmytro Zhyvytskyi, Sumy Oblast Administrative and Military Governor, reported that the settlements of Bilopillia, Khotin, and Velykopysarivska were shelled from across the international border with Russia. There were no injuries, and none of the strikes caused major damage.
In Chernihiv, the settlements of Muravyi and Zaliznyi Mist were shelled. There were no reports of damage or injuries.
Odesa, Crimea, and the Black Sea
North of Odesa, Russia fired five Kalibr cruise missiles into the Odesa Oblast. Two were shot down, with three landing in the area of Maiors'ke. Russia also fired two cruise missiles at the Zatoka Bridge south of Odesa. The bridge has been disabled since early May, and this was the sixth strike on the structure since the start of the war.
Russian air defenses fired at unidentified objects across the Crimea Peninsula, but there were no confirmed drone or missile strikes. Russian sources did not provide any proof to support claims of rockets, missiles, and drones being shot down.
Beyond Ukraine
Russia's National Republican Army claimed responsibility for the assassination of Daryna Dugina on August 21. The group claims that they planted an improvised explosive device (IED) under the driver's seat of her father's SUV.
Daily Assessment
The British Ministry of Intelligence and the ISW assessed that Russian forces had exhausted their combat strength, validating our conclusion from August 19.
Russian officials have likely kicked out Ukrainian employees of Energoatom from the Zaporizhzhia Nuclear Power Plant to eliminate evidence of its use as a military base in preparation for the agreed-to International Atomic Energy Agency inspection.
There is a very high chance of multiple and significant punitive strikes against Ukrainian civilians and civilian infrastructure the week of August 22 due to attacks on Belgorod, Russian-occupied Crimea, the assassination of Darya Dugina, and Ukrainian Independence Day celebrations on August 24.
To read the rest of our report, become a Patreon! For as little as $5 a month, you get access to the daily Russia-Ukraine War Situation Report. The report provides analysis, maps, detailed information about all the axes in Ukraine, international developments, information about war crimes and human rights, and economic news. As an added benefit, you get access to flash reports, breaking news, and our Discord server.