Ukrainian forces cling to Pisky as fighting continues – August 13, 2022 Ukraine update
Russian forces destroyed all remaining buildings in Pisky during a furious artillery and rocket attack on August 12.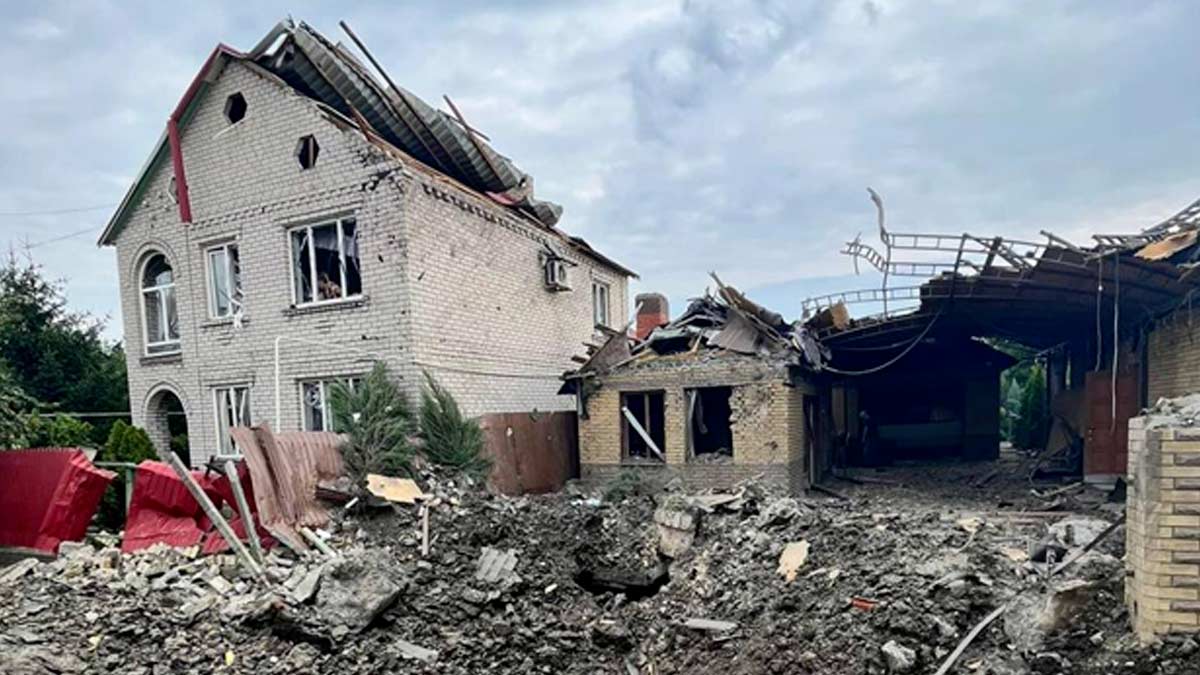 [UKRAINE] – MTN It has been 3,088 days since Russia occupied Crimea on February 27, 2014. Here is our latest update. You can visit our Russia-Ukraine War Center to find more news about Ukraine. You can also listen to our in-depth podcast, Malcontent News Russia Ukraine War Update, hosted by Linnea Hubbard.
Northeast Donetsk
Elements of the 2nd Army Corps of the Luhansk People's Republic (LNR) attempted to advance into Verkhnokamyanske and Hryhorivka using reconnaissance in force tactics and were unsuccessful.
Russian troops withdrew to previous defensive positions after failed attempts to advance on Ivano-Darivka, Vyimka, and Vesele.

Near Russian-occupied Lyman, Raihorodok was shelled, and Kramatorsk was attacked with rockets fired from Multiple Launch Rocket Systems (MLRS).
Bakhmut
Fighting for control of Soledar is in an operational pause. There are reliable reports that Private Military Company (PMC) Wagner Group is being rotated out of Soledar after suffering 50% casualty rates and being replaced by Russian airborne troops (VDV).
PMC Wagner continued attempts to advance on Yakovlivka and tried to capture the western half of Vershyna aided by airstrikes, but was unsuccessful.
LNR separatists with the 2nd Army Corps and PMC Wagner were able to advance into northeastern Bakhmut, reaching the industrial areas. Fighting for control continued.
In the Svitlodarsk bulge fighting for control of Kodema continued. Ukrainian forces likely withdrew from Zaitseve under cover of darkness. LNR separatists are attacking Dacha from three sides.
Southwest Donetsk – Zaporizhia
The 1st Army Corps of the Donetsk People's Republic (DNR) continued its offensive to capture Pisky. Fighting continued, advancing further into the village. The situation for Ukrainian forces has become dire, with units holding the northern third of the village that was once home to 2,000.
Elements of the 1st Army Corps also attempted to advance on Avdiivka and Marinka but remained unsuccessful.
Kherson
Near Kherson, Ukrainian forces used precision munitions to strike the Kakhovsky Bridge in Nova Kakhovka, reducing the bridge to a single lane and only capable of supporting light vehicles. Satellite images showed that the Darivka bridge has been reopened to all traffic but reduced to a single lane.
Ukrainian forces reported three Russian command posts were destroyed: the command post for the Russian 49th Combined Arms Army (CAA) in Chervonyi Mayak, the 126th Separate Coastal Defense Brigade of the Russian Navy in Novokamianka, and the 76th Airborne Assault Division in Ishchenka.
The settlement of Barvinok, northwest of Kherson city, was recaptured by Russian forces.
Visit our Russia-Ukraine War Map
The Malcontent News Russia-Ukraine War Map is updated as events occur. Map not appearing in your RSS Feed or Google News App? You can review the most up-to-date information by visiting our custom Google Map.
Izyum
In Nova Kakhovka, it was confirmed that a HIMARS strike on August 11 destroyed the Kakhovsky Bridge over the Dnipro River at the Kakhovka dam. The railroad bridge is likely irreparable, and the road bridge can only support light vehicles.
Dnipropetrovsk
The village of Marivka on the Dnipro River was struck by over 80 Grad rockets fired by MLRS, targeting civilians and civilian infrastructure overnight. Thirteen people were killed and another 11 injured – seven critically.
Sumy
Dmytro Zhivytsky, Sumy Regional Administrative and Military Governor, reported Esman, Khotin, Mykolaivka, and Shalyhyne were shelled and hit by mortars. Mykolaivka hromada was hit by a Russian airstrike and 60 rockets that were fired from MLRS. Two airstrikes and 10 Grad rockets also hit Khotin. Pro-Russian social media account Rybar reports that Ukrainian forces shelled the Russian town of Sverdlikovo.
Chernihiv
In Chernihiv, the settlements of Hirs'k and Hai were shelled from across the international border. There were no casualties.
Daily Assessment
There are numerous reports that the Armed Forces of the Russian Federation and their proxies are struggling to fill their ranks and replace troops lost in battle.
Professional mercenaries of PMC Wagner Group are refusing to fight with Russian penal units calling the soldiers under-trained, undisciplined, and ineffective.
Fighting in northeast Donetsk around Siversk is increasing, indicating that Russian military leaders are looking to secure the oblast before mud season or are trying to divert resources from Bakhmut and Soledar.
To read the rest of our report, become a Patreon! For as little as $5 a month, you get access to the daily Russia-Ukraine War Situation Report. The report provides analysis, maps, detailed information about all the axes in Ukraine, international developments, information about war crimes and human rights, and economic news. As an added benefit, you get access to flash reports, breaking news, and our Discord server.