Up to 100 Russian mercenaries killed in HIMARS attack – August 15, 2022 Ukraine update
Social media pictures showed the location of the PMC Wagner Group headquarters, 6 days later it was destroyed.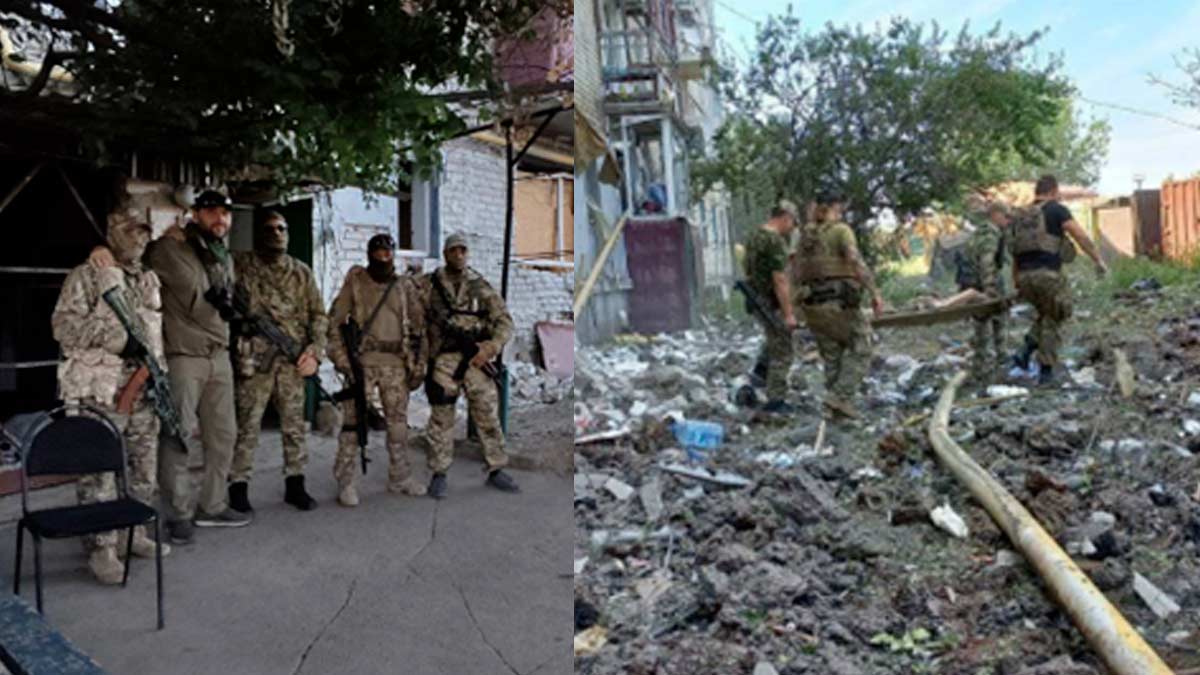 [UKRAINE] – MTN It has been 3,091 days since Russia occupied Crimea on February 27, 2014. Here is our latest update. You can visit our Russia-Ukraine War Center to find more news about Ukraine. You can also listen to our in-depth podcast, Malcontent News Russia Ukraine War Update, hosted by Linnea Hubbard.
Northeast Donetsk
A Russian Special Operation Force (SOF) reconnaissance in force team attempted to advance on Serebrianka, came under fire from Ukrainian forces, and retreated.
Elements of the 2nd Army Corps of the Luhansk People's Republic (LNR), supported by the Russian Federation Armed Forces, attempted to advance into Ivano-Darivka, Vesele, and Spirne using reconnaissance in force and were unsuccessful.

The headquarters for Private Military Company Wagner Group was hit by rockets fired from High Mobility Rocket Artillery Systems (HIMARS), causing significant damage and reportedly causing up to 100 casualties.
On August 8, Private Military Company Wagner Group aligned Telegram channel Grey Zone, shared detailed pictures of the Wagner command and control base in Popasna. One of the photos a Russian journalist took during the visit included the address of the building where the base was located. Yevgeny Prigozhin, the founder of Wagner and a close Putin ally, was in one of the pictures.
Wagner Telegram channel Reverse Side of the Medal shared pictures of the destroyed base and the wounded and dead being removed. Pictures shared by Wagner Group show at least two impacts on the building, including one that would have penetrated the basement area. Another post-attack video was recorded by an insurgent or Ukrainian SOF showing Wagner loading some of the dead into a van.
Ukrainian SOF made a reconnaissance mission in Brusivka, on the north bank of the Siverski Donets River near Lyman. They came under machine gun fire, attempted to flank the Russian positions, and withdrew.
Bakhmut
Russian airborne forces (VDV) attempted another reconnaissance in force push on the edge of Soledar and were unsuccessful.
PMC Wagner, supported by LNR separatists, tried to advance on Yakovlivka and Vershyna without success. Russian VDV forces assaulted Bakhmut and, according to the General Staff, had "partial success." After the attack, Bakhmut experienced the worst shelling since the war began.
Russian forces attempted to advance on Zaitseve, 10 kilometers southeast of Bakhmut and were unsuccessful. In the Svitlodarsk bulge fighting for control of Kodema and Zaitseve (north of Horlivka) continued.
Southwest Donetsk – Zaporizhia
West of Donetsk, the 1st Army Corps of the Donetsk People's Republic (DNR) continued its offensive to capture Pisky. They remained unsuccessful in pushing Ukrainian forces out of the northern part of the village.
On the south side of Pisky, DNR forces attempted to advance on Pervomaiske and were unsuccessful.
In southern Ukraine, Russian forces made another attempt to advance on Pavlivka and tried to improve their position near Vremivka without success.
Insurgents in Melitopol destroyed a railroad bridge south of the city and reportedly caused major damage to the structure.
Social media pictures showed a large fire at the port in Berdyansk. The exiled mayor of the port city reported the fire was caused by a "violation of safety requirements" during welding work that ignited fuel and oil storage.
Mykolaiv
Russian forces fired S300 antiaircraft missiles in a ground-to-ground capacity for the first time in almost a week into Mykolaiv. The main port was hit, causing damage to the facilities.
Visit our Russia-Ukraine War Map
The Malcontent News Russia-Ukraine War Map is updated as events occur. Map not appearing in your RSS Feed or Google News App? You can review the most up-to-date information by visiting our custom Google Map.
Izyum
South of Izyum, pictures by Ukrainian forces confirm that the settlement of Brazhivka has been fully liberated. Russian forces attempted to advance in the direction of Dolyna and were unsuccessful.
Dnipropetrovsk
Russian and Ukrainian forces continue to trade accusations of shelling the Zaporizhzhia Nuclear Power Plant. The Russian-controlled city of Energodar, where the Zaporizhzhia Nuclear Power Plant is located, was shelled, killing one person. Russian forces fired 20 Grad rockets into Nikopol and shelled Marganets. There were no injuries reported.
Sumy
Dmytro Zhivytsky, Sumy Regional Administrative and Military Governor, reported Yunakivka, Esman, Khotin, and Billopillia were shelled and hit by mortars. There was a border skirmish north of Billopillia at the now closed international border crossing into Russia.
Chernihiv
The settlement of Senkivka was shelled.
Beyond Ukraine
In Zareche-Vtore, Russia, Ukrainian SOF used a loitering munition or explosives to collapse a large communications tower, destroying it.
Daily Assessment
The 2nd Army Corps of the Luhansk People's Republic is combat ineffective, with multiple reports that it is on the brink of being combat destroyed.
Volunteer fighters in Russia are starting to return home from their contracts and complain of poor equipment, terrible treatment, and going unpaid.
Russian proxy forces suffered another embarrassing and preventable defeat due to terrible operational security, resulting in dozens of mercenaries being killed and wounded in a confirmed HIMARS attack.
To read the rest of our report, become a Patreon! For as little as $5 a month, you get access to the daily Russia-Ukraine War Situation Report. The report provides analysis, maps, detailed information about all the axes in Ukraine, international developments, information about war crimes and human rights, and economic news. As an added benefit, you get access to flash reports, breaking news, and our Discord server.