Washington hospitals will face an unprecedented capacity crisis in January
An analysis of available data using models from the United Kingdom indicates Washington will run out of hospital resources by Jan 15.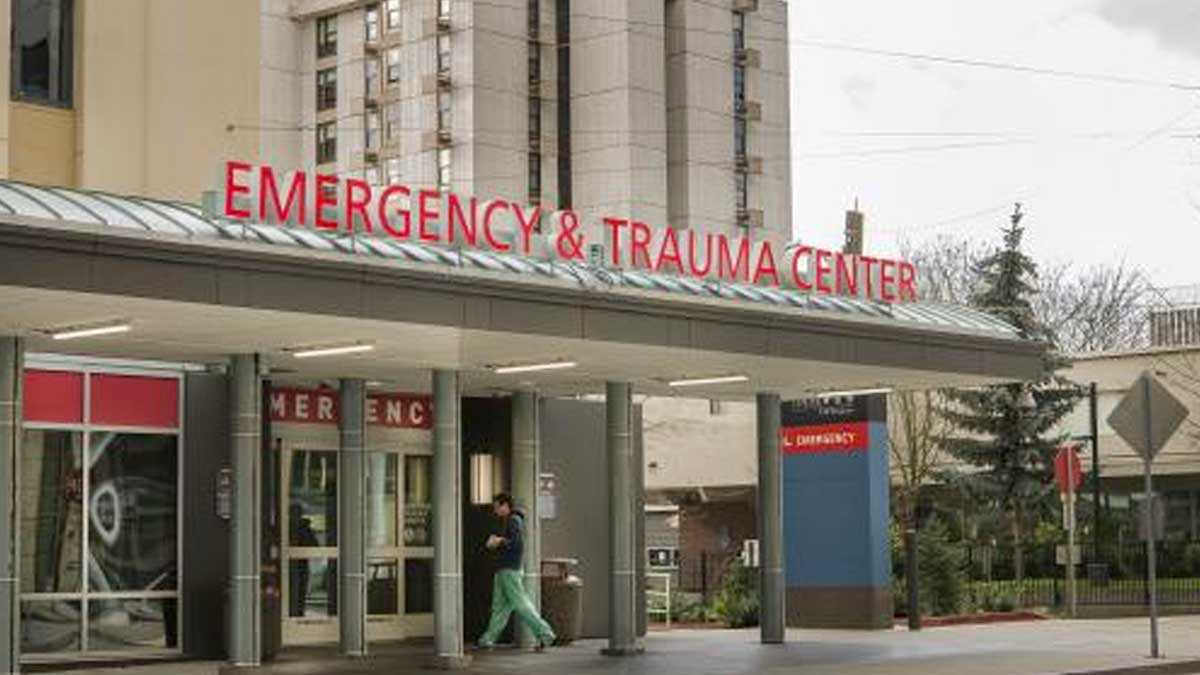 [KIRKLAND, Wash.] – (MTN) The promises of the COVID Omicron variant being "very mild" and only a cold are crumbling in London and New York. The crush of COVID-related hospitalizations has United Kingdom officials considering additional restrictions while New York officials issued a warning about a shocking rise in pediatric hospitalizations. Hospitals in Washington are more than 90 percent occupied, leaving almost no capacity to deal with any kind of surge, COVID or otherwise.
Reports, studies, and data are pouring in at an incredible rate from around the world with confusing and conflicting headlines. In the United States, the politicization of the COVID epidemic has created a news cycle more aligned to opinion and speculation, than a cautious review and analysis of available data. If Washington follows the United Kingdom and New York, hospitals across the state will be overwhelmed by the end of January.
When Omicron was first announced by the World Health Organization on Nov. 26, many latched on to the words of Dr. Angelique Coetzee, chair of the South African Medical Association when she described the variant as "very mild."

"Most of them are seeing very, very mild symptoms and none of them so far have admitted patients to surgeries. We have been able to treat these patients conservatively at home," she said.
Within hours more details emerged that had many advising caution. Dr. Coetzee isn't a hospitalist and runs a private practice in the South Africa capital of Pretoria. She based her statements on seeing 24 patients, mostly college students, and 50 percent were vaccinated.
The World Health Organization (WHO) addressed her statement in a press release on Nov. 28.
"There is currently no information to suggest that symptoms associated with Omicron are different from those from other variants. Initial reported infections were among university students—younger individuals who tend to have more mild disease—but understanding the level of severity of the Omicron variant will take days to several weeks."
A month has passed since the WHO announced Omicron was a Variant of Concern (VOC). Data from South Africa, the UK, and New York is providing critical information on what will happen next for other nations including the United States.
Malcontent News has analyzed multiple studies, COVID case rates, hospitalization information, and mortality data from South Africa, the United Kingdom, and New York City. Our conclusion is that without drastic action in the next seven to ten days, Washington hospitals will face an untenable crisis by the end of January.
Researchers at the London School of Hygiene & Tropical Medicine (LSHTM) estimated Omicron was doubling every 2.4 days in the UK and has an Rt or "R naught" of 4.4. Rt is a measure of how quickly a disease can spread. At 3.0, up to 50 percent of people can expect to become infected with the Omicron variant – at 4.0, the figure jumps to 90 percent.
On Dec. 23, Trevor Bedford, Ph.D. with Fred Hutch, estimated that Omicron was doubling every 2.4 days and had an Rt of 4.4 in King County.
Case information from South Africa's hospitals has revealed that recent previous COVID Delta variant infections are not providing much protection from the Omicron variant. As hospitals in Gauteng Province became filled with COVID patients, reaching a peak days before Christmas, a pattern emerged. Over 80 percent were unvaccinated, and in the ICU, almost all the patients were unvaccinated.
Mortality rates in South Africa remained low through Dec. 10 and then started to climb. On Sunday, 66 were dying of COVID daily based on the 7 day moving average, 87 percent are unvaccinated and 466 total deaths have been recorded in the last week.
While it is factually correct that only 26 percent of all South Africans are vaccinated against COVID, in Gauteng the numbers more closely mirror some Eastern Washington counties. On Dec. 17 South African officials reported 44% of all eligible adults in Gauteng are fully vaccinated, including 66% of people over 50 years old. Even at 26 percent, Stevens County is only 33 percent vaccinated and already experiencing high transmission.
South African officials found that although the risk of hospitalization from Omicron was as much as 70% lower than Delta, once a person was hospitalized, the disease progression resembled Delta with similar patient outcomes. Scientists in Europe and North America worried that the younger, relatively healthy population was masking the true impact of Omicron. Hospitals also saw a surge of children under five being hospitalized.
Washington and King County have far fewer children under 18 and a much older population than South Africa. The single biggest factor that determines the outcome of a COVID infection is age, even among the vaccinated. Multiple studies have concluded that without a booster shot, neutralizing antibodies against COVID has faded away, leaving the T cells to respond in a secondary response. Boosters dramatically improve the body's response to Omicron, but less than half of eligible residents of King County have been boosted.
In a damaging blow to reaching a better understanding of the Omicron variant, the South Africa Department of Health announced on Dec. 24 the nation would stop most contact tracing, reduce quarantine times for infected people, and significantly reduce COVID testing. Reducing the number of tests will lower the daily case count while inflating the percentage of hospitalization patients. Shortening of quarantine periods for positive tests while ending most contact tracing could drive a new surge of community transmission.
As Omicron started to spread around the world, the National Health Service (NHS) in the UK reported 131 Omicron variant cases on Dec. 8. The first Omicron variant death was reported on Dec. 14 and by Christmas Eve, the NHS reported 122,186 cases as hospitalizations started to surge.
Bedford predicted on Dec. 18 that King County would have 2,100 new COVID cases by Dec. 23, which would shatter previous records. King County Public Health reported 2,879 new cases, a 169 percent increase in a week. Hospitalizations are a trailing indicator and looking at London and the UK, an increase in King County is roughly a week away.
Today, UK COVID hospitalizations are doubling every ten days. For the unvaccinated, people from 50 to 79 have a 30-fold greater chance of being hospitalized. The Intensive Care National Audit and Research Centre examined hospitalization data from May to November and found that the unvaccinated had a relative risk to be hospitalized 60-times higher than the vaccinated – that data was without boosters.
According to the most recent data available, the UK National Health Service reported 1,171 people were admitted to hospitals with COVID on Dec. 20 – the highest number since Feb. 19 and higher than during the Delta wave. On Dec. 22, the 7-day moving average for new hospitalizations in London had reached 386, just a handful of cases below a "trigger number" of 400. The figure is half of the previous record peak of 850. If cases double again in the next ten days, a new and awful record would be in reach.
The LSHTM released an updated pre-print study on Dec. 23 modeling four potential scenarios for the UK and the progression of Omicron. The report was adjusted to factor in newly available data from the Imperial College of London published on Dec. 22. Report 50 hypothesized previous Delta infections combined with high vaccination rates in the UK would reduce the risk of hospitalization from an Omicron infection by 50 percent.
"These results suggest that the introduction of the Omicron B.1.1.529 variant in England will lead to a substantial increase in SARS-CoV-2 transmission, which, in the absence of strict control measures, has the potential for substantially higher case rates than those recorded during the Alpha B.1.1.7 winter wave in 2020–2021. This is due to Omicron's apparent high transmissibility and ability to infect individuals with existing immunity to SARS-CoV-2 from prior infection or from vaccination."
Only one scenario found that hospitalizations would be below the record the UK set in January 2020. The most likely scenario of high immune escape with high booster dose efficacy predicts hospitalizations could soar to 5,000 a day by the end of January 2021. The National Health Service would have no capability to care for that many patients, even if they only required a few days of care with hydration and oxygen support.
The study also found that this was not inevitable, and additional mitigation plans to slow the spread of COVID could protect the hospital system and UK residents alike. However, the steps required are very unlikely to be taken or tolerated.
"The introduction of control measures is projected to partially suppress Omicron transmission; however, in the most pessimistic scenario, we project that stringent control measures such as those implemented following the Alpha B.1.1.7 winter wave of transmission may be required to ensure that healthcare services are not overwhelmed."
In the United States, federal officials have openly stated concern that restrictions such as those used in the spring of 2020 could bring a wave of domestic terrorism. On Nov. 11, the National Terrorism Advisory System Bulletin stated, "Pandemic-related stressors have contributed to increased societal strains and tensions, driving several plots by DVEs, and they may contribute to more violence this and next year. If a new COVID-19 variant emerges and new public health restrictions are imposed as a result, anti-government violent extremists could potentially use the new restrictions as a rationale to target government or public health officials or facilities."
In King County, there are very few remaining public health options. The county has had a mask mandate in place since July with varying levels of compliance. Proof of vaccination or a negative COVID test is required to go to restaurants, bars, theaters, sports events, movies, gyms, and entertainment venues. However, one doesn't have to dig deep to find Facebook groups and online lists of hundreds of businesses ignoring these requirements.
On the other side of the country, New York City is seven to ten days ahead of Seattle. Tens of thousands of, "guess who has COVID," social media posts morphed into, "this is much worse than I thought" updates over the Christmas holiday. The number of hospitalized COVID patients almost doubled in a week in the City – from 1,046 on Dec. 18 to 1,904 on Dec. 24. The number of coronavirus patients in the ICU went from 187 to 283 during the same period. On Christmas Eve, parts of Manhattan had the highest COVID transmission rates on the planet.
New York Health Commissioner Mary T. Bassett issued a statement on Christmas Day, with pediatric COVID hospitalizations quadrupling in three weeks. "We are alerting New Yorkers to this recent striking increase in pediatric COVID-19 admissions so that pediatricians, parents, and guardians can take urgent action to protect our youngest New Yorkers."
Officials did not release a patient census but did offer some information. Half of the hospitalized children were under five. None of the children under 12 were vaccinated, and only one-third of adolescent patients from 12 to 17 were fully vaccinated. Booster shots are not available to children under 16, and only recently became available to 16 and 17-year-olds.
The Washington Post reported that pediatric hospitalizations for COVID had jumped 31 percent in ten days, with almost 2,000 children hospitalized – a grim and new national record.
Pediatrician Aaron Milstone with Johns Hopkins University School of Medicine urged parents who have children with "cold" symptoms to assume "it's Omicron until proven otherwise," in an interview with the Washington Post.
Unlike South Africa and the United Kingdom which released updated reports over the Christmas holiday, data hasn't been available from the Washington State Depart of Health (WSDoH) since Thursday. With new cases doubling every 2.4 days in King County, it is almost certain Washingtonians will see a dramatic increase in new COVID cases and COVID hospitalization in the coming week.
When it comes to the state's ability to cope with another surge, Washington State Hospital Association (WSHA) Vice President Taya Briley minced no words during a Dec. 23 press briefing.
"Even if most people don't get really sick, there are a lot of people who are getting infected with omicron, and some portion of them will get severely ill and need hospital care. Even if it's a small portion of the overall total, this could mean a huge number of people getting sick enough to need hospitalization."
Mark Taylor of the Washington Medical Coordination Center at Harborview Medical Center in Seattle, echoed her perspective.
"We really do not currently have the capacity within our facilities to accommodate a large surge as we just came through with the Delta surge."
The most recent data available from the WSDoH is from Dec. 22. On Wednesday, there were 702 COVID patients hospitalized in Washington, with 95 requiring ventilators. The number of hospitalized patients had increased 13 percent in 48 hours before the Christmas holiday data break.
Using the 7 day moving average data from the Healthcare Readiness tab from the WSDoH COVID dashboard, there are an estimated 652 staffed acute care and 145 staffed ICU beds available across the state. If COVID cases were to double over the next ten days regional hospitals will run out of all beds, unless other measures are taken.
Demoralized doctors and nurses are already in a physical, emotional, and mental health crisis as the Delta wave was coming to an end. Over the weekend, many expressed fury at new guidelines released by the Centers for Disease Control (CDC) on Christmas Eve.
The new guidelines reduced the amount of time medical personnel needs to isolate if they have close contact or are positive for COVID. If hospitals move to contingency care hospital workers could be made to return to work after five days, even if they are mildly symptomatic. Under crisis standards of care, employees could be made to continue to work even if they are experiencing mild or moderate symptoms.
The CDC defines moderate illness as, "individuals who have evidence of lower respiratory disease, by clinical assessment or imaging, and a saturation of oxygen (SpO2) ≥94% on room air at sea level."
More troubling, The update has no specific requirements for N95 masks or N100 respirators, defining facemasks as, "OSHA defines facemasks as "a surgical, medical procedure, dental, or isolation mask that is FDA-cleared, authorized by an FDA EUA, or offered or distributed as described in an FDA enforcement policy. Facemasks may also be referred to as 'medical procedure masks'."
The medical community is concerned that COVID could be passed to patients hospitalized for other reasons, while spreading among other staff, limiting the ability to meet rising cases. In states where medical personnel isn't required to be vaccinated, data from South Africa and the UK suggests the CDC guidelines could have a devastating impact on hospital readiness.
As a better understanding of Omicron has become available a grim picture for January is emerging. In King County, 81.3% of all residents five and older are fully vaccinated. That is almost ten percent lower than London and the vaccination rate for Washington state isn't much higher than Florida.
Several studies have shown that the current vaccines from Moderna and Pfizer have significantly reduced effectiveness without a booster. The Johnson & Johnson vaccine is even less effective. Boosters have been proven to provide additional projection, but breakthrough cases remain frequent. For most of the vaccinated that develop symptoms, their cases are mild to moderate.
The number of breakthrough cases had driven up anti-vaccination rhetoric at a national and even local level, with Jason Rantz criticizing the King County vaccine mandate.
"But if Omicron evades the vaccine and the best protection, according to the city, and the department is to abide by procedures used before a vaccine was even available, then what sense did it make to fire unvaccinated staff? They're just as vulnerable to the dominant variant as the vaccinated."
The statement is factually incorrect, given the evidence from South Africa, Israel, Denmark, and the UK showing that while breakthrough cases among the vaccinated are high, hospitalizations are extremely low.
Several case studies on the true number of breakthrough cases and vaccine effectiveness have emerged in an unlikely place. Multiple cruise ships have had their itineraries disrupted due to onboard COVID cases. The Royal Caribbean ship, Odyssey of the Seas, was denied entry to two ports of call after confirming 55 coronavirus cases onboard. The ship left port with 95 percent of passengers fully vaccinated. The ship has 3,587 guests and 1,599 crew onboard. If every confirmed case was among vaccinated individuals, the breakthrough rate is around one percent. Officials have stated the cases are asymptomatic or mild.
The new case rate in King County is growing as fast as London with a similar Rt, which indicates up to 90 percent of residents will become infected with COVID in the next 60 days. Most of those cases will be asymptomatic or mild, but for the elderly, children under five years old, the unvaccinated, and the immunocompromised the data strongly suggests outcomes are similar to Delta.
Considering all we have learned about Omicron since Nov. 27 and looking at the data through a clinical, not-politically motivated lens, an unprecedented crisis will arrive with the New Year. If cases continue to double every 2.4 days and the Rt stays above 4, up to 90% of King County residents will be infected over the next 60 days. If COVID hospitalizations double every ten days starting this week, the state will be out of resources by Jan. 15.
As the Omicron variant spreads through Eastern Washington, likely fueled by Christmas holiday travel, officials will look to Western Washington to take their patients. The issues experienced during the Delta surge of patient transfers by aircraft and ambulance will be even worse due to winter weather and an increasing number of sickened personnel.
With pandemic fatigue, politicization, Christmas and New Year's travel and celebration, and no ability to add additional public health measures without risking a violent response, it seems unlikely that we will prevent what is coming.