Here we snow again!
Light snow will fall in Central and Northern Puget Sound, while the South Sound should expect more.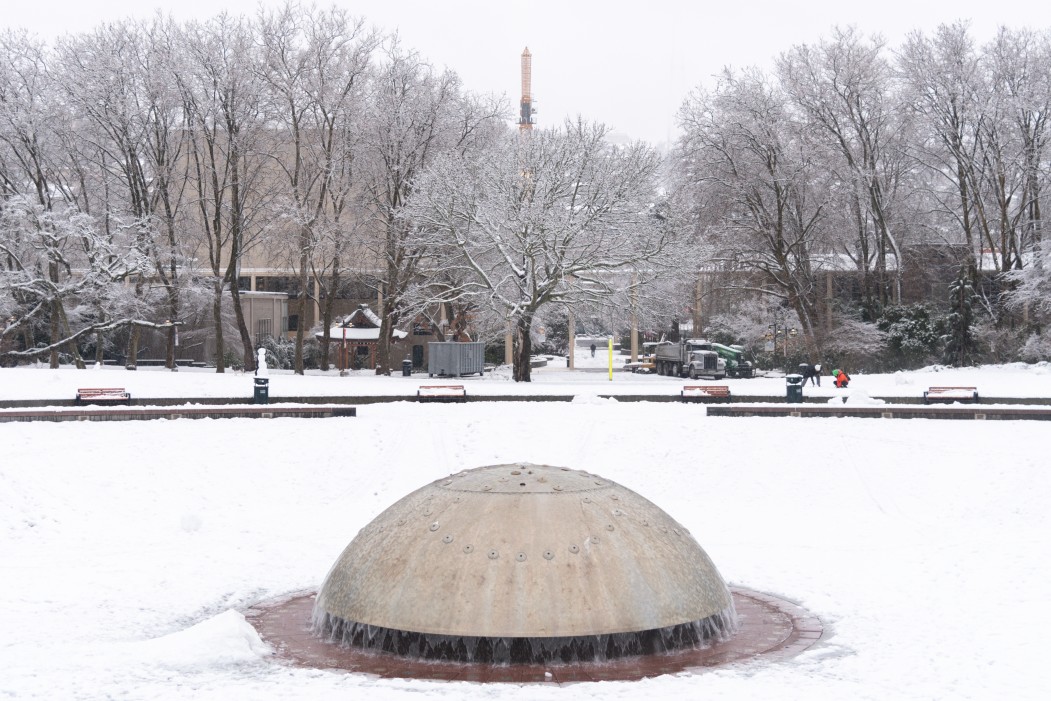 [KIRKLAND, Wash.] – (MTN) Record-setting cold temperatures have prevented the Christmas weekend snow and ice from melting with another round of light snow set to arrive on Thursday.
If you squint, measurable snow has fallen at Seattle-Tacoma International Airport every day since Sunday. The temperature dropped to 17 degrees on Monday, a record, and was 91 degrees colder than the all-time record high set on June 28 of 108 degrees.
For the Bellevue-Kirkland-Woodinville area, most of Wednesday night and Thursday will be in a protective rain shadow formed by the Olympic Mountains. Heavier snow will fall to our south, particularly away from Puget Sound.

Tomorrow will start off cold with temperatures between 21 and 24 degrees under mostly clear skies. The clouds will move in during the afternoon, with a high temperature of 28 to 31 degrees.
On Wednesday night, snow will surround the Puget Sound lowlands, but won't arrive in the metro Seattle-Bellevue area until close to midnight. Lows will be 23 to 25 degrees. Hit and miss light snow showers will start to filter in from the south.
Snow showers turn into light snow during the morning commute hours on Thursday, with areas south of Kirkland receiving more. Total accumulation will be one to three inches through our forecast region, with most areas on the lower side. The forecast is very tricky with just the smallest change in storm track having a major impact on the Bellevue-Kirkland-Woodinville area.
Looking at the forecast models, the total predicted snowfall by Thursday varies a lot over short distances:
Bellevue – 2.5 inches
Bothell – <1.0 inch
Duvall – 3.0 inches
Finn Hill – 1.0 inch

Issaquah – 3.0 inches

Juanita – 1.0 inch
Kenmore – <1.0 inch
Kingsgate – 1.0 inch
Novelty Hill – 2.0 inches
Redmond – 1.5 inches
Rose Hill – 1.0 inch
Sammamish – 3.0 inches
Totem Lake – 1.0 inch
Yarrow Point – 2.5 inches
When making snowfall forecasts, a difference of 50 miles in the storm track can have a major impact, and at 50 miles you're metaphorically threading a needle blindfolded. Additionally, the forecast is supportive of a convergence zone forming in the South Sound. If the snow bands wiggle north by 20 miles, our forecast area will see a lot more white stuff on the ground.
Highs will be 33 to 35 degrees, but our region shouldn't reach the high while it is snowing.
The South Sound will get a lot more snow including SeaTac Airport, which will get three to four inches, adding to existing travel woes. Additionally, if your travel plans include the passes on Thursday prepare for major delays and very cold temperatures.
Thursday night will remain cloudy with lows dropping back into the mid-twenties.
New Year's Eve will be partly cloudy with a high of 31 to 33 before clouding up in the evening. There is a slim chance for a snow shower on New Year's Eve night, with lows dropping back into the mid-20s.
The long-range forecast hints at some more snow on Saturday before temperatures finally get above freezing and we return back to normal – cloudy, cold, and raining.