Updated: Winter Storm Slams Puget Sound – Live Blog Updates
Six to nine inches of snow blanketed the Kirkland-Bellevue-Woodinville area last night with more on tap.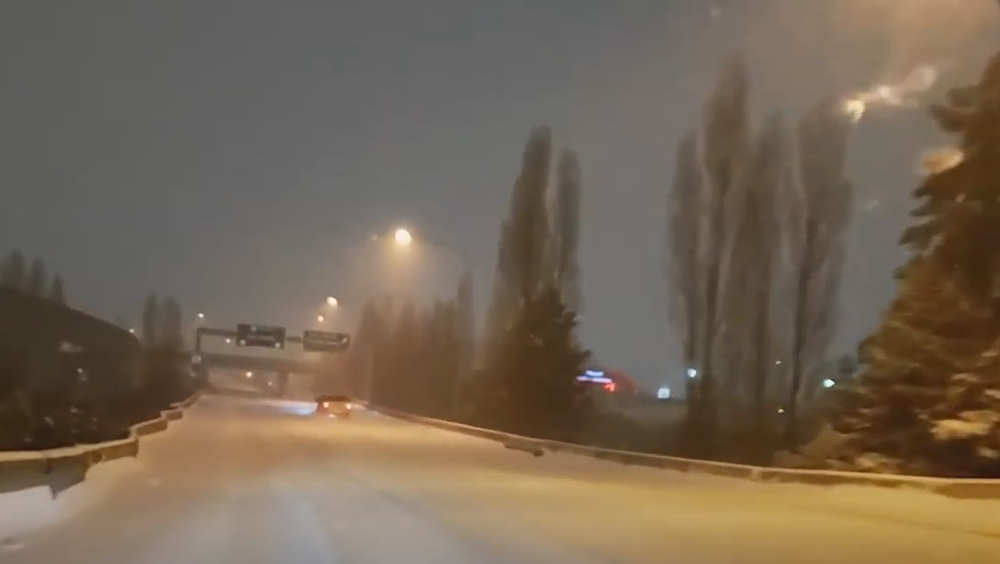 We storm chased last night and early this morning
You can join us on Twitch, no subscription required at malcontentnews.tv
We will start our feed between 9 PM and 10 PM PST, depending on the weather.
We will do storm updates as a live blog on this story
Saturday 11:35 AM – Snow is starting to taper off in our area. Temperatures are 27 to 29 degrees and there is very light snow or light freezing drizzle falling through the area. Another inch of snow is possible before tapering off, but it will be short lived. We have another shot of snow coming tonight into Sunday morning, with 2 to 3 inches likely in our area before it transitions to a rain or rain-snow mix. Roads are in poor condition. I-5 and i-405 are in much better shape than they were at 4 AM. The region received 5 to 12 inches last night. Shoreline was reporting 10 inches, downtown Seattle 6 inches, and in the Kirkland-Bellevue-Woodinville area reports are coming in of 6 to 9 inches of snow. You can watch our video from last night to see how bad it was at 4 AM.
Saturday 4:15 AM – I-5 from Tacoma to Boeing Field has deep snow on it with large sections untreated. I-5 in Auburn and Federal Way is in extremely poor condition, as are the roads in Tacoma. I-5, I-90, I-405, and SH-520 are all snow-covered. There are numerous road closures in Kirkland due to snow and ice build-up on roads. Along the waterfront, the wind is blowing in excess of 20 MPH creating reduced visibility and drifting snow. Snowfall rates are an inch an hour or more, and public works along with state DOT simply can't keep up. Lake Shore Blvd has waves of snow and tire tracks of cars that pass through disappear within minutes. Many places in Kirkland have 3 to 4 inches of snow already with the heaviest snow bands arriving now. Temperatures are 24 to 26 degrees and the wind chill is 12 to 15 degrees. If you have travel plans tomorrow, especially before noon, we strongly advise you cancel them. Sections of I-5 from Lewis-McChord to Federal Way are the worst I have seen in 21 years of living in this area.

Saturday 12:45 AM – Moderate to heavy snow is falling throughout the Seattle-Bellevue-Tacoma area. Road conditions on I-5 have gotten much worse between Olympia and Tacoma and are fully snow-covered. I-705 to City Center is treacherous and at Woodbridge Ave we came across numerous vehicles unable to navigate the uphill ramp along the Ruston waterfront. Wind chills are from 10 to 15 degrees and moderate to heavy snow will continue through the overnight. We measured 7″ of snow just outside of the Capitol complex in Olympia, and 4″ in Tacoma along Ruston.
Friday 11:15 PM – Road conditions are rapidly deteriorating through the Puget Sound region, especially from Tacoma south. Conditions will get worse across all of Puget Sound as the night continues. In Olympia, there is already 4 to 6 inches of snow on the ground with moderate snow and 28 degrees. Snow now extends across the entire region into Canada, with a wintery mix along the coast. Seattle-Tacoma International Airport is down to 25 degrees with winds of 24 MPH! The wind chill is down to 10 degrees. From Dupont to Olympia I-5 is in poor shape, snow-covered and icy. There were multiple accidents all through Tacoma. There is still a battle between the dry air to the east and the moisture coming off of the coast. Regions west of I-405 in our immediate area will get less snow, but don't be surprised to see 3 inches fall by morning and another 2 inches on Saturday.
Friday 7:26 PM – Seattle-Tacoma International Airport is reporting light snow, visibility of 3 miles, 27 degrees, and an east wind of 10 MPH with gusts of 24 MPH. That puts the wind chill at 17 degrees. Tacoma (at Tacoma Narrows Airport) is reporting light snow, visibility of 2 miles, 25 degrees, and a north wind of 9 MPH. That puts the wind chill at 16 degrees. Snow will continue to get heavier moving south to north. It could be worse, Portland, Oregon is 27 degrees with mixed freezing rain and snow. The winds are blowing from the east at 25 MPH creating a wind chill of 12 degrees!
Friday 6:25 PM – The easterlies are collapsing and combined with the arrival of sunset area temperatures have dropped into the high 20s. Winds are coming from the south and southwest, although if you got 20 miles north of Kirkland, the winds are still flowing from the east. There is a distinct line between the dry air and the moist air flowing in. By 6:00 PM all areas of Kirkland have light snow falling. They are fine flakes but they are already sticking to the pavement. Snow extends north almost to Everett and will continue to expand and intensify. Snow arrived 4 hours earlier than the forecast models. Buckle up Kirkland, it's going to be very white tomorrow morning.
Friday 5:07 PM – Snowing in Bridle Trails area of Kirkland
Friday 2:24 PM – Easterly flow has kicked in and shredded the snow advancing on the central Sound. Now the 2″ versus 6″ question – how strong will that easterly flow be and how long it will last? We'll have to see.
Friday 1:22 PM – Snow has reached Federal Way, Washington – if the current northward movement continues, it will be snowing in Seattle-Bellevue around 4 PM
Friday 11:41 AM – Snow has reached Olympia, Washington
[Seattle] – (MTN) A Winter Storm Warning is in effect from 10 PM Friday to 4 PM Saturday, for the most significant snowstorm since February 2019. Warnings extend from Snohomish County to the Oregon border, where the Puget Sound lowlands can expect considerable snowfall.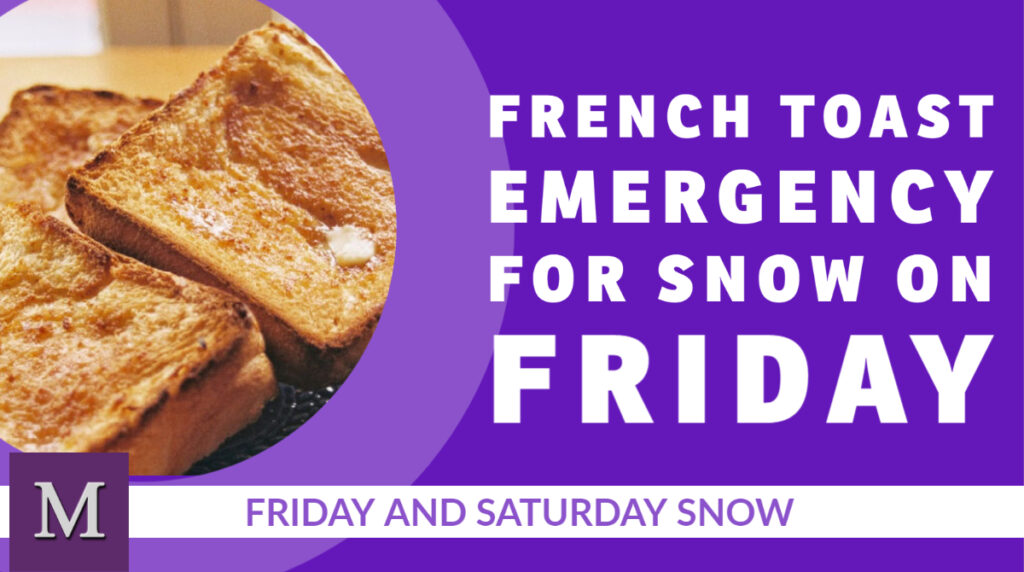 For the Kirkland-Bellevue-Woodinville area, snow will arrive between 8 PM and 10 PM and steadily increase during the overnight hours. The snow will be moving up from the south, where snow is already falling. Areas east of I-405 and north of SH-520 will get less snow overall.
Most areas received 1/2 to 1 inch of snow overnight in the Kirkland-Bellevue-Woodinville area. An inch of snow is possible on Friday. Overnight, the region can expect 4 to 6 inches of additional snow through Saturday afternoon.
Winds will increase to up to 40 MPH overnight, with temperatures in the 20s, creating dangerous wind chills and blowing snow that will reduce visibility. Travel overnight will be difficult and is already challenging in the Portland, Oregon area.
The one wildcard in this is the easterly winds coming off of the Cascades. We've had several forecasted snowstorms shredded by easterlies, which dries out the air and creates a "rain shield" over the Cascade foothills that can extend to Seattle. If the flow becomes strong, it will reduce the snowfall forecast.
With wind gusts forecasted to 40 MPH, areas that are prone to power outages should make sure to have candles and batteries ready. Grilles, portable gas heaters, and generators should never be run indoors due to carbon monoxide poisoning risk. If you lose power in cold weather, setting your faucets to a slow trickle or drip will help prevent pipes from freezing.