Round three of snow coming
Puget Sound is still digging out from an overnight snowstorm with another 2 to 3 inches on the way.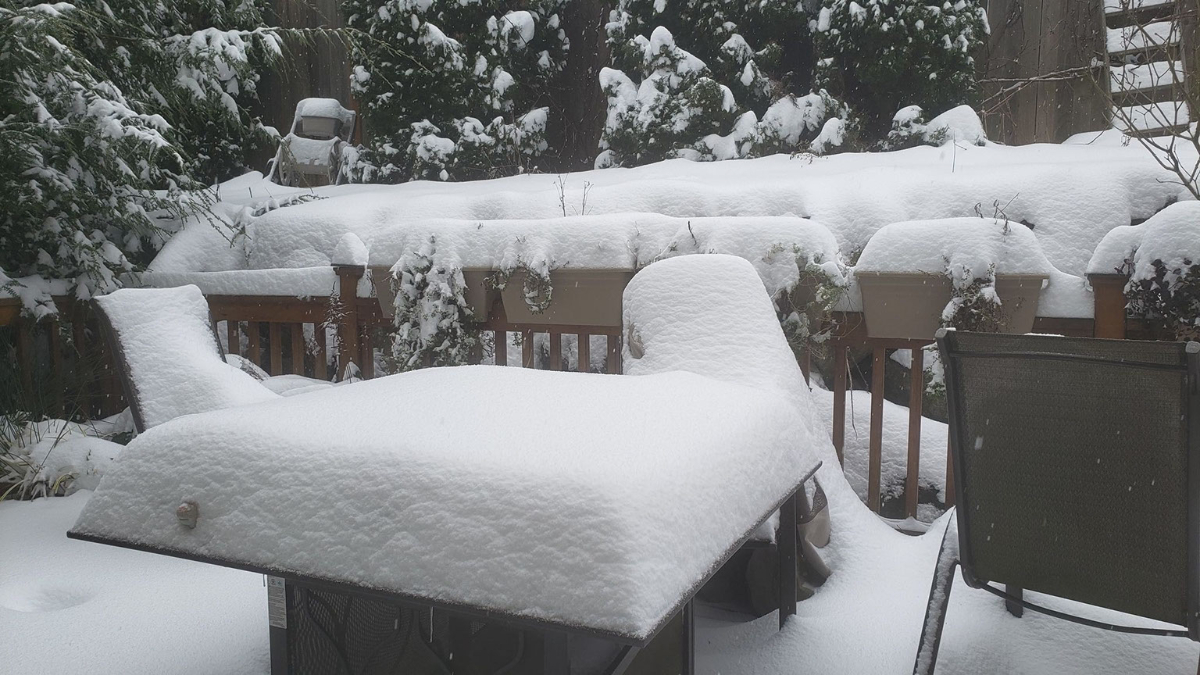 UPDATE 4:00 PM PST: The National Weather Service has extended the Winter Storm Warning until 9:00 PM PST due to continued moderate to heavy snow falling in some areas within the region. Moderate to heavy bands of snow will continue to develop into the evening hours. Some of these bands can quickly drop one to two more inches of snow. People are advised to continue to avoid travel if possible.
[SEATTLE] – (MTN) Puget Sound woke up to five to twelve inches of snow with more coming down on Saturday, as the biggest winter storm in two years blanketed the region. Light snow started falling between 6 PM and 8 PM in the Seattle-Bellevue area, while heavier snow accumulated in the South Sound. A third storm system is on tap for Saturday night and Sunday.
Snow showers from the current system are tapering off after a Convergence Zone formed from Marysville to Issaquah this afternoon. Saturday night, snow showers will increase again and get heavier into Sunday morning. By noon tomorrow, most areas will transition to a rain-snow mix or rain, but not before one to three more inches is added to current accumulations. Lows tonight will be 28 to 30 degrees and highs tomorrow will reach 35 to 37.

Many side streets are treacherous or impassable due to snow and ice throughout the region. During the early morning, hours on Saturday I-5 and I-405 were completely snow-covered, measured in inches in some location. Winds howled through the night with gusts as high as 40 MPH. Seattle-Tacoma International Airport had sustained winds of 25 MPH overnight, and wind chill as low as 10 degrees. In Kirkland, Seattle, and other communities, city officials closed numerous streets due to extreme conditions and the danger hills presented to drivers. Officials are appealing for people to stay off the roads if possible.
Further south in Tacoma and Olympia, 9 to 12 inches of snow fell bringing traffic to a standstill. I-5 was littered with accidents overnight in the metro Tacoma area despite light traffic, with emergency crews struggling to cover multiple crash scenes. Clark County where Vancouver is located has declared a state of emergency where roads are impassable. Portland, Oregon saw a wide range of snowfall amounts from 2 to 11 inches, with 6 inches in the city, as many areas experienced a major ice storm. Governor Kate Brown has declared a state of emergency in nine Oregon Counties due to ice accumulations, power outages, tree, and property damage. Over 130,000 people are without power in the hard-hit areas.
Monday will see temperatures approach 40 degrees with a transition to all rain. Side streets will remain a challenge in places likely into Tuesday as the snow gets converted into thick slush.