Winter Storm Watches are posted in Puget Sound with snow arriving on Thursday
Four to eight inches of snow could blanket our local area between Thursday and Saturday.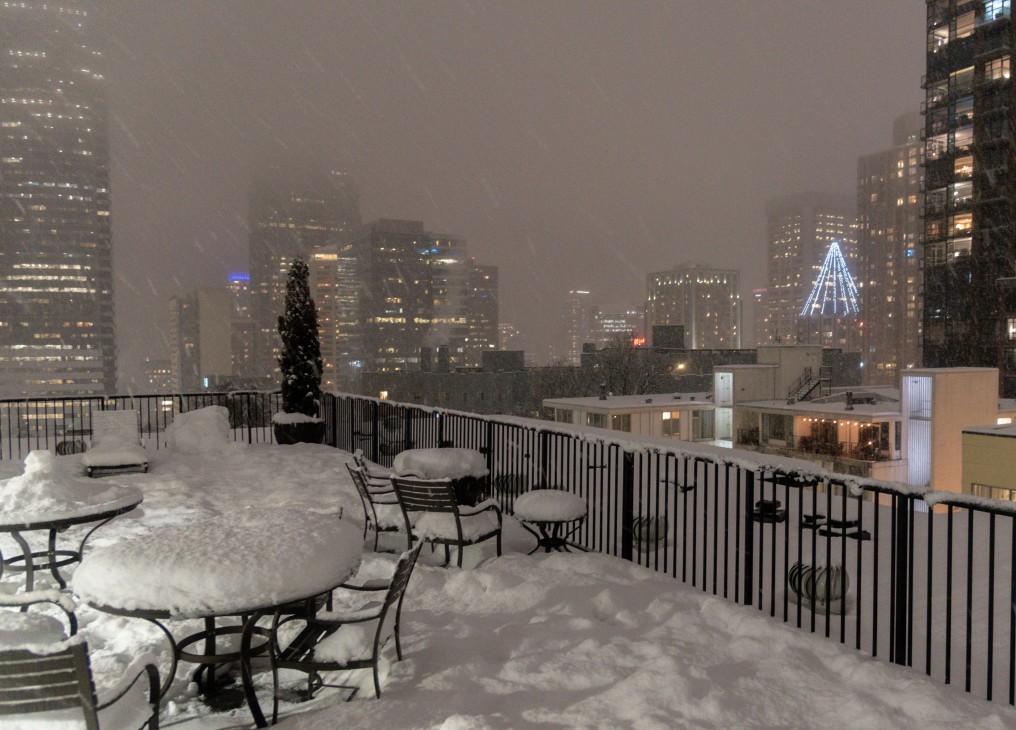 A series of three storm systems are bringing snow to the Seattle area from Thursday to Monday. The storm systems will be passing to the south of Seattle, bringing the heaviest snow to Tacoma and through southwest Washington, and further south to Portland, Oregon. The Seattle area could see 4 to 8 inches of snow from Thursday to Saturday, Tacoma 8 to 12 inches, and Portland, Oregon, 14 to 18 inches.
The National Weather Service has posted a Winter Storm Watch for Pierce County and points south, with the potential for up to 8 inches of snow in the Tacoma area on Thursday and into Friday morning. Lesser amounts will fall in Seattle and Bellevue. Temperature models have moderated from earlier this week. The urban core of the Puget Sound lowlands will still experience a hard freeze starting Wednesday night.
Closer to our local area, Wednesday will be mostly cloudy for the Kirkland-Bellevue-Woodinville area, with a high temperature of 39 to 42 degrees. Wednesday night will have cloudy skies, and temperatures will drop to 23 to 26.

Thursday will see snow moving into the area from the south. Models indicate snow will arrive in the Seattle area from 11 AM to 1 PM and increase to a peak during the evening commute. Light snow will continue into Friday morning, with this event bringing 2 to 4 inches to our region. Areas south of Kirkland and Shoreline will get more snow, increasing significantly south of Federal Way. The high will only get to 33, so this will be a snow event for everyone.
Thursday night temperatures will drop back into the mid-20s, and Friday will struggle to get above 30 degrees with some sunbreaks. The next round of snow is the strongest of the three systems. It will arrive between midnight and 2 AM on Saturday with 2 to 4 inches of snow in the Kirkland-Bellevue-Woodinville area tapering off in the early afternoon. Like all three systems, the further south you go, the more snow in the models, with Vancouver and Portland seeing 8 to 12 inches from this system.
A third system will arrive on Sunday night. This one is too far out to forecast with accuracy, but models indicate this will pass closer to the Seattle area. Temperatures are on the edge of supporting snow, so it is possible for a wintery mix before a transition to rain on Monday morning.
Kirkland-Bellevue-Woodinville residents should plan for 4 to 8 inches of snow between Thursday and Saturday, with very little melting between each day. Sunday's models are indicating a more significant event with 3 to 5 inches possible. For now, you should stay tuned.
If your weekend travel plans including heading south on I-5 or crossing the mountain passes, particularly Snoqualmie, you should have a winter survival kit in your vehicle. That includes tire chains as required and crossing the pass with a full gas tank (or battery charge). Travel south of Olympia could be very challenging on Friday.