10 Omicron cases in 5 states – local, state, national, and global COVID update for December 2, 2021
California, Colorado, Hawaii, Minnesota, and New York reported new Omicron variant cases today.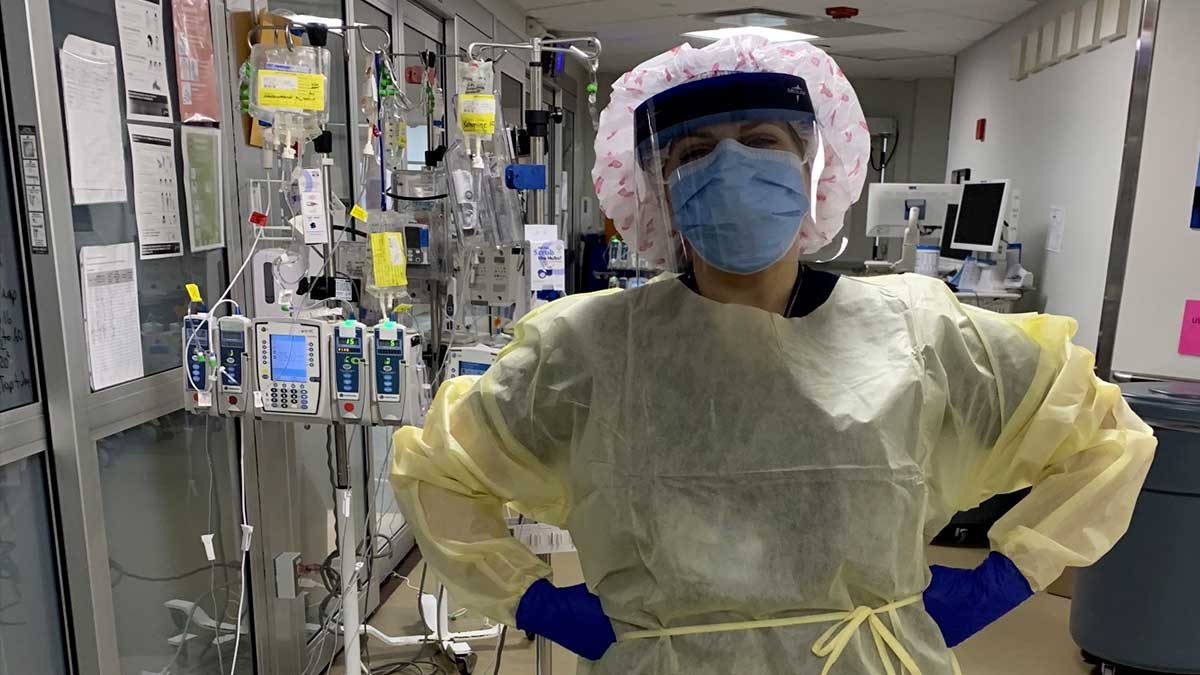 Knowledge is the best tool to fight against fear. A wise person chooses to be informed so they can make sound decisions. To join the fight against COVID misinformation, you can share this update through your social media platform of choice.
[KING COUNTY, Wash.] – (MTN) Officials in five states have reported Omicron cases from Hawaii to New York, as the world races to better understand the danger the new variant presents.
In Washington, the first set of local COVID data was made available in a week, indicating that hospitalizations are plateaued again and new cases are down. Twenty-six counties no longer have high rates of transmission. There was an increase in new cases among 20 to 49-year-olds compared to last week.

Governor Jay Inslee reported that FEMA was sending two mobile vaccination clinics to King County, with the first one opening on December 20 in Federal Way.
One-third of the 3.3 million booster eligible residents of Washington have leveled up, while in some areas people are searching for appointments to get a third dose.
Almost 75% of residents age 12 and over are now fully vaccinated, and 17% of all Washington children ages 5 to 11 have received at least one dose of the Pfizer vaccine.
Locally, new COVID cases in the Bellevue, Lake Washington, and Northshore School Districts were down from last week. Vaccination rates for children 5 to 11 that live in the three districts are remarkable with some zip codes reporting almost 60% of all kids already receiving their first dose.
In national news, the United States has confirmed ten Omicron variant cases in California, Colorado, Hawaii, Minnesota, and New York. The infections in Hawaii, Minnesota, and several in New York were caused by community transmission.
President Joe Biden announced new programs to try and combat the spread of COVID in the United States, but Republicans in the Senate threatened to have the United States default on the national debt if he implemented meaningful strict measures.
In South Africa officials are becoming increasingly alarmed as new cases and hospitalizations increase exponentially. The Gauteng Province, home to 15.7 million is the hardest hit, but cases were increasing across the nation. Officials there reported COVID hospitalizations increased more than 23% overnight, and ICU admissions jumped almost 40%.
A study published tonight from South Africa reported that people relying on natural immunity had a 240% higher chance of reinfection with the Omicron variant, compared to the Beta or Delta variants.
In disinformation, we explore the claim that the Omicron variant is no worse than a cold or flu.
This update uses the latest data from the Washington State Department of Health (WSDOH), released on December 02, 2021.
---
Washington State Update for December 2, 2021
Washington state Covid-19 update
After a six-day break from updated and accurate data from the Washington State Department of Health, we're back. A week ago the question was how much would Thanksgiving travel impact new case rates. The Omicron variant has changed the plot.
Vaccination data for the state was updated. A couple of counties had numbers drop from last week. This has happened before as data gets validated but this update dropped Grant County below 50% – so the brackets changed.
Skagit and Whatcom Counties new cases rates are down about 40% from three weeks ago. The surge of cases among mostly unvaccinated residents is winding down. New
New cases have decreased a smidge compared to last week but do not reveal any significant trends.
| Percent of Total Population Fully Vaccinated | Total Population in Group | Average 14-Day New Case Rate |
| --- | --- | --- |
| 70.00% or above (3 counties) | 2,343,250 | 127.7 |
| 60.00% to 69.99% (5 counties) | 1,374,000 | 261.0 |
| 50.00% to 59.99% (15 counties) | 3,420,400 | 227.8 |
| 40.00% to 49.99% (9 counties) | 487,375 | 234.7 |
| 32.30% to 39.99% (6 counties) | 151,850 | 176.7 |
14-Day New Covid-19 Cases per 100K average by Vaccination Rate for Total Population, Adjusted for Population by County
Through December 2, Washington's statewide 14-day rolling average is 203.2 Covid-19 cases per 100K, and the 7 day rolling average is 82.7.
No counties have a case rate over 400.0. per 100,000 residents. Twenty-six counties representing 5.65 million Washingtonians have a 7 day moving average case rate under 100.
New cases by age declined for every age group except 20 to 49-year-olds, which increased. Hospitalizations for ages 20 to 34 also increased.
| Age Group | 7-Day Case Rate | 7-Day Hospitalization Rate |
| --- | --- | --- |
| Ages 0-11 | 91.5 | 0.1 |
| Ages 12-19 | 83.3 | 0.5 |
| Ages 20-34 | 100.1 | 9.1 |
| Ages 35-49 | 100.1 (not a typo) | 5.5 |
| Ages 50-64 | 73.8 | 8.8 |
| Ages 65-79 | 44.1 | 10.2 |
| Ages 80+ | 40.6 | 17.0 |
7-day case rate and 7-day hospitalization rate is per 100K within the age group – the target for 7-day case rate is <25.0, but there are other factors such as vaccination rates within the age groups, how many total tests within the 7-day period, and the positivity rate within each age group
The USA Today COVID Tracker has not been updated since November 30 but reports 9,303 Washingtonians have died from Covid-19 related illness.
FEMA sending mobile vaccination clinics to Washington
Governor Jay Inslee announced that FEMA would be sending two mobile vaccination clinics to Washington. The first site will open on December 20 in Federal Way and is slated to operate for a month. A second location is planned but a date and location were not announced.
"This is great news in the ongoing fight against COVID. I am grateful for our strong partnership with the federal government, and these FEMA Family Mobilization Clinics coming to King County is a great result of that partnership," said Inslee. "This is an innovative model that will help increase equitable access to vaccination for all Washingtonians."
A constellation of partners is working with FEMA including the Washington State Department of Health, the King County Executive's Office, and Seattle & King County Public Health.
Some people in Western Washington have reported problems in securing vaccination appointments for boosters due to high demand.
One-third of booster eligible Washingtonians have leveled up
The Washington State Department of Health reported 1.08 million of the 3.3 million eligible for boosters have rolled up their sleeves. There is significant evidence that vaccine and disease acquired immunity declines after five to seven months, but a number of factors such as age and other health issues can affect the duration.
There is some evidence within the genetic sequencing of the Omicron variant that disease-acquired immunity from previous mutations won't be as strong as vaccine-based immunity.
Over 17% of Washington kids age 5 to 11 have received their first dose of the COVID vax
The Washington State Department of Health reported 116,121 children from 5 to 11 have received their first dose of the Pfizer COVID vaccine, about 17% of all eligible kids in Washington.
The Pfizer vaccine Emergency Use Authorization (EUA) was amended to include 5 to 11-year-olds. They receive two smaller doses and reach fully vaccinated after five weeks. Initial data indicates that due to the stronger immune response of children and adolescents, a booster or third dose is not needed. That could change with time or if another variant emerges that is vaccine-resistant.
Washington state approaching 75% of population 12 and older fully vaccinated
The Washington State Department of Health reported 80.8% of all Washingtonians 12 and older have received at least one dose of the COVID vaccine and 74.6% are fully vaccinated.
Although this is good news, Washington is starting to fall behind other states. The Mayo Clinic reported that Washington was in 10th place for 12 to 17-year-olds fully vaccinated, 9th place for 18 to 64-year-olds, and tied with 32 other states for first place for 65 and older.
Travel Advisories
Due to the confirmation of community transmission of the Omicron variant in the United States, we are advising our readers to reconsider air travel and recreational travel plans. Especially if those plans include going to places with large crowds or major events at enclosed buildings.
Thank you
Thank you to our new subscribers and those of you who have made one-time contributions. On behalf of the entire team, thank you for helping us keep the lights on!
Hospital Status
It has been a week since the last report and hospital status has improved significantly while the number of COVID patients receiving care remains elevated. The Washington State Department of Health reported 89.4% of staffed acute care beds were occupied with 10.2% of patients infected with Covid-19. There are 706 COVID patients statewide with an estimated 212 in the ICU – 114 requiring ventilators.
Statewide, there are an estimated 753 acute care and 151ICU beds available.
On Wednesday, the 7 day rolling average hospital admission rate for new COVID patients was statistically the same as last week – 65.
| Hospital Region | Counties | ICU Occupancy | ICU COVID Patients | Acute Care Occupancy | Acute Care COVID Patients |
| --- | --- | --- | --- | --- | --- |
| East | Adams, Asotin, Ferry, Garfield, Lincoln, Pend Oreille, Spokane, Stevens, Wahkiakum, Whitman | 88.3% | 19.9% | 86.7% | 10.0% |
| North | Island, San Juan, Skagit, Whatcom | 69.5% | 28.2% | 80.0% | 12.3% |
| North Central | Chelan, Douglas, Grant, Okanogan | 91.1% | 34.1% | 70.4% | 12.9% |
| Northwest | Clallam, Jefferson, Kitsap, Mason | 92.2% | 20.0% | 95.8% | 8.7% |
| Puget Sound | King, Pierce, Snohomish | 90.5% | 16.9% | 94.3% | 9.7% |
| South Central | Benton, Columbia, Franklin, Kittitas, Walla Walla, Yakima | 89.0% | 16.8% | 82.7% | 10.3% |
| Southwest | Clark, Cowlitz, Klickitat, Skamania | 64.9% | 14.2% | 79.6% | 10.0% |
| West | Grays Harbor, Lewis, Pacific, Thurston | 88.6% | 18.3% | 92.3% | 13.1% |
Hospital status by region – ICU Occupancy should be below 80%, ICU COVID Patients should be below 20%, Acute Care Occupancy should be below 80%, and Acute Care COVID Patients should be below 10%
School Readiness
School District
Status
Less than 10 Active Cases
10 or More Active Cases
Bellevue
GREEN
– Bellevue (2*)
– Interlake (2*)
– Odle (1*)
– Highland (1*)
– Newport (1*)
– Tyee (1*)
None
Lake Washington

YELLOW

– Blackwell (1*/4)
– Dickinson/Explorer (2*/7)
– Eastlake High (1*/3)
– Ella Baker (1*/0)
– Evergreen Middle School (1*/0)
– Finn Hill Middle School (2*/18)
– Inglewood Middle School (1*/0)
– Juanita High (2*/39)
– Kamiakin Middle School (2*/12)
– Keller (2*/7)
– Kirkland Middle School (1*/8)
– Lakeview Elementary (2*/2)
– Lake Washington High School (1*/7)
– Mead (2*/7)
– Northstar Middle School (12)
– Redmond High School (1*/10)
– Redmond Middle School (1*/19)
– Rush (2*/8)
– Thoreau (2*/6)
None

Northshore

YELLOW

– Bothell High School (3*/12)
– Canyon Creek Elementary (5**/11)
– Canyon Park Middle School (1*/4)
– Crystal Springs Elementary (1*/17)
– Fernwood Elementary (1*/0)
– Frank Love Elementary (1*/10)
– Kenmore Elementary (1*/6)
– Kenmore Middle School (4*/32)
– Kokanee Elementary (0/1)
– Leota Middle School (1*/2)
– Maywood Hills Elementary (3*/4)
– Moorlands Elementary (1*/2)
– Northshore Middle School (1*/13)
– Ruby Bridges Elementary (0/1)
– Shelton View Elementary (0/2)
– Skyview Middle School (1*/4)
– Sunrise Elementary (2*/2)
– Timbercrest Middle School (2*/0)
– Wellington Elementary (1*/1)
– Woodin Elementary (0/2)
Woodmore Elementary (0/4)
None

Local Districts Scorecard – * indicates positive cases only ** indicates 5 or more confirmed positive cases – (x*/y) x is positive cases and 7 quarantined, quarantined does not include positive cases
We redefined the school district statuses. Information for classroom and building closures has been a challenge to obtain, both for closures and reopening. We are adopting moving any school with more than ten active COVID cases reported into the red, and we've adjusted the third column to reflect this change.
Based on reader feedback, and improvement in the data we are receiving, we have adjusted how we are reporting data. The Lake Washington and Northshore School Districts are now reported as (X*/Y) or (X**/Y). X represents the number of positive cases while Y represents how many are in quarantine. The number in quarantine does not include positive cases. If there are two asterisks, that indicates five or more confirmed cases within the last 14 days at that school.
Confirmed COVID cases were down in the three school districts we track. The Bellevue School District did not have updated data for quarantined students today.
The Lake Washington School District updates data once a week, and we've had no parent confirmed reports on new COVID cases this week.
We continued to encourage parents to request daily updates from the Lake Washington School District. This change would bring the three school districts we track into alignment.
Bellevue-Bothell-Kirkland-Woodinville local COVID news
King County Public Health updated the vaccination rates by zip code and now reports the data from ages 5 and up. Vaccination rates for children between 5 to 11 remain remarkable for the region.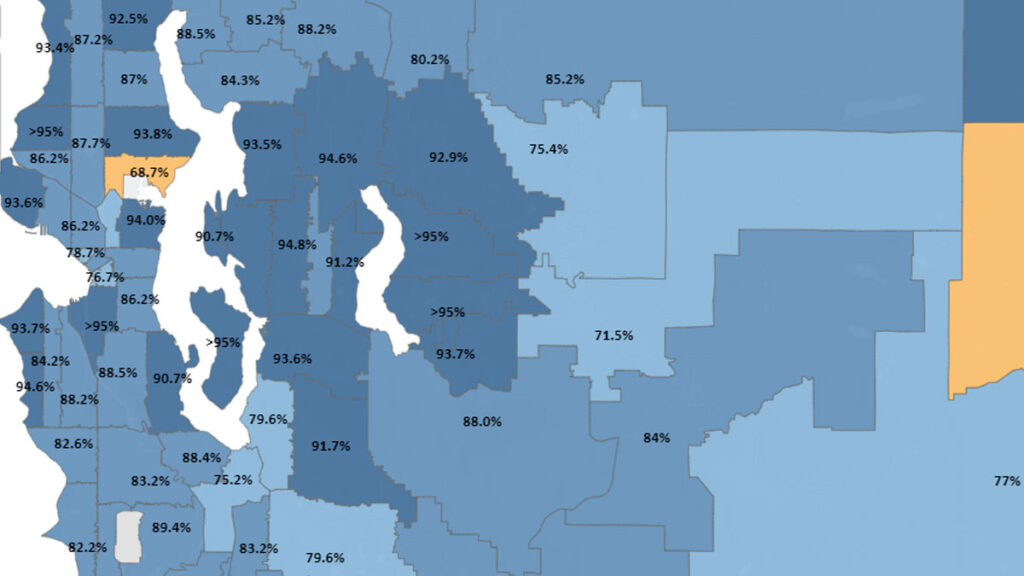 | Zip Code | Percent vaccinated, at least one dose, 5 to 11 years old | Percent vaccinated, at least one dose, 5 and older |
| --- | --- | --- |
| 98155 | 46.8% | 92.5% |
| 98028 | 42.7% | 88.5% |
| 98011 | 37.2% | 85.2% |
| 98034 | 38.8% | 84.3% |
| 98033 | 59.5% | 93.5% |
| 98072 | 39.2% | 88.2% |
| 98077 | 35.7% | 80.2% |
| 98052 | 55.0% | 94.6% |
| 98004 | 51.3% | >95.0% |
| 98039 | 44.6% | 90.7% |
| 98005 | 53.4% | 94.8% |
| 98007 | 32.3% | 88.0% |
| 98008 | 44.5% | 91.2% |
| 98053 | 46.0% | 92.9% |
| 98074 | 50.5% | >95.0% |
| 98075 | 43.0% | >95.0% |
Vaccination rates with at least one dose
National Round-Up
Johns Hopkins University Cumulative Case Tracker reports 137,602 new cases and 1,960 deaths nationwide on Thursday. New cases continue to grow at a significant rate in the United States. There is no way to know if Omicron is driving the increase, but current data indicates that over 99% of new cases are Delta or one of its sublineages.
At least 10 Omicron COVID variant cases confirmed in the United States
Health officials in California, Colorado, Hawaii, Minnesota, and New York confirmed at least one case of the Omicron variant in their states.
Yesterday, the Centers for Disease Control confirmed the first Omicron variant case in the United States. The travel-related case was an 18 to 49-year-old male tested in the San Francisco area. They were fully vaccinated with an mRNA vaccine but not eligible for a booster because six months hadn't passed since their second shot. They returned from South Africa on November 22 and tested on November 29. They have mild symptoms and are quarantined at home.
Late tonight, California officials reported a second travel-related case in Los Angeles county. That person traveled from South Africa to Los Angeles via London and returned on November 22. They are fully vaccinated but did not receive a booster. They are experiencing mild symptoms and are quarantined at home. Health officials reported they have already contacted and tested all close contacts, and didn't find any new cases.
This morning Minnesota officials reported a community transmission case. The person identified as male, traveled to New York City to attend an anime convention at the Javits Center from November 19 to 21. The event had 53,000 attendees. They were fully vaccinated with an mRNA vaccine and had received a booster in early November.
Around lunchtime, Colorado officials reported a travel-related case. The woman was fully vaccinated but had not received a booster. She told authorities she had worn a mask during all her travels and developed symptoms after returning home from southern Africa last week. She has mild symptoms and is quarantined at home.
In the late afternoon, New York Governor Kathy Hochul reported five cases in the metro New York City area. There wasn't little information available on each case, which is a combination of community transmission and travel-related. Two were in Queens, two in Brooklyn, one in Suffolk County, and one was not identified. The condition and vaccination status weren't readily available.
Close to press time, officials in Hawaii reported their first case of an unvaccinated individual. The person had not traveled so officials believe it was caused by community transmission. The person is unvaccinated and was previously infected with COVID. They were tested on November 29, and currently are experiencing moderate symptoms. The press release from the State of Hawaii Department of Health did not indicate if they were hospitalized.
President Joe Biden announces winter battle plan to fight COVID
Under the threat of letting the United States default on its national debt, President Joe Biden conceded he would not push further vaccine mandates and announced other measures to combat COVID and the Omicron variant.
Requiring travelers entering the country by air to test negative for Covid-19 within a day of departure, regardless of vaccination status or nationality
Extending the requirement that masks be worn on airplanes, trains and public transportation to March 18
Requiring private health insurance companies to cover 100% of the cost of at-home tests for COVID
Public education to encourage 100 million eligible adults to get boosters shots
Editor's Note: Consider us very underwhelmed.
Global update
New Omicron variant cases and hospitalizations skyrocket in South Africa
The number of new COVID cases and hospitalizations in South Africa is increasing at an alarming rate, with officials concerned that a record peak in infections is only 14 to 21 days away.
The South Africa Department of Health (SADOH) reported 74% of all detected COVID cases in November and 90% of new cases in the last week of the month were the Omicron variant. New cases have increased exponentially since November 24, the same day South African officials alerted the World Health Organization of the new variant.
Officials haven't provided specifics on how much more transmissible Omicron is to previous variants, only saying that is higher.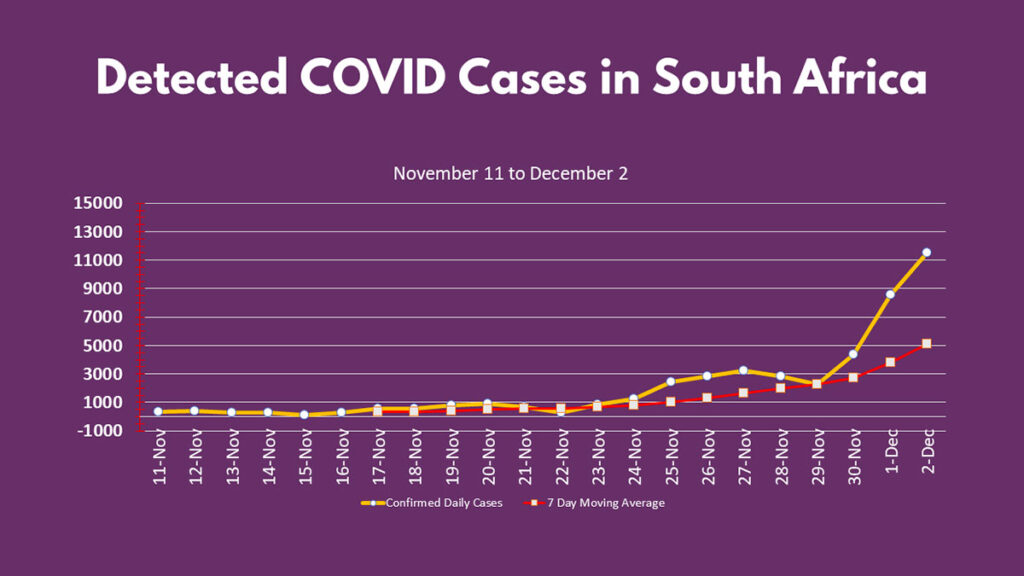 SADOH reported 11,535 new cases today, an increase of 468% from a week ago. The 7 day rolling average for new cases jumped to 5,093. South Africa is testing about 52,000 people a day as the positivity rate increase at a significant rate. Officials reported 22.4% of the tests performed on Wednesday as positive for COVID infection.
In Gauteng Province, home to 15.7 million people, the number of hospitalized patients increased 23.4% overnight, jumping from 1,035 to 1,351 total patients. ICU patients increased by 38.5% while people needing oxygen held steady at 15% and ventilator use increased from 27 to 30.
Study from South Africa indicates COVID reinfection risk is very high
Researchers in South Africa and Canada reported data from South Africa suggests that, in contrast to the Beta and Delta, the Omicron variant of COVID demonstrates substantial population-level evidence for evasion of immunity from prior infection.
Researchers look at data from 2.8 million individuals who had lab-confirmed COVID positive tests at least 90 days before November 27, 2021. Among that group, they identified 35,670 lab-confirmed reinfections. The study found that reinfection with the Beta or Delta variant was infrequent, with disease acquired immunity providing protection. The research did not take the severity of illness into consideration for the initial or subsequent infections.
Reinfection rates from November 1 to November 27 increased by 240%, indicating that natural immunity may not provide much benefit. The results of the study could have implications on the effectiveness of monoclonal antibodies, but more data is required.
The study was done by a number of respected individuals but has not been peer-reviewed.
Disinformation
Although some officials have stated that Omicron cases appear to be mild, disinformation campaigns have latched on to these statements and are claiming an infection is no worse than a cold or flu.
On November 26 and again on November 28, Dr. Angleique Coetzee said that the infections she saw in her private practice were 'very mild.' On November 28 she expanded her statement to say that the observation was 'not anecdotally' and other clinicians were echoing her findings. She also stated that hospitalizations were not increasing. Her comments were addressed in a World Health Organization Omicron update on the same day.
"There is currently no information to suggest that symptoms associated with Omicron are different from those from other variants.  Initial reported infections were among university students—younger individuals who tend to have more mild disease—but understanding the level of severity of the Omicron variant will take days to several weeks."
We do not believe that Dr. Coetzee is actively spreading disinformation and is speaking from her direct experience as a clinician. We also believe that people are misunderstanding what a 'mild' case of COVID means. A mild case is a case that doesn't require clinical intervention or hospitalizations. With Covid-19 that's more than a cold or the flu.
Dr. Rudo Mathivha is the head of critical care at Baragwanath Hospital in Soweto, a level 1 trauma center and the largest hospital in the Southern Hemisphere with 3,400 beds. Dr. Mathivha did a series of interviews in South Africa yesterday and reported she was seeing an increase in hospital admissions in children under 5 years old accompanied by a dramatic increase in patients needing high care and admission to the ICU.
"The number of ill patients presenting to hospitals has increased exponentially," she said.
"We are seeing definitely a change in the demographic profile of patients. We are seeing toddlers under five presenting with symptoms and they are sick enough to require admission and to require supplemental oxygen."
Researchers don't know how severe Omicron infections will be at this time, and anyone making claims on the severity, either way, is not presenting informed information. Anyone claiming that Omicron is just a cold is spreading disinformation.