Bomb cyclone on Sunday kicks off 4 days of wet and windy weather
Monday could be stormy for Puget Sound as four days of windy and wet weather starts on Sunday.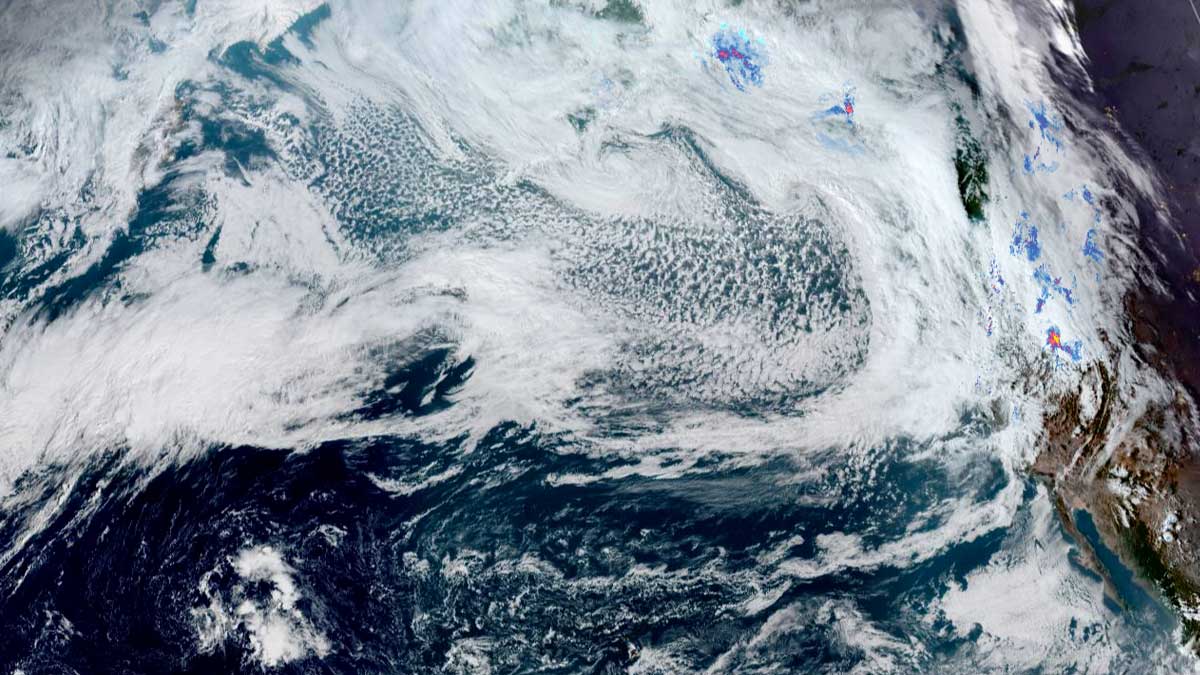 Photo credit: Zoom.Earth
[KIRKLAND] – (MTN) A string of powerful storms riding an atmospheric river will slam into the West Coast through Wednesday bringing high winds and heavy rain, but it appears Central Puget Sound will be spared.
It is possible we could see Wind Advisories for the Bellevue-Kirkland-Woodinville area on Sunday, Monday, or Tuesday. Right now, Monday is the most interesting day. A 50-mile change in the path of a fall wind storm can have a significant impact on our Puget Sound microclimates.

A "bomb cyclone" is developing to our west and will track north of Puget Sound and linger off Vancouver Island. The forecasted storm track is getting more consistent across the weather models this afternoon but there remains some disagreement.
The North American Mesoscale (NAM) model is forecasting the center will come closer to the Washington coast. If the NAM is correct, winds will be around 5 MPH higher than the current forecast. That isn't quite enough for a Wind Advisory, but it is close. Additionally, the NAM model supports winds from the south, which enhances the impact for residents of Juanita, Finn Hill, and Kenmore.
Sunday morning will start off dry with wind and rain increasing by noon. Bellevue-Kirkland-Woodinville can expect winds up to 20 MPH that last for three to six hours. The storm system will linger off the coast as it heads towards Vancouver Island, creating blustery conditions overnight. Temperatures will be 56 to 59 degrees and expect up to a third of an inch of rain.
Sunday night temperatures will be 47 to 49 degrees, with winds of 10 to 15 MPH.
Monday looks a lot more interesting but there remains disagreement in the weather models. The Global Forecast System (GFS) is more conservative for storm development while the NAM, ECMWF, and ICON are in agreement a significant wind event is coming to the Straight of Juan de Fuca, the San Juan Islands, and North Washington. We believe this is the day to keep an eye out for a Wind Advisory and could create spotty power outages in the Central Puget Sound lowlands.
Bellevue-Kirkland-Woodinville will see south winds of 15 to 20 MPH and higher gusts. Peak winds will last for up to 12 hours, starting close to lunchtime. South winds move unobstructed across Lake Washington impacting Juanita, Finn Hill, and Kenmore more than other areas. Expect up to half an inch of rain with temperatures from 55 to 57 degrees.
Many leaves remain on trees that suffered significant heat stress over the summer so it won't take much to bring limbs down.
Monday night temperatures will drop to 48 to 50 degrees and rain will turn to showers. Winds will still be 5 to 15 MPH and continue from the south.
Tuesday another system will arrive along Vancouver Island. This one doesn't look as strong as Monday's system, but there is a fair amount of uncertainty in the weather models. Winds will be 10 to 20 MPH for the Bellevue-Kirkland-Woodinville area with up to a half-inch of rain. Temperatures will cool with highs between 53 and 55.
Looking into the crystal ball for the trick or treaters on Halloween, the weather forecast is looking perfect with no rain and highs in the 50s dropping to the mid-40s.
Like, Share, Follow, Support