Explosions rock airfield in Russia-controlled Crimea – August 9, 2022 Ukraine update
Russian tourists watched fireballs rise into the sky from resort beaches on the Black Sea.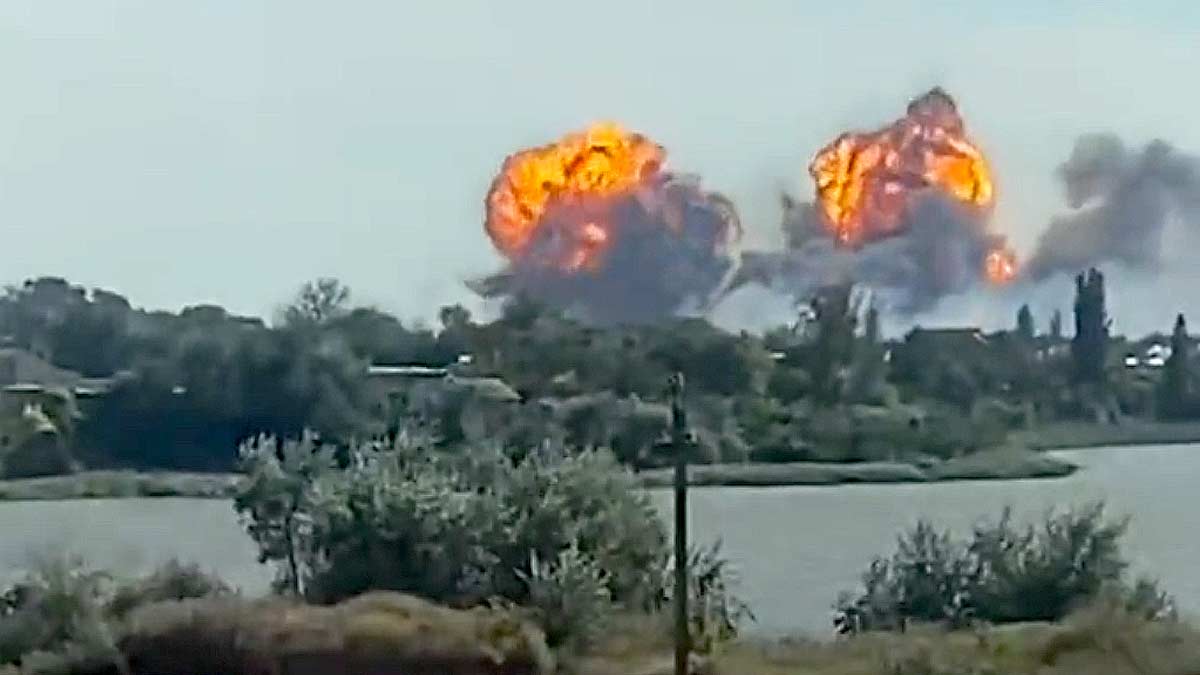 [UKRAINE] – MTN It has been 3,084 days since Russia occupied Crimea on February 27, 2014. Here is our latest update. You can visit our Russia-Ukraine War Center to find more news about Ukraine. You can also listen to our in-depth podcast, Malcontent News Russia Ukraine War Update, hosted by Linnea Hubbard.
Northeast Donetsk
Reconnaissance groups of the Russian Federation probed Ivano-Daryivka and Vesele. Both groups were located by Ukrainian forces, suffered losses, and retreated across the administrative border of the Luhansk oblast.
Bakhmut
Russian proxy forces, led by Private Military Company (PMC) Wagner Group and supported by terrorist elements of the Imperial Legion of Russia, continued fighting on the eastern edge of Soledar without success.

Wagner Group also attempted to advance on Bakhmutske, Bakhmut, and Vershyna. There was no change to the line of conflict.
In the Svitlodarsk bulge, Russian proxy forces and Ukrainian troops continue to fight in Kodema and for control of Zaitseve.
The Ukrainian city of Kostyantynivka, 20 kilometers southwest of Bakhmut, was hit by Russian missiles.
Southwest Donetsk – Zaporizhia
Fighting west of Donetsk was significantly reduced with only positional battles in Krasnohorivka, Avdiivka, Pisky, and Marinka. There was no change in territorial control, and artillery fire along the line of contact was reduced.
Near the Donetsk and Zaporizhia administrative border, Russian forces attempted to advance on Shevchenko from Petrivka and were unsuccessful.
Ukraine launched another rocket attack on Melitopol using the NATO-provided High Mobility Artillery Rocket System (HIMARS), destroying a large ammunition depot.
Russian and Ukrainian forces fired artillery, mortars, and rockets from multiple launch rocket systems (MLRS) from Marinka to Velyka Novosilka in Donetsk and Hulyaipole to Orikhiv to Kamyanske in Zaporizhia.
Russian forces attempted to advance on Shevchenko from Petrivka and were unsuccessful.
Kharkiv
There wasn't any significant ground fighting northwest, north, or northeast of Kharkiv city. Both belligerents have settled into a defensive posture and have reinforced their defensive lines.
Kharkiv city was hit by S-300 antiaircraft missiles deployed in a ground-to-ground capacity. The missiles damaged the city trolley system, knocked out power, and caused moderate damage to a steam generation plant that provides heat and hot water to a third of the city's residents.
Kherson
Russian state media showed a video of the Antonovsky Bridge in Kherson after it was hit by artillery on Sunday night. Areas where repair work was ongoing were redamaged.
A Russian ammunition depot in Novooleksiivka was on fire with secondary explosions. The settlement is just northeast of the Crimea Peninsula and is the first major railroad junction in southern Ukraine.
Visit our Russia-Ukraine War Map
The Malcontent News Russia-Ukraine War Map is updated as events occur. Map not appearing in your RSS Feed or Google News App? You can review the most up-to-date information by visiting our custom Google Map.
Izyum
Southeast of Izyum, Russian forces fought a positional battle near Bohorodychne supported by artillery and were unsuccessful.
Dnipropetrovsk
The city of Nikopol was hit by over 120 60 Grad rockets fired by MLRS from a Russian firebase within the Zaporizhzhia NPP compound. Valentyn Reznichenko, Administrative and Military Governor of the Dnipropetrovsk, reported there were no injuries, but over 50 homes were destroyed.
Sumy
Dmytro Zhivytsky, Sumy Regional Administrative and Military Governor reported that Seredyna-Buda, Esman, Khotin, Myropillya, Krasnopillya, Velyka Pysarivka, and Hlukhiv were shelled.
Chernihiv
In Chernihiv, the settlements of Senkivka and Hremyach were shelled by Russian forces over the international border.
Odesa-Black Sea
Up to twelve massive explosions rocked the Saky air force base in Russia-occupied Novofedorivka, Crimea. The Russian Ministry of Defense reported there was an accident that caused ammunition to explode, setting off a chain reaction and additional fires. The MOD claims that no aircraft were damaged in the incident. The 43rd Independent Naval Attack Aviation Regiment of the Black Sea fleet is stationed at Saky, operating Su-30 and Su-24 fighter planes.
Daily Assessment
Russian offenses in Bakhmut and Donetsk have stalled due to a lack of adequately trained and equipped light infantry troops and the inability to utilize overwhelming artillery fire.
Ukrainian interdiction effort of Russian supplies that started in early July is impacting Russian offensive operations theaterwide.
Reports on Ukrainian and Russian military losses since February 24 estimated the war caused almost 200,000 military casualties since February 24.
To read the rest of our report, become a Patreon! For as little as $5 a month, you get access to the daily Russia-Ukraine War Situation Report. The report provides analysis, maps, detailed information about all the axes in Ukraine, international developments, information about war crimes and human rights, and economic news. As an added benefit, you get access to flash reports, breaking news, and our Discord server.