Fears rise over nuclear accident risk at Europe's largest plant – August 8, 2022 Ukraine update
Amnesty International and CBS News walk back statements and documentary about Ukraine's war conduct.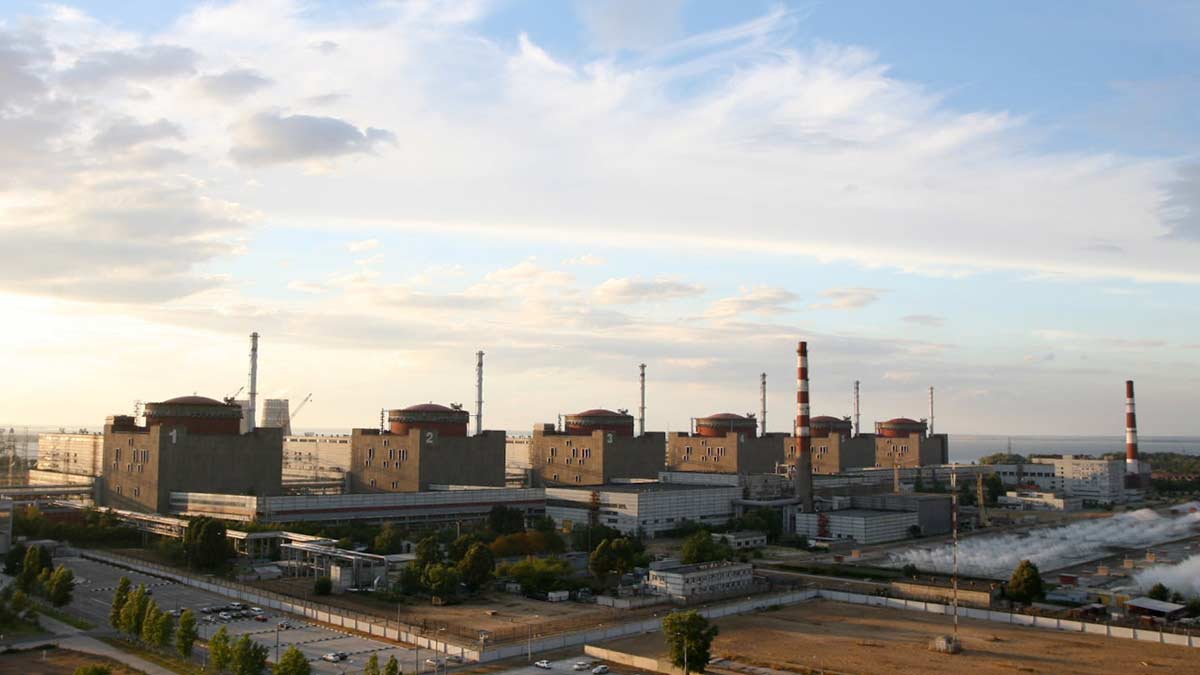 [UKRAINE] – MTN It has been 3,083 days since Russia occupied Crimea on February 27, 2014. Here is our latest update. You can visit our Russia-Ukraine War Center to find more news about Ukraine. You can also listen to our in-depth podcast, Malcontent News Russia Ukraine War Update, hosted by Linnea Hubbard.
Northeast Donetsk
Russian forces made two advances on Ukrainian positions on the administrative border of Luhansk and Donetsk without success. They launched two attacks on Verkhnokamyanske and probed Ukrainian positions near Bilohorivka [Donetsk]. None of the actions were successful.
Bakhmut
Near Bakhmut, Russian forces attempted to advance on Yakolivka, Bakhmutske, Bakhmut, and Vershyna and were repelled. The Russian Ministry of Defense has drawn down the last motor infantry battalion tactical group leaving the offensive under the command of the Private Military Company Wagner Group, supported by terrorists of the Imperial Legion of Russia and Luhansk and Donetsk People's Republic separatists.

In the Svitlodarsk bulge, fighting continued for control of Kodema, and Russian forces continued to try to advance on Zaitseve.
Southwest Donetsk – Zaporizhia
Near Donetsk, Russian forces attempted to improve their positions east of Krasnohorivka but were unsuccessful. Elements of the 1st Army Corps of the DNR and the 2nd Army Corps of the Luhansk People's Republic (LNR) continue to attempt to capture Pisky, Avdiivka, and Marinka with no change in the line of conflict since Saturday. Russian forces attempted to flank Ukrainian positions in Pisky by advancing toward Nevelske across open cropland. They suffered heavy losses and retreated.
Ukrainian forces continue to hold the Shevchenko Mine waste heap in the southeastern part of Marinka, maintaining fire control over the city and advancing Russia-separatists attempting to advance into the city.
Ukrainian forces shelled a complex of warehouses in the Kyivskyi District of Donetsk city, less than 5 kilometers from the line of conflict.
Ukraine launched rockets from High Mobility Artillery Rocket Systems (HIMARS) on Melitopol, striking Russian troop and equipment staging areas.
In Russian-occupied Mariupol, insurgents set fire to the Satellite Factory in the eastern district. Russian officials couldn't control the fire and chose to let it burn itself out.
Kharkiv
There wasn't any significant ground fighting northwest, north, or northeast of Kharkiv city. Both belligerents have settled into a defensive posture and have reinforced their defensive lines.
Russia continues to launch Iskander-M short-range ballistic missiles and S-300 antiaircraft missiles used to strike ground targets in Kharkiv city.
Kherson
Ukrainian forces hit the Antonovsky Bridge in Kherson for a third time, in the exact location as the two previous strikes. The bridge was on fire after the attack. Video from this morning showed renewed damage and partial repairs from last week in progress.
Russian forces shelled and then launched an attack on Blahodatne, supported by a company of Russian VDV troops, about 50 kilometers east of Mykolaiv. There were reports of heavy fighting, but the advance was unsuccessful.
On the Inhulets River bridgehead, Ukrainian forces widened their area of control and destroyed a Russian ammunition depot in Ishchenka. The Russian air force attacked Ukrainian positions east of the river.
Visit our Russia-Ukraine War Map
The Malcontent News Russia-Ukraine War Map is updated as events occur. Map not appearing in your RSS Feed or Google News App? You can review the most up-to-date information by visiting our custom Google Map.
Izyum
Russian forces made three small attacks southwest and south of Izyum. Elements of the 1st Guard Tanks Army attempted to advance on Virnopillya from a forested area north of Brazhivka and retreated after advancing less than 500 meters.
Russian forces also attempted to reconnoiter Ukrainian positions in Dolyna and Bohorodychne. The platoon-size units were engaged and retreated.
Zaporizhia
Russian and Ukrainian leaders traded accusations of shelling the Zaporizhzhia Nuclear Power Plant. Energoatom reported that rockets fired by MLRS on August 6 landed adjacent to the dry storage of spent fuel rods. Three radiation sensors were destroyed in the attack. The United Nations demanded inspectors be granted immediate access to Europe's largest nuclear power plant.
Russia has staffed a garrison of 500 soldiers at Europe's largest nuclear power plant and is using the facility as a firebase for tubed artillery. Satellite images released today showed that Russia is using the buildings that house nuclear reactors to store armored vehicles. Ukrainian nuclear power company Energoatom accused Russian officials of mining critical infrastructure of the plant with explosives.
The use of a nuclear facility as a military base in a war zone is unprecedented in human history.
Dnipropetrovsk
Nikopol was hit by up to 60 Grad rockets fired by MLRS. Two people were injured, and 50 private homes were damaged or destroyed. The Russian Air Force fired two Kh-59 "Ovod" from Su-24 aircraft on Chervonohryhorivka.
Sumy
Dmytro Zhivytsky, Sumy Regional Administrative and Military Governor, reported that Seredyna-Buda, Esman, Billopillya, Buryn, Pavlivka, and Nova Sloboda were shelled. The border city of Seredyna-Buda was under heavy attack from artillery, mortars, rockets from MLRS, and airstrikes. At least one aircraft was shot down, although the video did have enough detail to show from which nation.
Chernihiv
Russian forces shelled the settlements of Hai and Hremyach over the international border. Officials did not release information on damage or casualties.
Odesa
Another four ships sailed from ports in the Odesa area carrying 161,000 tonnes of corn, meal, and sunflower oil.
Western Ukraine
Three cruise missiles hit the Ukrainian airbase east of Vinnytsia. The Air Force of the Armed Forces of Ukraine reported "victims" but did not specify how many or their condition. Russia used Kh-47M2 Kinzhal hypersonic missiles in the strike, which Ukrainian air defense systems could not detect. Additionally, an unspecific number of Kinzhal missiles hit the Ukrainian air base east of Kropyvnytskyi in the Kirovohrad oblast.
Beyond Russia
Amnesty International apologized for any "pain caused" by its report on Ukrainian war tactics last week and sought to clarify its position in a statement on Sunday. The organization, which had its website blocked in Russia on March 11 and its NGO status canceled by Moscow on April 8, said it stood by its report but added, "We must be very clear: Nothing we documented Ukrainian forces doing in any way justifies Russian violations. Russia alone is responsible for the violations it has committed against Ukrainian civilians."
CBS News was walking back a documentary that claimed only 30% of military equipment provided to Ukraine by NATO and its allies was reaching the front. The figure came from Jonas Ohman, founder of the non-profit Blue-Yellow. On Monday, CBS tweeted they had removed the quote and were updating the documentary after additional research. The network has also pulled promotional ads for the documentary.
Daily Assessment
Ukrainian military leaders have forced the Russian military to respond to the possibility of a counteroffensive in Kherson and Zaporizhia, likely impacting previously planned strategies to capture Siversk, Slovyansk, and Kramatorsk.
Ukrainian interdiction effort of Russian supplies and troop movements is impacting ongoing offensives near Bakhmut.
Russian forces continue to focus significant military resources to grind down Ukrainian defenses west of Donetsk, suffering heavy losses for almost no gains since the beginning of August.
To read the rest of our report, become a Patreon! For as little as $5 a month, you get access to the daily Russia-Ukraine War Situation Report. The report provides analysis, maps, detailed information about all the axes in Ukraine, international developments, information about war crimes and human rights, and economic news. As an added benefit, you get access to flash reports, breaking news, and our Discord server.