Saky Airbase in Crimea Obliterated – August 10, 2022 Ukraine update
Ukrainian military leaders claim no involvement in Novofedorivka, but report other airstrikes deep in Russian-controlled areas.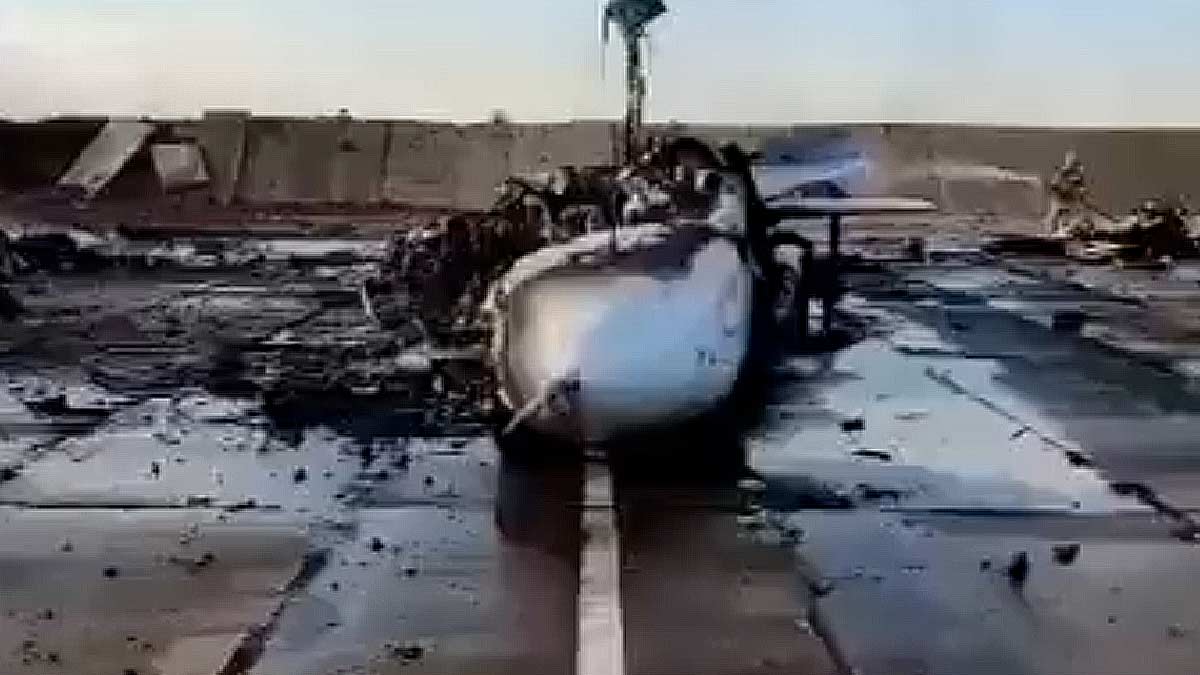 [UKRAINE] – MTN It has been 24 weeks since the start of the Russia-Ukraine War and 3,085 days since Russia occupied Crimea on February 27, 2014. Here is our latest update. You can visit our Russia-Ukraine War Center to find more news about Ukraine. You can also listen to our in-depth podcast, Malcontent News Russia Ukraine War Update, hosted by Linnea Hubbard.
Northeast Donetsk
Russian forces launched an assault on the settlement of Spirne, west of the T-1302 Highway, which was unsuccessful.
Bakhmut
Russian forces made reconnaissance attempts on Ukrainian positions near Pidhorodne and retreated after coming under fire.

Russian proxy forces, led by Private Military Company (PMC) Wagner Group and supported by terrorist elements of the Imperial Legion of Russia and Luhansk People's Republic (LNR) separatists, continued fighting on the eastern edge of Soledar. On August 9, a video from Russian state media showed that the Wagner Group was 2 kilometers east of the gypsum factory.
PMC Wagner also attempted to advance toward Yakolivka and Bakhmut but could not improve their positions.
Additionally, PMC Wagner, with support from LNR separatists with the 2nd Army Corps, established positions within Vershyna. Fighting for control of the settlement continued.
The situation in the Svitlodarsk bulge is unchanged, with Russian proxy forces and Ukrainian troops fighting in Kodema and for control of Zaitseve.
Southwest Donetsk – Zaporizhia
The 1st Army Corps of the Donetsk People's Republic (DNR) renewed offensives on Avdiivka and Pisky. Separatists attempted to advance on Avdiivka from Mineralne and Spartak and were unsuccessful. Videos released today by Russian state media showed the situation in Pisky remains unchanged, with the DNR controlling the southern third, Ukraine the northern third, and the center contested.
Separatist forces with the DNR also attempted to advance on Marinka and were unsuccessful.
Leaders of the so-called Donetsk People's Republic reported that Ukrainian forces in Donetsk shelled a brewery. The compound was a total loss due to a fire, and a mandatory evacuation area was established due to an ammonia leak at the plant.
The Ukrainian air force attacked the Russian command post for the 217th Guards Airborne Regiment in Maksyma Horkoho, 100 kilometers into Russian-occupied territory.
Two explosions rocked the coastal town of Kyrylivka, 55 kilometers south of Melitopol on the shores of the Azov Sea. Local officials reported a large concentration of Russian troops, equipment, and ammunition outside the settlement.
Kharkiv
Russian forces attempted to advance on the settlement of Udy, northwest of Kharkiv on the international border. They were unsuccessful.
Kherson
Ukraine used precision munitions to strike the Kakhovsky Bridge in Nova Kakhovka that crosses the Dnipro River. Video from Russian state media showed moderate damage. The bridge crosses the spillway of the Kakhovka Dam and hydroelectric plant and has been reduced to one lane.
Satellite pictures showed that the bridge in Darivka has reopened but is reduced to a single lane.
Operational Command South of the Armed Forces of Ukraine claimed responsibility for the attack that destroyed the Russian ammunition depot in Novooleksiivka on August 8. The depot was 35 kilometers northeast of Russian-occupied Crimea and 150 kilometers from Ukrainian-held territory.
Visit our Russia-Ukraine War Map
The Malcontent News Russia-Ukraine War Map is updated as events occur. Map not appearing in your RSS Feed or Google News App? You can review the most up-to-date information by visiting our custom Google Map.
Izyum
Northwest of Izyum, Russian forces launched a renewed offensive on Husarivka. Fighting was ongoing. The settlements of Chepil and Zalyman were shelled.
A reconnaissance in force group of light infantry moving in the direction of Brazhhkivka was forced to retreat after suffering losses.
Dnipropetrovsk
The village of Marivka on the Dnipro River was struck by over 80 Grad rockets fired by MLRS, targeting civilians and civilian infrastructure overnight. Thirteen people were killed and another 11 injured – seven critically.
Sumy
Dmytro Zhivytsky, Sumy Regional Administrative and Military Governor, reported Seredyna-Buda, Esman, Bilopillia, Khotin, and Nova Sloboda were shelled and hit by mortars. There was another border skirmish in Seredyna-Buda, with Russian and Ukrainian border forces exchanging machine gun fire.
Chernihiv
In Chernihiv, the settlement of Senkivka was shelled by Russian forces over the international border.
Odesa-Black Sea
Satellite images from Planet Labs show that the Saky naval airbase in Russia-controlled Novofedorivka, Crimea, was severely damaged. The remains of at least 11 Su-30MS2 and Su-24 aircraft were visible in the pictures. The main ammunition bunker was completely destroyed. The taxiway and flight line were cratered in places, with evidence that fires scorched large areas of the base. Ukraine continues to deny it had any involvement, declaring the explosion happened due to "mismanagement" by the Russian Federation.
Social media videos showed empty beaches on the Black Sea and traffic jams that extended for dozens of kilometers as Russian vacationers rushed to leave the region. A state of emergency and a terrorism alert was declared in parts of Crimea through August 24.
There are unconfirmed reports that the Ukrainian air force hit Russian targets in Chongar, 160 kilometers into Russian-controlled airspace and a gateway to the Crimea Peninsula. Five hours after the first pictures emerged of smoke rising from Chongar, Leonid Slutsky, a deputy in the Russian State Duma, said, "The special military operation will continue; the point of no return has been passed." The Kremlin had previously stated that attacks on Russia or the bridges that connect Crimea to the mainland were red lines in the conflict.
Daily Assessment
Influential Russian milbloggers confirmed our assessment that the offensive west of Donetsk is struggling to maintain intensity due to elements of the 1st Army Corps becoming combat ineffective.
Ukrainian military leaders claim they were able to destroy two Russian military targets over 100 kilometers behind the line of conflict in airstrikes, indicating that Russian air defenses have been compromised.
Video of Russian tactics south of Izyum show light infantry troops have been poorly trained and have low morale.
To read the rest of our report, become a Patreon! For as little as $5 a month, you get access to the daily Russia-Ukraine War Situation Report. The report provides analysis, maps, detailed information about all the axes in Ukraine, international developments, information about war crimes and human rights, and economic news. As an added benefit, you get access to flash reports, breaking news, and our Discord server.