Local and national COVID update for August 20, 2021
Pfizer vaccine may get full approval on Monday as Washington considers restrictions on indoor gatherings.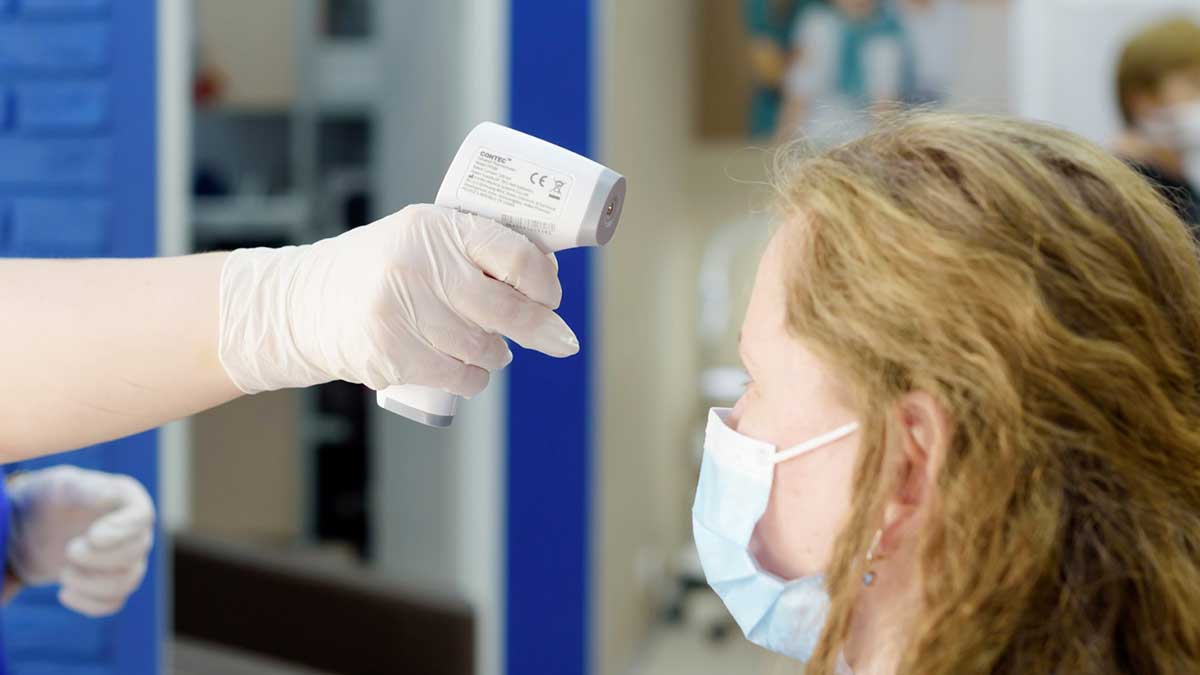 Knowledge is the best tool to fight against fear. A wise person chooses to be informed so they can make sound decisions. To join the fight against COVID misinformation, you can share this update through your social media platform of choice.
[KING COUNTY, Wash.] – (MTN) Multiple sources reported to us today that the state of Washington is considering a plan to place renewed restrictions on gatherings within public indoor spaces, as hospitalizations reached a new record. There is some evidence that the growth of new cases may be slowing down, as more hospitals report they are running out of resources.
There are reports out of Washington D.C. that the Pfizer and Moderna vaccine may receive full FDA approval next week. Trials for both the vaccine started more than a year ago, while the Johnson & Johnson vaccine was released later, requiring more data.

Bonadventure Senior Living is under fire after a recruiter for the company in Oregon posted a video on Tik Tok called for unvaccinated nurses to work for the eldercare company in Oregon, Washington, and Colorado. That story took a much darker turn today with new allegations of criminal activity.
This update uses the latest data from the Washington State Department of Health released on August 19, 2021.
---
Washington State Update for August 20, 2021
Are new COVID restrictions coming?
Governor Inslee is considering setting capacity limits for indoor public venues, according to several people we spoke to today. The plan being considered would not return Washington state to the phases used during the spring of 2021 but would put limits on the number of people who can gather in one place in specific public settings. No specific date was given, but there were indications if the plan is implemented it would happen end of August or early September.
On August 13, the National Terrorism Advisory Bulletin from the U.S. Department of Homeland Security expressed concern over the growing threat from domestic extremists groups due to the rise of COVID cases.
"Extremists may seek to exploit the emergence of COVID-19 variants by viewing the potential re-establishment of public health restrictions across the United States as a rationale to conduct attacks. Pandemic-related stressors have contributed to increased societal strains and tensions, driving several plots by domestic violent extremists, and they may contribute to more violence this year."
The report did not mention any specific threats and is a broad assessment of the risk of terrorism, foreign or domestic, at a national level. A large anti-vaccination rally is planned to happen on Saturday in Olympia from noon to 3 PM.
Washington state COVID update
COVID continues to spread through Washington at levels not seen since December of 2020. Through August 12, the 14 day rolling average Washington grew again to 455.8 COVID cases per 100K. This breaks the record high that was set yesterday. The USA Today COVID Tracker indicated that on Thursday, Washington reported over 3,900 new COVID cases. New cases continue to grow exponentially, with the epidemiological curve showing signs that things are slowing.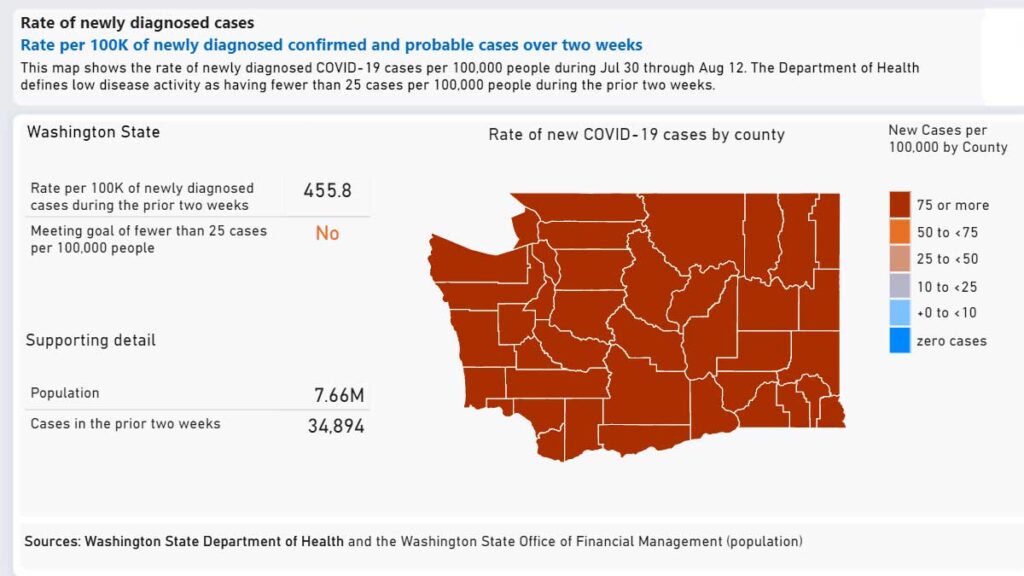 The Washington State Department of Health reports a data backlog for test positivity, with the published number 14 days old. According to Johns Hopkins University Medicine, the positivity rate for the last 30 days is 11.69%, and over the previous 7 days, 12.69%. We continue to see widespread transmission in the state, with another small decrease in the 7-day average.
The 7-day moving average for COVID-related deaths has increased again to 8 per day and the USA Today COVID tracker reported 33 deaths in Washington state Thursday. It is important to note that fatalities are a trailing indicator that usually increases two to four weeks after hospitalizations begin growing. The growing number of fatalities would align with the spike in hospitalizations that started two weeks ago.
Are changes coming to the Evergreen State Fair?
In a KOMO News report, Jeremy Husby of Snohomish County Parks & Recreation expressed concern about the upcoming Evergreen Fair. Husby said that capacity limits were already in place, but they were expecting between 18,000 and 24,000 people to attend. According to the Washington State Department of Health, Snohomish County hospitals have reached the same utilization level as early 2021. "When we know we are at a capacity where we can't not serve the public and we can't provide a safe space," Husby said. "We need to make that call to shut down the fair," Husby told KOMO.
Bonadventure Senior Living
On Monday, TikTok user @thisdaneshguy reposted a recruiting video made by Bonadventure Senior Living employee Shanya Hall, which went viral. Bonadventure, based in Salem, Oregon, manages senior living facilities in Washington, Oregon, and Colorado. In the video, Hall says, "I just wanted to tell you that if you are a nurse, a caregiver, a tech, and you now need a new job because of this, hit me up. I'll hire you. I need nurses, caregivers, med techs, in Washington, Colorado, and Oregon."
The video was taken down on August 9, the same day Governor Jay Inslee announced that healthcare workers would be required to get vaccinated against COVID. The Salem Reporter ran a story on Tuesday where they interviewed Hall. In the interview, she said she made the video on July 29, and it had been viewed more than 50,000 times before it was taken down.
When asked what she would say to families who are concerned about unvaccinated health workers caring for their family members, she said protecting residents is the number one priority for Bonaventure.
"I get being concerned or being scared but we are taking precautions," she said. "We wouldn't want to put anybody in the way of danger."
In the same story, Jeremiah Gray, divisional director of operations at Bonaventure for Oregon, stated that they could not require vaccines for their staff because of an Oregon law. However, that was only partially true while the recruiting video was still on TikTok. On August 5, 2021, the Oregon Health Authority filed a final temporary rule requiring COVID-19 vaccination or weekly testing for individuals who work in healthcare settings.
In a since-deleted Facebook post, Gray responded to the TikTok video on the Bonadventure, defending the company, and again stating that they are prevented by Oregon law to require vaccinations. That point became moot, with the federal nursing home vaccine mandate issued earlier this week. Today, in another video posted on TikTok by @thisdaneshguy, the creator claims that multiple employees of Bonadventure have shared internal e-mails with him about directives made by the company that put residents and patients at risk. Among the claims made, eight current and former employees are accusing Bonadventure of falsifying federal issued COVID vaccination cards, including in Washington state. That information has been turned over to The Statesman Journal, which ran a deeper story about Bonadventure yesterday.
Data from the United States and Israel indicates that the majority of COVID breakthrough cases that lead to severe cases are among people over 70 years old with multiple comorbidities. This was on of the key drivers for the United States to make the controversial decision to provide booster shots to recipients of mRNA vaccines.
The University of Washington Medicine is allegedly denying organ transplants to patients who refuse to get a COVID vaccine. In an interview with Jason Rantz, Sam Allen of Monroe claims he was removed from the heart transplant waitlist for refusing to get the COVID vaccine. Allen claims he had a "dispute" with his cardiologist over wearing a mask, and then was called.
"The cardiologist called me and we had a discussion, and he informed me that, 'well, you're going to have to get a vaccination to get a transplant.' And I said, 'well that's news to me. And nobody's ever told me that before.' And he says, 'yeah, that's our policy."
Allen was removed from the waitlist on June 7. Although post-transplant organ rejections are less common, and the medications to prevent the condition have dramatically improved, organ transplant patients face a lifetime of being immunocompromised. University of Washington Medicine would not confirm if this was a policy or part of evaluating how viable an individual patient is for a transplant.
Etcetra
Gig Harbor announced they are canceling all remaining summer events including Summer Sounds at Skansie and Movies in the Park.
Yesterday it was widely reported that WSU football coach Nick Rolovich, had agreed to get a COVID vaccine. The Seattle Times is reporting that when pressed, Rolovich would not clearly state that he would.
Former University of Washington wide receiver Lamarr Mitchell died of COVID after a 10-day battle. Lamarr was part of the 1991 Rose Bowl team and was described by his family as healthy and fit. He was unvaccinated and went from being on a ventilator to kidney failure in 24 hours. His family was called at 4 AM to come and say their final goodbyes but became stuck in traffic and did not get to the hospital in time. Lamarr's parents are appealing for people to get vaccinated.
"We got to get the message out there we have to get the message out there; this is real. This is real," she pleaded.
Join the conversation on Facebook and share your thoughts
Vaccination
There are multiple reports tonight that the Food and Drug Administration will issue full approval of the Pfizer COVID vaccine as early as Monday. Pfizer started Phase I trials of the COVID vaccine in May of 2020. Researchers used development efforts to create a vaccine for SARS and MERS as a foundation for the COVID vaccine. COVID or SARS-Cov-2 is similar to the original SARS strain, which appeared in 2003, and MERS which appeared in 2012.
Phase III trials were completed in November enabling the FDA to issue an emergency authorization for the vaccine. Distribution began on December 14, 2020, to tens of millions of Americans. Pfizer would be the first to receive full approval because it was the first vaccine to complete its trials in the United States.
Washington state is providing COVID vaccine booster shots for moderately and severely immunocompromised residents. People who received an mRNA vaccine are eligible for the booster. People who received the Johnson & Johnson vaccine do not require a booster at this time.
Almost two million Washingtonians who are vaccine eligible remain unvaccinated. The group Find a COVID Shot WA can assist anyone who needs help making an appointment. The group of 75 volunteers has been operating since the beginning of 2021 and offers support in 20 languages.
Join the conversation on Facebook and share your thoughts
Hospital Status
On August 19, 86.4% of available adult staffed acute care beds in Washington state have patients. The data indicated there were 1,211 acute care beds available statewide and 210 in King County. The Northwest, South Central, and East Regions were over 80% utilization and the Central and West Regions are now over 90%. According to the Washington State Department of Health, there are 1,221 COVID patients in acute care, an increase of 16 since yesterday, which is 13.7% of all acute care patients.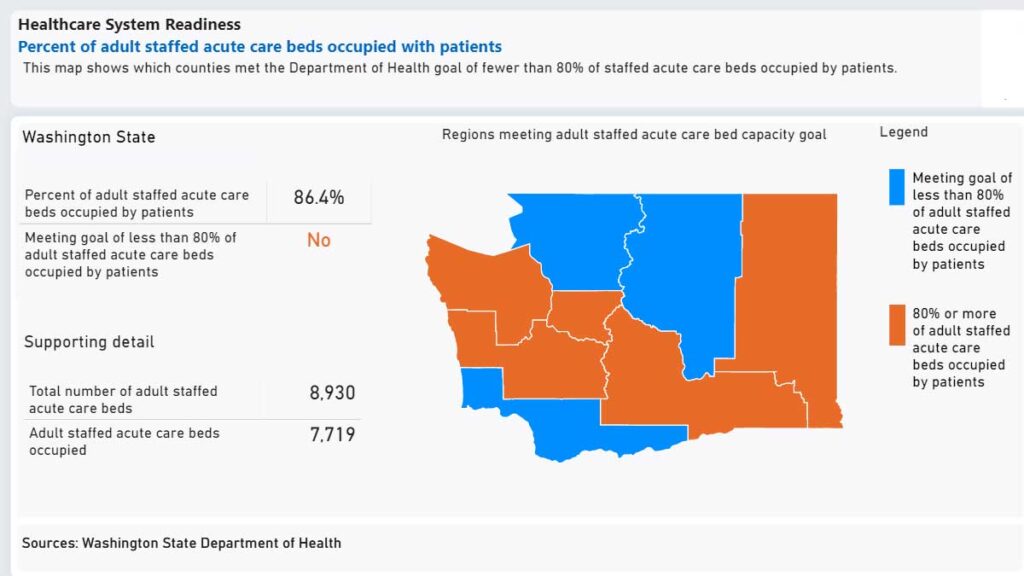 Statewide ICUs were 85.9% occupied with 171 staffed beds available, 52 located in King County. Although the number of COVID patients statewide in the ICU dropped to 327.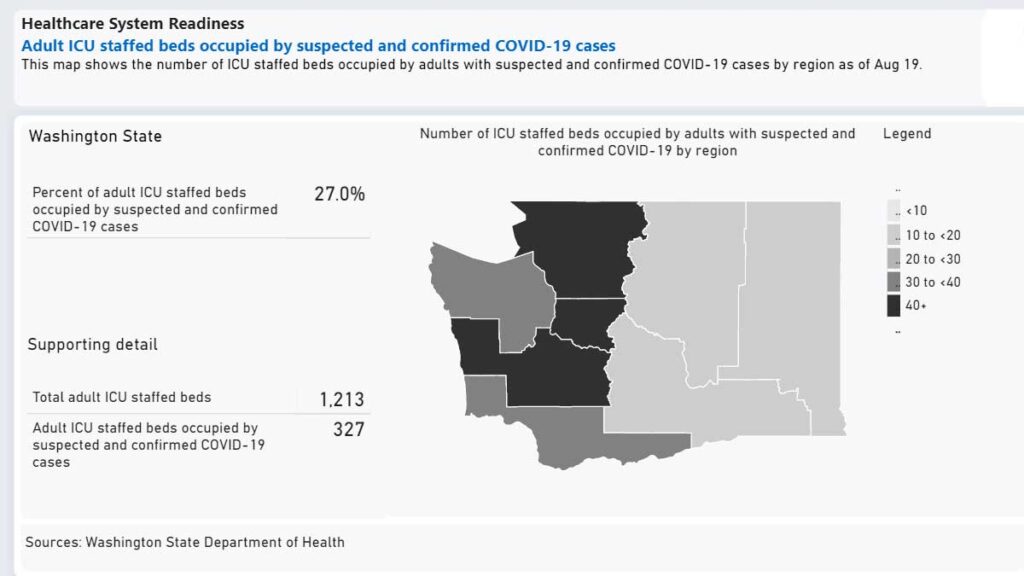 Washington state continues to have a critical shortage of blood, with a less than 24 hour supply for five out of eight blood types. The situation has deteriorated since August 3. There will be a blood drive in Kirkland on August 30 and 31. We will publish additional details when they become available.
The West Region, which includes Tacoma, is down to 9 available ICU beds and the East Region, which includes Spokane, has 10 ICU beds available.
PeaceHealth St. John Medical Center in hard-hit Cowlitz County issued a statement on Facebook that the hospital, "is now at maximum capacity." The facility appealed that, "only people who are experiencing true medical emergencies come to our E.R. for care."
In another comment, PeaceHealth stated, "We are experiencing an exceptionally high number of caregivers unable to work due to COVID-19, and we have great concern that – as patient demand continues to surge – we will be faced with a corresponding increase in the number of caregivers unavailable to help."
The hospital is no longer doing COVID testing and advised people to use urgent care facilities. People were suggesting other locations to get a COVID test but frustration was boiling over.

Barbara Anderson wrote, "The only urgent care center in Longview will not see u unless u are a current Peace Heath [sic] patients [sic]. Where should the rest go?"
You can listen to a podcast with Cherelle Montanye, Chief Administration Officer for PeaceHealth St. John, and Cathrine Kroll, Director for Infection Prevention.
Join the conversation on Facebook and share your thoughts
Back to School
No update
Kirkland-Bellevue-Woodinville
No update
National Round-Up
Johns Hopkins University reported over 138,400 new cases and 908 deaths. Nationwide, 11.36% of COVID tests are coming back positive.
The CDC issued a warning tonight for older adults, and people in high-risk groups not to take cruises, even if they are vaccinated. The new guidance applies to older adults, people with certain medical conditions and pregnant and recently pregnant people. Prior to Friday's announcement, the agency recommended that only people who were not fully vaccinated against COVID-19 avoid cruise ships.
Alabama
Former President Donald Trump is holding a rally in Cullman, Alabama tomorrow, forcing the city to declare a COVID state of emergency. Alabama added 3,800 new COVID cases on Wednesday and the state ran out of ICU beds the day before. The declaration of the State of Emergency allowed the city to provide the additional personnel and equipment for this weekend's political rally after it was requested by Cullman Regional Hospital, which is overwhelmed with patients.
Florida
The Sunshine State only releases COVID data once a week on Friday's and the data indicates that it may be hitting its COVID peak. New cases were flat week over week for the first time in over two months. However many state residents are complaining they can't get tested. Of the 150,118 new cases reported, 20,331 were children under 12 years old. Florida has 16,973 people hospitalized with COVID, a new record.
Pictures taken by Louie Lopez at a monoclonal antibody treatment center recently set up by Governor Ron DeSantis went viral late this week. The images show people lying on the floor, barely able to move or breathe, and moaning waiting for treatment. The lobby only had two chairs according to Lopez, and one patient laid on the floor for almost 30 minutes before someone came with a wheelchair. A spokesperson for the city confirmed that according to organizers at the site, the woman in the picture was waiting to be treated with Regeneron.
Regeneron is only effective if given within the first 96 hours of the first sign of COVID symptoms that are mild to moderate. Ron DeSantis has fought against any entity that has attempted to mandate vaccines or masks, and has only loosely promoted the COVID vaccine. The announcement that he was creating Regeneron clinics raised eyebrows when it was revealed that his top political contributor is also a major investor in Regeneron Pharmaceutical Inc.
Mayor Buddy Dyer of Orlando appealed for residents to conserve water due to a shortage of oxygen. The Orlando Utility Commission treats the city's water with liquid oxygen and supplies that ordinarily go toward water treatment have been diverted to hospitals for patients suffering from the virus, Mayor Dyer said.
"We acknowledge that the No. 1 priority for the liquid oxygen should be for hospitals," Dyer said at a news conference.
The city-owned utility typically goes through 10 trucks of liquid oxygen a week but its supplier recently said that it would be cut back to five to seven trucks a week to accommodate hospitals, said Linda Ferrone, OUC's chief customer, and marketing officer.
Hawaii
Yesterday we reported that hospitals on the island of Oahu were on the brink of having to implement disaster plans. City officials in Honolulu made a "disaster area" declaration today. At Queen's West Hospital, a rush of new COVID patients overwhelmed the hospital, on top of many already waiting for beds in the emergency room. The City set up a disaster area and tents.
Hawaii also appealed for traveling nurses, with more than 500 expected to arrive next week. Honolulu having to potentially move to "black tag triage" is coming at the same time that flooding rains are expected this weekend.
This disaster is happening at the same time that the state's 1,200 first responders are fighting a court battle against Hawaii's COVID vaccination mandate.
Hawaii has the strictest entry rules of all 50 states, but people are attempting to circumvent them using fake vaccination cards.
Mississippi
Seventy-three Mississippi hospitals have asked for a combined 1,450 healthcare professionals to supplement their staff, as the state's hospital system teeters on the brink of collapse. Efforts that are described as "last-ditch" to shore up the system included support from the federal government and building two field hospitals in a parking garage.
Mississippi State Department of Health Reported a sharp spike in calls to their Poison Control Center due to Ivermectin poisoning. State officials sent out a health alert warning to health care providers about the use of the horse dewormer. Although Ivermectin is used in humans to treat scabies, it is highly concentrated for livestock. At least 70% of the calls into poison control have been for Ivermectin poisoning.
Mississippi also reported that the fastest-growing group infected with COVID is children from 5 to 17 years old. The state is seeing 20 to 30 pediatric patients hospitalized on any given day, with 3 to 5 needing ventilators.
There are so many COVID cases in the state, officials made an emergency order allowing school districts to offer hybrid and remote learning options through October 31.
New Hampshire
New Hampshire COVID test positivity has reached the highest level since January with 82 people hospitalized.
Oregon
There is no good news coming out of Oregon today. COVID hospitalizations have set a new record every day since August 10, in the Pacific Northwest State. In the last 30 days, cases have increased 500% putting the hospital system on the brink. Oregon is requesting outside help to come to the state including 35 physicians, 35 advanced practice providers, 300 registered nurses, 10 paramedics, and 100 respiratory therapists.
In Roseburg, a COVID patient died in the Emergency Department because there wasn't an available ICU bed at CHI Mercy Health.
"A COVID-positive patient was in our Emergency Department, within our four walls, waiting for an open Intensive Care Unit bed to receive life-saving care. It had been several hours because other COVID-positive patients had filled those beds. Even after expanding ICU care onto other floors, there weren't any beds available for this patient. We didn't have enough. This patient died in the Emergency Department waiting for an Intensive Care Unit bed."
Texas
Lt. Governor Dan Patrick blamed "Black Texas" for the surge of COVID in the Lonestar State. During an interview on Fox News Patrick said, "The Democrats like to blame Republicans," Patrick said. "Well, the biggest groups in most states is African Americans who are not vaccinated. Last time I checked, over 90 percent of them vote for Democrats in their major cities and major counties."
Blacks make up 12% of the population of Texas – a state where only 45% of all people are vaccinated. Black vaccination rates in the state match that among white Texans.
State officials previously were blaming undocumented immigrants for the spread of COVID in the state, but mostly backed away from the claim after the City of McAllen declared a state of emergency. Of the 586,000 undocumented immigrants processed in the city in the first seven months of 2021, 7,500 were COVID posted after testing – a rate under 2%. The state of Texas is at 19.8% positivity as of this Friday.
Georgia
The Peachtree State has the fourth-highest number of pediatric patients with COVID in the United States, just three weeks after school started. Children's Hospitals are reporting ICUs are at 70% to 90% capacity and cases are continuing to grow.
"We haven't reached that critical moment yet where we're unable to provide that care," said Dr. James Black, medical director of emergency services at Albany's Phoebe Putney Memorial Hospital. "We're doing everything we can to stay just ahead of that, but it's a race and a race that most of us are losing."
Join the conversation on Facebook and share your thoughts
Misinformation
An ongoing piece of misinformation is the COVID vaccine has microchips in it. Typically the needle used to vaccinate an adult is 28 gauge and has an outer diameter of 1/3 of an mm. The inner diameter is about 1/6 of an mm (0.184 mm). That's about thick enough to pass a human hair through with a touch of room to spare. The smallest 5G chip available today is about the size of your fingernail. That's just the 5G chip, not the microprocessor to run it, not an antenna that can transmit through your body to the nearest 5G tower. It doesn't include a power source and most critically, it doesn't include having a heat sink or other way to regulate the temperature.
The RFID chips they inject into pets such as cats and dogs are about the size of a grain of rice. They provide no way to track, only identification with a scanner. The 12 gauge needle used to insert an RFID chip into a dog is almost 3 mm (and anyone who has had a large-bore IV can tell you, needles that big are very unpleasant). Additionally, they are passive RFID chips that don't require a battery and are incapable of transmitting any data, let alone to a 5G cell tower.
Join the conversation on Facebook and share your thoughts