Local and national COVID update for September 13, 2021
Washington hospitals are having to provide contingency care due to limited resources, but the peak may be here.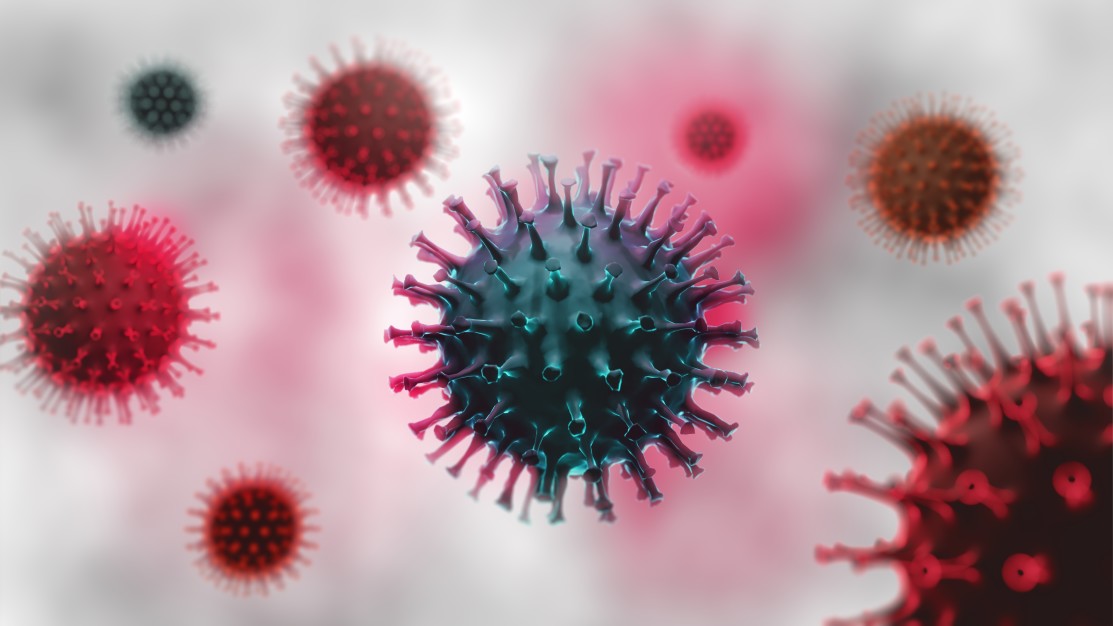 Knowledge is the best tool to fight against fear. A wise person chooses to be informed so they can make sound decisions. To join the fight against COVID misinformation, you can share this update through your social media platform of choice.
[KING COUNTY, Wash.] – (MTN) The number of hospitalized COVID patients dropped slightly over the weekend, while the number of critically ill patients on ventilators increased. New King County and statewide vaccination data show the gap between the most vaccinated and least vaccinated counties grew wider. A new IHME forecast indicates Washington may have hit the peak but forecasts a long fall ahead.
Two more schools in the Lake Washington School District reported COVID cases, while the number of quarantined students at Kamiakin Middle School rose to 140.

The Washington State Hospital Association stated hospitals were operating in "contingency care" as staffing, transportation, and some critical equipment remain in tight supply. 911 dispatchers in Seattle were diverting ambulance calls for part of the day on Saturday, as local emergency departments were flooded with a surge of patients.
A ferry was delayed by a man who refused to wear a mask, and on Friday, ferries heading to the San Juan Islands were canceled due to a sick out.
Complaints have emerged at the Spokane County Fair and the Washington State Fair due to people not wearing masks indoors and lax enforcement.
Almost 90 Washington state employees have filed a lawsuit in Walla Walla trying to block the governor's vaccination mandate. A woman was cited for trespass in Vancouver for refusing to wear a mask and refusing to leave a private business.
This update uses the latest data from the Washington State Department of Health released on September 13, 2021.
---
Washington State Update for September 13, 2021
Washington state COVID update
The gap between the highest vaccinated counties versus the least widened more over the weekend. In the South Central Hospital Region, which includes Benton, Franklin, Klickitat, Walla Walla, and Yakima counties, new cases are 886.1 per 100K people. In comparison, the Central Hospital Region, which represents King County, had a rate of 318.6.
| Percent of Total Population Fully Vaccinated | Average 14-Day New Case Rate (unadjusted) |
| --- | --- |
| 50.00% or above (12 counties) | 530.8 (up) |
| 40.00% to 49.99% (18 counties) | 764.5 (up) |
| 27.30% to 39.99% (19 counties) | 848.6 (up) |
14-Day New COVID Cases per 100K average by Vaccination Rate, Not Adjusted for Population
Through September 12, Washington's statewide 14-day rolling average was 526.1 COVID cases per 100K, which is slightly up from Friday but still within the 500 to 535 range the state has bounced between for weeks. Asotin (1,007.1 per 100K), Clallam (1,057.7 per 100K), Douglas (1,024.0 per 100K), Franklin (1,182.0 per 100K), Grant (1,036.7 per 100K) Lincoln (1194.6 per 100K), Okanogan (1,013.2 per 100K), and Stevens (1,191.2 per 100K) reported an extreme number of new cases. Counties in the 800.0 to 999.9 per 100K range include Adams, Benton, Chelan, Columbia, Cowlitz, Grays Harbor, Lewis, Pend Oreille, and Yakima. Garfield County dropped to 764.0
The Washington State Department of Health reports a data backlog for test positivity, with the published number 14 days old. According to Johns Hopkins University Medicine, the positivity rate for the last 30 days is 13.40%, and over the previous 7 days, 13.81%. These numbers indicate the state is under testing. Further, there has been little change in the positivity rate for almost a month.
The 7-day case rate by age was up in every age group except 35 to 49-year-olds. Hospitalizations were flat or slightly down over the weekend, and that decrease is mirrored in the patient reports from the Washington State Hospital Association.
| Age Group | 7-Day Case Rate | 7-Day Hospitalization Rate |
| --- | --- | --- |
| Ages 0-11 | 31.8 (up) | 0.1 |
| Ages 12-19 | 25.0 (up) | 0.1 (down) |
| Ages 20-34 | 57.4 (up) | 1.3 |
| Ages 35-49 | 49.5 (down) | 2.6 |
| Ages 50-64 | 37.0 (up) | 3.7 |
| Ages 65-79 | 18.1 (up) | 3.5 (down) |
| Ages 80+ | 5.4 (up) | 1.7 |
7-day case rate and 7-day hospitalization rate is per 100K within the age group – the target for 7-day case rate is <25.0, but there are other factors such as vaccination rates within the age groups, how many total tests within the 7-day period, and the positivity rate within each age group
The USA Today COVID Tracker reported 68 deaths on Friday. Numbers from over the weekend typically include multiple days of data and should not be used to read a trend.
Seattle Fire Department diverted 911 calls for ambulances on Saturday
For part of the day on Saturday, calls to Seattle 911 for ambulances were being diverted, with only the most serious calls being responded to. Critical calls were still covered, while others, which would normally get an EMS response, were told they would need to transport themselves.
Hospitals may decide to divert ambulances from going to their emergency room when they get overwhelmed with patients or are expecting a surge from incidents such as a mass casualty event. On Saturday, multiple emergency departments were beyond capacity in Seattle, which created a ripple effect impacting emergency departments both east and north of the city. On Saturday evening, one area hospital had over 80 patients in the emergency department and another 22 waiting for hospital beds.
The number of people coming into emergency departments wasn't just due to COVID. There was an influx of medical emergencies such as cardiac arrests and several significant auto accidents. Additionally, the Washington State Hospital Association reported this morning there is a shortage of ambulances for ground transit.
Calls to 911 for EMS and fire services were above average on Saturday but nowhere near the record set on June 28, when the department responded to 555 calls for aid.
Latest IHME forecast projects Washington state has hit the peak
On Friday, the IHME updated its forecast models, which projected that Washington state has hit the peak for the current wave. The projected number of fatalities through December 1 declined slightly also, to 8,784. Part of the decline is due to the Washington vaccination mandate for state employees and the statewide order for mask wear. The model projects that if mask wear compliance was 100%, we could save 600 lives.
The model also projects that the state will only see a gradual decline in cases and will settle to half of the current volume of new cases, patients, and fatalities. The Washington State Hospital Association expressed today that slashing the number of hospitalized COVID patients from 22% to 11% as a new normal would be unsustainable for the healthcare system.
Vancouver police cite woman for trespass over refusal to wear mask
The incident apparently happened on September 8 but blew up on social media over the weekend after a story was run in the Post Millenial. A woman with her children at Chuck's Produce and Street Market on Southeast Mill Plain Blvd. refused to wear or mask or leave the store when directed by staff. She continued to shop and was told police would be called.
When Vancouver police arrived, she continued to refuse the leave the store and went to checkout. While she continued to defy store management and the police, she was cited for trespassing.
Kitsap ferry delayed by man who refused to wear a mask
On Saturday, the 7:40 PM sailing of the Kitsap ferry from Fauntleroy was delayed for over an hour by a man who refused to wear a mask. According to Washington State Ferry employees, the man was asked to put a mask on during the crossing and refused. He then became "aggressive" toward the crew and appeared to be inebriated. He was issued a 60-day no-trespass order from the Washington State Ferries property. We also hope he didn't drive off in a vehicle.
Weekend sick-out impacts ferry service to the San Juan Islands
After weeks of threats, a sickout impacted ferry service to the San Juan Islands on Friday evening. Two ferry runs out of Anacortes to Friday Harbor, the 4:45 PM and the 8:20 PM, along with the additional stops at Lopez, Shaw, and Orcas, were canceled due to a lack of Coast Guard certified personnel. Additionally, the #3 Samish was running behind schedule for the afternoon and early evening.
The Washington Federation of State Employees, which includes Washington State Ferries employees, ratified their agreement over mandated COVID vaccination with the state of Washington on Thursday. Over 80% of members voting in favor of the compromise agreement.
Spokane County Fair organizers respond after photos emerge of maskless guests and vendors
Photos emerged over the weekend of non-existent mask wear at the Spokane County Fair. According to KREM, Kevin Humphrey, a regular guest at the fair, talked to officials about the lack of masks and was told that masks were only checked at the entrance but were not being enforced.
In response to the photos, Spokane Interstate Fair Director Erin Gurtel wrote, "The Spokane Fair and Expo Center staff is communicating with all vendors in writing daily, along with verbal announcements over the Fairgrounds sound system multiple times a day. All of the vendors have been made aware of the requirement to wear masks indoors and starting tomorrow, September 13th, we will require this indoors and outdoors."
The fair has also created numerous signs to post all over the grounds to communicate the new requirement of outdoor masks, Gurtel said. The fair's team is also doing its best to communicate the requirement and make sure it is "being adhered to," she added.
People complaining about lack of masks at the Washington State Fair
In Puyallup, where up to one million people are expected to visit the Washington State Fair through September 26, complaints are growing about maskless vendors and guests. Numerous pictures and videos emerged of groups of people both indoors and out.
89 state employees sue over Washington state employee vaccine mandate
A group of state employees from the Washington State Patrol, Washington State Ferries, and Washington State Department of Corrections filed a lawsuit in Walla Walla against the looming vaccine requirement.
According to a report in Northwest News, Nathan Arnold, the lawyer who filed the lawsuit, wrote, "The penalties for not taking affirmative action to comply with the Governor's Mandate are overly severe, punitive, and unconscionable." He also called the penalty of termination "arbitrary and capricious," especially for employees who can work from home or have natural immunity from having previously contracted COVID-19.
The lead plaintiffs are William and Sherra Cleary. Mr. Cleary was listed as a King County firefighter and Ms. Cleary as a healthcare worker who is also pregnant. The plaintiffs are looking for the court to declare the vaccine mandate unconstitutional.
The Tri-Cities Herald reported Troopers Travis Brawdy and Brittany Crosby with the Washington State Patrol and Michele Vasquez, an employee of the Washington state Department of Revenue, were also listed as plaintiffs.
The Supreme Court's 1905 ruling, Jacobson vs. Massachusetts, is a frequently used case to justify vaccine mandates at a municipal, county, and state level. The ruling by the Supreme Court was challenged as recently as last month, with a case being reviewed by Trump-appointed Justice Amy Coney Barrett. In that case, she ruled against the plaintiffs' attempt to block a vaccine mandate at the University of Indiana.
Largest Tri-Cities employer mandating vaccination for all employees by November 15
Prior to the announcement by the Biden Administration, Pacific Northwest National Laboratory (PNNL) announced they would require all employees to be vaccinated by November 15. The company is located in Richland, and the decision was made by Battelle, the Department of Energy contractor that operates PNNL.
The Biden Administrator's order for federal employees and contractors to get vaccinated also impacts 11,000 workers at Hanford.
Travel Advisories
We recommend avoiding all travel to Yakima, Klickitat, Benton, Franklin, and Walla Walla counties, along with the state of Idaho. Hospital resources in these regions are so constrained that you may receive inadequate care if you experience a medical emergency.
Thank you
Thank you to our new subscribers and those of you who have made one-time contributions. On behalf of the entire team, thank you for helping us keep the lights on!
Vaccination
Vaccination rates are increasing statewide. As of September 13, 75.1% of all Washingtonians 12 and up have received at least one dose of the COVID vaccine. In King County, 85% of all residents have received at least their first dose, and 78.9% are fully vaccinated.
Booster Shots
Tension is growing between the Biden Administration, the CDC and FDA, and global health leaders with the WHO over booster shots.
A group of leading U.S. and international scientists questioned the need for booster shots on Monday in a Viewpoint titled Considerations in boosting COVID-19 vaccine immune responses, published in the respected medical journal, The Lancet.
The report, in which two senior Food and Drug Administration officials were contributors along with the World Health Organization, came as another study indicated the FDA approved Pfizer vaccine and the emergency authorized Moderna and Johnson & Johnson vaccines remain highly effective against hospitalization and death.
"The ability of vaccines that present the antigens of earlier phases of the pandemic (rather than variant-specific antigens) to elicit humoral immune responses against currently circulating variants6,7 indicates that these variants have not yet evolved to the point at which they are likely to escape the memory immune responses induced by those vaccines."
Hospital Status
According to the DoH COVID Dashboard, 23.2% of all acute care patients hospitalized in Washington have COVID. A hospital system caring for this many COVID-positive patients in acute care is considered to be under "severe stress." ICUs are at 90.9% of capacity statewide, with 35.0% of ICU patients fighting COVID. All of these numbers are up from over the weekend.
The new hospital admission rate for COVID patients was 162 per day on September 11. This is a decrease from last week and is an indicator that the state may be at its peak. The Department of Health reported there were 1,742 COVID patients statewide on September 12 and 275 on ventilators. That is down from the 283 reported on Saturday. Weekend numbers typically get adjusted upward on Tuesday as additional data is processed.
EvergreenHealth reported there are 39 COVID patients in Kirkland and none in Monroe.
The Washington State Hospital Association held its weekly press conference, telling reporters that hospitals are operating under "contingency care" statewide. From walk-in clinics to trauma centers, medical facilities continue to struggle with the crush of regular and COVID patients.
We are in a crisis, but we are not in crisis standards of care," said Washington State Hospital Association (WSHA) Executive Vice President Taya Briley.
Briley also reported that 95% of hospitalized COVID patients statewide are unvaccinated, saying, "We are far, far above our peak from last year."
Dr. Christopher Baliga with Virginia Mason Franciscan Health in Seattle added, "The hospitals are struggling."
"Everyone who works in healthcare, it does feel like everybody has gone back to normal. It is scary, frustrating, and disheartening for people not to understand what is going on. We have stretched almost as far as we can go."
"With the last surge in the fall, our hospitals were empty. That's not true anymore. All of those patients are there…and they are sicker. This is non-COVID. YOu now have a hospital that is essentially full having to manage an influx of COVID patients."
When asked about what additional resources would be available to improve the situation, Briley reported there were few options left. The state was already enlisting the help of unpaid volunteers. The WSHA had already reached out for National Guard resources, but the critical staff and equipment have already been deployed to other states to support their COVID surges, along with aiding in hurricane, flooding, and climate disasters. Federal resources are also stretched thin.
The press conference closed with an appeal to get vaccinated, wear a mask, and avoid risky behavior that could cause a general injury.
Back to School
School District
Status
Quarantines
Closures
Bellevue

YELLOW

– Bellevue (7)
– Chinook (10)
– Clyde Hill (1)
– Highland (1)
– Interlake (1)
– Newport (3)
– Sammamish (2)
– Somerset (1)
– Tillicum (1)
– Tyee (1)
– Woodridge (13)
None
Lake Washington

RED

– Benjamin Franklin Elementary (?)
– Juanita Elementary (1)
– Juanita High School (37)
– Peter Kirk Elementary (2)
– Robert Frost Elementary (9)
– Thoreau Elementary (4)
– Kamiakin Middle School (140)
– Mark Twain Elementary
Northshore

YELLOW

– Arrowhead Elementary (1)
– Bothell High School (19)
– Canyon Creek Elementary (9)
– Canyon Park Middle School (4)
– Cottage Lake Elementary (4)
– Crystal Springs Elementary (4)
– East Ridge Elementary (2)
– Fernwood Elementary (2)
– Frank Love Elementary (11)
– Hollywood Hills Elementary (1)
– Inglemoor High School (2)
– Kenmore Elementary (1)
– Kenmore Middle School (7)
– Maywood Hills Elementary (2)
– North Creek High School (6)
– Ruby Bridges Elementary (1)
– Secondary Academy for Success (1)
– Shelton View Elementary (7)
– Skyview Middle School (10)
– Sunrise Elementary (4)
– Timbercrest Middle School (9)
– Westhill Elementary (5)
– Woodin Elementary (1)
– Woodinville High School (7)
– Woodmore Elementary (9)
None
Local Districts Scorecard
In the Lake Washington School District, new quarantines were announced at Ben Franklin and Robert Frost, while the number of quarantined students at Kamiakin Middle School grew to 140, 24% of the student body. Several classrooms are now fully virtual, moving the school over into the closure column.
It is important to note that quarantined does not indicate widespread infection. To date, none of the area schools we are following have reported a significant outbreak of COVID cases that has been transmitted in school or at school activities.
Kirkland-Bellevue-Woodinville
King County Public Health updated the vaccination rates by zip code, with the numbers improving throughout the region. The northern half of Kirkland continues to lag behind the rest of the local area.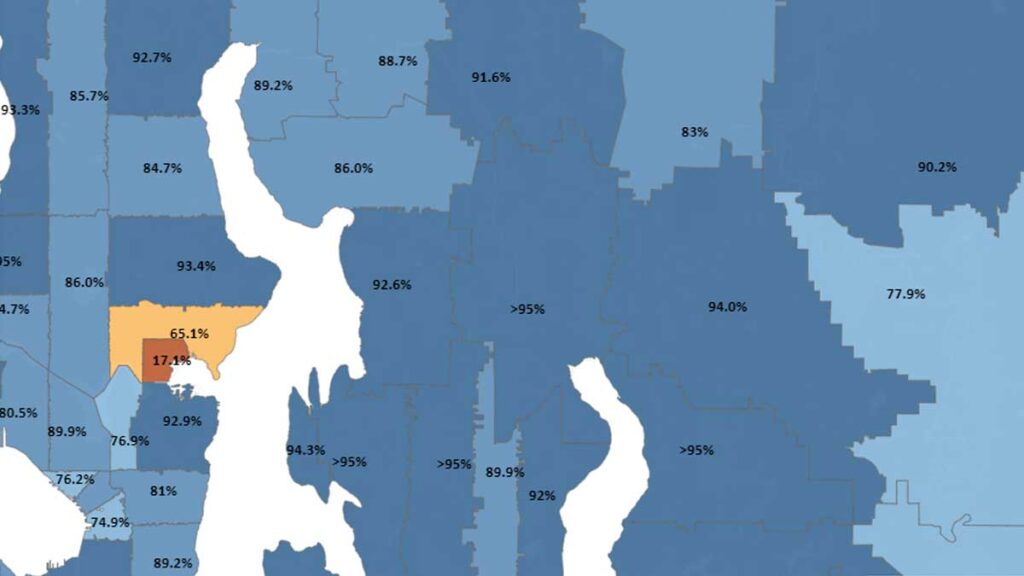 | Zip Code | Percent vaccinated, at least one dose, 12 and older |
| --- | --- |
| 98155 | 92.7% |
| 98028 | 89.2% |
| 98011 | 88.7% |
| 98034 | 86.0% |
| 98033 | 92.6% |
| 98072 | 91.6% |
| 98052 | >95.0% |
| 98004 | >95.0% |
| 98039 | 94.3% |
| 98005 | >95.0% |
| 98007 | 89.9% |
Vaccination rates for those 12 and older by zip code – at least one dose
National Round-Up
Johns Hopkins University Cumulitaive Case Tracker does not reflect nationwide data on Monday due to the way states report their information.
Irresponsible headline of the day – 57% of hospitalized COVID patients are asymptomatic or have mild symptoms
The Atlantic is grabbing headlines with a story out this afternoon, Our Most Reliable Pandemic Number is Losing Meaning. There is a lot that is problematic with this story and the interpretation of a study released today. The study, The COVID-19 Hospitalization Metric in the Pre- and Post-vaccination Eras as a Measure of Pandemic Severity: A Retrospective, Nationwide Cohort Study, is a pre-print non-reviewed study. The study includes a list of prestigious and respected doctors from the Veteran's Administration and Tufts University.
For those who only read headlines (and the coming misinformation memes), there are many things to consider that the story in The Atlantic did not.
COVID patients, even when asymptomatic or mildly sick, require additional safety protocols for hospital staff. This takes up time, equipment, and personal protection equipment. This would be the same protocols for patients with other infectious diseases such as a measles outbreak. The critical difference is the scale of the number of COVID positive patients coming into hospitals.
The report only analyzed patients in the Veteran's Administration, which is heavily male, and does not include pediatric patients. The VA demographics are not representative of the United States population.
The report study period ended in June, before the surge in Delta cases.
The study did not control for patients who required oxygen therapy before being admitted to a VA hospital, a condtion that is more common among veterans than the general population.
The VA has a policy of testing all patients for COVID regardless of what they come into the hospital for. That is not reflective of all hospitals in the United States.
Not all severe cases of COVID are admitted to a VA hospital, and those cases aren't included in the data.
The report concludes, "Consideration should be given to updating the definition of COVID-19 hospitalizations to improve differentiation between hospitalization caused by COVID-19 and those associated with detection of SARS-CoV-2 through the addition of straightforward and objective measures of disease severity."
Alabama
Alabama is seeing several indicators that could mean it's reached a peak, at least temporarily, in the latest COVID-19 surge.
After reaching a peak of 2,890 COVID-19 inpatients on Sept. 1, the state's hospitals are starting to see a steady fall in the number of coronavirus patients.
As of Monday, hospitals were down to 2,474 patients being treated for the virus, according to the latest data from the Alabama Department of Public Health. It's not clear to what extent the drop in hospitalizations is due to deaths or discharges.
Alaska
The number of patients in Alaska hospitalized with COVID-19 rose again over the weekend, setting yet another new record.
By Monday, the state health department reported 210 COVID-19 patients in Alaska hospitals — the most ever. Thirty-three of them were on ventilators.
Health care officials have also cautioned that the true number of hospitalizations is likely even higher because the state's data doesn't include some long-term coronavirus patients, reported the Anchorage Daily News.
Hospitals in Anchorage had no remaining ICU beds on Monday.
California
A Grover Beach bank manager and Army veteran says he was called a racist slur and then attacked and beaten in the parking lot — all because he asked a customer to wear a mask.
Police have confirmed they are investigating a report of a hate crime and battery that occurred in the city last week, but they declined to disclose further details.
The Wells Fargo employee asked the man to wear a mask, and he responded aggressively. When he offered a mask to the customer, he started rummaging through the file cabinets and drawers of the bank, forcing employees to threaten to call the police.
The man then threatened the employee, calling him a racial slur and finishing with, "I better not catch you outside."
When the bank closed at 5:30, the man was waiting for the banker and assaulted him in the parking lot. The employee fought back, and as a coworker called the police, the attacker fled. He was chased for a block, and as police arrived, scrambled over a fence.
"It's crazy," he added. "The guy went home, he plotted, he laid in wait, he ambushed me. And he called me a 'sp–.' I'm thinking, 'Gosh, you know, he completely escalated on his own. He didn't like the idea of having to wear a mask.'"
Florida
As Florida's new case and hospitalization numbers continue to decline, Governor Ron DeSantis appears poised to try and move the numbers in the other direction.
Standing firm in the face of the Biden Administration, Florida Gov. Ron DeSantis on Monday said any cities and counties in the Sunshine State that mandate the COVID-19 vaccine for public government employees will be fined $5,000 per worker.
Speaking in Alachua County, DeSantis said government agencies in violation could potentially face millions of dollars in penalties.
"We are gonna stand for the men and women who are serving us. We are gonna protect Florida jobs," DeSantis said. "We are not gonna let people be fired because of a vaccine mandate."
Georgia
After weeks of rising COVID-19 case numbers, Georgia could finally be seeing a slowdown.
Cases started climbing in late June and finally topped out toward the end of August. At that point, the state averaged more than 9,200 new cases a day. The average dropped by almost a thousand a week later.
Georgia never surpassed January's surge that topped out at an average of nearly 11,000 new cases a day, but the state did almost double the peak from July 2020 of less than 4,700.
Health experts questioned whether traveling and get-togethers over the Labor Day weekend would keep cases climbing. The holiday still falls well within the two-week preliminary data window, so the state is still counting tests from that time.
Idaho
According to data from the Idaho Department of Health and Welfare, Idaho added 25 new COVID-19 deaths and more than 2,700 cases to its pandemic ledger Monday. The numbers are part of a surge of COVID-19 infections that have set new hospital and intensive care unit admissions records.
Idaho's 2,713 new cases, which included the weekend, brought the state's seven-day moving average for new daily cases to 1,400. Hospitalizations hit a record high on Friday, with 626 patients hospitalized with COVID-19 statewide.
The Panhandle and North Central Health Districts in Idaho continue to operate using "crisis standards of care." We strongly recommend not to travel to Idaho during this time of medical crisis. Any health emergency requiring hospitalization could result in you receiving inadequate care.
Illinois
We reported last week about Veronica Wolski. A well-known figure in the Chicago area for her sign waves over an expressway, last week it was widely reported that she was in the hospital with COVID.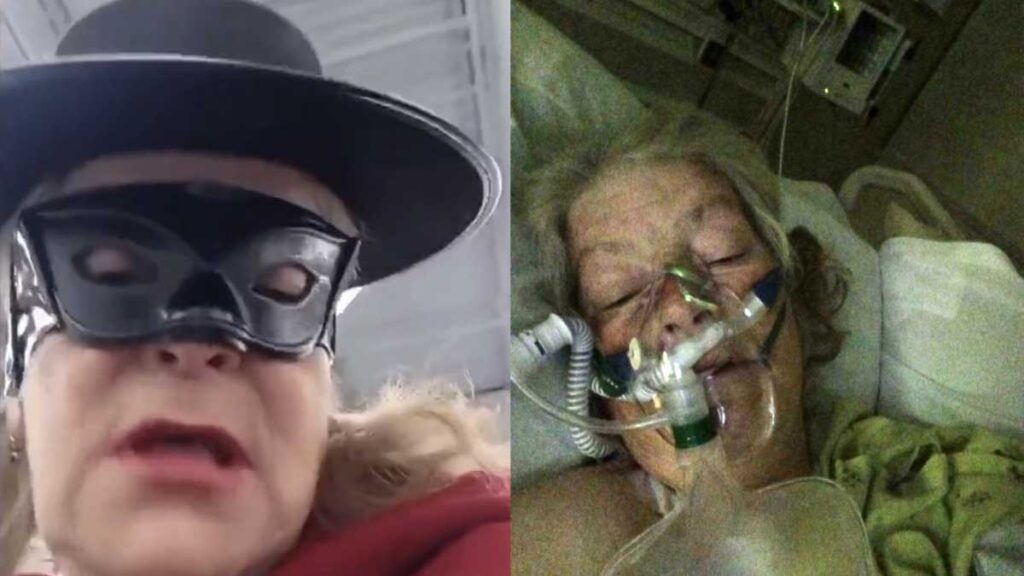 Wolski died on Sunday night to the outrage of the QAnon community, disgraced lawyer Lin Wood, and former national security advisory Michael Flynn. According to her supporters, she had requested to be treated with ivermectin, and the hospital has refused.
A harassment campaign led by Wood and Flynn flooded the hospital with phone calls and e-mails.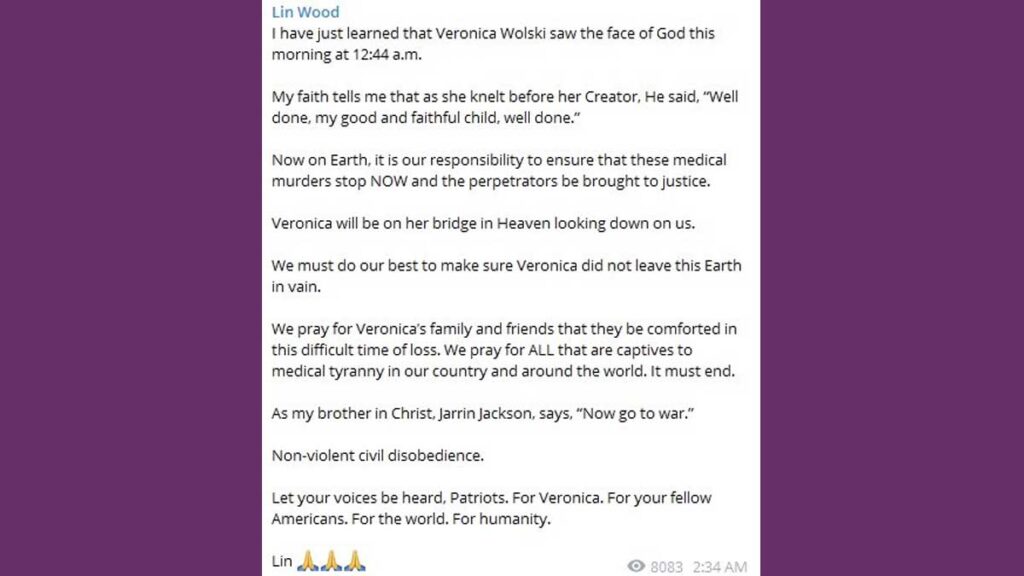 Wolski was a passionate supporter of Bernie Sanders starting in 2014, campaigning vigorously for the Vermont Senator. When Sanders failed to get the nomination from the Democratic Party, she became despondent and starting following the QAnon conspiracy.
North Carolina
The Union County Public School Board voted Monday morning to end COVID-19 contact tracing and quarantining for non-positive students and staff.
That means students can go to school even if they have come in close contact with someone who is COVID-positive. The only people who have to stay home are those who have tested positive or have symptoms.
The School Board released a statement after the decision was made.
"At the Sept. 13 Special Called meeting, the Union County Board of Education voted effective immediately, to halt all staff responsibilities regarding contact tracing and quarantining for students and staff, except as required by law. The statutory authority of managing contact tracing and quarantining is that of Union County Public Health.
"As required by law, school nurses, administrators and school staff will continue to address positive, presumptive or confirmed cases of COVID-19. All students and staff who do not have a positive COVID-19 test or symptoms, should return to school or work immediately.
"If students or employees have the following symptoms: fever or chills, sore throat, cough, shortness of breath or difficulty breathing, fatigue, muscle or body aches, new loss of taste or smell, sore throat, congestion or runny nose, nausea, diarrhea and vomiting, headache, they should stay home, stay away from others and call their health care provider.
"Students and employees who have been isolated due to a positive case or COVID-19 symptoms, should not report to school or work until they have completed 10 days of isolation, symptoms have improved and fever free for 24 hours without fever-reducing medication.
"Face coverings are still optional for students and staff in Union County Public Schools."
UNC Rex Hospital in Raleigh set up tents outside its Emergency Department on the same day more than 11,000 new cases of COVID were reported statewide. The surge tents will allow UNC Rex to expand its Emergency waiting areas and treatment areas.
"The hospital is full," said Rex Director of Emergency Services Kim Boyder. "We are like 90% or greater capacity in the hospital. So that means we also get backed up in the ER. So that means we need additional space for not only the volume but some of the boarding."
Oregon
During the weekend, Oregon surpassed 300,000 confirmed and presumptive COVID-19 cases since the start of the pandemic, the state health authority reported on Monday.
Although COVID-19 related hospitalizations have declined since Friday, 93% of Oregon's hospital beds for adults are full, and there are just 62 adult intensive care unit beds available in the state.
Between Friday and Sunday, health officials say there were 32 deaths due to COVID-19. To date, the state's death toll since the start of the pandemic is 3,446.
Oregon is in the midst of its worst COVID-19 surge since the start of the pandemic — which health officials say is fueled by unvaccinated people and the highly transmissible delta variant.
Misinformation
Taking the day off