State employees approve vaccine mandate compromise – local and national COVID update for September 10, 2021
More Eastern Washington hospitals report being overwhelmed as a tale of vaxxed versus not emerges.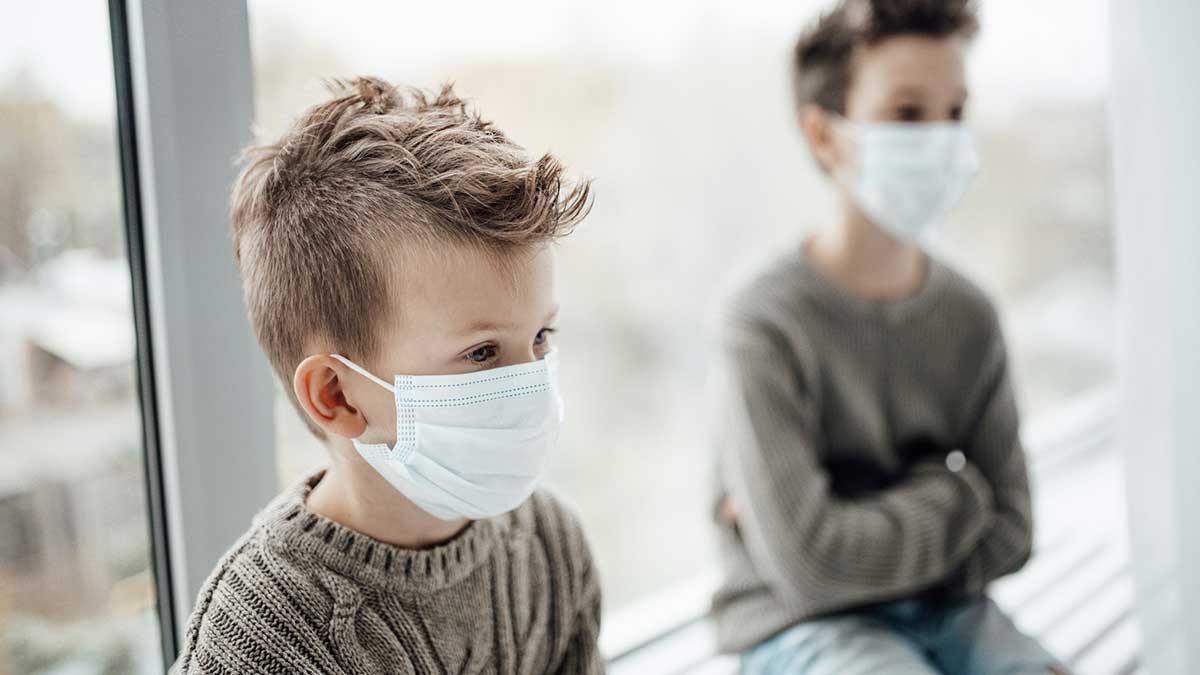 Knowledge is the best tool to fight against fear. A wise person chooses to be informed so they can make sound decisions. To join the fight against COVID misinformation, you can share this update through your social media platform of choice.
[KING COUNTY, Wash.] – (MTN) Hospitals in Eastern Washington continue to struggle with more officials warning they are running out of staff and resources. Counties with higher vaccination rates have fewer new COVID cases, while counties with low vaccination rates run out of options.
There were more COVID cases in all three school districts we are monitoring, including Peter Kirk Elementary and an expansion of quarantined students at Juanita High School and Kamiakin Middle School.

The Washington Federation of State Employees overwhelmingly approved a compromise agreement with Washington in support of the Governor's vaccine mandate.
The Proud Boys and Patriot Prayer ignored a court order barring protests within one mile of Vancouver, Washington schools. The same organizers of the ongoing Vancouver protests have an event scheduled in Woodinville on September 25.
New data from the CDC shows that Moderna is the vaccine winner against the Delta variant and provides a hint on why the Johnson and Johnson vaccine has all but disappeared.
Reactions to announcements made by the Biden Administration yesterday are following partisan lines to the surprise of no one.
Finally, you probably heard about a study that indicated that 85% of men who take ivermectin become infertile. A study that we haven't mentioned until right now. We cover that one in our misinformation section.
This update uses the latest data from the Washington State Department of Health released on September 10, 2021.
---
Washington State Update for September 10, 2021
Washington state COVID update
Although COVID cases remain on a plateau statewide, counties with lower vaccination rates have more new cases per capita.
| Percent of Total Population Fully Vaccinated | Average 14-Day New Case Rate (unadjusted) |
| --- | --- |
| 50.00% or above (12 counties) | 517.8 |
| 40.00% to 49.99% (17 counties) | 697.2 |
| 27.30% to 39.99% (10 counties) | 828.5 |
| | |
14-Day New COVID Cases per 100K average by Vaccination Rate, Not Adjusted for Population
In the South Central Hospital Region, which includes Benton, Franklin, Klickitat, Walla Walla, and Yakima counties, new cases are 844.9 per 100K people.
Through September 9, Washington's statewide 14-day rolling average was 508.0 COVID cases per 100K. Clallam (1,008.2 per 100K), Columbia (1,075.3 per 100K), Franklin (1297.0.0 per 100K), Lincoln (1049.5 per 100K, Okanogan (1,001.6 per 100K), and Stevens (1,060.5 per 100K) reported an extreme number of new cases. Counties in the 800.0 to 999.9 per 100K range include Asotin, Benton, Chelan, Cowlitz, Douglas, Grant, Lewis, Pend Oreille, and Yakima. Garfield County dropped to 764.0
King County is at 301.1 cases per 100K, statistically unchanged from yesterday.
The Washington State Department of Health reports a data backlog for test positivity, with the published number 14 days old. According to Johns Hopkins University Medicine, the positivity rate for the last 30 days is 13.73%, and over the previous 7 days, 13.84%. These numbers indicate the state is under testing, and testing locations are becoming overwhelmed in the hardest-hit counties. The rate of hospitalization was flat to down across all age groups.
| Age Group | 7-Day Case Rate | 7-Day Hospitalization Rate |
| --- | --- | --- |
| Ages 0-11 | 28.3 (up) | 0.1 |
| Ages 12-19 | 22.0 | 0.2 |
| Ages 20-34 | 50.4 (down) | 1.2 (down) |
| Ages 35-49 | 45.2 | 2.8 |
| Ages 50-64 | 33.2 | 3.8 (down) |
| Ages 65-79 | 16.6 | 3.8 (down) |
| Ages 80+ | 5.1 (down) | 1.6 |
7-day case rate and 7-day hospitalization rate is per 100K within the age group – the target for 7-day case rate is <25.0, but there are other factors such as vaccination rates within the age groups, how many total tests within the 7-day period, and the positivity rate within each age group
The USA Today COVID Tracker reported 59 deaths yesterday.
Washington Federation of State Employees union ratifies COVID vaccination mandate agreement
Members of the Washington Federation of State Employees ratified an agreement with the state addressing the effects of Governor Inslee's vaccine mandate. The vote concluded Thursday night, with more than 80 percent casting their ballot in favor of ratification.
The agreement provides an additional leave day, a retirement option, vaccine access and education on work time, and a fair, equitable, and consistent process for employees seeking a medical or religious exemption.
"Our union was able to achieve what we set out for—a victory for public health and due process," said WFSE President and Psychiatric Social Worker Mike Yestramski.
State employees have until this Sunday to get their first dose and comply with the October 18 deadline to be totally vaccinated. Although the Johnson & Johnson vaccine could be received as late as October 4 to meet the deadline, the supply of the single-dose vaccine is low.
Patriot Prayer, Proud Boys, and activists ignore protest injuction in Vancouver
Multiple groups protested at Skyview High School in Vancouver in defiance of a court order restricting protests within one mile of any school in the city. Skyview High School parents received an e-mail informing them of the multiple protests planned. The school district added security and was "coordinating with the Clark County Sheriff's Office."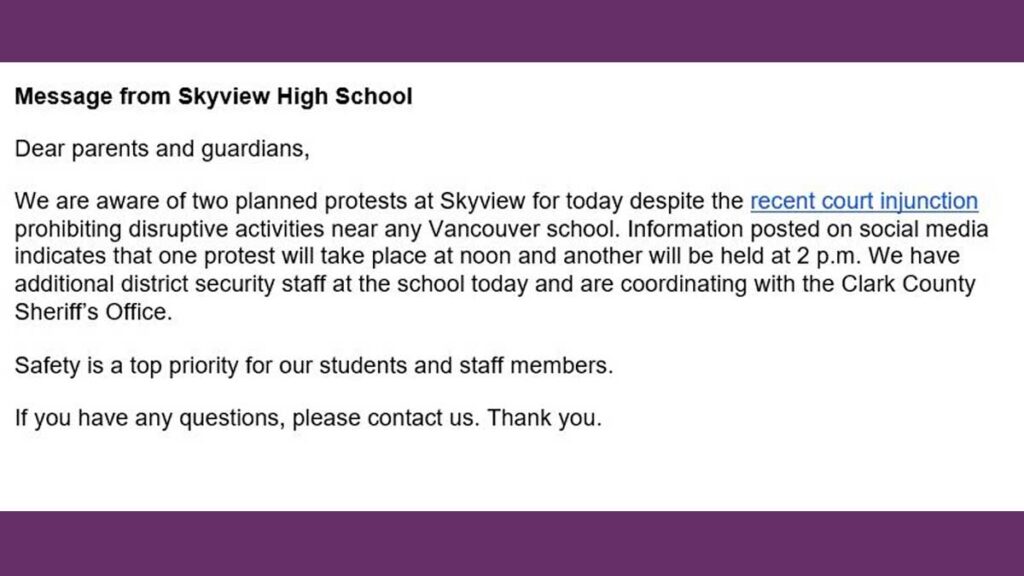 Members of Patriot Front, the Proud Boys – including Tusitala "Tiny" Toese, and the Washougal Moms protested on school grounds and across the street. Police did not intervene to enforce the court order. The group then left to protest at the home of Clark County district judge Suzan Clark's home. Social media posts and a website listed the judge's address publicly, and on Telegram, there were calls to come armed to her home. Protesters arrived at the published address this afternoon to find that it wasn't the residence of Judge Clark.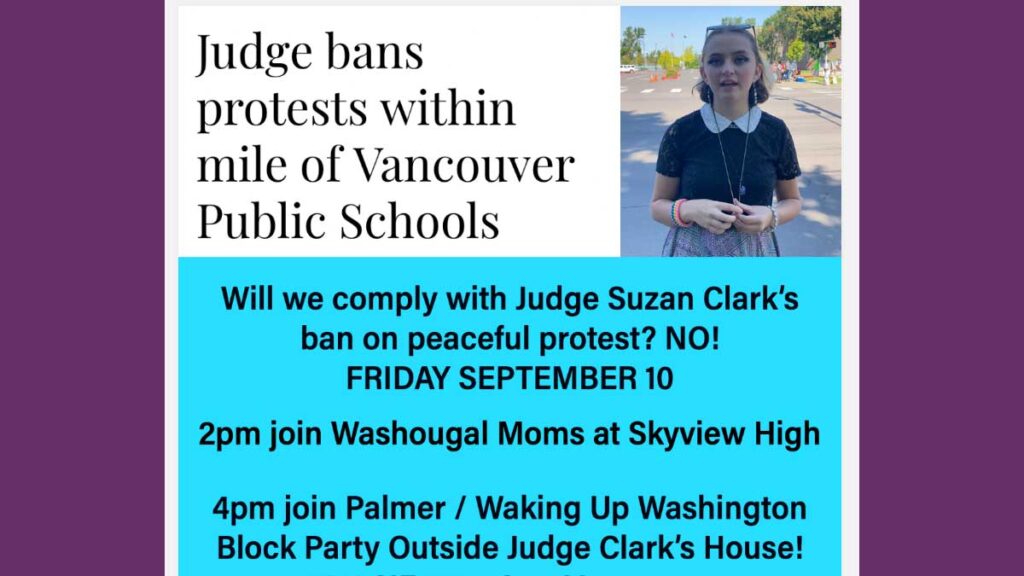 The group that organized the planned protest at the judge's home also organizes anti-vaccination protests across Washington state, including upcoming area protests in Seattle, Marysville, and Woodinville. The Seattle Truth Network, in coordination with Wake Up Washington, is planning an anti-vaccination event on September 25 at Rooster's Bakery and Cafe in Woodinville.
Palmer Davis of La Center is behind the announcement to protest at the judge's house yesterday. Davis ran for a city council seat in La Center last month, receiving 4.68% of the vote in a 4 candidate field.
The anti-vaccination and the anti-government movements are intersectional, with Open Schools USA, Wake Up Washington, and Washougal Mom's have embraced support from right-wing organizations. In a study released on August 27, the Proud Boys were among the top three factions in the country that brandished firearms at protests, and Patriot Prayer was among the top ten. The same study found that 25% of the events that the Proud Boys showed up at descended into violence.
Travel Advisories
We recommend avoiding all travel to Yakima, Klickitat, Benton, Franklin, and Walla Walla counties, along with the state of Idaho. Hospital resources in these regions are so constrained that you may receive inadequate care if you experience a medical emergency.
Thank you
Thank you to our new subscribers and those of you who have made one-time contributions. On behalf of the entire team, thank you for helping us keep the lights on!
Vaccination
The CDC Morbidity and Mortality Weekly Report (MMWR) included a new report studying the Interim Estimates of COVID-19 Vaccine Effectiveness Against COVID-19–Associated Emergency Department or Urgent Care Clinic Encounters and Hospitalizations Among Adults. The report studied vaccine effectiveness against the Delta variant in nine states from June to August.
The research data was collected from 187 hospitals and 221 emergency departments and urgent care clinics. The nine states utilized were selected because the Delta variant accounted for at least 50% of the laboratory-confirmed COVID cases at the start of the study period. Researchers examined confirmed COVID cases among 32,867 adults 18 and over, and vaccination status was confirmed using electronic records and immunization registries. For the study, a person was considered fully vaccinated 14 days after they received their final dose.
The median age of an infected person was 43 years old, and the median age for an individual hospitalized was 65. The study did not take into account factors such as weight, race, community COVID restrictions or mandates, or comorbidities.
The study found that the Moderna vaccine was the most effective against the Delta variant, followed by Pfizer and Johnson & Johnson. For the Johnson & Johnson vaccine, some of the data is concerning.
| Vaccine | Effectiveness Against Delta Variant | Effectiveness Against Hospitalization |
| --- | --- | --- |
| Johnson & Johnson | 65% | 60% |
| Moderna | 92% | 95% |
| Pfizer | 77% | 80% |
| All Vaccinated Individuals | 82% | 86% |
CDC Study on vaccination effectiveness against the Delta variant – September 10, 2021
The study does have several limitations. Overall vaccine effectiveness and how much immunity declines over time have not been fully evaluated, and the time between being completely vaccinated before testing positive was not considered. The study did not account for partial vaccinations, with data included in the unvaccinated group. Lastly, although the study uses a significant population sample, the findings are likely too narrow to apply to the entire United States.
The federal government stopped the distribution of the Johnson & Johnson vaccine in June of this year, and doses are very hard to find. This report provides some insight into why the one-dose vaccine has fallen out of favor.
Hospital Status
According to the DoH COVID Dashboard, 22.4% of all acute care patients hospitalized in Washington have COVID. A hospital system caring for this many COVID-positive patients in acute care is considered to be under "severe stress." ICUs are at 89.6% of capacity statewide, with 34.1% of ICU patients fighting COVID, a small increase compared to yesterday.
The new hospital admission rate for COVID patients is 176 per day on September 7. The Department of Health reported there were 1,755 COVID patients statewide and 261 on ventilators.
Yesterday, we reported that at least one hospital in Yakima was having to ration care and warned they were close to crisis standards of care. In Colville, Mount Carmel Hospital is full, and more than half of the patients have COVID.
"Stevens County today has 14. When you think about only having 25 beds or less in critical access," Peg Currie, the chief operating officer at Providence Healthcare, explained. "Imagine what the emergency rooms are like, the waiting lists are like, to try to get into a higher level of acute care."
The Walla Walla County Department of Community Health reported over the last 2 weeks, Mary Hospital had no beds available, and the county recorded the most lab-confirmed cases of COVID in a single month since the pandemic began. On Wednesday, 90% of the hospitalized COVID patients in Walla Walla were unvaccinated.
Officials in Spokane County held a press conference today, reporting a record number of COVID and total patients in the hospital.
As of Friday morning, 150 patients with COVID-19 are hospitalized at Sacred Heart and Holy Family Hospital in Spokane, and 95% are unvaccinated, Providence COO Peg Currie said during the press conference.
"It's not a record that we wanted to break, but we have broken that," Currie said. "Many of these [patients] are in our ICUs, and everybody that is in the Sacred Heart and Holy Family ICU now on a ventilator is not vaccinated."
The age group that Providence is seeing the most in its hospitals is 40 to 50 years old, Currie said, which is much younger than previously hospitalized patients.
Back to School
School District
Status
Quarantines
Closures
Bellevue

YELLOW

– Bellevue (7)
– Chinook (10)
– Highland (1)
– Interlake (1)
– Newport (3)
– Sammamish (2)
– Somerset (1)
– Tillicum (1)
– Tyee (1)
– Woodridge (13)
None
Lake Washington

RED

– Kamiakin Middle School (94)
– Juanita Elementary (1)
– Juanita High School (37)
– Peter Kirk Elementary (2)
– Thoreau Elementary (4)
– Mark Twain Elementary – 2nd-grade class (multiple confirmed cases)
Northshore

YELLOW

– Arrowhead Elementary (1)
– Bothell High School (18)
– Canyon Creek Elementary (10)
– Canyon Park Middle School (4)
– Crystal Springs Elementary (5)
– East Ridge Elementary (2)
– Fernwood Elementary (2)
– Frank Love Elementary (9)
– Hollywood Hills Elementary (1)
– Inglemoor High School (1)
– Kenmore Elementary (1)
– Kenmore Middle School (10)
– Maywood Hills Elementary (2)
– North Creek High School (11)
– Ruby Bridges Elementary (2)
– Shelton View Elementary (6)
– Skyview Middle School (11)
– Sunrise Elementary (1)
– Timbercrest Middle School (6)
– Westhill Elementary (5)
– Woodin Elementary (1)
– Woodinville High School (6)
– Woodmore Elementary (9)
None
Local Districts Scorecard
The number of students moving to quarantine expanded at Juanita High School and Kamiakin Middle School in the Lake Washington School District. Parents were notified that 29 at Juanita High and 13 at Kamiakin had close contact with a positive COVID case. Additionally, parents at Peter Kirk Elementary were notified that 2 students had been put into quarantine due to a COVID exposure.
Multiple school districts throughout Western Washington are reporting COVID cases, including Shoreline and Edmonds.
The next board meeting for the Lake Washington School District is Monday, September 13, 2021, at 7:00 PM and will be remote only.
Kirkland-Bellevue-Woodinville
No update
National Round-Up
Johns Hopkins University Cumulitaive Case Tracker was not updated at press time.
Yesterday's announcement by the Biden Administration's mandating the COVID vaccine for most federal employees and contractors, and requesting OSHA to implement a program that mandates vaccination or weekly COVID screening at companies with 100 or more employees, is being met with fierce resistance along partisan lines.
The governors of Arizona, Indiana, Georgia, Montana, South Carolina, Tennessee, and Texas vowed to fight the looming OSHA rules in court. During a visit with first lady Jill Biden to a middle school in Washington D.C., the president was asked his message to Republicans who decry the vaccine mandates as federal overreach and plan to challenge them in court.
"Have at it," Biden said. "We're playing for real here. This isn't a game."
Alaska
Officials reported another record number of patients in the hospital with COVID as the medical struggles to cope. Large hospitals in cities such as Anchorage are so full of COVID patients that rural hospitals can't transfer critical care patients. Similar to Idaho, Oregon, and Eastern Washington, patient care is starting to suffer as hospitals weigh their options.
Nome's hospital doesn't even have any COVID-19 patients, but it still faces "a COVID problem," as Dr. Tim Lemaire, a family practitioner and member of the Norton Sound Health Corp. incident command team, put it. "We don't have COVID here, but we can't get our regular patients … care because of COVID everywhere else."
Trying to move patients with heart attacks, strokes, or injuries from four-wheeler accidents, Norton Sound Regional Hospital sometimes has to call three or four facilities to find an open bed, at least once moving a patient all the way to Seattle to get them into an ICU.
State officials say rural hospitals throughout the state are suddenly facing unheard-of medical situations because they're holding patients they've never had to before.
Brian Ritchie, the state's health emergency response operations manager, helped a rural hospital find oxygen supplies after COVID-positive patients on high-flow therapy ran through existing cylinders faster than expected.
California
San Francisco schools started in-person instruction on August 16. A month later, the school district has reported 227 confirmed COVID infections among 52,000 students and almost 10,000 staff. Officials noted that in San Francisco, 90% of students age 12 to 17 are fully vaccinated.
The district hasn't experienced a single outbreak during the first month of instruction. Officials define an outbreak as "three or more cases in non-related households in which the source of infection occurred at the school, and not another setting."
The San Francisco health department also emphasized that vaccinations "are our best defense to protect children," noting most pediatric cases of COVID-19 in the city came from unvaccinated adults in a household getting the virus and spreading it to unvaccinated children.
Colorado
Hospitals are starting to move to surge plans as the number of available ICU beds dropped below 200 today. COVID-19 Incident Commander Scott Bookman spoke with reporters today at a press conference with Governor Jared Pollis.
"The difference between this wave and all past waves is that Coloradans have returned to their normal lives," Bookman said. "Those who have been vaccinated have been given the opportunity to go out and live their lives. What comes with that is additional cases of trauma, additional heart attacks, additional strokes – we have seen people who have delayed receiving care over the course of the pandemic because they were afraid to go to their doctor. And this is all coming together with the increase in COVID hospitalizations at this point to really stress our health care system."
Colorado's hospitals report that 81% of those hospitalized in the state are unvaccinated, and 85% of recent COVID deaths were unvaccinated, said Herlihy.
Florida
Less than 24 hours after a court blocked a mask mandate ban in Florida, the First District Court of Appeal has reinstated a stay on DeSantis' ban on mask mandates in schools.
DeSantis' press secretary Christina Pushaw tweeted: "(First) District Court of Appeals just granted the State of Florida's request to reinstate the stay — meaning, the rule requiring ALL Florida school districts to protect parents' rights to make choices about masking kids is BACK in effect!"
Yesterday, a Brevard County School Board meeting was far more subdued than the August 30 meeting that made national headlines. While things were quieter outside, a crowd of over 20 people gathered to burn masks. A counter-protestor with a megaphone, a Firehouse Subs helmet, and a fire extinguisher lectured them about fire safety and threatened to put out any fire they lit.
Megan Alexandra Blankebhiller of Jacksonville, Florida, arrived in a hospital emergency room on August 13. As she waited to be seen, she shot a short Tik Tok video, where the screams of another person could be heard in the background. The screams were coming from a person who had lost a loved one in another area of the emergency department.
Blankenbiller, who was 31 and unvaccinated, was admitted to the hospital with COVID. She made a series of videos appealing for her followers to get vaccinated from her bed as her condition declined.
"I shouldn't have waited," she said in the video, which has been viewed nearly 900,000 times. "If you are even 70% sure that you want the vaccine, go get it. Don't wait. Go get it because hopefully, if you get it, you won't end up in the hospital like me."
By August 20, Blankenbiller was in critical condition and on a ventilator, and she died shortly thereafter. Blankenbiller's sister, Cristina Blankenbiller, told WebMD in an interview that their family had agreed to get vaccinated, including Alexandra, shortly before she became ill.
Idaho
The Panhandle and North Central Health Districts in Idaho continue to operate using "crisis standards of care." We strongly recommend not to travel to Idaho during this time of medical crisis. Any health emergency requiring hospitalization could result in you receiving inadequate care.
Illinois
Veronica Wolski was well known in the Chicago area for producing videos and harassing retail employees and people wearing masks. In one video, she walked through a Staples, wearing a "Lone Ranger" style mask, telling the manager who asked her to wear a mask that she has one on and has a medical condition that exempts her.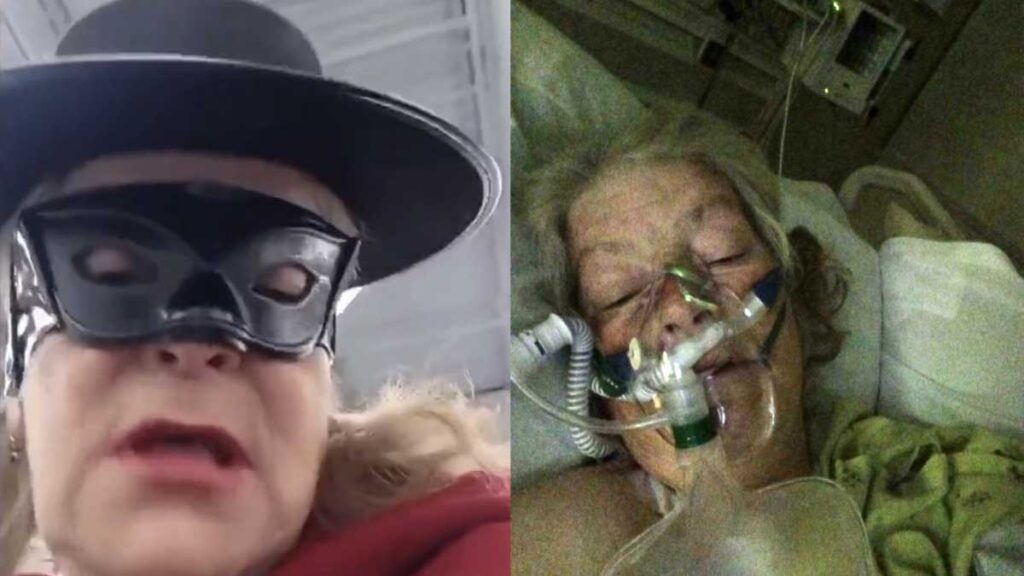 Wolski is hospitalized with COVID at Ressurection Medical Center in Norwood Park, Illinois. According to her supporters, she has requested to be treated with ivermectin, and the hospital has refused. Wolski was known in QAnon circles. Her situation has drawn the attention of disgraced attorney Lin Wood and former National Security Advisor Michael Flynn (have we mentioned lately how the anti-vaccination and the anti-government movements are intersectional).
The hospital is being flooded with phone calls and e-mails after deciding not to treat her with ivermectin. Hospital officials released a statement to the media about the state of her care.
"At AMITA Health, our first priority is the health and safety of our patients. Our physicians and clinicians follow the full guidance of the FDA and the CDC in the treatment of COVID-19. And while AMITA Health Resurrection Medical Center has received hundreds of phone calls and emails associated with one patient's care, we have simply and respectfully noted the concerns shared."
The largest peer-reviewed study on the effectiveness of ivermectin in treating COVID so far indicated that the anti-parasitic provided no benefit compared to a placebo. For hospitalized patients, it made them sicker.
Oregon
The good news is Oregon appears to have a peak in cases and hospitalizations. The same forecast that accurately predicted the peak now is forecasting that cases will only gradually fall off over the next two to three months, leaving hospitals in the state straining to care for patients.
Hospitalizations peaked at 1,178 COVID-19 cases on Sept. 1, and critical care resources remain under extreme strain, with roughly half of all intensive care units in the state filled with COVID-19 patients who are largely unvaccinated.
"It looks like we are seeing the flattening of cases that we had hoped for," said Peter Graven, Ph.D., lead data scientist in OHSU's Business Intelligence unit. "However, we are still projecting it will be a very long time before hospitalization levels return to more manageable levels.
Tennessee
Tennessee High schooler Grady Knox's passionate plea for the health of himself and others was mocked earlier this week at a Rutherford County Board of Education meeting, a scene that has drawn national attention.
Knox was ridiculed, even laughed at, Tuesday evening by some in the school board meeting audience when he said his grandmother died of COVID-19 after being exposed to a person without a mask.
Knox's grandmother lived at Adams Place retirement community in Murfreesboro before she died of COVID-19.
After three hours of debate and Knox being heckled, the board decided to have masks remain optional at the school.
One of the persons who heckled Knox was quickly identified as Erika Casher, a nurse who had spoken at other school board meetings. It was reported today that Casher was terminated from her position with Cigna.
Texas
Karra Harwood of Baycliff, Texas, is mourning the death of her 4-year old daughter, Kali Cook, who died of COVID. Harwood, who is unvaccinated, had become sick and was confirmed to have on Monday. After her diagnosis, she isolated herself from her family.
Later that evening, Kali's grandmother noticed she was sick, and at 2 a.m. found that she had a fever. At 7 a.m., she was found dead in her bed. An autopsy confirmed that Kali also had COVID.
"She was so funny and sassy," said Karra Harwood, Kali's mother. "She wasn't your average little girl. She'd rather play with worms and frogs than wear bows. She was just so pretty and full of life."
Harwood said she didn't want people to think of her daughter as an anonymous statistic through sobs Thursday. She wanted people to know who her daughter was.
"I would rather her be a name than just a little girl," she said. "She was beautiful."
"I was one of the people that was anti. I was against it," she said. "Now, I wish I never was."
Misinformation
A lot of schadenfreude has been spilled in the news on social media after a 2011 study on the Effects of Ivermectin therapy on the sperm functions of Nigerian onchocerciasis patients reemerged. The study found that 85% of men who took ivermectin to treat onchocerciasis (river blindness) suffered from low sperm count and poor sperm quality, rendering them infertile.
The story was widely published, and tonight, many media outlets are retracting the story. We never highlighted this piece of news, and we're labeling the claim as misinformation.
The problems with the study are numerous. First, it only involved 37 men, which is a very small sample size. Researchers wanted to include more people in the study, but many were disqualified because they already had low sperm count and/or low sperm quality.
The men took ivermectin for 11 months to treat active river blindness, which is longer than almost anyone taking human or animal formulations of ivermectin as a preventative or treatment for COVID (no, it doesn't do either).
The study found that 85% of the men they observed over the 11 months had poor sperm quality and/or count, rendering them infertile. The study didn't account for other potential factors, which may have been very likely given so many test subjects were rejected before the study was done because they were already functionally infertile.
Misinformation cuts both ways, and you should always consider your own personal biases when consuming information and deciding what is fact and fiction.
Like, Share, Follow, Support