Olympia protest shooter identified as 26-year old Shoreline man
Violence over election results marred Washington D.C. and Olympia over the weekend.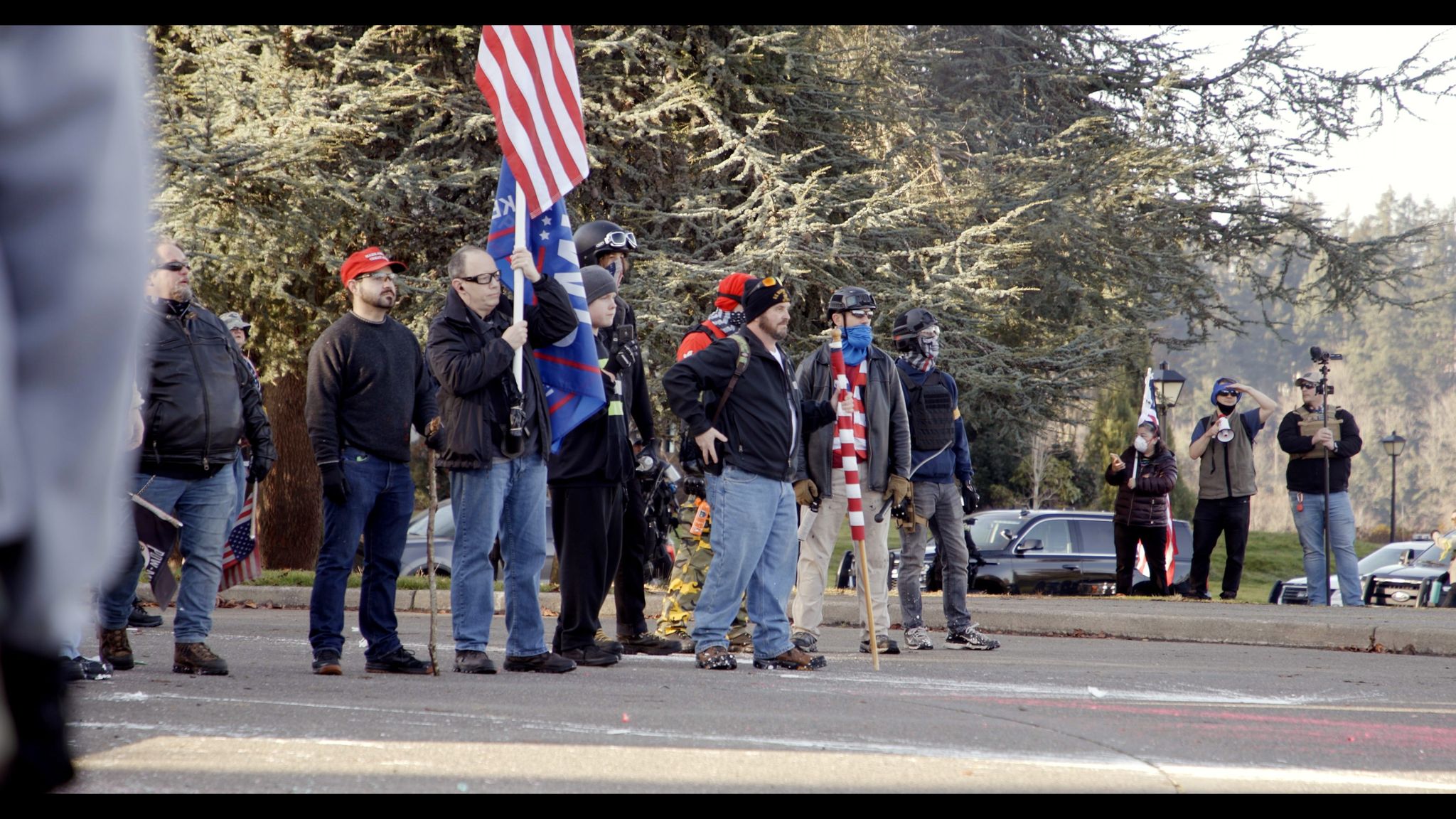 [OLYMPIA] (Malcontent News) – The Washington State Patrol confirmed that 26-year old Forest Michael Machala, of Shoreline, Washington, was the person who shot a Black activist on Saturday in Olympia, Washington. Machala in custody at the Thurston County Jail, charged with 1st-degree assault, the equivalent of attempted murder under Washington state law. Machala is presently held without bail and does not have a lawyer on record.
Social media records show Machala graduated from Roosevelt High School and is a former Boy Scout. His profile indicates he has traveled, enjoys hiking, and is otherwise unremarkable. In a photo that captured Machala, he is seen in a "Make America Great Again" Trump hat and carrying a walking stick.
On Saturday, Machala and an estimated 50 to 75 heavily armed "Stop the Steal" and anti-mask Trump supporters descended on the state capitol. They rallied to protest the 2020 Presidential election results and ongoing business restrictions. Waving Gasden, Trump, and American flags, they were met by a larger and more lightly armed group of counter-protesters. About 100 Olympia, Thurston County Sheriff, and Washington State Patrol officers tried to keep the groups separated.

A series of brawls broke out, and officers deployed crowd control measures. A woman aligned with the Trump supporters was arguing with a Black man aligned with the counter-protesters. Around 1:45 PM, Machala allegedly drew a handgun and shot the Black counter-protester in the stomach. Protesters took the victim to the hospital in a private vehicle. Social media reports indicate the victim is in stable condition.
Earlier in the day, Stephen Christopher Kurtz, 42 years old of Olympia, Washington, was arrested by Olympia police for 4th-degree assault and failure to disperse. In that incident, Kurtz is accused of brandishing a gun unprovoked. Several journalists caught the incident on camera. Kurtz was released from Olympia city jail on $1000 bail. A hearing date for Kurtz has not been set.
Saturday's shooting is the second in a week marred by gun violence. Christopher Guenzler is held at the Thurston County Jail on 1st and 2nd-degree assault charges. Guenzler is accused of shooting a protester one protester and pistol-whipping another on December 5.
Shoreline, Washington, where Machala lives, has been a flashpoint of racist activity in 2020, including threats against a group of children creating Black Lives Matter chalk art in front of their homes in August, and the attempted arson of a black-owned coffee shop in October. Officials have made no arrests in either of those incidents.
Chris Rojas contributed to this story.
Like, Share, Follow, Support