Say hello to Covid-19 VUI-OCT21-01 – local and state COVID update for October 26, 2021
The IHME forecasts Washington Covid-19 hospitalizations will begin to increase by Christmas.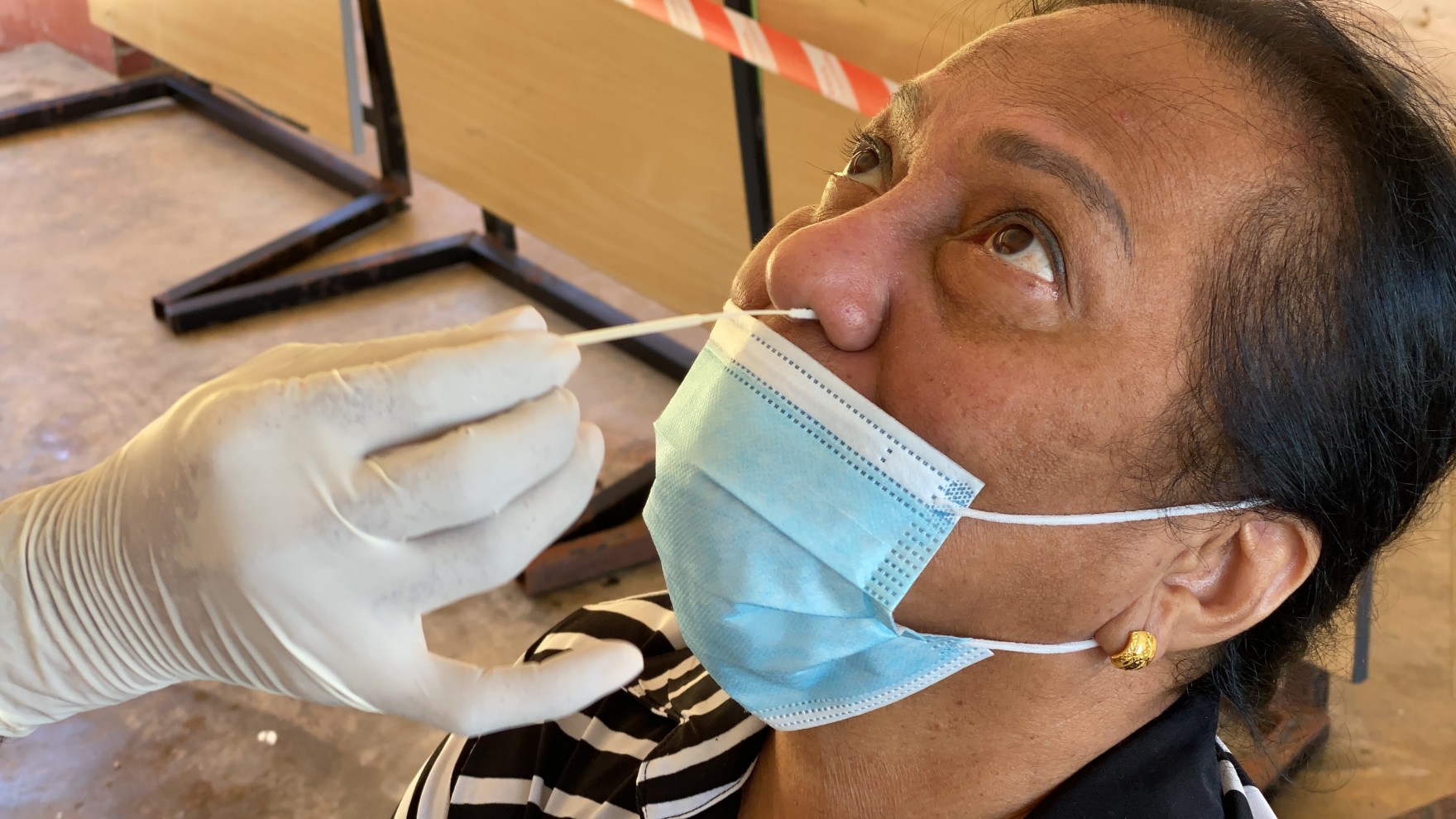 Knowledge is the best tool to fight against fear. A wise person chooses to be informed so they can make sound decisions. To join the fight against COVID misinformation, you can share this update through your social media platform of choice.
[KING COUNTY, Wash.] – (MTN) Delta AY.4.2 has been declared a "variant under investigation" by the World Health Organization and was given a new name – VUI-21OCT-01. Epidemiologists are admonishing the press for calling the variant Delta Plus so for now we refer to the new variant as Covid-19 VUI-21 ("view" 21). Maybe it will stick? Only a handful of cases have been detected with Washington in seventh place.
Closer to home, vaccination rates increased across Washington, King County, and Kirkland as new cases and hospitalizations slowly drift downward. Washington is now the tenth most vaccinated state and the most vaccinated state west of the Mississippi River.

A report from the American Academy of Pediatrics calculated 1,428 Washington children became orphans between April 2020 to June 2021 due to the Covid-19 related death of one or both primary caretakers
The Washington State Office of Financial Management reported 94% of state employees complied with the vaccine mandate and lowered the number of terminated workers.
Seattle City Light got its first seasonal windstorm test just days after a handful of workers were released for refusing to get vaccinated or seek exemptions. The public utility passed the test.
Three people were accidentally administered the Pfizer Covid-19 vaccine at Joint Base Lewis-McChord.
An FDA advisory panel recommended the agency approve emergency use authorization for the Pfizer vaccine in children ages 5 to 11 years old. The CDC is meeting on November 2 and 3 to consider the new protocol. Through June 2021, Covid-19 was the tenth leading cause of death for children 5 to 14 years old.
The situation at Washington hospitals has improved, especially in Eastern Washington where the worst appears to be over. The number of staffed acute care beds increased from last week, providing additional evidence the vaccine mandate did not drive a significant reduction in hospitalists.
There were small changes in the number of Covid-19 cases and impacted schools in the Bellevue, Lake Washington, and Northshore School Districts. The Lake Washington School District is now reporting the number of "close contacts" at each school but continues to share data only once a week.
Kirkland is holding a Health Fair and Community Vaccination Event on November 6 from 10 a.m. to 2 p.m.
The United States State Department reported that international travel restrictions will be loosened on November 8. Unvaccinated adults will find it challenging to enter the United States.
This update uses the latest data from the Washington State Department of Health (WSDOH), released on October 26, 2021.
---
Washington State Update for October 26, 2021
Washington state Covid-19 update
The Washington State Department of Health released updated vaccination data. Twenty-one counties representing 6.75 million people have more than 50% of their total population fully vaccinated. Jefferson, King, and San Juan counties are over 70% vaccinated, adding a new row to the table.
Data continues to show that counties with higher vaccination rates have fewer new Covid-19 cases.
| Percent of Total Population Fully Vaccinated | Total Population in Group | Average 14-Day New Case Rate |
| --- | --- | --- |
| 70% or above (3 counties) | 2,343,250 | 212.6 |
| 60.00% to 69.99% (4 counties) | 1,242,200 | 339.8 |
| 50.00% to 59.99% (14 counties) | 3,172,600 | 391.8 |
| 40.00% to 49.99% (10 counties) | 860,525 | 421.4 |
| 30.30% to 39.99% (8 counties) | 158,300 | 495.8 |
14-Day New Covid-19 Cases per 100K average by Vaccination Rate, Adjusted for Population
Through October 25, Washington's statewide 14-day rolling average is 335.2 Covid-19 cases per 100K indicating the state is stuck on a plateau that started last week.
Ferry County is the last area to report more than 1,000 new COVID cases per 100K residents – 1,062.0 and has declined from last week.
No counties are reporting a new case rate between 800 and 999.99.
Only three counties, Grant, Klickitat, and Skagit, have a new case rate between 600.0 to 799.9. Skagit is new to this list and has seen a steadily increasing number of new cases over the last 7 to 10 days.
No particular age group appears to be driving the new case plateau. It is possible that new mass testing sites in Yakima and Spokane counties have added more data. Washington won't report new case positivity until next week at the earliest, which would reveal if the community is being under-tested.
| Age Group | 7-Day Case Rate | 7-Day Hospitalization Rate |
| --- | --- | --- |
| Ages 0-11 | 150.2 | 0.7 |
| Ages 12-19 | 157.3 | 0.8 |
| Ages 20-34 | 152.7 | 3.5 |
| Ages 35-49 | 159.7 | 8.1 |
| Ages 50-64 | 125.1 | 11.6 |
| Ages 65-79 | 101.4 | 20.2 |
| Ages 80+ | 101.8 | 34.8 |
7-day case rate and 7-day hospitalization rate is per 100K within the age group – the target for 7-day case rate is <25.0, but there are other factors such as vaccination rates within the age groups, how many total tests within the 7-day period, and the positivity rate within each age group
The USA Today COVID Tracker reported 29 Covid-19 related deaths in Washington state on Monday.
94% of state employees complied with vaccine mandate
The Washington State Office of Financial Management reported 91% of all impacted state employees were fully vaccinated by October 18 as leaders continue to review the data. Approved accommodations grew slightly to 3.2% -1,999 employees. Another 1,941 workers are pending action such as completing their vaccinations, retirement, awaiting status on an accommodation request, or facing termination.
Last week the state reported 1,887 employees had quit or been terminated, that number declined to 1,785. The number of potential separations due to resignation, retirement, or termination grew to 444 for the Washington State Department of Transportation and 159 for the Washington State Patrol. The data for the WSP did not have a separate number for commissioned officers and civilian employees.
The state agencies with the lowest vaccination rates are the Department of Veterans Affairs and Employment Security.
The OFM will provide another, and likely final update on November 8.
Seattle City Light passes first post-mandate test
At the height of the weekend windstorm on Sunday afternoon, almost 80,000 Seattle City Light customers were in the dark. Some had speculated that staffing loss due to the vaccine mandate would cripple the ability to restore power in the Emerald City, but that didn't happen
On Monday afternoon power had been restored to 98% of impacted customers and on Tuesday morning only 27 customers were still in the dark for weather-related reasons. Of those, only one had been without power since Sunday.
1,428 Washington children were orphaned due to Covid-19 from April 2020 to June 2021
The American Academy of Pediatrics reported 1,428 Washington state children were orphaned (page 39) because one or both primary caregivers died as a result of Covid-19 from April 1, 2020, to June 30, 2021.
The study defined orphanhood as losing at least one parent because children who lose at least one parent have increased risks of mental health problems, abuse, unstable housing, and household poverty.
Over 140,000 children in the U.S. experienced the death of a parent or grandparent caregiver. The risk of such loss was 1.1 to 4.5 times higher among children of racial and ethnic minorities, compared to Non-Hispanic White children. The highest burden of COVID-19-associated death of parents and caregivers occurred in Southern border states for Hispanic children, Southeastern states for Black children, and in states with tribal areas for American Indian/Alaska Native populations.
3 people inadvertently administered Covid-19 vaccine at Joint Base Lewis-McChord
The Army Times reported three people were accidentally given the Covid-19 vaccine at the Lewis Main Exchange in Tacoma, Washington.
"Joint Base Lewis-McChord is aware three people were inadvertently administered the Pfizer Covid-19 vaccine instead of another vaccine at the Lewis Main Exchange," Col. Joey Sullinger with I Corps Public Affairs said in an email to Military Times.
The incident happened on or about October 26. Col. Sullinger did not share if the people who received the wrong vaccine were civilian dependents, retirees, government contractors, National Guard, or active duty military.
Travel Advisories
We are very encouraged by the hospital readiness data for the East Hospital Region and believe we can end the travel advisory in the next seven to 14 days. For now, we're maintaining our recreational travel advisory to the East Hospital Region, including Adams, Asotin, Ferry, Garfield, Lincoln, Pend Oreille, Spokane, Stevens, Wahkiakum, and Whitman counties. Acute care and ICU capacity remain limited.
Additionally, we are maintaining the travel advisory for the Northwest Hospital Region. The region includes Clallam, Jefferson, Kitsap, and Mason counties.
We continue to strongly advise against all nonessential travel to Alaska, Idaho, Montana, and Wyoming. Hospital resources in these regions are constrained, and you may receive inadequate care if you experience a serious medical emergency.
Thank you
Thank you to our new subscribers and those of you who have made one-time contributions. On behalf of the entire team, thank you for helping us keep the lights on!
Vaccination
Number of fully vaccinated climbs in Washington, King County, and Kirkland
The number of Washington residents 12 and older fully vaccinated grew to 72.5%, the tenth highest in the United States and the highest rate west of the Mississippi River. Despite the increasing rate for fully vaccinated, the number for full and partial vaccination is 78.6%, barely changed from last week. In late April, Washington was one of the last states to make the Covid-19 vaccine eligible to all residents, further highlighting the accomplishment of health officials.
King County Health reported 88.1% of residents 12 and older have received at least one dose and 82.7% are fully vaccinated. In Kirkland, 84.3% of eligible residents are fully vaccinated, and 89.6% have received at least one dose.
The vaccination rates in Kirkland remain lower than in Bellevue, Redmond, and Woodinville.
FDA advisory panel recommends Pfizer vaccine for children ages 5 to 11 in 17-0-1 vote
A panel of independent advisers to the Food and Drug Administration is recommending that the agency issue an emergency use authorization for the Pfizer-BioNTech vaccine in children ages 5 to 11 years old. The vote was 17 in favor and one abstention.
NPR reported the FDA panel accepted Pfizer's data indicating the vaccine is safe and 90.7% effective in preventing COVID-19 infections in this age group.
The agency typically goes along with the advice of its expert panels, though it isn't bound to do so. It will issue a decision within the next several days. If the FDA authorizes the vaccine for these younger children, as seems likely, another panel of experts advising the Centers for Disease Control and Prevention would make its own recommendations and offer guidelines next week on its use among this age group.
Due to federal supply agreements, vaccination can't begin until the Center for Disease Control (CDC) formally recommends the Pfizer vaccine and FDA protocols. The CDC panel is meeting on November 2 and 3, paving the way for approval by the end of next week.
Covid-19 became the tenth leading cause of death for children 5 to 14 years old in the United States before the recent Delta variant surge.
Hospital Status
According to the DoH COVID Dashboard, 90% of all staffed acute care beds are occupied, and 14.5% of patients have Covid-19. Statewide, hospitals have the staff to support approximately 697 additional acute care patients. This is the highest number available since September and indicates that staff cuts attributed to the vaccine mandate have not had a significant impact on hospital readiness.
ICUs are at 87.0% of capacity statewide, with 24.0% of ICU patients fighting Covid-19 – an estimated 286 patients with 69.5% on ventilators. The state has the staff to support approximately 155 additional ICU patients.
On Tuesday, the 7-day rolling average hospital admission rate for new COVID patients decreased to 86. The Department of Health reported 1,082 Covid-19 patients statewide on October 25, with 199 requiring ventilators. Hospitalizations continue to decline slowly in stair steps. Over the last ten days, the number of hospitalized COVID patients has ranged from 1,044 to 1,119.
Hospital readiness has improved across most regions, especially the East Region which is benefiting from increased vaccination rates, more tests sites enabling early detection, monoclonal antibodies, and new cases slowing down in neighboring Idaho.
| Hospital Region | Counties | ICU Occupancy | ICU COVID Patients | Acute Care Occupancy | Acute Care COVID Patients |
| --- | --- | --- | --- | --- | --- |
| East | Adams, Asotin, Ferry, Garfield, Lincoln, Pend Oreille, Spokane, Stevens, Wahkiakum, Whitman | 85.0% | 32.3% | 89.5% | 20.2% |
| North | Island, San Juan, Skagit, Whatcom | 62.8% | 27.4% | 70.4% | 9.0% |
| North Central | Chelan, Douglas, Grant, Okanogan | 95.8% | 55.2% | 79.2% | 26.6% |
| Northwest | Clallam, Jefferson, Kitsap, Mason | 88.3% | 37.1% | 95.6% | 19.0% |
| Puget Sound | King, Pierce, Snohomish | 91.0% | 20.0% | 94.4% | 12.5% |
| South Central | Benton, Columbia, Franklin, Kittitas, Walla Walla, Yakima | 89.1% | 22.2% | 84.0% | 18.1% |
| Southwest | Clark, Cowlitz, Klickitat, Skamania | 70.6% | 21.7% | 87.9% | 15.5% |
| West | Grays Harbor, Lewis, Pacific, Thurston | 87.5% | 27.7% | 91.3% | 17.7% |
Hospital status by region – ICU Occupancy should be below 80%, ICU COVID Patients should be below 20%, Acute Care Occupancy should be below 80%, and Acute Care COVID Patients should be below 10%
Back to School
School District
Status
Less than 10 Active Cases
10 or More Active Cases
Bellevue

YELLOW

– ESC East (1*)
– Ardmore (3*)
– Bellevue (1*)
– Bennett (1*)
– Cherry Crest (1*)
– Interlake (1*)
– Lake Hills (1*)
– Newport (1*)
– Newport Heights (1*)
– Puesta del Sol (1*)
– Sammamish (2*)
– Sherwood Forest (1*)
– Spiritridge (2*)
– Stevenson (3*)
None
Lake Washington

YELLOW

– Blackwell Elementary (4)
– Carson Elementary (6)
– Clara Barton (4)
– Einstein (3)
– Eastlake High (11)
– Ella Baker (8)
– Finn Hill Middle School (6)
– ICS (4)
– Juanita Elementary (3)
– Kamiakin Middle School (20)
– Kirk Elementary (2)
– Lakeview Elementary (3)
– Lake Washington High School (27)
– Muir Elementary (1)
– Redmond Elementary (9)
– Redmond Middle School (64)
– Redmond High School (46)


– Timberline Middle School (45**)


– Twain Elementary (27)
None

Northshore

YELLOW

– Arrowhead Elementary (1)


– Bothell High School (21**)


– Canyon Creek Elementary (10)
– Canyon Park Middle School (7)
– Crystal Springs Elementary (13)
– East Ridge Elementary (3)
– Fernwood Elementary (1)
– Frank Love Elementary (38)
– Hollywood Hills Elementary (2)
– Inglemoor High School (14)


– Kenmore Elementary (7**)




– Kenmore Middle School (25**)


– Kokanee Elementary (13)


– Lockwood Elementary (10**)




– Maywood Hills Elementary (3)


– North Creek High School (10**)
– Northshore Middle School (15)
– Ruby Bridge Elementary (55)
– Shelton View Elementary (1)
– Skyview Middle School (17)
– Timbercrest Middle School (11)
– Wellington Elementary (19**)
– Westhill Elementary (6)


– Woodin Elementary (38**)


– Woodinville High School (2)


– Woodmoor Elementary (1)



Local Districts Scorecard – * indicates positive cases only ** indicates 5 or more confirmed positive cases
We redefined the school district statuses. Information for classroom and building closures has been a challenge to obtain, both for closures and reopening. We are adopting moving any school with more than ten active COVID cases reported into the red, and we've adjusted the third column to reflect this change.
New cases have increased in the Bellevue School District but remain distributed across multiple buildings with no hot spots.
The Lake Washington School District is now tracking Covid-19 cases and "close contacts," providing additional insight. However, the district continues to publicly update the data on a weekly basis. Timberline Middle School has five confirmed bases between students and staff and another 40 in quarantine.
The Northshore School District has fewer buildings with cases but has seven schools reporting five to nine confirmed COVID cases.
We continued to encourage parents to request daily updates from the Lake Washington School District. We would also encourage parents to request the Bellevue School District include data on close contacts. These two changes would bring the three school districts we track into alignment.
Kirkland-Bellevue-Woodinville
Kirkland Health Fair and Community Vaccination Event on November 6
The Kirkland Health Fair and Community Vaccination Event will be held on Saturday, November 6, from 10 a.m. to 2 p.m at Juanita High School. Hosted by the City of Kirkland in partnership with Public Health – Seattle and King County, the event will provide Covid-19 vaccination, information, education, and more.
National Round-Up
Johns Hopkins University Cumulative Case Tracker reports 102,898 new cases and 1,041 deaths nationwide on Tuesday. New Covid-19 cases have dropped 57% since September 1.
Delta AY.4.2 gets a new name – VUI-21OCT-01 and declared "variant under investigation"
The World Health Organization (WHO) designated Delta AY.4.2, incorrectly called Delta Plus as a "variant under investigation" and designated the mutation VUI-21OCT-01. The designation is below a variant of interest and variant of concern. The designation was made due to growing evidence the new variant is more transmissible than Delta.
Officials in the U.K. reported 10% of new Covid-19 cases are COVID VUI-21, a 60% increase from last week. The U.K. is wrestling with a surge of new cases that now exceeds the prior spike at the end of summer. While new cases are at record levels, hospitalizations remain below the levels of last year and deaths are 80% to 90% lower than last winter.
On the continent, Belgium has instituted fresh restrictions due to a sharp increase in Covid-19 cases while Turkey, Russian, and Ukraine set new records. Identifying which variants are creating the rise in new cases requires genomic sequencing, which is handled differently by each country. Additionally, there are doubts about the veracity of data provided by Russia and Ukraine.
New cases are surging in Eastern Europe including Romania, the Czech Republic, Slovakia, Bulgaria, and Poland. Even China is dealing with a surge of Delta cases in Beijing.
The latest IHME forecast for Washington predicts hospitalizations will bounce back to late September levels by February 1, 2022. This aligns with our point of view, that the United States will see a series of hot spots creating a mini-surge in early 2022.
Isolated cases of COVID VUI-21 have been detected in 32 states. Iowa is leading the nation while Washington is in seventh place.
International travel restrictions will be eased begining November 8
Yesterday, the Biden Administration announced that fully vaccinated non-immigrant air travelers will be allowed into the United States beginning November 8. Travelers will need to provide proof of Covid-19 vaccination prior to boarding an airplane to fly to the U.S., with only limited exceptions.
To further strengthen protections, all unvaccinated travelers will need to test negative for COVID within one day of departure. Rapid tests and home tests are not accepted.
Passengers on international flights will need to show their vaccination status to their airline prior to boarding. The vaccination information must match the name and date of birth of the traveler's identification and ticket record. Additionally, the documentation must come from an official source from a health or government agency from the same country the vaccine was administered.
Vaccines must be emergency use authorization or fully authorized by the United States Food and Drug Administration or authorized by the World Health Organization emergency use list. A person is not considered fully vaccinated until two weeks after receiving the final dose of their vaccine of choice.
Fully vaccinated travelers are still required to show a negative Covid-19 test, but the current regulation to produce a negative test result within three days of travel will remain unchanged.
There are a very limited set of exceptions from the vaccination requirement for foreign nationals. These include exceptions for children under 18, certain Covid-19 vaccine clinical trial participants, those with medical contraindications to the vaccines, those who need to travel for emergency or humanitarian reasons (with a US government-issued letter affirming the urgent need to travel), and those who are traveling on non-tourist visas from countries with low-vaccine availability as determined by the CDC.
CDC Director Dr. Rochelle Walensky was asked on Meet the Press if a travel ban on flights from Britain or Europe was being considered given the rise of Delta VUI-21.
"We're not anticipating that now," Walensky said in an interview on NBC's "Meet the Press." "We're absolutely following the science very, very carefully, but we are not anticipating or looking into that right now."
State Updates
Due to the overwhelming amount of local news, we will not do a state update today. The situation in Alaska, Idaho, Montana, and Wyoming can best be described as lousy, terrible, dire, and getting worse, in that order.
Misinformation
Taking the day off