Vysokopillya liberated as Russians retreat in Kherson
Ukrainian forces make gains in Zaporizhia, Donetsk, and Kharkiv on the same day.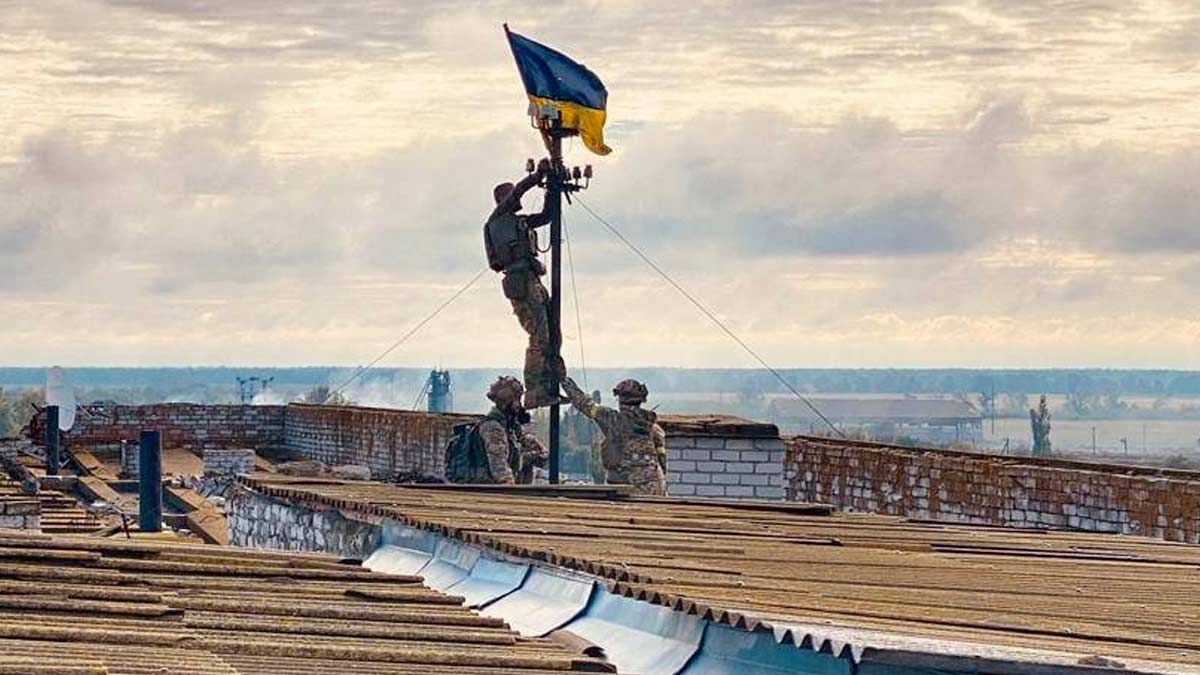 September 4, 2022, Russia-Ukraine War Update
[UKRAINE] – MTN It has been 3,111 days since Russia occupied Crimea on February 27, 2014. Here is our latest update. You can visit our Russia-Ukraine War Center to find more news about Ukraine. You can also listen to our in-depth podcast, Malcontent News Russia Ukraine War Update, hosted by Linnea Hubbard.
Kherson & Mykolaiv
Ukrainian forces liberated the strategic town of Vysokopillya in northern Kherson, breaking through the main defensive line of Russian forces and pushing them back 12 kilometers across open wheat fields. The Russian Ministry of Defense acknowledged the defeat, claiming they withdrew from the settlement to prevent encirclement and to protect the civilian population.
Ukrainian forces took control of Arkhanelske and blocked the Russian withdrawal through Novopetrivka, putting the Russian garrison at risk of encirclement, forcing the withdrawal. Videos show that Ukrainian forces took POWs and captured military equipment and ammunition.

Ukrainian forces also liberated Blahodativka, expanding the bridgehead along the Inhulets River. There were reports that Bilohirvka was secured, and troops were pressuring the Russian garrison in Bruskynske. The General Staff of the Armed Forces of Ukraine reported that troop positions in Kostromka and Bezimenne were hit by air strikes, confirming that Ukrainian forces have pushed at least 10 kilometers into Kherson since August 29.
Ukraine began setting conditions to collapse the Vysokopillya salient on July 27, when it began closing in on Russian positions, attacking supply lines, and destroying Russian air defenses. Despite claims from the Kremlin of devastating losses, an anonymous official said that losses were "lighter than expected."
Russian artillery hit a warehouse full of ammonium-nitrate fertilizer on the southern edge of Ukrainian-controlled Partyzankse, causing a massive explosion. The blast obliterated the facility, with only a large crater remaining.
Ukrainian forces captured a defensive position near Myrolyubivka after Russian troops fled. A video showed an abandoned BMP-2 infantry fighting vehicle (IFV), an extensive network of shallow trenches, scattered ammunition, and stolen cars and motorcycles. A HIMARS attack destroyed a Russian ammunition depot in Tomnya Balka.
Geolocated photos indicate that Ukrainian forces are moved back into the northern edge of Kyselivka, recapturing the checkpoint on the M14 highway.
In Kherson, the Lost World Hotel and Resort, which was being used as a military barracks by Russian troops, was destroyed. Video taken from the Russian military ferry crossing the Dnipro River captured a HIMARS attack on the Antonovsky Bridge and ferry landing. Another attack destroyed the Russian ferry crossing at Lvove.
Dnipropetrovsk & Northern Zaporizhia
The Zaporizhzhia nuclear power plant was disconnected from its main 750 KW power line, with power supported by a 330 KW backup line. Due to the failure, the International Atomic Energy Agency was informed that Reactor 5 was disconnected due to power grid restrictions. The IAEA applauded Ukrainian cooperation and the actions of Energoatom employees in a press release.
"Our team on the ground received direct, fast, and reliable information about the latest significant development affecting the plant's external power situation, as well as the operational status of the reactors," Director General Rafael Grossi said.
"The great value of finally having the IAEA permanently present at the Zaporizhzhya Nuclear Power Plant is already abundantly clear. It is a game changer," he added.
On September 2, investigative journalists recorded video from the north bank of the Dnipro River, which conclusively showed Russia is firing rockets from MLRS immediately west of the main complex at ZNPP.
Nikopol was shelled and hit by Grad rockets fired by Multiple Launch Rocket Systems (MLRS). The overnight attack damaged five homes and several barns. There were no injuries.
Southern Zaporizhia
South of Orikhiv, Ukrainian forces have advanced on Nesterianka, Kopani, and Robotyne, while fighting near Poholy continued. The airport outside Melitopol was hit by HIMARS for the tenth time, with five rockets striking the base.
Donetsk
Northwest of Donetsk city, Novobakhmutivka was liberated, and Ukrainian forces are contesting the control of Novoselivka.
A day after the Russian Ministry of Defense claimed Pisky was captured, Russian sources reported Ukrainian troops had recaptured strong points on the E-50 Ring Road. Given their location, it is highly likely that Ukrainian troops have regained a toehold in the northern part of the tactically important village, which has been the site of fighting since July 22.
The 1st Army Corps of the DNR attempted to advance on Avdiivka and Pervomaiske but could not change the tactical situation. Russian forces also attempted to advance on Marinka and were unsuccessful.
Visit our Russia-Ukraine War Map
The Malcontent News Russia-Ukraine War Map is updated as events occur. Map not appearing in your RSS Feed or Google News App? You can review the most up-to-date information by visiting our custom Google Map.
Bakhmut
The Ukrainian 93rd Mechanized Infantry Brigade reportedly launched a counteroffensive in Soledar and was able to push Russian forces back from the gypsum mine area. Geolocated video showed Ukrainian forces clearing the southwest corner of the mine in close combat against Russian troops. Russian forces remain in the KNAUF-GIPS sheetrock factor that straddles Bakhmutske and Soledar. However, Ukrainian forces were able to capture defensive positions on the northern edge of Povoroske.
In the Svitlodarsk Bulge, fighting continued in Kodema, with the Private Military Company (PMC) Wagner Group regaining some lost ground. Kadyrovites with the 141st Akhmat failed to advance on Zaitseve.
Northeast Donetsk and Luhansk
Ukrainian forces crossed the Siverskyi Donets River and liberated Ozerne, defeating Kadyrovites with the 141st Akhmat Batallion. Russian forces denied the claims, saying the advances were a publicity stunt for a photo opportunity. President Volodymyr Zeleneskyy verified the capture in his evening television address.
Serhei Haidai, exiled Luhansk Oblast Administrative and Military Governor, reported that up to 300 Russian soldiers were killed in Kremennya after a barracks and a concentration of equipment was hit by rockets fired from HIMARS in multiple attacks.
Izyum
Russian forces launched an offensive on Pasika, 14 kilometers southeast of Izyum, indicating that Ukrainian forces had again pushed deep into occupied territory. Russian forces also attacked Dolyna and Bohorodychne, with intense fighting for the latter.
Kharkiv
A Russian S-300 antiaircraft missile used for an air-to-surface attack hit a group of restaurants in the Kyiv district of Kharkiv, destroying the structure and businesses. Over 2,200 square meters of commercial property were destroyed. The missile struck overnight while the popular eateries were closed. Pictures clearly showed the area that was destroyed. The Russian Ministry of Defense claimed the location was a barracks for the Kraken Battalion after claiming the Battalion was completely destroyed in fighting near Siversk three weeks ago.
Sumy and Chernihiv
Dmytro Zhyvytsky, Sumy Oblast Administrative and Military Governor, reported the hromadas of Bilopillia and Krasnopillia were hit by mortars and artillery shells fired from across the international border. There were no casualties reported.
In Chernihiv, at the historical center, an outdoor display of captured Russian weapons went terribly wrong. A grenade launcher was apparently still armed and somehow misfired. Four children were injured, with one in critical condition. Two people have been arrested.
Daily Assessment
Russian disinformation about the counteroffensive in Kherson has permeated all Russian sources. There are growing signs that Russia's defense is not going as well as the Kremlin wants the world to believe.
Russian disinformation appears to be setting conditions for explaining the yet-proven failures in Kherson on NATO weapons and rumors of looming chemical and biological attacks.
Ukraine has quietly launched smaller counteroffensives in Zaporizhia, Donetsk, and Kharkiv over the last 72 hours, in addition to the counteroffensive in Kherson, supporting our previous assessment that the Russian military has reached a theaterwide state of combat destroyed.
To read the rest of our report, become a Patreon! For as little as $5 a month, you get access to the daily Russia-Ukraine War Situation Report. The report provides analysis, maps, detailed information about all the axes in Ukraine, international developments, information about war crimes and human rights, and economic news. As an added benefit, you get access to flash reports, breaking news, and our Discord server.