Washington is on the other side of the fifth wave – local and national update for September 28, 2021
Thirty-seven of Washington's 39 counties are showing significant improvement as hospitalizations decline.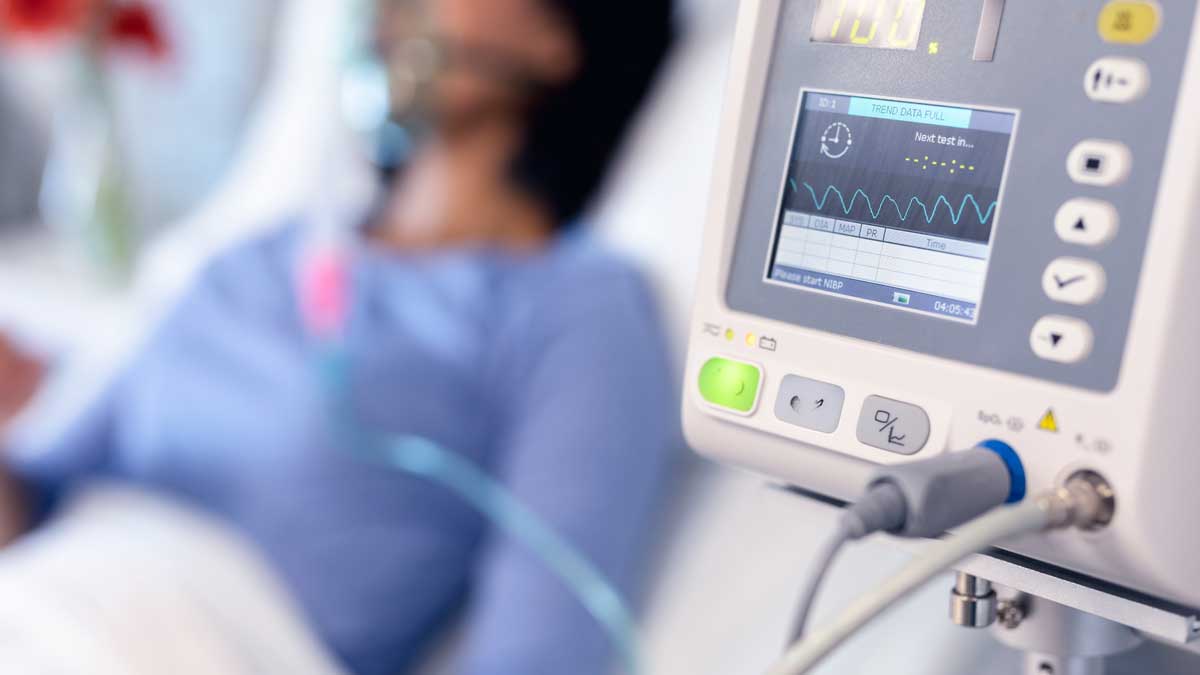 Knowledge is the best tool to fight against fear. A wise person chooses to be informed so they can make sound decisions. To join the fight against COVID misinformation, you can share this update through your social media platform of choice.
[KING COUNTY, Wash.] – (MTN) New cases, hospitalizations, and deaths all declined, providing the clearest evidence yet that Washington state is coming out of the fifth wave. Even the beleaguered South Central Hospital Region reported significant improvement.
Pfizer submitted its data from the Phase 3 vaccination trial of 5 to 11-year-olds to the FDA. Experts are hopeful that with approval, vaccination could begin in November.

Alaska and Idaho continue to operate under crisis standards of care. The situation in District 1 Idaho has deteriorated to the point the Gem State has more ICU patients than Washington.
In misinformation, we tackle the questions, "what about Israel?"
This update uses the latest data from the Washington State Department of Health (WSDOH), released on September 28, 2021.
---
Washington State Update for September 28, 2021
Washington state COVID update
Data points to another plateau, following the pattern of the last three weeks. In the South Central Hospital Region, which includes Benton, Franklin, Klickitat, Walla Walla, and Yakima counties, the 14 day moving average for new cases is 764.3 per 100K, the lowest it has been in three weeks. The Central Hospital Region, which represents King County, is 254.1.
| Percent of Total Population Fully Vaccinated | Average 14-Day New Case Rate (unadjusted) |
| --- | --- |
| 60.00% or above (3) | 177.6 |
| 50.00% to 59.99% (12 counties) | 523.8 (down) |
| 40.00% to 49.99% (15 counties) | 689.9 (down) |
| 28.40% to 39.99% (9 counties) | 736.3 (down) |
14-Day New COVID Cases per 100K average by Vaccination Rate, Not Adjusted for Population
Through September 27, Washington's statewide 14-day rolling average is 441.7 COVID cases per 100K, the first time the rate has been below 450 since late August. Counties in the 1,000.0 to 1,399.9 range include Lincoln (1,104.1) and Stevens (1,036.6). Counties in the 800.0 to 999.9 per 100K range include Adams, Franklin, Garfield, Grant, Grays Harbor, Okanogan, and Pend Oreille. Franklin reported 982.8, just under the 1,000 threshold.
New cases were down for individuals under 65 years old. Hospitalizations for pediatric patients from birth to 11 dropped significantly while increasing for geriatric patients over 79.
| Age Group | 7-Day Case Rate | 7-Day Hospitalization Rate |
| --- | --- | --- |
| Ages 0-11 | 210.4 (down) | 0.4 (down) |
| Ages 12-19 | 224.2 (down) | 1.6 |
| Ages 20-34 | 220.1 (down) | 5.8 |
| Ages 35-49 | 214.3 (down) | 10.1 |
| Ages 50-64 | 150.3 (down) | 14.6 |
| Ages 65-79 | 109.6 | 19.3 |
| Ages 80+ | 114.1 | 35.5 (up) |
7-day case rate and 7-day hospitalization rate is per 100K within the age group – the target for 7-day case rate is <25.0, but there are other factors such as vaccination rates within the age groups, how many total tests within the 7-day period, and the positivity rate within each age group
The USA Today COVID Tracker reported 34 deaths on Monday. The state of Washington is not reporting the percentage of positive cases.
Spokane Fire Fighters go door-to-door to bring vaccination to rural areas
It's almost hard to imagine now, but there was once an intense demand for the COVID-19 vaccine.
In northeast Washington, the desire for doses exceeded the capacity of the local health care system.
Thus, the Northeast Tri-County Health District needed a boost to its efforts to vaccinate people against COVID-19 earlier this year.
"We realized that as much as we were trying to do, it was not going to keep up with the demand within our communities for vaccine availability," said Matt Schanz, administrator of the Northeast Tri-County Health District.
It found help in local fire departments. The Spokane Fire Department delivered almost 16,000 doses through the federally backed program.
Western Washington University vaccination rates are high as October 18 deadline looms
Western Washington University reported in its Monday newsletter that 96% of registered students are fully vaccinated. Also, 92% of WWU's employees report they are fully vaccinated. Western's permanent employees, who make up more than 75% of the staff, have reached a verified 95% vaccination rate.
Travel Advisories
We recommend avoiding recreational travel to Spokane, Yakima, Klickitat, Benton, Franklin, and Walla Walla counties. If the number of new cases in the South Central Hospital Region continues to decline, we will likely lift our advisory for this region in the next 6 to 13 days. We strongly advise against all nonessential travel to Alaska, Idaho, and Montana. Hospital resources in these regions are constrained, and you may receive inadequate care if you experience a medical emergency.
Thank you
Thank you to our new subscribers and those of you who have made one-time contributions. On behalf of the entire team, thank you for helping us keep the lights on!
Vaccination
Pfizer submits Phase 3 5 to 11 year old vaccination trial findings to the FDA
Pfizer has submitted research to the U.S. Food and Drug Administration on the effectiveness of its COVID-19 vaccine in children, but the shots may not be available until November.
The company said Tuesday it provided health regulators with data from a recent study of its vaccine in children 5 to 11 years old. Officials had previously stated they would apply with the FDA to authorize use in the coming weeks.
Once the company files its application, U.S. regulators and public health officials will review the evidence and consult with their advisory committees in public meetings to determine if the shots are safe and effective enough to recommend use.
Pfizer vaccine booster shots are now available
Booster shots for eligible individuals are now available statewide. Individuals who received both doses of the Pfizer vaccine more than 6 months ago, are 65 or older, or are immunocompromised can receive their third dose immediately.
In the Kirland-Bellevue-Woodinville area, Walgreens, Rite-Aid, Bartell's, and QFC are offering booster shots. Additionally, the third dose is available at the CVS located within the Target store at 17,700 NE 76th Street in Redmond.
Most locations require an appointment, which can be scheduled online.
Hospital Status
According to the DoH COVID Dashboard, 20.1% of all acute care patients hospitalized in Washington have COVID. A hospital system caring for this many COVID-positive patients in acute care is considered to be under "severe stress." ICUs are at 89.1% of capacity statewide, with 31.1% of ICU patients fighting COVID. Hospitalizations continue to trend downward.
The 7-day rolling average hospital admission rate for new COVID patients was down to 149, which is statistically unchanged from yesterday. The Department of Health reported 1,308 COVID patients statewide on September 27 and 218 on ventilators. Total hospitalizations are down 13.5% in the last 7 days.
Back to School
School District
Status
Less than 10 Active Cases
10 or More Active Cases
Bellevue

GREEN

– Bellevue (1)
– Eastgate (1)
– Enatai (4)
– Sherwood Forest (7)
None
Lake Washington

YELLOW

– Alcott Elementary (1*)
– Barton Elementary (1*)
– Dickinson/Explorer Elementary (2*)
– Ella Baker Elementary (3*)
– Eastlake High (1*)
– Evergreen Middle School (1*)
– Franklin Elementary (2*)
– Finn Hill Middle School (1*)
– ICS (1*)
– Inglewood Middle School (2*)
– Juanita Elementary (1*)
– Kamiakin Middle School (3*)
– Keller Elementary (2*)
– Kirkland Middle School (1*)
– Lake Washington High (1*)
– Lakeview Elementary (3*)
– Muir Elementary (1*)
– Redmond Middle School (1*)
– Redmond High School (1*)
– Renaissance Middle School (1*)
– Rush Elementary (2*)


Northshore

RED

– Arrowhead Elementary (21)
– Canyon Creek Elementary (23)
– Canyon Park Middle School (11**)
– Cottage Lake Elementary (15)
– Crystal Springs Elementary (55**)
– East Ridge Elementary (26)
– Fernwood Elementary (13**)
– Frank Love Elementary (32)
– Hollywood Hills Elementary (20)
– Inglemoor High School (8)
– Innovation Lab High School (11)
– Kenmore Elementary (11)
– Kenmore Middle School (45**)
– Kokanee Elementary (61)
– Leota Middle School (5)
– Lockwood Elementary (21)
– Maywood Hills Elementary (19**)
– Moorlands Elementary (38)
– North Creek High School (26**)
– Northshore Middle School (13**)
– Ruby Bridges Elementary (9)
– Secondary Academy for Success (11)
– Shelton View Elementary (18**)
– Skyview Middle School (75**)
– Sunrise Elementary (25)
– Timbercrest Middle School (45**)
– Wellington Elementary (76)
– Westhill Elementary (26)
– Woodin Elementary (19**)
– Woodinville High School (19)
– Woodmoor Elementary (21**)
– Bothell High School (13*/120)
Local Districts Scorecard – * indicates positive cases only ** indicates 5 or more confirmed positive cases
We redefined the school district statuses. Information for classroom and building closures has been a challenge to obtain, both for closures and reopening. We are adopting moving any school with more than 10 active COVID cases reported into the red, and we've adjusted the third column to reflect this change.
Little has changed from yesterday in the area schools. Northshore School District has 127 students with confirmed COVID cases and another 782 in quarantine.
We recommend that parents in the Bellevue and Lake Washington School District request better transparency on their publicly facing COVID dashboards.
Kirkland-Bellevue-Woodinville
No update
National Round-Up
Johns Hopkins University Cumulative Case Tracker is reporting 185,088 new cases and 2,394 deaths nationwide. These numbers would include weekend data.
Alaska
Anchorage's public health division manager has resigned, leaving the post temporarily empty as an ongoing COVID-19 surge triggers record-level infections and strains the city's short-staffed hospitals.
According to an Anchorage Health Department spokesperson, Christy Lawton resigned Monday from the position she'd held since February 2019. Municipal officials declined to provide any additional details, citing confidentiality concerns.
"I'm proud of the work that myself and the team at AHD accomplished and have deep admiration for all the public health professionals in our community who have worked tirelessly throughout this pandemic," Lawton wrote. "I strongly encourage our city's residents to set aside politics and focus on what it's going to take to truly get back to 'normal.' That means more of us getting vaccinated and continuing diligent mitigation measures in the meantime. We are not safe until the majority of us are protected."
Maybe she was motivated to quit after Anchorage Mayor Dave Bronson attacked some of the city's hospitals for requiring vaccines. Following the state's announcement last week that Alaska is activating crisis standards of care for hospitals statewide, Bronson thanked the governor for "taking practical action to get our hospitals the help they need."
The mayor has long opposed COVID-19 restrictions and mask mandates and earlier this month said he "will not comply" with President Joe Biden's vaccine mandate.
Last weekend, the mayor and members of his administration attended an hours-long, invitation-only meeting in the Assembly chambers where a group of health care workers and other residents spoke in opposition to vaccine requirements.
Hospitals in Alaska are treating 215 COVID patients as the 7 day moving average for new cases climbed to the stratosphere – 1,225 cases per 100,000K people. Put another way, 1 in 86 Alaskan residents were confirmed to have COVID in the last 7 days. Almost 3 out of 4 new cases are among people under 50 years old.
There are 18 ICU beds available statewide, unchanged from yesterday. Of the 112 patients in the ICU (COVID and non-COVID combined), a staggering 71% are on ventilators.
Idaho
As people die at home and in hospital waiting areas and bodies are placed in railroad cars, Idaho Governor Brad Little and Lt. Governor Janice McGeachin run their own version of the Hunger Games while ruling over District 1.
Lt. Governor McGeachin is running against Governor Little, forcing the conservative governor to take distasteful actions to placate an ultra-conservative base. Governor Little said he was "exploring legal action to protect the rights of business owners and their employees" from "President Joe Biden's plan to fine private employers with 100 or more employees that do not mandate the COVID-19 vaccine or routine testing."
Voters from all sides are unhappy. Today a woman named "Gloria" spoke with the governor and blasted him along with the unvaccinated.
The surge in COVID-19 infections and hospitalizations forced the expansion of crisis standards of care statewide. Overburdened by too many sick people and too few staffed beds, several Idaho medical facilities have moved to cancel or postpone all non-emergency surgeries, like the one Gloria needs for her damaged hip.
"I am laying here in pain, and I can't get an operation to get it fixed because you're holding these hospitals open for all of these unvaccinated, selfish, ignorant people who wouldn't get a shot," she said.
Is that fair? she demanded to know.
No, Little told her. It's not.
"It's not fair at all, and I feel sorry for you," he said.
The number of ICU patients in Idaho surged to 252 – in a state with 170 ICU beds.
New models indicate that a peak in hospitalizations may not come until late November. If the model of 1,900 COVID patients in Idaho becomes a reality, it would almost equal the number of COVID patients in Washington and Idaho combined. The 40 COVID-related deaths reported today are more than in Washington state.
May the odds ever be in your favor.
Montana
The hospital in Helena continues to operate in crisis standards of care, while hospitals in Bozeman, Missoula, and Billings are running right to the very edge of contingency care. Unlike Idaho, where hospitals are being forced to stand on their own, Montana is working to load level, as the rural state struggles to care for 427 COVID patients.
St. James Healthcare in Butte has come to help. The hospital has accepted several COVID patients from outside the county, in addition to their Butte-Silver Bow County patients.
"As the regional referral center in southwest Montana, St. James has always supported our surrounding communities," wrote a spokesperson from St. James. "At this time, we can help our neighboring hospitals throughout the state by accepting patient transfers, if requested."
The numbers are beginning to add up. Less than two weeks ago, the COVID hospitalizations at St. James totaled nine. As of Tuesday, that number has more than doubled to 19.
St. James will continue to make its best efforts to house patients.
The hospital in Butte isn't as strained due to the 64% vaccination rate in the Butte-Silver Bow County area.
Oregon
The number of hospitalized patients with COVID-19 across Oregon is 822, which is 44 fewer than Monday. There are 237 COVID-19 patients in intensive care unit (ICU) beds, six fewer than Monday.
There are 53 available adult ICU beds out of 645 total (8% availability) and 341 available adult non-ICU beds out of 4,238 (8% availability). The state reported 41 deaths.
There have been at least 49 newly confirmed cases of COVID-19 tied to the annual rodeo, which attracted thousands of people to a rural corner of Oregon. Most of the cases were reported in Umatilla County, Wallowa County, and southeastern Washington.
Brown had said she would not attend the event, which she enjoys, due to her concerns about community spread.
Joe Fiumara, Umatilla County's public health director, said some people who attended the rodeo were sick but chose to go anyway.
Misinformation
"Look at Israel." This is a common refrain from people who claim that vaccinations don't work. They cite Israel's high vaccination rate and the hospitalization rate among the vaccinated population. We wrote about the data fallacy that happens when looking at percentages for new cases, hospitalizations, and deaths when evaluating vaccination performance. Let's pull these claims apart.
Israel is highly vaccinated. In April 2021, that statement is correct. Israel was the global leader in vaccination. By the time Delta surged in Israel, the nation had dropped to 32nd place. Today Israel is tied with Saudia Arabia and Germany in 21st place, with 67% of the population with at least one dose, narrowly ahead of the United States and behind Sweden. Globally, there are 17 nations with a vaccination rate of 70% or higher.
The United Arab Emirates, where 84% of the population is fully vaccinated, has a population similar to Michigan. The Middle East nation is reporting under 300 new COVID cases a day. The country never had a significant Delta surge.
For our analysis, we went straight to the source – The Israel Ministry of Health COVID website and its COVID Control Panel.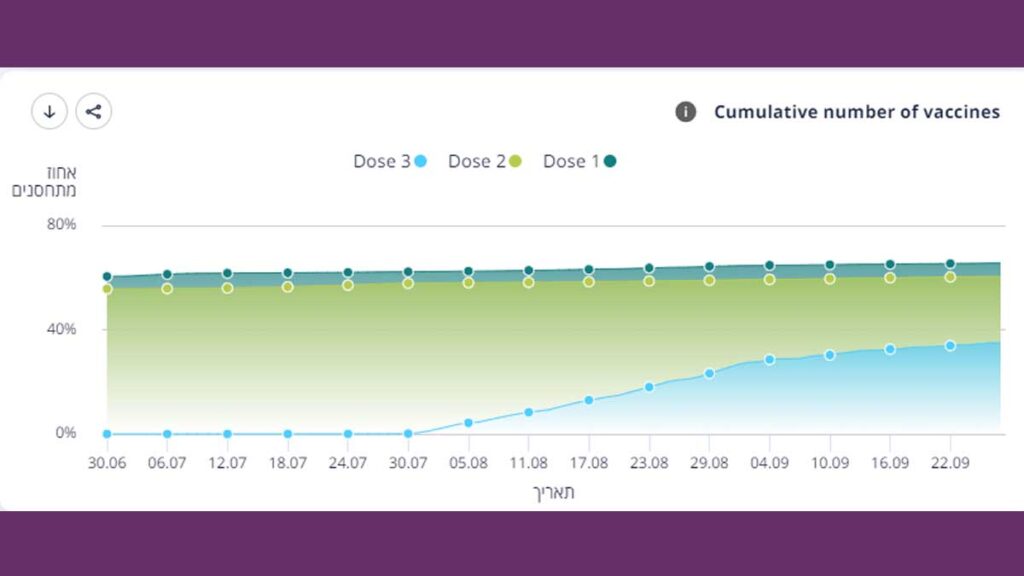 The first graphic shows the vaccination rate in Israel stalled out and barely changed over three months. The booster shot program started on July 30, 2021, and about half of the previously vaccinated residents had received the first dose by the end of September.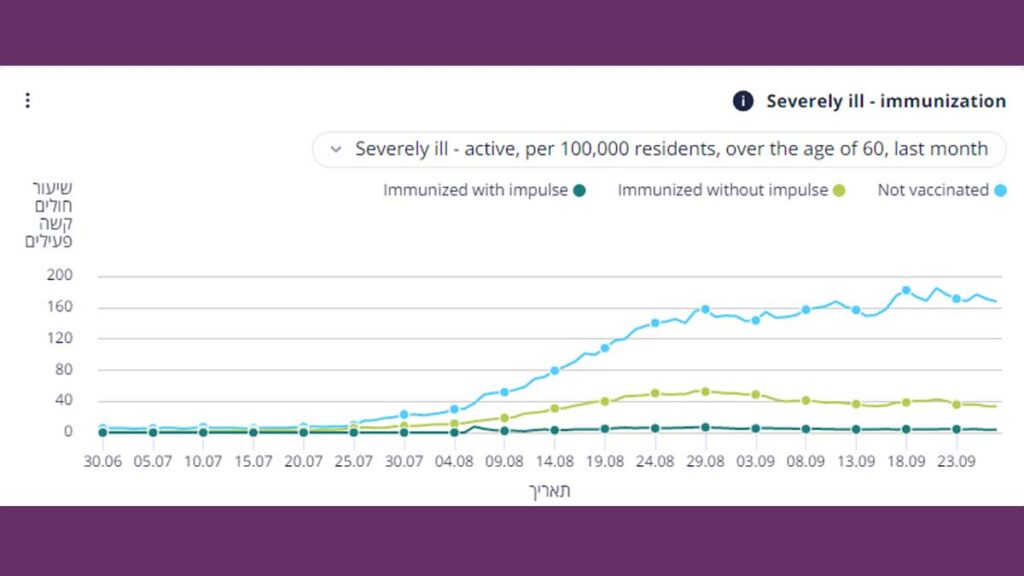 The next chart shows the impact of the Delta wave as it rolled through Israel. The number of severely ill patients, defined differently than the United States, rises quickly among the unvaccinated, representing only 33% to 36% of the population, depending on the time within the surge.
The number of severely ill patients also increases at just 25% of the peak level among the unvaccinated, despite representing 64% to 67% of the population. Finally, the number of severely ill patients over the last 3 months is negligible among residents who received a booster shot.
We know that most breakthrough cases are among people over 65 years old. Israeli doctors found the same situation.
Around half of the country's 600 patients presently hospitalized with severe illness (August 20, 2021) have received two doses of the Pfizer Inc shot, a rare occurrence out of 5.4 million fully vaccinated people.
The majority of these patients received two vaccine doses at least five months ago, are over the age of 60, and also have chronic illnesses known to exacerbate a coronavirus infection. They range from diabetes to heart disease and lung ailments, as well as cancers and inflammatory diseases that are treated with immune-system suppressing drugs, according to Reuters interviews with 11 doctors, health specialists, and officials.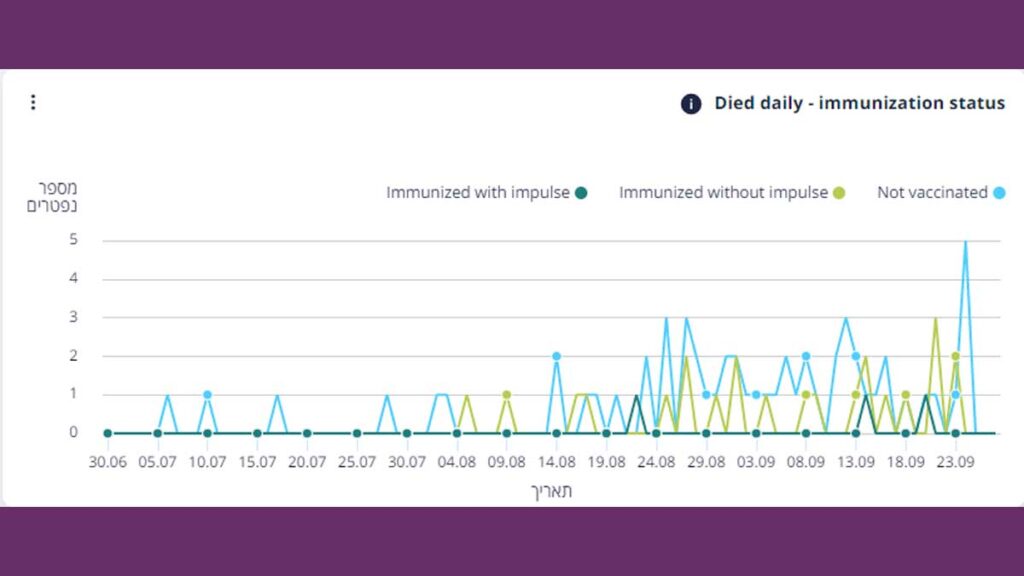 What about those under 60 years old? The overall rate of death among those under 60 is almost negligible. Unvaccinated residents have a slightly higher occurrence versus those who receive two doses. Once again, the unvaccinated group represents a much smaller number of people, about 3.3 million, versus the vaccinated group of 6.5 million. There is one more thing in this graph, in the last 90 days, the total number of deaths among residents under 60 who received a booster shot is 3.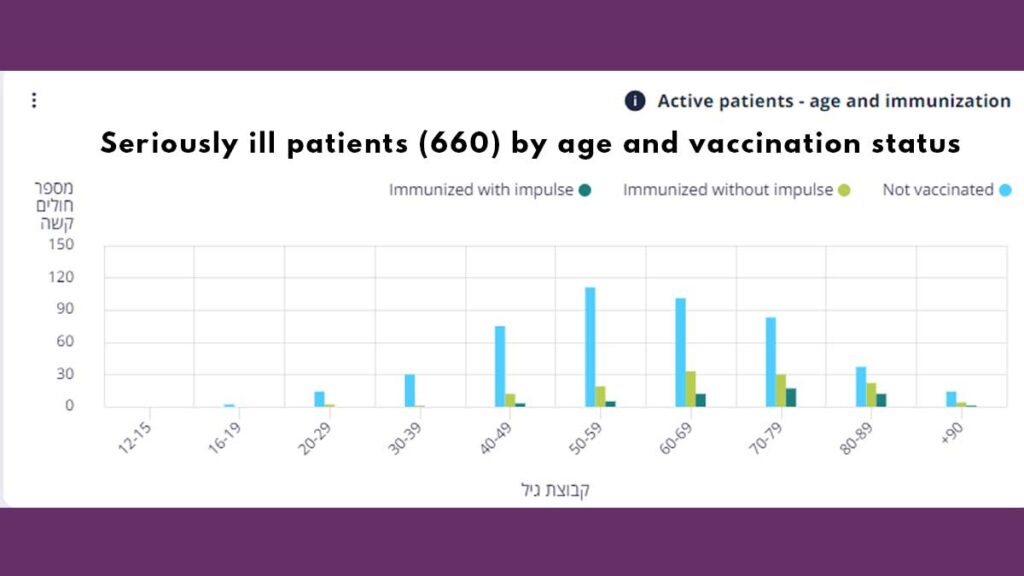 The last chart shows the current situation among "seriously ill" patients in Israel. The majority of the 660 hospitalized patients are under 70 years old, and a vast majority are unvaccinated. It isn't until you get to 80 and above that, the number of breakthrough cases comes close to the number of unvaccinated patients.
Of the 660 seriously ill patients, 285 are in the ICU, and 227 are on respirators, and the chart above shows, a vast majority are unvaccinated.
The argument that the vaccine didn't work in Israel is a data fallacy. The vaccine is highly effective at preventing severe COVID and death, even when facing the Delta variant and an aged population. In the last 90 days, based on data from Israel, only 3 people who received booster shots died from COVID.