Antivax protests ramp up as cases go down – local and national update for September 29, 2021
Protesters plan to enter Swedish and Harborview Medical Center according to organizers.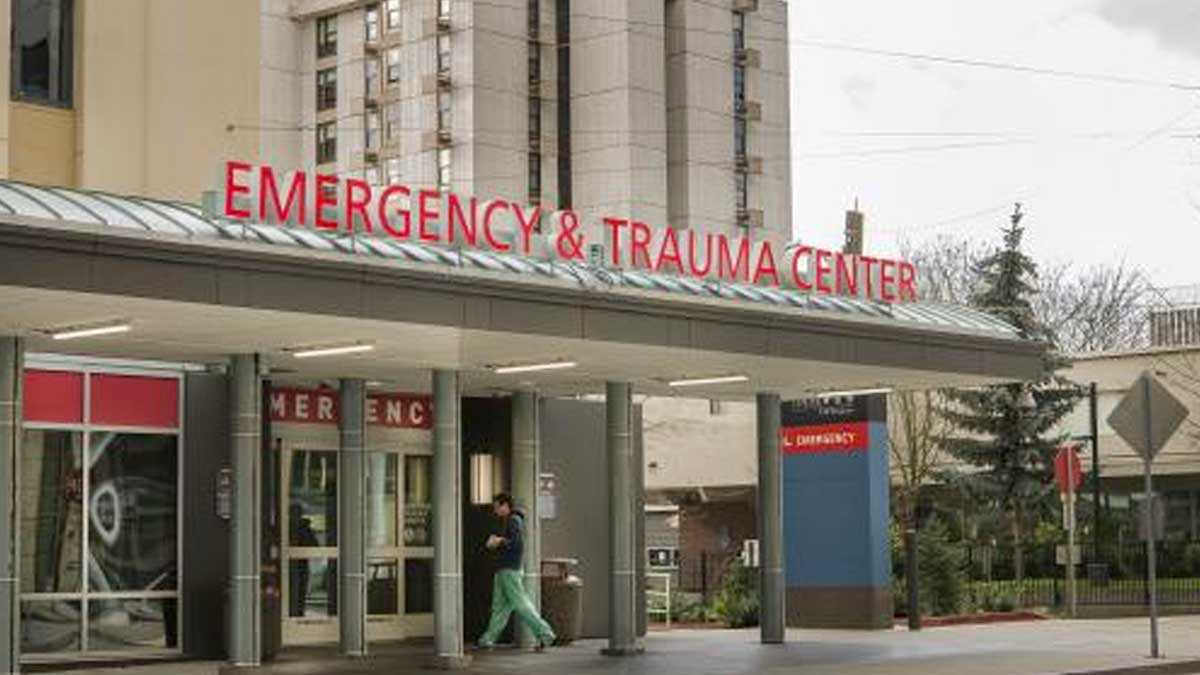 Photo credit – University of Washington Medicine
Knowledge is the best tool to fight against fear. A wise person chooses to be informed so they can make sound decisions. To join the fight against COVID misinformation, you can share this update through your social media platform of choice.
[KING COUNTY, Wash.] – (MTN) The most vaccinated county in Washington, San Juan, became the first county to see the number of new COVID cases drop into an acceptable range today. Across Washington, the number of new COVID cases and hospitalizations continues to decline.

The percentage of acute care patients treated for COVID dropped below 20% for the first time in weeks, adding more evidence that the fifth wave peaked.
Protesters plan to try and enter Swedish and Harborview Medical Center tomorrow as part of a protest against vaccine mandates for healthcare workers. A large anti-mandate protest is scheduled for Sunday in Olympia and includes speakers from The Post Millenial, Turning Point USA, and failed gubernatorial candidate Loren Culp.
Washington state will start disciplining doctors and nurses who spread COVID misinformation.
The CDC urges pregnant women to get vaccinated, reporting 97% of pregnant people hospitalized are unvaxxed. The deadline to get vaccinated to meet the Washington state employee mandate arrives on Sunday.
A new study out of the U.K. indicates 36% of people who have symptomatic cases of COVID become long haulers, in the most extensive study to date.
Alaska has two more hospitals move to crisis standards of care, Idaho continues the Hunger Games while Montana takes a bold new approach to its COVID problem – stop reporting data.
If Alaska were a country, it would have the highest COVID infection rate on the planet, and if Idaho were a country, it would have the highest COVID death rate on the planet.
In misinformation, we do a rerun to the questions, "what about Israel?"
This update uses the latest data from the Washington State Department of Health (WSDOH), released on September 29, 2021.
Editor's Note: A security upgrade took our site offline for a few hours last night. We apologize for any inconvenience. This was not related to any malicious activity but was required to fix a critical security flaw.
---
Washington State Update for September 29, 2021
Washington state COVID update
The first wave has ended in San Juan County, where 73.2% of the eligible population was vaccinated. The 7 day moving average for new cases dropped to 23.1 today, showing the archipelago has COVID under control.
New cases continued to drop statewide. In the South Central Hospital Region, which includes Benton, Franklin, Klickitat, Walla Walla, and Yakima counties, the 14 day moving average for new cases decreased to 742.9 per 100K. The Central Hospital Region, which represents King County, declined to 245.1.
| Percent of Total Population Fully Vaccinated | Average 14-Day New Case Rate (unadjusted) |
| --- | --- |
| 60.00% or above (3) | 172.2 (down) |
| 50.00% to 59.99% (12 counties) | 509.3 (down) |
| 40.00% to 49.99% (15 counties) | 660.3 (down) |
| 28.40% to 39.99% (9 counties) | 724.7 (down) |
14-Day New COVID Cases per 100K average by Vaccination Rate, Not Adjusted for Population
Through September 28, Washington's statewide 14-day rolling average is 429.8 COVID cases per 100K, the lowest number since August 18. Counties in the 1,000.0 to 1,399.9 range include Lincoln (1,049.8) and Stevens (1,069.3), the least vaccinated county in Washington. Counties in the 800.0 to 999.9 per 100K range include Franklin, Garfield, Grant, Grays Harbor, and Okanogan.
New cases were down for all ages except 50 to 64 years old, which was statistically unchanged. Pediatric patients increased while geriatric patients decreased.
| Age Group | 7-Day Case Rate | 7-Day Hospitalization Rate |
| --- | --- | --- |
| Ages 0-11 | 194,8 (down) | 0.7 (up) |
| Ages 12-19 | 213.0 (down) | 1.7 |
| Ages 20-34 | 200.7 (down) | 5.6 |
| Ages 35-49 | 201.5 (down) | 9.9 |
| Ages 50-64 | 142.8 | 15.0 |
| Ages 65-79 | 102.5 (down) | 18.5 (down) |
| Ages 80+ | 106.5 (down) | 31.5 (down) |
7-day case rate and 7-day hospitalization rate is per 100K within the age group – the target for 7-day case rate is <25.0, but there are other factors such as vaccination rates within the age groups, how many total tests within the 7-day period, and the positivity rate within each age group
The USA Today COVID Tracker reported 63 deaths on Tuesday, with data from the weekend included in the number. The state of Washington is not reporting the percentage of positive cases.
"We're seeing some hopeful signs, and disease is still very, very high. Hospitalizations are still very, very high. Hospital admissions are still significantly higher than they were at the peak of the 3rd wave. And those are new admissions every day, and so that means occupancy is still very high. It continues to be high. And so, hospitals continue to they're having to delay care for non-urgent procedures," said Lacy Fehrenbach, Deputy Secretary for COVID-19 Response at the Washington State Department of Health.
Antivax protesters plan to enter Swedish and Harborview Medical Center tomorrow
At least one promoter of the Waking up Washington "Seattle March for Healthcare Workers Against COVID Mandates" is calling for marchers to enter Swedish and Harborview Medical Center to force people to "hear inconvenient truths."
The march will start at 11:30 a.m. tomorrow, with protesters against vaccine mandates told to gather at Swedish before marching through Seattle to Harborview Medical Center.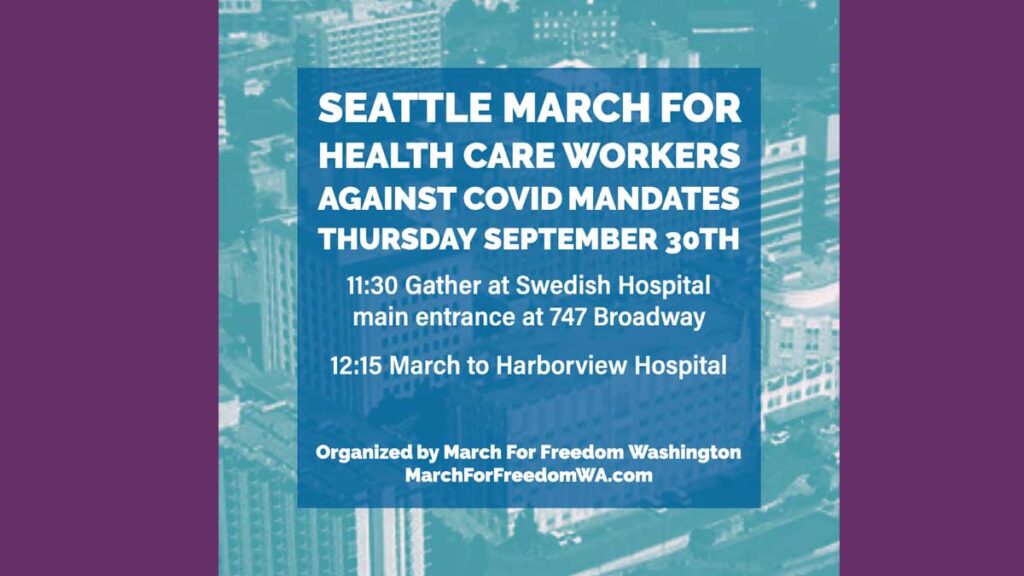 On September 21, organizer Palmer Davis shared with her followers, "If our goal is to demand action from those inside the building, standing outside [emphasis hers] of it is kind of a waste of time."
"What works is to get inside." [emphasis hers]
"Face-to-face discussion forces people to hear inconvenient truths and answer inconvenient questions."
Ms. Davis provided no additional specifics on what action could happen when they enter the hospitals, but she didn't indicate they plan to disrupt patient care.
Available data doesn't support large-scale resistance among the medical community over receiving the COVID vaccination. New York was the first to reach the deadline for a statewide mandate for healthcare workers. Over 92% of the state's 692,326 impacted healthcare workers had received at least a first dose by Monday. More than 15,000 additional workers have told officials they will start their vaccination series.
Vaccination rates among patient-facing staff are even higher. The vaccination rate for nurses is estimated to exceed 97% and for doctors was almost 100%,
Large anti-vaccination protest planned in Olympia on Sunday
Local activists are planning a large anti-vaccination mandate rally at the Washington State Capitol on Sunday. Listed speakers include Ari Hoffman, writer at the Post Millenial, Katie Daviscourt of Turning Point USA, serial lawsuit filer Glen Morgan, Loren Culp, the former police chief of Republic, Washington State Representative Jim Walsh, and Winlock mayor Brandon Svenson.
"October 4s the deadline to receive the 2nd dose of the MRNA injection in order to be considered "fully vaccinated" by October 18 [sic] OctoOctober [sic] 3 thousands of State Workers and others from 1–4 p.m. as we stand united against this unreasonable and un-American mandate. Only by standing together do we have any hope of pressuring this Governor to reverse course. If he will not, then we must demand that our Representatives in the Legislature hold a special session to end this lawless and harmful action."
The United States Supreme Court ruled in 1905 vaccination mandates at the municipal, county, and state levels are Constitutional. The court's finding has been litigated dozens of times in the 116 years since, including August of this year. Several students at the University of Indiana filed a case with the Supreme Court over the university's vaccine mandate. Justice Amy Coney-Barrett issued a ruling in favor of the school after determining it didn't warrant an emergency hearing with the entire court.
About 1,700 state employees have had exemptions approved but could still lose their jobs if a non-public facing position can't be found for them.
Washington doctors face discipline for spreading COVID misinformation
The Washington Medical Commission says practitioners who misrepresent prevention measures, including vaccines and mask-wearing or prescribe non-approved medications such as Ivermectin, will be subject to disciplinary action.
Patients concerned about a provider's conduct can file a complaint with the commission.
Washington nurses will face the same action.
Travel Advisories
We recommend avoiding recreational travel to Spokane, Yakima, Klickitat, Benton, Franklin, and Walla Walla counties. If the number of new cases in the South Central Hospital Region continues to decline, we will likely lift our advisory for this region in the next 5 to 12 days. We strongly advise against all nonessential travel to Alaska, Idaho, and Montana. Hospital resources in these regions are constrained, and you may receive inadequate care if you experience a medical emergency.
Thank you
Thank you to our new subscribers and those of you who have made one-time contributions. On behalf of the entire team, thank you for helping us keep the lights on!
Vaccination
CDC urges pregnant women to get vaccinated as deaths, premature births, and stillbirths rise among the unvaccinated
The CDC strongly recommends COVID-19 vaccination either before or during pregnancy. As of SeptemSeptember 27, more than 125,000 laboratory-confirmed COVID-19 cases have been reported in pregnant people, including more than 22,000 hospitalized cases and 161 deaths. The highest number of COVID-19-related deaths in pregnant people in a single month was reported in August 2021. Data from the COVID-19-Associated Hospitalization Surveillance Network (COVID-NET) indicate almost 97% of pregnant people hospitalized (either for illness or for labor and delivery) with confirmed SARS-CoV-2 infection were unvaccinated.
In addition to the risks of severe illness and death for pregnant and recently pregnant people, there is an increased risk for adverse pregnancy and neonatal outcomes, including preterm birth and admission of their babies to an ICU. Other negative consequences, such as stillbirth, have been reported. Despite the known risks of COVID-19, as of SeptemSeptember 18, 31.0% of pregnant people were fully vaccinated before or during their pregnancy.
Although the absolute risk is low, compared with non-pregnant symptomatic people, symptomatic pregnant people have more than a two-fold increased risk of requiring ICU admission, invasive ventilation, ECMO, and a 70% increased risk of death.
Deadline for single dose Johnson & Johnson vaccine and second dose for Pfizer and Moderna vaccine looms for state workers
Thousands of state workers have until Sunday to receive their second Pfizer or Moderna dose or the single-dose Johnson & Johnson vaccine. Over 68% of state workers have reported they are fully vaccinated, and data from companies, schools, and other states such as Hawaii and New York, indicated that final acceptance would exceed 95%.
Multiple unions have reached agreements at a municipal, county, or state level, to extend the deadline past October 18 for individuals who received at least their first dose. Additionally, workers with denied exemptions requests will be given extra time.
Pfizer vaccine booster shots are now available
Booster shots for eligible individuals are now available statewide. Individuals who received both doses of the Pfizer vaccine more than 6 months ago, are 65 or older, or are immunocompromised can receive their third dose immediately.
In the Kirland-Bellevue-Woodinville area, Walgreens, Rite-Aid, Bartell's, and QFC are offering booster shots. Additionally, the third dose is available at the CVS located within the Target store at 17,700 NE 76th Street in Redmond.
Most locations require an appointment, which can be scheduled online.
Hospital Status
According to the DoH COVID Dashboard, 19.5% of all acute care patients hospitalized in Washington have COVID. This is the first time the Washington state hospital system is not under "severe stress" in weeks. ICUs are at 89.3% of capacity statewide, with 30.5% of ICU patients fighting COVID. Although these numbers are very encouraging, thousands of vital surgeries and other medical procedures have been delayed for months. Some hospitals are starting to do elective procedures again, which will continue to keep ICU beds full.
The 7-day rolling average hospital admission rate for new COVID patients dropped to 137. The Department of Health reported 1,267 COVID patients statewide on SeptemSeptember 2897 on ventilators.
Hospitals in Eastern and Southwest Washington remain very strained due to low vaccination rates and, to a far lesser extent, out-of-state transfer patients.
Back to School
School District
Status
Less than 10 Active Cases
10 or More Active Cases
Bellevue

YELLOW

– Bellevue (1)
– Eastgate (1)
– Enatai (4)
– Lake Hills (3)
– Sherwood Forest (7)
None
Lake Washington

YELLOW

– Alcott Elementary (1*)
– Barton Elementary (1*)
– Dickinson/Explorer Elementary (2*)
– Ella Baker Elementary (3*)
– Eastlake High (1*)
– Evergreen Middle School (1*)
– Franklin Elementary (2*)
– Finn Hill Middle School (1* – see below)
– ICS (1*)
– Inglewood Middle School (2*)
– Juanita Elementary (1*)
– Kamiakin Middle School (3*)
– Keller Elementary (2*)
– Kirkland Middle School (1*)
– Lake Washington High (1*)
– Lakeview Elementary (3*)
– Muir Elementary (1*)
– Redmond Middle School (1*)
– Redmond High School (1*)
– Renaissance Middle School (1*)
– Rush Elementary (2*)

See notes below


Northshore

RED

– Arrowhead Elementary (16)
– Canyon Creek Elementary (25)
– Canyon Park Middle School (11**)
– Cottage Lake Elementary (13)
– Crystal Springs Elementary (52**)
– East Ridge Elementary (21)
– Fernwood Elementary (13**)
– Frank Love Elementary (25)
– Hollywood Hills Elementary (26)
– Inglemoor High School (8)
– Innovation Lab High School (11)
– Kenmore Elementary (12)
– Kenmore Middle School (50**)
– Kokanee Elementary (62)
– Leota Middle School (5)
– Lockwood Elementary (31)
– Maywood Hills Elementary (21**)
– Moorlands Elementary (51)
– North Creek High School (26**)
– Northshore Middle School (13**)
– Ruby Bridges Elementary (9)
– Secondary Academy for Success (12)
– Shelton View Elementary (18**)
– Skyview Middle School (75**)
– Sunrise Elementary (21)
– Timbercrest Middle School (46)
– Wellington Elementary (77)
– Westhill Elementary (30)
– Woodin Elementary (17**)
– Woodinville High School (19)
– Woodmoor Elementary (21**)
– Bothell High School (13*/121)
Local Districts Scorecard – * indicates positive cases only ** indicates 5 or more confirmed positive cases
We redefined the school district statuses. Information for classroom and building closures has been a challenge to obtain, both for closures and reopening. We are adopting moving any school with more than 10 active COVID cases reported into the red, and we've adjusted the third column to reflect this change.
Bellevue School District went back to status yellow, with 10 confirmed COVID cases between students and staff in the district.
We received a confirmed parent report of one new COVID case at Finn Hill Middle School with 52 students moved to quarantine. Because Lake Washington doesn't update its dashboard daily, we are adding this as a footnote.
Kirkland-Bellevue-Woodinville
No update
National Round-Up
Johns Hopkins University Cumulative Case Tracker is reporting 111,162 new cases and 2,543 deaths nationwide. COVID-related hospitalizations have declined to 79,000. The Pacific Northwest and Appalachia have become the new COVID hotspots, while Alabama leads the nation in per capita COVID deaths.
Dwindling COVID data is hampering efforts to track and report the real situation
The Johns Hopkins COVID Dashboard is struggling to get meaningful data, as more states purposely stop reporting.
"The fact that they created it, the infrastructure sits there, they put resources towards it, and then they decided not to make it sustainable is really concerning and just disheartening," says Lauren Gardner, an associate professor of engineering at Johns Hopkins University. "It's like they started going down the right path and then pulled back."
By the first week of June, 24 U.S. states reported cases and deaths less than seven times a week, and four states reported only one to three times a week, according to JHU. More states followed suit, even as cases began to rise again due to the Delta variant. Currently, 36 states have pulled back from daily reporting, and seven of them are reporting only three times a week or less, including hard-hit Florida, which is reporting weekly.
New study finds 36% of people who had COVID are long haulers
In a study published Tuesday in the journal PLOS Medicine, researchers found that about 36% of those studied still reported COVID-like symptoms three and six months after diagnosis. Most previous studies have estimated lingering post-COVID symptoms in 10% to 30% of patients.
The study, led by University of Oxford scientists in the United Kingdom, searched anonymized data from millions of electronic health records, primarily in the United States, to identify a study group of 273,618 patients with COVID-19 and 114,449 patients with influenza as a control.
Alaska
If Alaska were a country, it would have the highest new COVID case rate on the planet, and the 1,172 new cases per 100,000 people is an improvement from yesterday. Two more hospitals, Yukon-Kuskokwim Health Corp. in Bethel and the 11-bed Providence Valdez Medical Center, announced they were implementing crisis standards of care. In Valdez, crisis standards of care only apply to patients requiring oxygen due to a shortage.
Yukon-Kuskokwim Health Corp. made the crisis care decision as many of the hospitals that typically take patient transfers in Anchorage and elsewhere continue to operate at capacity, officials said Wednesday. Hospitals in outlying areas already say they have to treat more challenging patients in-house because they can't move them out for higher levels of care.
Dr. John Cullen described the likelihood of a much higher mortality rate "similar to a battlefield scenario" until COVID-19 cases start to drop to the Valdez City Council.
Alaska has 207 COVID patients hospitalized and 22 ICU beds available statewide – both numbers are an improvement from yesterday. Of the 106 patients in the ICU, a staggering 84 are on ventilators.
Twenty-seven-bed Fairbanks Memorial Hospital reported an infant was hospitalized with COVID, and 3 deaths overnight ranging in age from 40 to 55 years old.
More than 300 Alaska doctors and other medical professionals, who are frustrated about inaction and incivility around COVID-19, signed an open letter this week asking people to think of what's best for their fellow Alaskans and consider getting vaccinated.
The letter signers also say they stand in solidarity with their colleagues who spoke at an Anchorage Assembly meeting earlier this month after their impassioned testimony was met with jeers and denials.
Robin Ninefeldt told Alaska Public Media, "I personally know a young gentleman who lost his life because the health aide clinic ran out of a supply of oxygen. That's a reality. And when I talk with my colleagues who are in the ICU, you're dealing with the people doing your very best to keep them alive through supportive therapies, watching them pass away, watching families literally erupt into screams in tears because it is tragic to have someone taken from you so quickly."
Idaho
Boise State University has provided insight into how much impact "crisis standards of care" are having in Idaho. At the start of the surge tearing through the state, 4.04% of residents who became infected with COVID died. This is well above the region and national average and exacerbated by distrust in the medical community, uninsured residents, and significant comorbidities in the state. Today, the rate is over 9% – if Idaho were a country, it would rival Peru.
The state reported another 1,684 confirmed cases, 90 new hospitalizations, and 24 deaths today. The average age of a person with COVID has dropped to 39.7 years old, with most new cases among 18 to 29-year-olds. The situation may be worse, with the Idaho Division of Public Health needing to process 11,500 outstanding positive cases.
That backlog not only limits the accuracy of reported COVID-19 cases in real-time but also limits local public health districts in their ability to contact trace properly. According to local health districts, this backlog of cases has developed due to a lack of necessary staffing to process cases in real-time. However, hiring more staff hasn't been easy.
"There is a stigma against public health across much of Idaho, including our district, which makes it so people don't want to work for public health simply because they don't want to face the harassment public health workers are facing right now," said Brianna Bodily, public information officer for South Central Public Health District.
Idaho Governor Brad Little toured the monoclonal treatment site at the Kootenai County Fair Grounds.
"I want to remind everybody the monoclonal antibody treatment is a second to people getting vaccinated. We've got to get our numbers down."
"Compared to the vaccines we've had before, there's been more follow up on this vaccine than anything in history," Gov. Little said.
Hospital officials describe border communities, like Spokane and Coeur d'Alene, as the 'stopgap' for ineffective Covid practices in Idaho, which Gov. Inslee mentioned during his trip to Spokane.
As nurses and doctors fought to keep a critically ill woman alive at St. Luke's McCall Medical Center, which has just 15 beds, someone was busy painting swastikas outside. The staff is now demoralized and fearful.
"It was heartbreaking," said Paddy Kinney, a physician and the on-duty hospitalist that night. "The timing of it was tough. Anytime you leave the hospital after you've worked all night trying to save somebody and you go home to your family, it's hard to leave the hospital. You're wondering if you could have done more or if that person is going to ultimately survive the night.
"But then to leave and be faced with that on your way out the door was really heartbreaking for people."
"It's disheartening to hear that our healthcare workers went from feeling like heroes to feeling at risk," Idaho Department of Health and Welfare (DHW) Director Dave Jeppesen told reporters Tuesday.
Kootenai Health, in northern Idaho, increased security after people got into disputes with staff over masking requirements and staged protests outside the hospital. "I mean, we had a protest outside the hospital against masks and vaccines a couple of weeks ago that the patients that were dying of COVID inside could see," Kootenai Health chief of staff Dr. Robert Scoggins said. "I think that was awful."
Dr. Ryan Cole, who heads the public health efforts in Ada County, was blasted for making false claims that the COVID vaccine caused a twentyfold increase in cancer rates.
Cole claimed that he saw an uptick in cancers in vaccinated people, such as a "20 times increase in endometrial cancer". However, he offered nothing in the way of data to support his claim, meaning that viewers only have his word for it.
Public health authorities haven't reported a sudden cancer surge since the COVID-19 vaccination campaign began in the U.S. in December 2020. Furthermore, the spike that Cole alleged to be occurring would also have been observed worldwide if it were true. Yet, no reports have been corroborating Cole's claim that people are now developing cancer at record rates.
The number of children and teens in Idaho hospitals for COVID-19 at the end of this summer was five times higher than what hospitals were seeing in June, according to data presented Wednesday afternoon in a briefing with doctors representing Saint Alphonsus, St. Luke's, and Primary Health.
The number of hospitalized infants and children younger than five years old was ten times higher during the last week of August compared to June.
"That's a scary figure," said Dr. David Peterman, CEO of Primary Health Medical Group, who's also a pediatrician.
Kentucky
Wednesday marks the highest day of COVID-19 deaths in Kentucky with 82. The second highest was on JanuarJanuary 28, with 69 deaths.
Michigan
Two Michigan residents, including a registered nurse, were arrested on Wednesday and charged with selling fraudulent COVID-19 vaccine cards.
Bethann Kierczak, 37, faces charges of theft or embezzlement related to a healthcare benefit program and theft of government property.
The complaint alleges that starting as early as May, the registered nurse distributed and sold real COVID-19 cards that had either been stolen or embezzled from a Veterans Affairs hospital. For the cards to look even more authentic, Kierczak used stolen or embezzled vaccine lot numbers for the cards, prosecutors say. Kierczak is accused of using Facebook's Messenger feature to connect with potential buyers and sell the cards for between $150 and $200 each.
Montana
It continues to be very challenging to get meaningful information out of the state of Montana, beyond multiple hospitals operating at crisis standards of care or right to the line. The state reported more than 1,300 new cases but provided no information on total hospitalizations, ICU capacity, or the number of people on ventilators.
New Hampshire
Governor Chris Sununu condemned the actions of protesters that caused the postponement of Wednesday's Executive Council. The protesters, part of an escalating COVID protest movement, were opposed to a state contract to expand vaccination efforts. The protesters' yelling and threats led several state health department employees to leave the meeting under police escort.
"We will not allow our state employees to be put in harm's way for simply doing their jobs," Sununu said, echoing a statement he released earlier in the day. "That is not what New Hampshire is about."
New York
Disney's Aladdin on Broadway canceled tonight's performance – the show's first since reopening last night – after breakthrough COVID cases were detected within the musical's company.
In a tweet posted shortly before 7 p.m. E.T., the production stated, "Through our rigorous testing protocols, breakthrough COVID-19 cases have been detected with the company of Aladdin at The New Amsterdam Theatre. Because the wellness and safety of our guests, casts, and crew are our top priority, tonight's performance, Wednesday, September 29 has been canceled."
North Carolina
3 Doors Down have begun canceling concerts on their ongoing The Better Life 20th anniversary U.S. tour that will require all artists, crew, and attendees to show proof of vaccination against COVID-19 or a recent negative COVID test. Two shows have been canceled so far.
Those concerts were originally scheduled for October 7 at the Red Hat Amphitheater in Raleigh, N.C., and October 9 at Cadence Bank Amphitheatre in Atlanta.
Virginia
A 10-year-old girl in Suffolk died Monday from COVID-19 after being tasked to walk sick children in her class to the clinic, her mother wrote on Facebook. She is the 12th youth under the age of 20 in the state to die of the virus.
Teresa Makenzie Sperry, a student at Hillpoint Elementary School, was admitted to Children's Hospital of Kings Daughters in Norfolk and died after her heart failed, her mother, Nicole Sperry, wrote.
Misinformation
"Look at Israel." This is a common refrain from people who claim that vaccinations don't work. They cite Israel's high vaccination rate and the hospitalization rate among the vaccinated population. We wrote about the data fallacy when looking at percentages for new cases, hospitalizations, and deaths when evaluating vaccination performance. Let's pull these claims apart.
Israel is highly vaccinated. In April 2021, that statement is correct. Israel was the global leader in vaccination. By the time Delta surged in Israel, the nation had dropped to 32nd place. Today Israel is tied with Saudia Arabia and Germany in 21st place, with 67% of the population with at least one dose, narrowly ahead of the United States and behind Sweden. Globally, there are 17 nations with a vaccination rate of 70% or higher.
The United Arab Emirates, where 84% of the population is fully vaccinated, has a population similar to Michigan. The Middle East nation is reporting under 300 new COVID cases a day. The country never had a significant Delta surge.
For our analysis, we went straight to the source – The Israel Ministry of Health COVID website and its COVID Control Panel.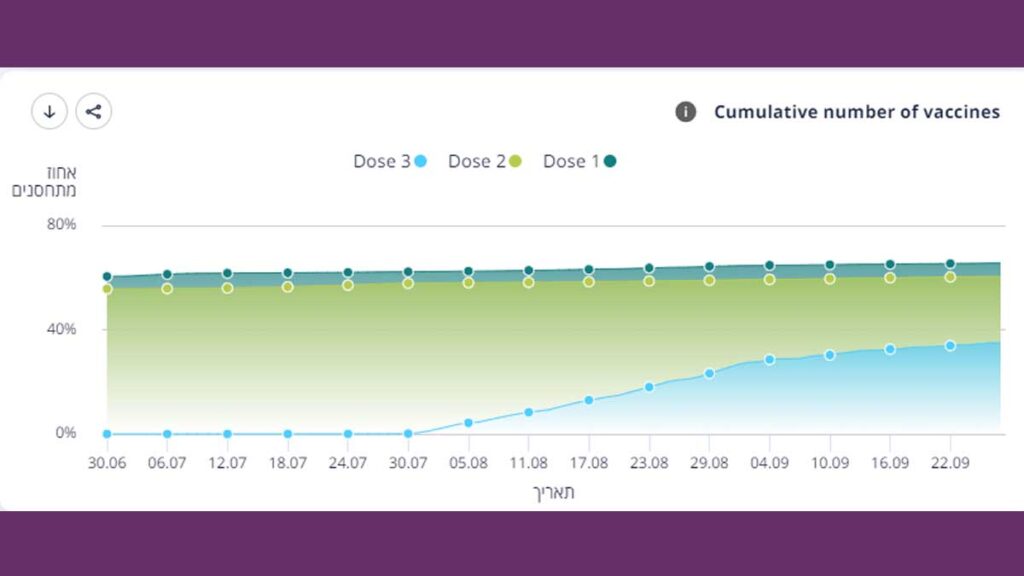 The first graphic shows the vaccination rate in Israel stalled out and barely changed over three months. The booster shot program started on JuJuly 302021, and about half of the previously vaccinated residents had received the first dose by the end of September.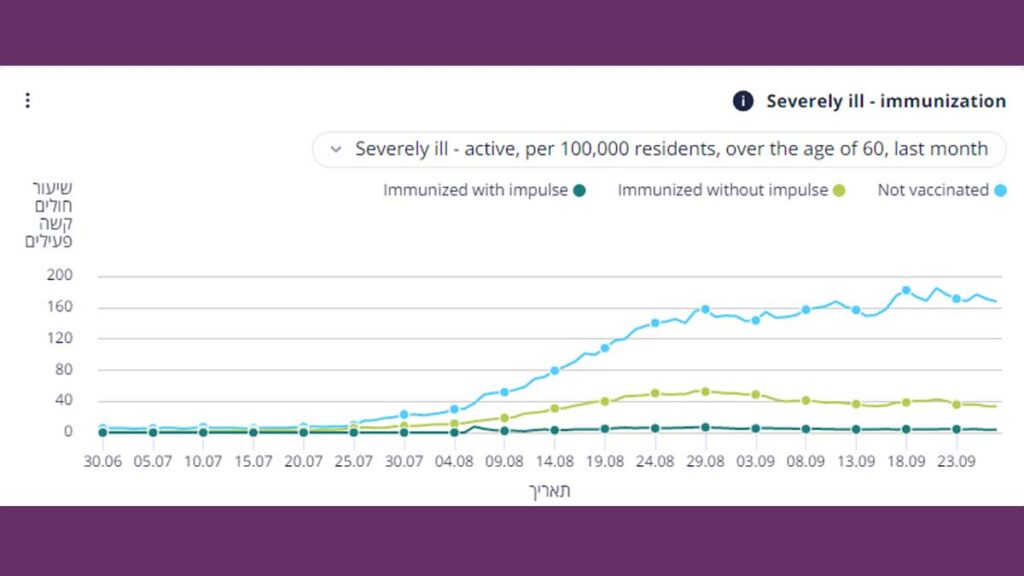 The next chart shows the impact of the Delta wave as it rolled through Israel. The number of severely ill patients, defined differently than the United States, rises quickly among the unvaccinated, representing only 33% to 36% of the population, depending on the time within the surge.
The number of severely ill patients also increases at just 25% of the peak level among the unvaccinated, despite representing 64% to 67% of the population. Finally, the number of severely ill patients over the last 3 months is negligible among residents who received a booster shot.
We know that most breakthrough cases are among people over 65 years old. Israeli doctors found the same situation.
Around half of the country's 600 patients presently hospitalized with severe illness (AuAugust 202021) have received two doses of the Pfizer Inc shot, a rare occurrence out of 5.4 million fully vaccinated people.
The majority of these patients received two vaccine doses at least five months ago, are over the age of 60, and have chronic illnesses known to exacerbate a coronavirus infection. They range from diabetes to heart disease and lung ailments, as well as cancers and inflammatory diseases that are treated with immune-system suppressing drugs, according to Reuters interviews with 11 doctors, health specialists, and officials.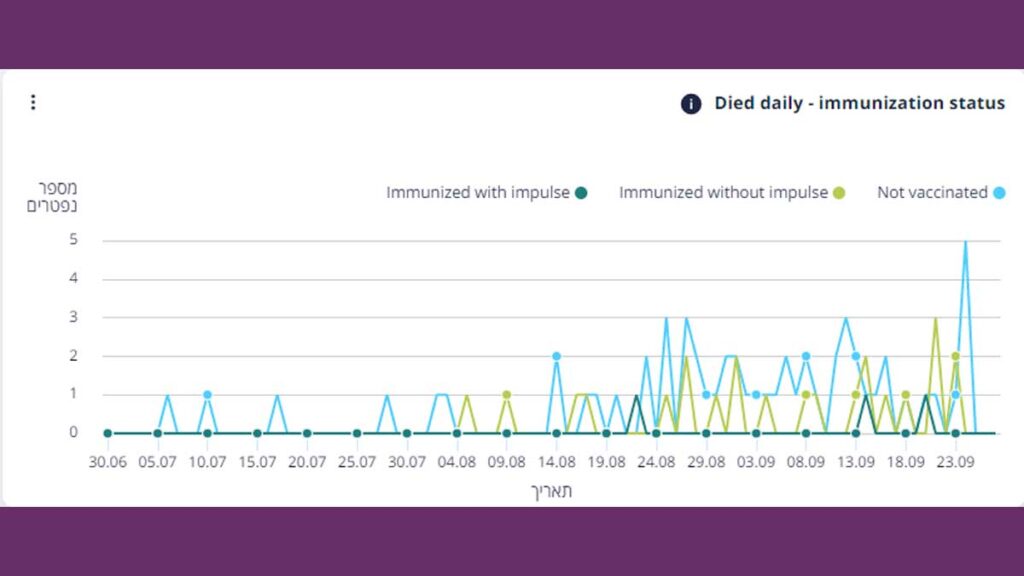 What about those under 60 years old? The overall rate of death among those under 60 is almost negligible. Unvaccinated residents have a slightly higher occurrence versus those who receive two doses. Once again, the unvaccinated group represents a much smaller number of people, about 3.3 million, versus the vaccinated group of 6.5 million. There is one more thing in this graph, in the last 90 days, the total number of deaths among residents under 60 who received a booster shot is 3.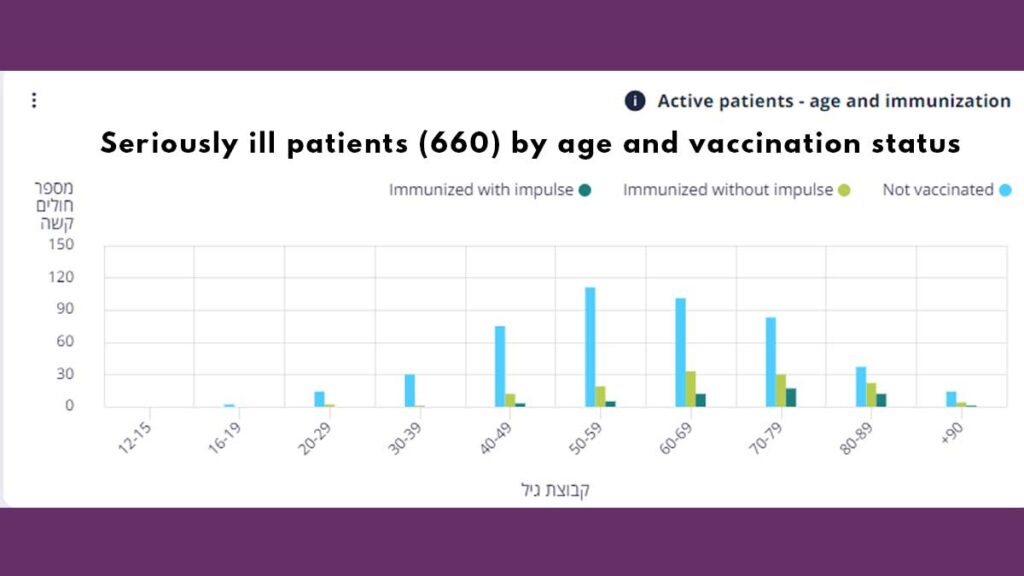 The last chart shows the current situation among "seriously ill" patients in Israel. The majority of the 660 hospitalized patients are under 70 years old, and a vast majority are unvaccinated. It isn't until you get to 80 and above that, the number of breakthrough cases comes close to the number of unvaccinated patients.
Of the 660 seriously ill patients, 285 are in the ICU, and 227 are on respirators, and the chart above shows, a vast majority are unvaccinated.
The argument that the vaccine didn't work in Israel is a data fallacy. The vaccine is highly effective at preventing severe COVID and death, even when facing the Delta variant and an aged population. In the last 90 days, based on data from Israel, only 3 people who received booster shots died from COVID.