DOH reporting hospitalization data again – local and national update for September 30, 2021
The data has been missing for a month, after the Department of Health removed several online daily reports.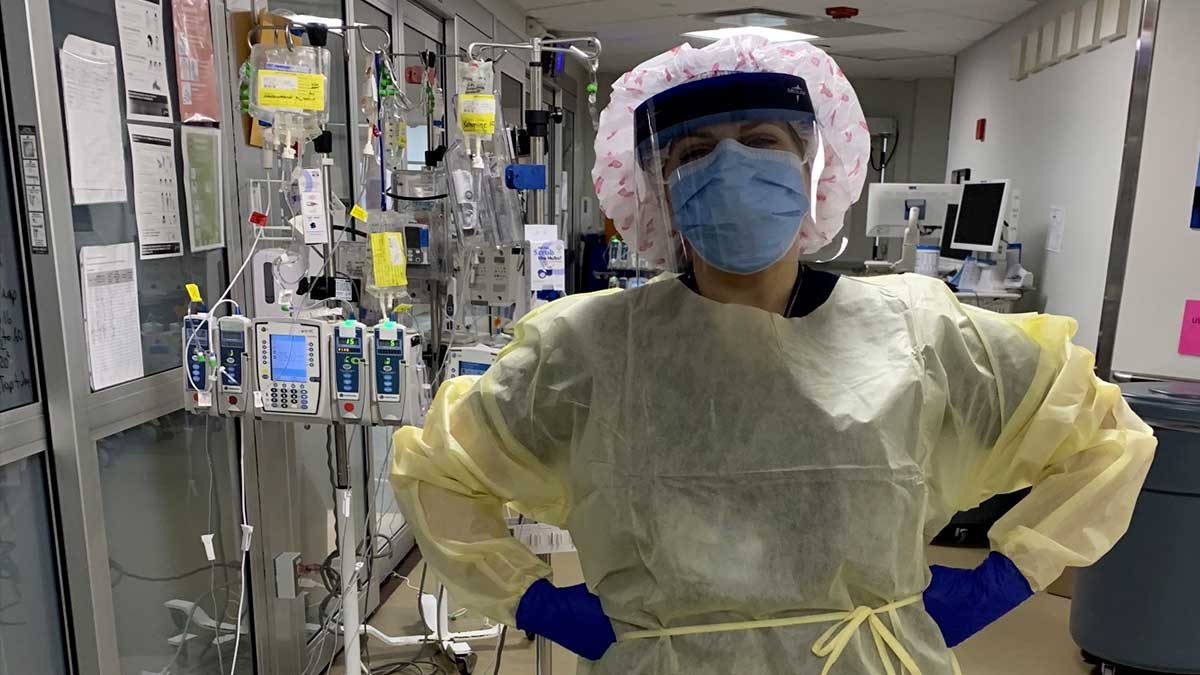 Knowledge is the best tool to fight against fear. A wise person chooses to be informed so they can make sound decisions. To join the fight against COVID misinformation, you can share this update through your social media platform of choice.
[KING COUNTY, Wash.] – (MTN) Six days after our story about data missing since August on the COVID dashboard from the Washington Department of Health, a significant amount of information was returned. The appearance of granular hospitalization data has enabled us to better understand the situation in Washington state.
New cases dropped statewide except in the least vaccinated counties. The three most vaccinated counties have new case numbers below 100 (7 day moving average) while the least vaccinated county has the highest new case rate in the state.

There are an estimated 615 acute care and 132 ICU beds available statewide, and approximately 55% of COVID patients in the ICU are on a ventilator.
Organizers of an anti-mandate rally failed to gather a crowd for the planned march, and the day was uneventful on First Hill and at Harborview Medical Center. It's possible the high vaccination rate among healthcare professionals was a factor.
We received information on new COVID cases in the Lake Washington School District from parents.
In regional news, there is a good news story out of Idaho tonight, although the Hunger Games continue. The surge in Alaska is relentless, while Montana remains on the edge of a knife.
In national news, in-home rapid COVID tests aren't as accurate as you think, rural America is being decimated by COVID, Health and Human Services clarifies that your employer is not violating HIPAA when it asks to confirm your vaccination status, and another study out about long COVID indicates this will be a problem for years to come.
In misinformation, we examine a Zero Hedge blog that claims that a Pfizer therapeutic in testing for COVID symptoms is essentially the same drug as Ivermectin.
This update uses the latest data from the Washington State Department of Health (WSDOH), released on September 30, 2021.
---
Washington State Update for September 30, 2021
Washington state COVID update
Jefferson and King County reported under 100 new COVID cases per 100K residents using the 7 day moving average, joining San Juan County in dropping to double digits. Simply put, the three most vaccinated counties in Washington have the lowest number of new cases.
New cases dropped statewide except in the least vaccinated counties. In the South Central Hospital Region, which includes Benton, Franklin, Klickitat, Walla Walla, and Yakima counties, the 14 day moving average for new cases plunged to 707.1 per 100K. The Puget Sound (Central) Hospital Region, which represents King County, held steady at 245.1.
| Percent of Total Population Fully Vaccinated | Average 14-Day New Case Rate (unadjusted) |
| --- | --- |
| 60.00% or above (3) | 175.5 |
| 50.00% to 59.99% (12 counties) | 505.4 |
| 40.00% to 49.99% (15 counties) | 645.4 (down) |
| 28.40% to 39.99% (9 counties) | 735.4 (up) |
14-Day New COVID Cases per 100K average by Vaccination Rate, Not Adjusted for Population
Through September 29, Washington's statewide 14-day rolling average is 422.8 COVID cases per 100K, statistically unchanged from yesterday. New case rates were flat or down for all but the least vaccinated counties.
The only county in the 1,000.0 to 1,399.9 range is Stevens (1,014.8), which is also the least vaccinated. The county's new case rate is more than 17 times higher than San Juan, the highest vaccinated county in the state.
Counties in the 800.0 to 999.9 per 100K range include Franklin, Garfield, Grant, Grays Harbor, Lincoln, and Okanogan. Adams and Pend Oreille are just under the 800 threshold.
New cases were statistically unchanged in every age group. Hospitalizations were down slightly for ages 20 to 49, and up slightly for ages 65 to 79.
| Age Group | 7-Day Case Rate | 7-Day Hospitalization Rate |
| --- | --- | --- |
| Ages 0-11 | 189.8 | 0.7 |
| Ages 12-19 | 206.7 | 1.7 |
| Ages 20-34 | 191.2 | 5.1 (down) |
| Ages 35-49 | 192.8 | 9.2 (down) |
| Ages 50-64 | 140.7 | 15.1 |
| Ages 65-79 | 100.0 | 19.5 (up) |
| Ages 80+ | 106.9 | 31.2 |
7-day case rate and 7-day hospitalization rate is per 100K within the age group – the target for 7-day case rate is <25.0, but there are other factors such as vaccination rates within the age groups, how many total tests within the 7-day period, and the positivity rate within each age group
The USA Today COVID Tracker reported 63 deaths on Wednesday. The state of Washington is not reporting the percentage of positive cases.
Antivax protest at Swedish and Harborview Medical Center doesn't materialize
Despite the promotion on multiple websites, coordination by several organizations, and plans shared on Facebook, Telegram, and some dark corners of the web, the anti-vaccination community took a loss today. After a large rally in Spokane and a "Town Hall" in Woodinville over the weekend, organizers could not rally groups to protest at the only Level 1 trauma center in the state.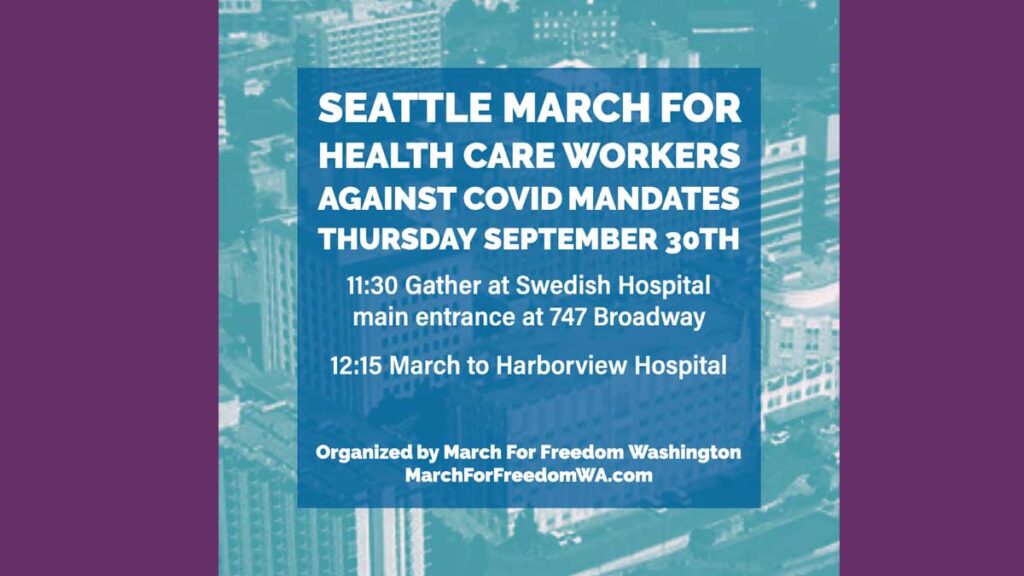 Lewis County Commissioner Gary Stamper dies of COVID
Q13 Fox is reporting Lewis County Commissioner Gary Stamper died from COVID after a three-week battle at PeaceHealth hospital in Vancouver, he was 67 and vaccinated.
Travel Advisories
We recommend avoiding recreational travel to Spokane, Yakima, Klickitat, Benton, Franklin, and Walla Walla counties. If the number of new cases in the South Central Hospital Region continues to decline, we will likely lift our advisory for this region in the next 4 to 11 days. We strongly advise against all nonessential travel to Alaska, Idaho, and Montana. Hospital resources in these regions are constrained, and you may receive inadequate care if you experience a medical emergency.
We may implement a travel advisory for Eastern Washington, based upon renewed hospitalization data now available from the Department of Health.
Thank you
Thank you to our new subscribers and those of you who have made one-time contributions. On behalf of the entire team, thank you for helping us keep the lights on!
Vaccination
Deadline for single dose Johnson & Johnson vaccine and second dose for Pfizer and Moderna vaccine looms for state workers
Thousands of state workers have until Sunday to receive their second Pfizer or Moderna dose or the single-dose Johnson & Johnson vaccine. Over 68% of state workers reported last week they were fully vaccinated. Data from companies, schools, and other states such as Hawaii and New York, indicates final acceptance would likely exceed 95%.
Multiple unions have reached agreements at a municipal, county, or state level, to extend the deadline past October 18 for individuals who received at least their first dose. Additionally, workers with denied exemptions requests will be given extra time.
Pfizer vaccine booster shots are now available
Booster shots for eligible individuals are now available statewide. Individuals who received both doses of the Pfizer vaccine more than 6 months ago, are 65 or older, or are immunocompromised can receive their third dose immediately.
In the Kirland-Bellevue-Woodinville area, Walgreens, Rite-Aid, Bartell's, and QFC are offering booster shots. Additionally, the third dose is available at the CVS located within the Target store at 17,700 NE 76th Street in Redmond.
Most locations require an appointment, which can be scheduled online.
Hospital Status
The Department of Health is reporting numbers on statewide hospital resources and providing information by Hospital Regions again. We have deep insight into the situation at a state and regional level.
According to the DoH COVID Dashboard, 19.0% of all acute care patients hospitalized in Washington have COVID. Currently, 91% of all staffed acute care beds are occupied with approximately 615 available.
ICUs are at 89.0% of capacity statewide, with 30.0% of ICU patients fighting COVID – an estimated 358 patients with 55% on ventilators. The state has an estimated 132 staffed ICU beds available. On a per-capita basis, staffed ICU bed availability in Washington is only slightly better than in Alaska, so the system remains very stressed.
The 7-day rolling average hospital admission rate for new COVID patients dropped slightly to 133. The Department of Health reported 1,288 COVID patients statewide on September 29 with 197 on ventilators. Both numbers increased slightly from yesterday.
| Hospital Region | ICU Occupancy | ICU COVID Patients | Acute Care Occupancy | Acute Care COVID Patients |
| --- | --- | --- | --- | --- |
| East | 89.3% | 45.5% | 90.1% | 27.3% |
| North | 80.9% | 27.0% | 88.4% | 13.1% |
| North Central | 96.9% | 59.0% | 75.8% | 27.2% |
| Northwest | 92.5% | 38.9% | 95.4% | 25.0% |
| Puget Sound | 91.6% | 23.4% | 94.5% | 14.7% |
| South Central | 86.1% | 36.5% | 84.3% | 26.4% |
| Southwest | 73.1% | 38.3% | 88.1% | 25.0% |
| West | 88.8% | 32.4% | 87.7% | 22.6% |
Hospital status by region – September 30, 2021 – ICU Occupancy should be below 80%, ICU COVID Patients should be below 20%, Acute Care Occupancy should be below 80%, and Acute Care COVID Patients should be below 10%
With the return of this critical information, we can better assess region by region status. We will hold our travel advisories and watch for trends in the East, North Central, and South Central Regions. It is very likely we will drop the travel advisory to South Central counties next week, but may add an advisory to the East Region counties.
Back to School
School District
Status
Less than 10 Active Cases
10 or More Active Cases
Bellevue

YELLOW

– Bellevue (1)
– Eastgate (1)
– Enatai (4)
– Lake Hills (3)
– Sherwood Forest (7)
None
Lake Washington

YELLOW

– Alcott Elementary (1*)
– Barton Elementary (1*)
– Dickinson/Explorer Elementary (2*)
– Ella Baker Elementary (3*)
– Eastlake High (1*)
– Evergreen Middle School (1*)
– Franklin Elementary (2*)
– Finn Hill Middle School (1* – see below)
– ICS (1*)
– Inglewood Middle School (2*)
– Juanita Elementary (1*)
– Kamiakin Middle School (3* – see notes below)
– Keller Elementary (2*)
– Kirkland Middle School (1*)
– Lake Washington High (1*)
– Lakeview Elementary (3*)
– Muir Elementary (1*)
– Redmond Middle School (1*)
– Redmond High School (1*)
– Renaissance Middle School (1*)
– Rush Elementary (2*)

See notes below


Northshore

RED

– Arrowhead Elementary (16)
– Canyon Creek Elementary (25**)
– Canyon Park Middle School (11**)
– Cottage Lake Elementary (15)
– Crystal Springs Elementary (54**)
– East Ridge Elementary (23)
– Fernwood Elementary (13**)
– Frank Love Elementary (29)
– Hollywood Hills Elementary (27)
– Inglemoor High School (8)
– Innovation Lab High School (11)
– Kenmore Elementary (12)
– Kenmore Middle School (49**)
– Kokanee Elementary (61)
– Leota Middle School (5)
– Lockwood Elementary (32)
– Maywood Hills Elementary (21**)
– Moorlands Elementary (49)
– North Creek High School (26**)
– Northshore Middle School (14**)
– Ruby Bridges Elementary (9)
– Secondary Academy for Success (15)
– Shelton View Elementary (20**)
– Skyview Middle School (68**)
– Sunrise Elementary (23)
– Timbercrest Middle School (46)
– Wellington Elementary (74)
– Westhill Elementary (33)
– Woodin Elementary (18**)
– Woodinville High School (20)
– Woodmoor Elementary (22**)
– Bothell High School (13*/124)
Local Districts Scorecard – * indicates positive cases only ** indicates 5 or more confirmed positive cases
We redefined the school district statuses. Information for classroom and building closures has been a challenge to obtain, both for closures and reopening. We are adopting moving any school with more than 10 active COVID cases reported into the red, and we've adjusted the third column to reflect this change.
The Northshore School District numbers only wiggled across a number of schools while the Bellevue School District is unchanged from yesterday.
We received a confirmed parent report on Wednesday of one new COVID case at Finn Hill Middle School with 52 students moved to quarantine.
We received a confirmed parent report on Thursday of two new COVID cases at Kamiakin Middle School with 27 additional close contacts.
We received a parent report of one new COVID case at Old Redmond Schoolhouse (preschool) with an unknown number of close contacts.
Because Lake Washington doesn't update its dashboard daily, we are adding these as footnotes. We have not added the Old Redmond Schoolhouse to the scorecard above because it is not officially listed on the Lake Washington School District dashboard.
We continued to encourage parents to request the Bellevue and Lake Washington School Districts to improve their COVID data reporting.
The Kent Reporter stated the Kent School District closed a classroom at Panther Lake Elementary School due to COVID.
"As of (Wednesday) September 29 one classroom is closed," according to the district's COVID-19 dashboard and school status map. "Otherwise, the building is open and offering in-person instruction to students in the remaining classrooms. The school contacted all impacted families of the closed classroom on September 29."
Kirkland-Bellevue-Woodinville
No update
National Round-Up
Johns Hopkins University Cumulative Case Tracker is reporting 123,269 new cases and 2,531 deaths nationwide. The United States will reach a tragic milestone of 700,000 confirmed COVID-related deaths since February 29, 2020, this weekend.
At-home rapid tests aren't as accurate as PCR tests
The at-home antigen tests that produce results in minutes — and are more comfortable because you don't have to swab your nose deeply — detect certain proteins in the virus. However, the tests can provide false negatives according to a report by the Kansas City Star.
Dr. Rachel Liesman, director of clinical microbiology, said there haven't been a lot of false positives reported with the rapid tests.
"If you're symptomatic it will give you a really quick result and that can be helpful," she said. "But I think given … the potential ramifications of missing a case, I would recommend that if you get a negative (and you have COVID symptoms), you go and get a PCR test because those have much better sensitivity.
Center for Infectious Disease Research and Policy report indicates COVID is decimating rural America
Rural Americans are currently twice as likely to die from COVID-19 infections compared with their urban peers, according to Kaiser Health News and data from the Rural Policy Research Institute (RPRI) at the University of Iowa.
Since March 2020, 1 in 434 rural Americans has died from COVID-19, compared with roughly 1 in 513 urban Americans. And unlike deaths in urban areas, the vaccine rollout has not slowed COVID-19 fatalities in rural parts of the country due to low uptake. Short-staffed hospitals and limited access to healthcare are also contributing factors, the researchers say.
Virus incidence rates in September were roughly 54% higher in rural areas than elsewhere, and in 39 states, rural counties had higher rates of COVID than urban counties.
In related news, health officials in Idaho, a predominately rural state with some of the lowest vaccination rates in the country, said more kids and babies are being hospitalized with COVID-related complications. As of this week, 1,700 new COVID-19 cases were reported in children in Idaho, according to the Associated Press.
Health and Human Services Releases Guidance on employer verification of vaccination status and HIPAA
The U.S. Department of Health and Human Services (HHS) Office for Civil Rights (OCR) issued guidance to help the public understand when the Health Insurance Portability and Accountability Act of 1996 (HIPAA) Privacy Rule applies to disclosures and requests for information about whether a person has received a COVID-19 vaccine.
The guidance reminds the public that the HIPAA Privacy Rule does not apply to employers or employment records. This is because the HIPAA Privacy Rule only applies to HIPAA-covered entities (health plans, health care clearinghouses, and health care providers that conduct standard electronic transactions), and, in some cases, to their business associates.
Today's guidance addresses common workplace scenarios and answers questions about whether and how the HIPAA Privacy Rule applies. This information will be helpful to the public as we continue to navigate the COVID-19 pandemic.
China study on long COVID mirrors results of similar studies in the United States and U.K.
Among thousands of the earliest survivors of COVID-19 in Wuhan, China, nearly half had at least one persistent symptom a full year after being released from the hospital, according to a new study published in JAMA Network Open.
The study followed up with 2,433 adult patients who had been hospitalized in one of two hospitals in Wuhan early on in the pandemic. Most had nonsevere cases, but a small number had severe COVID-19 and required intensive care. All of the patients were discharged between February 12 and April 10, 2020, and the study follow-up took place in March of 2021.
Alaska
Alaska reported 1,270 new COVID cases today and a new case rate of 1,165 per 100,000 residents. The remote state continues to have the highest new case rate on the planet. Hospitals in Anchorage, Bethel, and Valdez are operating under crisis standards of care protocols.
"It's been Hell," said Heidi DeCaro, a respiratory therapist at Providence Alaska Medical Center, whose job includes assisting COVID-19 who are struggling to breathe.
In a Thursday interview, DeCaro and a few of her co-workers described generally untenable work conditions. The team has been caring for up to twice their normal patient loads, their shifts have stretched as long as 15 hours, and they've lost "about a third" of their co-workers due mainly to burnout, exhaustion, and a demoralizing work environment, they said.
The 203 hospitalized COVID patients are essentially unchanged from yesterday. The number of available ICU beds dropped to 16. Of the 113 ICU patients statewide, 87 are on ventilators, 36 with COVID. The majority of new cases are among people under 40 years old and unvaccinated.
Linda Gaines talked to KTOO about the situation in Haines, Alaska, after her husband was airlifted to Anchorage. Some models are now predicting hospitalizations won't peak until November, and oxygen supplier Norco, Inc. is already struggling to keep up with demand.
"As I went up into the lobby area, there was probably 50 more people standing to get into the emergency room," she said. "And then going outside, there was more people in the parking lot, waiting to get up to the main entry to go to the emergency room."
Doug Williams of Guardian Flight described a similar situation ground ambulances face in urban hotspots. Aircraft that would normally arrive, load, and fly off are forced to wait on the tarmac while doctors try to find a bed for a sick patient. This takes the aircraft offline while it waits, slowing down the entire system.
California
The deadline for healthcare workers to get vaccinated has almost arrived, and in Sacramento, hospitals are preparing to discipline and terminate employees.
Kaiser Permanente said 90% of employees have reported they are vaccinated, including 97% of doctors, in a report by KCRA. Employees still have until December 1 before they risk termination.
Dignity Health also reported about 90% of employees are vaccinated and employees suspensions will start tomorrow. Sutter Health said 98% of employees are vaccinated in a system with more than 55,000 employees. Sutter Health will terminate "out of compliance" employees on October 15.
UC Davis Health told KCRA that 94% of more than 15,000 employees are vaccinated. Between exemption requests and partially vaccinated employees, a spokesperson said about 50 employees have not gotten vaccinated in defiance of the requirement.
Idaho
Idaho reported 1,905 new cases yesterday and 53 deaths. Hospitalizations have dropped to around 750, and the number of patients in the ICU has dropped to just below 200. It is unclear if this improvement is due to deferring patient procedures such as elective surgery, due to crisis standards of care rules, people following misinformation to not go to hospitals or a plateauing of cases.
"While there is not an immediate shortage of oxygen, there is a tremendous amount of growing stress to the supply chain network," Elias Margonis, President of Norco, Inc. wrote in a letter. "Many hospitals have already pushed their bulk storage systems to limits of requiring emergency upgrades."
In an interview with the Idaho Statesman, Margonis said Norco's storage systems are generally designed to require shipments of new oxygen every three weeks or, in some cases, every six weeks. These days, many hospitals that Norco supplies are needing new shipments every three or four days, and some have had to use their reserve tanks.
The gaps between the haves and have nots extend into the universe of COVID. People with means and resources cant get monoclonal antibody treatments through private clinics and send their children to private and charter schools, which ironically, support remotely learning, mask mandates, and vaccination requirements for staff.
Charter school enrollment increased by more than 6,000 students for the 2020/2021 school year–the first academic year fully consumed by the pandemic.
Jenn Thompson, the Director of the Idaho Public Charter School Commission says population growth makes that seem like a big increase, but it's only a roughly 1% increase from the previous academic year.
"About 60% of the growth we saw last year was very specifically parents enrolling in virtual schools and the data we can look at right now is about half of that is holding," Thompson said.
Idaho state representative Greg Chaney is mourning the loss of his mother, who died of COVID less than a week after becoming symptomatic. Chaney said his mother, who was 74, was unvaccinated.
"(My mom) wasn't gullible, and I guess that's one thing I've tried to make clear," Chaney told KTVB. "She was the first in her family to graduate with a bachelor's degree, she got a master's degree, so she was an intelligent person who made her own decision."
Rep. Chaney said he believes that his mom was misled by misinformation
"I think she was skeptical about whether it was really as bad as it was billed to be," Rep. Chaney said. "I think she viewed it as 'I've been through a lot of stuff in my time on this planet and this is just another thing in the stuffing box.'"
"I think there was enough out there that validated her skepticism."
Kay Craig, a physical therapist who has worked for St. Luke's for more than 28 years, applied for a religious exemption for the COVID vaccination and had it approved.
In an interview with KTVB, she discussed a change of heart after seeing the reality first hand and doing her own research. After Craig traveled out of town for surgery and returned, she saw firsthand how the pandemic was overwhelming Idaho's hospitals. 
"I didn't believe them when they said it was 98% or 96% unvaccinated and through my own research, it truly is," she said. "I looked in the ICU today and it's 27-year-olds, it's 33-year-olds, it's 60-year-olds. I had another good friend and her brother-in-law died at 40."
At this point, Craig decided she had seen enough and received the Johnson & Johnson COVID-19 vaccine.
"I have peace now. It's funny, there are some like my parents. They never said anything to me but now that I am vaccinated they are like, 'Phew' you know? Because you worry about your kids."
Indiana
The Indy Star is reporting Megan Bournique is suing Ascension St. Vincent hospital for refusing to administer Ivermectin to her critically ill mom.
The emergency lawsuit asks a judge to intervene and order the Indianapolis hospital to respect a prescription for ivermectin issued to Eliot by a physician assistant named Maria Carson, according to the lawsuit.
Marion Superior Judge Kurt Eisgruber ordered Ascension St. Vincent to give Eliot the drug pending a response to the lawsuit by the hospital. After lawyers representing the hospital challenged the order in court Wednesday, Eisgruber backtracked with a new order saying Ascension St. Vincent did not have to give Eliot the drug.
The largest study to date on the effectiveness of Ivermectin found it had no effect and was contraindicated for patients with moderate to severe COVID.
Also reported by the Indy Star, Governor Eric Holcomb renewed the state's public health emergency order once again on Thursday.
The extension comes one day after state health officials offered cautious optimism with the state's waning COVID-19 trends, including decreasing cases and hospitalizations. State Health Commissioner Dr. Kris Box emphasized, however, that they do not expect these declines to be "linear."
"We may see cases bounce back up and bounce back down," Box said. "If you look at other states, that's what they see — kind of a 'sawtooth' pattern. That is the nature of this disease."
Michigan
The Republican legislature put language in the 2022 budget signed by Governor Gretchen Whitmer, rescinding funding to any county or school system that independently declares a public health emergency. Multiple counties and school districts are ending quarantine rules and mask requirements out of fear of losing education dollars from the state.
May the odds ever be in your favor.
Montana
Montana reported its 2,000 COVID death last night, with the official total at 2,009 this evening. Governor Greg Gianforte released a statement according to the Montana Free Press. High blood pressure and diabetes were each recorded as a factor in about 1 in 5 of the state's 2020 COVID-19 deaths. Chronic lung disease was a factor in about 1 in 7. Dementia was a factor in about 1 in 9.
"The governor joins all Montanans whose hearts go out to the family, neighbors, and friends of those we have lost to the virus," the statement read. "As the governor has said repeatedly, vaccination remains the best solution to protect ourselves and our loved ones from the virus, and we continue to make progress with the millionth dose of vaccine administered in the state yesterday."
It continues to be very challenging to get meaningful information out of the state of Montana. The state reported 1,217 new cases with 415 hospitalized. The Department of Health and Human Services did report that over 88% of the people hospitalized and 83.5% of confirmed COVID-related deaths were unvaccinated.
New York
Spectrum News reported a group of New York City teachers asked the U.S. Supreme Court for an injunction to stop the city from enforcing its COVID-19 vaccine mandate, court records show.
The emergency injunction request was filed Thursday, a day before Department of Education employees must receive at least their first COVID-19 shot to continue working.
"While a temporary interruption of work is not actionable, the mandate here would have a permanent effect: it is open-ended, where if a teacher never gets vaccinated, he or she will never be able to return to work," the plaintiffs said in their petition.
The petitioners say an immediate injunction is necessary, arguing the "Court will lose the opportunity to provide meaningful relief" to public school employees if it does not issue an injunction before the Friday 5 p.m. deadline for DOE staff to get their first shot.
The Supreme Court has reviewed other emergency case requests from students and faculty and rebuked all challenges. The Supreme Court case of Jacobson vs. Massachusetts in 1905 found that municipalities, counties, and states can mandate vaccinations as a matter of public health, and the case law has been challenged multiple times.
Oregon
KOIN reported hospitals in Oregon continue to be nearly filled. There are 816 COVID patients hospitalized across the state, with 231 in the ICU. Only 10% of ICU beds are available, and only 8% of non-ICU beds.
The state recorded another 1,896 new cases and 20 deaths.
Oregon also reported similar data to Washington state and national data from the CDC on breakthrough cases. Of all the breakthrough cases, only 4.6% of people were hospitalized and less than 1% died. The average age of vaccinated people who died was 80.5.
Tennessee
Tennessee leads the nation in delicious Whiskey, country music, some of the friendliest people you can meet, Nissan Altimas, and COVID-related school closures. If you think we're being flippant, the Tennessean shares our tone.
"Unsurprising to many students and parents, Tennessee has seen the most COVID-related school closures so far this school year according to a new Centers for Disease Control and Prevention study published."
From August 2 to September 17, Tennessee saw more than 400 schools close for at least one day, according to the study released last week.
Utah
Utah Governor Spencer Cox said Thursday the state appears to be headed toward the "other side" after several weeks of a COVID-19 surge in a story by KSL.
"Over the last 14 days, our positive tests are down about 20% in the state, and so there are good indicators that we have summited the peak of the delta variant," Cox said during his monthly PBS news conference.
Meanwhile, on Thursday, the Utah Department of Health reported 1,704 new coronavirus cases and 12 deaths.
The rolling seven-day average for positive tests is now 1,355 per day, and the percent positivity rate of those tested is 14.2%.
Governor Cox also warned Utah lawmakers if they approve a bill to ban businesses from requiring COVID vaccinations, it won't make it past his desk. When a reporter asked if the bill landed on his desk if it would be, "dead on arrival," the governor said, "yes."
"We support businesses in their decisions on whether or not to require vaccines, and I continue to do that," the governor said during his monthly PBS Utah news conference.
"I know that position can be maddening to some, and that's fine. But I'm a huge believer in free markets, and a mandate not to allow businesses to have mandates is a mandate in and of itself, and it's government still telling businesses what they can and can't do. And I'm opposed to that. I think that businesses should be able to have a mandate."
Wisconsin
Wisconsin Public Radio is reporting state senator André Jacque was released from the hospital more than three weeks after being placed on a ventilator because of a COVID-19 infection.
Jacque, a Republican from De Pere who has been a vocal opponent of mask and vaccine mandates, tested positive for the virus last month.
"He and his family wish to thank everyone for the prayers and good wishes that are making his recovery possible," a spokesperson for the senator said Tuesday. "Sen. Jacque is doing much better; he is in touch with his staff on legislative and district issues, and he is reaching out to his friends and colleagues."
Jacque will continue respiratory and occupational therapy, but he's feeling well mentally, the spokesperson said in a statement.
While he was hospitalized his wife, Renée Jacque, appealed for people to get vaccinated and to place "their trust in medical professionals."
Wyoming
Wyoming hospitals are reporting 211 COVID patients hospitalized, 43 on ventilators, and only 33 ICU beds available statewide. Wyoming has 37 hospitals including Veteran's Administration facilities. Only 13 have available ICU beds. More alarming, over 21% of COVID tests performed at hospitals are positive.
Misinformation
The latest one on social media is a drug that Pfizer is studying that is "suspiciously similar" to Ivermectin. The misinformation is coming from a blog on Zero Hedge that claims the Pfizer drug is essentially the same as Ivermectin.
The blog post is based on an article from the Reuters news agency about a Pfizer drug known as PF-07321332. The article said Pfizer has begun a study of the pill in up to 2,660 healthy adults who live in the same household as someone with a confirmed symptomatic COVID-19 infection.
Pfizer described the drug as a protease inhibitor, which is "designed to block the activity of the main protease enzyme that the coronavirus needs to replicate." That would stop symptoms from worsening, a spokesperson said.
Zero Hedge seized on the protease inhibitor fact, claiming "that's exactly what ivermectin" does.
Pfizer's protease inhibitor is not similar to that of animal medicine and does not use the same mechanism, a Pfizer spokesperson told us. 
Benjamin Neuman, the chief virologist at Texas A&M University's Global Health Research Complex, said ivermectin's main job is to block ion channels that parasites use to store up positively and negatively charged atoms. SARS-CoV-2 does not have any ion channels like the ones that ivermectin blocks, so there is not an obvious way for ivermectin to work in COVID-19, he said.
You can read more at Politifact, but the bottom line is, the claim is untrue.