A little brown pill could be a giant game changer – local and national update for October 1, 2021
Phase 3 study shows Emory University developed molnupiravir cuts COVID hospitalizations and deaths in half.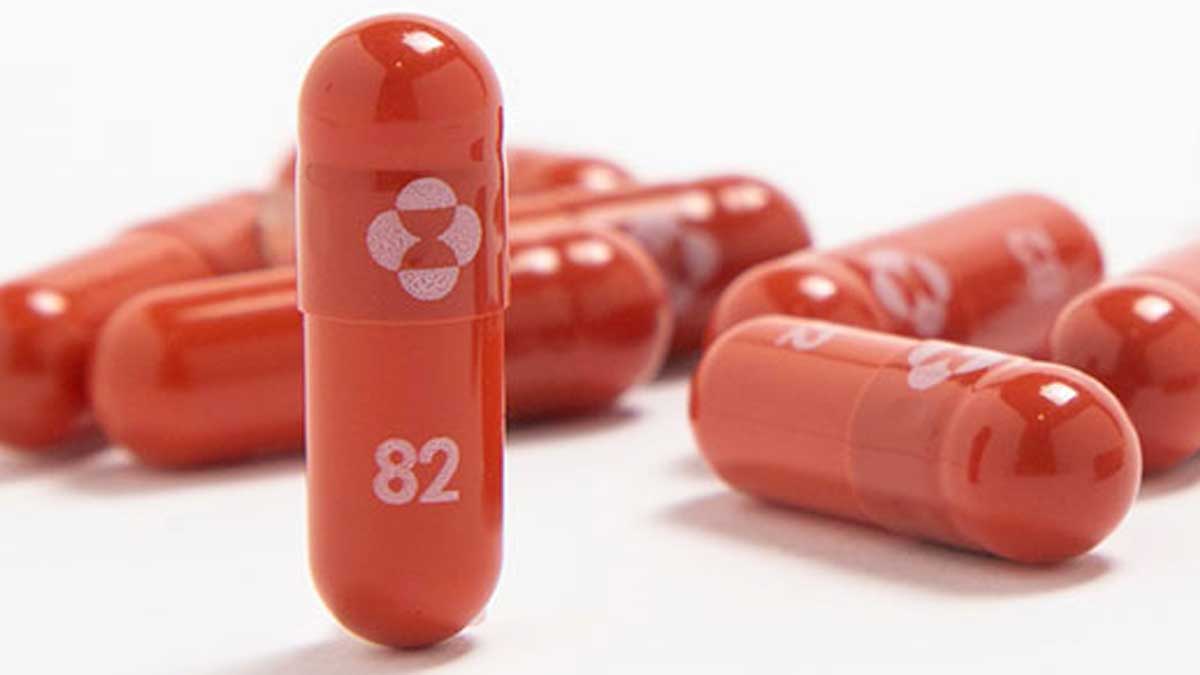 Photo credit: Emory University
Knowledge is the best tool to fight against fear. A wise person chooses to be informed so they can make sound decisions. To join the fight against COVID misinformation, you can share this update through your social media platform of choice.
[KING COUNTY, Wash.] – (MTN) The big news today is about a little brown capsule called molnupiravir. The Phase 3 trial of the oral medication cut COVID hospitalizations and deaths by 50%, and Merck has applied for Emergency Use Authorization with the FDA. The impact of this new medication could go far beyond COVID with researchers at Emory University claiming it could be useful against other viral diseases.

New COVID cases and hospitalizations held steady statewide. A report in the Seattle Times indicated more than half of rural Washington transfer patients ended up in King County hospitals.
The Bellevue School District updated its COVID dashboard and revealed there are 37 confirmed COVID cases. In the Northshore School District, cases continued to grow at Bothell High School and Crystal Springs Elementary School reported 11 confirmed cases.
There are an estimated 604 adult acute care and 132 ICU beds available statewide, and approximately 56% of COVID patients in the ICU are on a ventilator.
The Nisqually Nation was forced to evacuate a COVID quarantine site in Roy, Washington after multiple threats were made. A post on Facebook falsely claimed it was a newly built government quarantine site for rounding up the unvaccinated.
Amazon continues to promote dangerous COVID treatments on its website.
Alaska Air Group announced they will require all employees to get vaccinated, but a hard deadline was not set.
Alaska, Idaho, and Montana continue to struggle with surging COVID cases.
Supreme Court Associate Justice Sonia Sotomayor denied an emergency request by New York educators to block the state's vaccine mandate. That's a bigger deal than you think, and it wasn't unexpected.
In the misinformation section, we tackle "it's just the flu" very graphically.
This update uses the latest data from the Washington State Department of Health (WSDOH), released on October 1, 2021.
---
Washington State Update for October 1, 2021
Washington state COVID update
New cases held steady statewide with no statistical difference from yesterday. In the South Central Hospital Region, which includes Benton, Franklin, Klickitat, Walla Walla, and Yakima counties, the 14 day moving average for new cases increased to 727.9 per 100K. The Puget Sound (Central) Hospital Region, which represents King County, was statistically unchanged at 244.5.
| Percent of Total Population Fully Vaccinated | Average 14-Day New Case Rate (unadjusted) |
| --- | --- |
| 60.00% or above (3) | 171.9 |
| 50.00% to 59.99% (12 counties) | 506.9 |
| 40.00% to 49.99% (15 counties) | 653.9 |
| 28.40% to 39.99% (9 counties) | 734.4 |
14-Day New COVID Cases per 100K average by Vaccination Rate, Not Adjusted for Population
Through September 30, Washington's statewide 14-day rolling average is 426.6 COVID cases per 100K, statistically unchanged from yesterday.
For the first time in over a month, no counties reported a new case rate over 1,000 per 100K residents. Based on this change we are updating how we report county performance.
Counties in the 800.0 to 999.9 per 100K range include Ferry, Frankin, Grant, Grays Harbor, Lincoln, Okanogan, Pend Oreille, and Stevens. Ferry County is a new hot spot, while cases in southeast Washington are on the decline. Stevens County is just under 1,000.
Counties in the 600.0 to 799.9 per 100K range include Adams, Asotin, Columbia, Klickitat, Cowlitz, Benton, Walla Walla, Garfield, Douglas, Lewis, Chelan, and Spokane. Adams County is just under 800 and Yakima County is just under 600.0.
We will keep descending these brackets until most counties fall below 450 per 100K residents. Currently, 28 counties still have widespread transmission of COVID.
New cases were up for 12 to 19-year-olds while hospitalizations were down for the same age group.
| Age Group | 7-Day Case Rate | 7-Day Hospitalization Rate |
| --- | --- | --- |
| Ages 0-11 | 195.0 | 0.6 |
| Ages 12-19 | 220.6 (up) | 1.3 (down) |
| Ages 20-34 | 191.7 | 5.2 |
| Ages 35-49 | 189.8 | 8.8 |
| Ages 50-64 | 137.6 | 15.2 |
| Ages 65-79 | 104.3 | 20.0 |
| Ages 80+ | 108.3 | 32.6 |
7-day case rate and 7-day hospitalization rate is per 100K within the age group – the target for 7-day case rate is <25.0, but there are other factors such as vaccination rates within the age groups, how many total tests within the 7-day period, and the positivity rate within each age group
The USA Today COVID Tracker reported 72 deaths on Thursday. The state of Washington is not reporting the percentage of positive cases.
Nisqually Nation forced to evacuate COVID quarantine site after threats
Because three or four generations can be living under the same roof, a COVID-positive person can have a significant impact on the entire household. The Nisqually Nation started using a 26-acre property in Roy, Washington last year enabling tribal members to quarantine away from family members. The tribe was forced to evacuate the site after an online misinformation campaign labeled the location a concentration camp.
The Facebook group Americans Against 2nd Class Treatment posted on September 28, 2021, about the site, claiming it was a "new COVID quarantine site" and they were "just getting to work on it." In reality, the site has existed for more than a decade, and the Nisqually Nation bought the 26-acre parcel in 2014. Earlier this month, they cleared some timber between the buildings and Highway 702, making the location more visible from the road.
Comments quickly developed with people calling it a "concentration camp" and a "gulag." The group went on to post that the Nisqually Nation was forced to hire security and block the access road with boulders due to ongoing threats at the property.
According to KING 5, tribal officials were forced to evacuate the site on Thursday.
"Who does that," said Nisqually Tribal Councilmember Hanford McCloud, "It's beyond ridiculous."
McCloud said about 30 people have stayed on the property in the last 18 months, giving them a safe place to recover and prevent the spread of COVID-19.
A caretaker and his family, along with two COVID-19 patients, were placed in a hotel, said Tribal Health Officer Mary Szafranski.
Amazon continues to recommend dangerous COVID treatments on its website
A surge of social media videos in the last two weeks on YouTube and Tik Tok has advocated nebulizing hydrogen peroxide as a preventative and home treatment for COVID. Content creators have danced around guidance medical guidance to spread the misinformation.
For the third time in 60 days, Amazon is at the center of controversy with the AI designed to drive more sales, recommending medical saline and hydrogen peroxide with nebulizer purchases.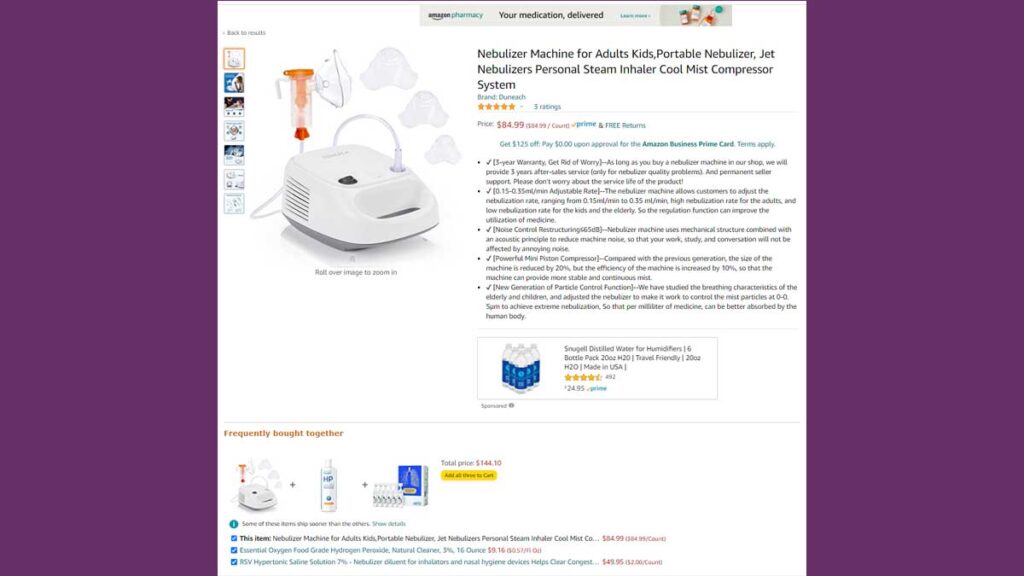 This is not new territory for Amazon. In 2017 the "Frequently Bought Together" recommendation included ingredients to make homemade bombs. The Seattle-based company adjusted the recommendations made by the feature and said they would police recommendations in the future to prevent the recommendation of dangerous combinations.
In August the online behemoth was called out for promoting Ivermectin, and publishing reviews with veiled dosing instructions for humans. A couple of weeks later, Amazon was dinged again for recommending books that spread COVID misinformation.
Multiple medical groups have appealed for people not to drink or nebulize hydrogen peroxide. The human body does not have a finite capacity to process hydrogen peroxide and the solution hasn't been recommended for wound care in years.
The Asthma and Allergy Foundation of America wrote, "A concerning and dangerous trend is circulating on social media channels like Facebook, Twitter, and TikTok. People are breathing in hydrogen peroxide through nebulizers to try to prevent or treat COVID-19."
"DO NOT put hydrogen peroxide into your nebulizer and breathe it in. This is dangerous!"
Alaska Air Group mandates vaccination for all employees
Alaska Air Group joined Delta and Hawaiian Airlines, mandating all employees of Alaska Airlines, Horizon Air, and McGee get vaccinated against COVID. The airline stopped short of setting a hard deadline, but employees who prove they are fully vaccinated by December 1 will receive a $200 bonus. The mandate impacts certain vendors and contractors also.
"Since our company does significant work for the federal government, we have determined that Alaska Airlines, Horizon Air, and McGee employees – all part of Alaska Air Group – do fall under this federal vaccine mandate, along with other major U.S.airlines," Alaska Air Group said in a statement.
The airline reported on September 1, that 75% of its workforce was already fully vaccinated.
United Airlines reported yesterday that 320 of 67,000 employees decided to quit over the vaccine mandate they implemented earlier this year. Nationally compliance for vaccine mandates has ranged from 89% to virtually 100% across cities, counties, states, schools, hospitals, and private employers.
More than half of rural Washington COVID transfer patients ended up in King County
A Seattle Times analysis found that from July 1 to September 23, 229 of 414 COVID transfer patients in Washington state ended up in King County hospitals. The Seattle Times story is behind a paywall and The Slog written by The Stranger is more politically charged on this topic for our COVID coverage specifically. You can see this summary by the author Joseph O'Sullivan on Twitter.
Travel Advisories
We recommend avoiding recreational travel to Spokane, Yakima, Klickitat, Benton, Franklin, and Walla Walla counties. If the number of new cases in the South Central Hospital Region continues to decline, we will likely lift our advisory for this region in the next 3 to 10 days. We strongly advise against all nonessential travel to Alaska, Idaho, and Montana. Hospital resources in these regions are constrained, and you may receive inadequate care if you experience a medical emergency.
We may implement a travel advisory for Eastern Washington, based upon renewed hospitalization data now available from the Department of Health.
Thank you
Thank you to our new subscribers and those of you who have made one-time contributions. On behalf of the entire team, thank you for helping us keep the lights on!
Vaccination
Deadline for single dose Johnson & Johnson vaccine and second dose for Pfizer and Moderna vaccine looms for state workers
Thousands of state workers have until Sunday to receive their second Pfizer or Moderna dose or the single-dose Johnson & Johnson vaccine. Over 68% of state workers reported last week they were fully vaccinated. Data from companies, schools, and other states such as Hawaii and New York, indicates final acceptance would likely exceed 95%.
Multiple unions have reached agreements at a municipal, county, or state level, to extend the deadline past October 18 for individuals who received at least their first dose. Additionally, workers with denied exemptions requests will be given extra time.
Pfizer vaccine booster shots are now available
Booster shots for eligible individuals are now available statewide. Individuals who received both doses of the Pfizer vaccine more than 6 months ago, are 65 or older, or are immunocompromised can receive their third dose immediately.
In the Kirland-Bellevue-Woodinville area, Walgreens, Rite-Aid, Bartell's, and QFC are offering booster shots. Additionally, the third dose is available at the CVS located within the Target store at 17,700 NE 76th Street in Redmond.
Most locations require an appointment, which can be scheduled online.
Hospital Status
According to the DoH COVID Dashboard, 18.7% of all acute care patients hospitalized in Washington have COVID. Currently, 91% of all staffed acute care beds are occupied statewide with approximately 604 available. ICUs are at 89.0% of capacity statewide, with 30.0% of ICU patients fighting COVID – an estimated 354 patients with 56% on ventilators. The state has approximately 132 ICU beds available.
The 7-day rolling average hospital admission rate for new COVID patients dropped to 105 – finally below the January 7, 2021 peak of 113. The Department of Health reported 1,274 COVID patients statewide on September 30 with 197 on ventilators. Hospitalizations dropped slightly while the number of patients on ventilators is unchanged.
| Hospital Region | ICU Occupancy | ICU COVID Patients | Acute Care Occupancy | Acute Care COVID Patients |
| --- | --- | --- | --- | --- |
| East | 88.6% | 44.6% | 89.6% | 26.7% |
| North | 80.8% | 28.5% | 88.0% | 13.1% |
| North Central | 96.4% | 58.9% | 75.7% | 26.3% |
| Northwest | 92.3% | 38.3% | 95.4% | 24.6% |
| Puget Sound | 91.8% | 23.4% | 94.6% | 14.4% |
| South Central | 85.7% | 34.9% | 83.2% | 25.4% |
| Southwest | 74.3% | 37.3% | 88.3% | 24.9% |
| West | 89.1% | 31.4% | 87.6% | 21.8% |
Hospital status by region – September 30, 2021 – ICU Occupancy should be below 80%, ICU COVID Patients should be below 20%, Acute Care Occupancy should be below 80%, and Acute Care COVID Patients should be below 10%
There was very little change in the status of Hospital Regions.
Back to School
School District
Status
Less than 10 Active Cases
10 or More Active Cases
Bellevue

YELLOW

– Bellevue (6**)
– Big Picture (1*)
– Chinook (1*)
– Eastgate (1*)
– Enatai (3*)
– Highland (3*)
– Interlake (3*)
– Lake Hills (3*)
– Newport (4*)
– Newport Heights (1*)
– Puesta del Sol (1*)
– Sammamish (1*)
– Sherwood Forest (2*)
– Spiritridge (1*)
– Stevenson (1*)
– Tillicum (1*)
– Wilburton (2*)
– Woodridge (3*)
None
Lake Washington

YELLOW

– Alcott Elementary (1*)
– Barton Elementary (1*)
– Dickinson/Explorer Elementary (2*)
– Ella Baker Elementary (3*)
– Eastlake High (1*)
– Evergreen Middle School (1*)
– Franklin Elementary (2*)
– Finn Hill Middle School (1* – see below)
– ICS (1*)
– Inglewood Middle School (2*)
– Juanita Elementary (1*)
– Kamiakin Middle School (3* – see notes below)
– Keller Elementary (2*)
– Kirkland Middle School (1*)
– Lake Washington High (1*)
– Lakeview Elementary (3*)
– Muir Elementary (1*)
– Redmond Middle School (1*)
– Redmond High School (1*)
– Renaissance Middle School (1*)
– Rush Elementary (2*)

See notes below
None

Northshore

RED

– Arrowhead Elementary (14)
– Canyon Creek Elementary (31**)
– Canyon Park Middle School (12**)
– Cottage Lake Elementary (17)
– East Ridge Elementary (16)
– Fernwood Elementary (13**)
– Frank Love Elementary (30)
– Hollywood Hills Elementary (29)
– Inglemoor High School (8)
– Innovation Lab High School (11)
– Kenmore Elementary (13)
– Kenmore Middle School (49**)
– Kokanee Elementary (60)
– Leota Middle School (6)
– Lockwood Elementary (32)
– Maywood Hills Elementary (21**)
– Moorlands Elementary (48)
– North Creek High School (27)
– Northshore Middle School (17**)
– Ruby Bridges Elementary (9)
– Secondary Academy for Success (16)
– Shelton View Elementary (20**)
– Skyview Middle School (63**)
– Sunrise Elementary (23)
– Timbercrest Middle School (44)
– Wellington Elementary (74)
– Westhill Elementary (38)
– Woodin Elementary (17**)
– Woodinville High School (23)
– Woodmoor Elementary (23**)
– Bothell High School (14*/137)
– Crystal Springs Elementary 11*/45)
Local Districts Scorecard – * indicates positive cases only ** indicates 5 or more confirmed positive cases
We redefined the school district statuses. Information for classroom and building closures has been a challenge to obtain, both for closures and reopening. We are adopting moving any school with more than 10 active COVID cases reported into the red, and we've adjusted the third column to reflect this change.
in the Northshore School District, Bothell High School currently has 14 confirmed COVID cases between students and faculty and Crystal Springs Elementary has 11. The number of quarantined students at Bothell High school swelled to 137.
The Bellevue School District updated its COVID dashboard overnight. The district will be providing updated data daily, but no longer reports on the number of students and faculty quarantining.
We received a confirmed parent report on Wednesday of one new COVID case at Finn Hill Middle School with 52 students moved to quarantine.
We received a confirmed parent report on Thursday of two new COVID cases at Kamiakin Middle School with 27 additional close contacts.
We received a parent report on Thursday of one new COVID case at Old Redmond Schoolhouse (preschool) with an unknown number of close contacts.
Because Lake Washington doesn't update its dashboard daily, we are adding these as footnotes. We have not added the Old Redmond Schoolhouse to the scorecard above because it is not officially listed on the Lake Washington School District dashboard.
A 4th-grade teacher in the Kelso School District has died, district officials said, later adding that her classroom of 21 students is quarantining over positive COVID-19 cases through October 11.
Karen James, who taught 4th Grade at Barnes Elementary, died on Monday, September 27, according to the Kelso School District.
A district spokesperson said they could not comment on the cause of death, however, they later said, "Late yesterday [Thursday, Sept. 30] afternoon we learned of one additional positive COVID-19 case in Miss James' classroom."
We continued to encourage parents to request improved daily data reporting from the Lake Washington School District.
Kirkland-Bellevue-Woodinville
No update
National Round-Up
Johns Hopkins University Cumulative Case Tracker is reporting 110,010 new cases, 2,718 deaths nationwide, and 699,000 COVID-related deaths since February 29, 2020. Based on the Johns Hopkins University data, the United States will reach 700,000 confirmed COVID-related deaths tomorrow morning (other dashboards reported 700,000 deaths last night and earlier today).
Merck seeking FDA Emergency Use Authorization for pill that treats mild and moderate COVID
Merck and Ridgeback Biotherapeutics have been studying an oral antiviral medicine called molnupiravir which, during Phase 3 testing, reduced the risk of hospitalization and death by 50%. Phase 3 testing has been so successful Merck is submitting an application for Emergency Use Authorization in the United States and plans to submit marketing applications to other regulatory agencies worldwide.
The test program was a randomized, placebo-controlled, double-blind, multi-site study done in 23 countries across 5 continents. There were 1,550 patients enrolled and to date, they have data from 775 people. Molnupiravir reduced the risk of hospitalization or death by almost 50% compared to the placebo group. Through Day 29, no deaths were reported in patients who received molnupiravir, as compared to 8 deaths in patients who received a placebo.
"More tools and treatments are urgently needed to fight the COVID-19 pandemic, which has become a leading cause of death and continues to profoundly affect patients, families, and societies and strain health care systems all around the world. With these compelling results, we are optimistic that molnupiravir can become an important medicine as part of the global effort to fight the pandemic," said Robert M. Davis, chief executive officer and president, Merck.
Unlike monoclonal antibodies which must be administered in a clinical setting by injection or IV, molnupiravir is a pill that can be prescribed by a doctor and taken at home.
"With the virus continuing to circulate widely, and because therapeutic options currently available are infused and/or require access to a healthcare facility, antiviral treatments that can be taken at home to keep people with COVID-19 out of the hospital are critically needed," said Wendy Holman, chief executive officer of Ridgeback Biotherapeutics. "We are very encouraged by the results from the interim analysis and hope molnupiravir, if authorized for use, can make a profound impact in controlling the pandemic."
An Axios report this evening states that in the fall of 2019, an Emory University professor presented the drug to the Trump Administration. The professor reported the school had developed a new powerful antiviral medication that could treat influenza, Ebola, and many other viruses. In February 2020, as COVID arrived in the United States, the professor came forward again, asking for funding for Phase 2 and Phase 3 testing to evaluate the effectiveness of the medication against COVID. The Trump administration declined to fund the research.
Merck, in collaboration with Ridgeback Bio, acquired the drug in July of 2020.
The drug could be a game-changer in the battle against COVID worldwide. Pills are easier to transport and store, don't need preparation, and don't need to be administered at a hospital or clinic. The medication is also being tested as an emergency preventative for individuals exposed to COVID but who have not tested COVID positive. The impact for the immunocompromised and elderly could be dramatic.
Approval by the FDA and ramping up distribution is likely months away. If molnupiravir can deliver these results globally, it has the potential to end the ongoing public health crisis. If Emory University has successfully created a broad-spectrum oral antiviral, this discovery has the potential to rival penicillin.
JetBlue requiring employees to get COVID vaccination
JetBlue Airways Corp. told workers that two provisions in a recent federal mandate mean they must get fully vaccinated against COVID-19, possibly as soon as December 8. The east coast-centric airline joins United, Hawaiian Airlines, and Alaska Air Group in mandating vaccination for its employees.
Supreme Court Justice Brett Kavanaugh tests positive for COVID
Supreme Court Justice Brett Kavanaugh has tested positive for COVID-19, according to a story on CNN. This is the first publicly known case of coronavirus among the high court's justices.
Kavanaugh, who is fully vaccinated, tested positive on Thursday night, the court said in a statement. The justice's immediate family tested negative and he has no symptoms.
His positive diagnosis for coronavirus means he won't be on the bench Monday, the start of the new term, and what would be the first in-person session with all nine justices.
Alaska
Alaska reported 1,044 new COVID cases today and a new case rate of 1,066 per 100,000 residents, indicating that the state may have hit a peak. The remote state continues to have the highest new case rate on the planet. Hospitals in Anchorage Bethel, and Valdez continue to operate under crisis standards of care protocols.
The 202 hospitalized COVID patients are essentially unchanged from yesterday. The number of available ICU beds jumped to 23 and the number of ICU patients dropped to 107. There are 83 ICU patients on ventilators, 35 with COVID.
Amanda Frey, a nurse at Fairbanks Memorial Hospital, sat down after a long day at work recently and made a brief video describing what it's like to die with COVID-19: gasping for breath, terrified and beyond comfort.
In a story reported by the Anchorage Daily News, she painted a grim and immediate picture of deaths occurring almost daily at the hospital, largely among unvaccinated people.
"COVID-19 patients that die transition from being OK to actively dying very suddenly, and often without warning. They start to experience a state of panic and air hunger that is very difficult to manage and causes severe anxiety," Frey says. "The medications that we usually use for patients at the end of life don't help as much with COVID-19 patients when they're dying. So what we're seeing are deaths that are not only isolated but they're also very traumatic."
California
California will require students attending school in-person to get vaccinated for Covid-19 after the Food and Drug Administration grants full approval for their age group, Gov. Gavin Newsom announced Friday.
Newsom's latest order, the first of its kind nationwide, will roll out in two phases for students learning in person. The mandate will first take effect for students ages 12 and over after the FDA grants full approval to that entire age group.
California is the first in the nation with a statewide vaccination mandate for primary school students. Implementation depends upon fully FDA approval of at least one of the COVID vaccines for children 12 to 15. Although no date has been set, full approval is expected during the first half of 2022.
Colorado
At least 92% of Denver's municipal employees were vaccinated against COVID-19 as of Friday, a day after the city's vaccine mandate took effect in a bid to slow the spread of the virus during the fall and winter, according to a review of city compliance data.
The AP reported that almost 99% of the city's 10,869 full-time employees were fully vaccinated or had an exemption accepted.
Idaho
Idaho reported 1,778 new cases yesterday and 24 deaths as the state continue to operate under "crisis standards of care" without a load management agreement between hospitals.
Earlier this week, we blasted Jordan Herget, the CEO of Portneuf Medical Center, for reporting that the hospital in Pocatello was operating normally and they didn't expect to have to move to crisis standards of care. From ambulance bays to emergency departments, any medical professional can tell you the worst thing you can say aloud is, "gee, it sure is quiet tonight."
On the afternoon of September 24, PMC had about 10 patients with COVID on ventilators. The number of patients needing mechanical ventilation almost doubled during the ensuing hours. In response, PMC requested seven more ventilators from its parent company, Ardent Health Services, said Dr. Dan Snell, PMC's chief medical officer.
"Our situation hasn't improved. A week later we're very much in an emergency just like we were a week ago and our staff are being pushed to our limits," Hergett said.
KTVB reported across the St. Luke's Health System 264 of their 607 patients admitted to the hospital are COVID positive. 66 of the 78 patients in the ICU are COVID patients and 97% of the COVID patients in the ICU are unvaccinated.
"In our adult ICUs, our youngest patient today is 22 years old," St. Luke's Chief Medical Officer Dr. Jim Souza said. "About 70% of our patients are 55 years or younger in the intensive care unit. And in the intensive care unit, 25% are younger than 40. They're sicker. They're staying longer. The average length of stay in the ICU is up by two whole days, and their mortality rate is significantly higher than it was in the December surge."
The VA Hospital in Boise requested a mobile morgue to support the hospital facility which is at capacity. Idaho has struggled with the influx of corpses in the last two weeks. Officials have been forced to stack bodies, store them in railroad cars, and store embalmed bodies in non-refrigerated areas.
Maine
Tom Edge, a retail pharmacy manager for Pen Bay Medical Center in Rockport, Maine, said he's refused to fill six prescriptions for ivermectin in the last month, according to the Portland Press Herald.
Typically, ivermectin is rarely used on humans, Edge said, and he filled only three legitimate prescriptions for the drug in the past year. The most recent prescriptions he's received came from out-of-state doctors, he said, "which is always a little bit of a red flag anyway."
When he looked up one prescriber online, Edge found a list of doctors that people can call and, for a fee, get a consultation over the phone and then a prescription for ivermectin.
Montana
While the hallways of the Billings Clinic are lined with COVID patients and the hospital in Helena has operated under crisis standards of care for two weeks, Elsie Arntzen, the Republican state superintendent at the Montana Office of Public Instruction spoke at a "medical freedom" rally.
Asked later if she felt that speaking at an event where the tone seemed overwhelmingly against school boards that have voted to install mask mandates, Arntzen said, "I don't believe this disrespects anyone in the educational community."
"My role is here," she continued. "My role is, number one, in the healing process in the discord we have between the school board room, where they might be in Montana, and to parents, whoever they might be, and putting the emphasis on children."
Montana reported 962 new cases and 8 more deaths today, but not much else in the form of data.
New York
The Supreme Court on Friday declined to block New York City's requirement that public school teachers receive COVID-19 vaccinations, marking the second time the nation's high court has declined to wade into the issue.
A group of teachers in New York had asked the Supreme Court for an emergency injunction to block implementation of the mandate, which required them to receive a shot by 5 p.m. Friday or face suspension without pay when schools open Monday.
Associate Justice Sonia Sotomayor denied the emergency request without comment. A federal appeals court earlier in the week permitted New York's mandate.
The Supreme Court ruled in 1905 in Jacobson vs Massachusetts, that municipalities, counties, and states had the power to mandate vaccines as part of public health efforts. The decision has been litigated dozens of times over the last 116 years, as recently as August.
When an emergency filing is made with the court, the Justice that is assigned to that region can render a decision or request that the entire court to hear the case. In August, Associate Justice May Comey-Barrett ruled independently on a challenge filed by students at the University of Indiana. Justice Comey-Barrett also denied the appeal without comment.
In the landmark 1905 case, the Supreme Court ruled that the 10th Amendment gave states the power to make public health decisions.
Wyoming
Wyoming hospitals are reporting 210 COVID patients hospitalized, 50 on ventilators, and 35 ICU beds available statewide. Wyoming has 37 hospitals including Veteran's Administration facilities and 15 have available ICU beds.
Misinformation
It's just a cold. It's just the flu. Content warning, some viewers may find this disturbing.
Tik Tok user Mae Mae documented her hospital journey in August and September after she caught COVID. She was partially vaccinated when she became ill and ended up hospitalized. In her videos, her condition continued to deteriorate, and the cannula she is wearing indicates she was on high flow oxygen.
You read stories from respiratory therapists, nurses, and doctors of COVID patients who become exhausted as they struggle to breathe – but we don't see it. Mae Mae went to the line of needing to go on a ventilator before she bounced back.
This is COVID – this is what it looks like. It is not a cold, it is not the flu. Mae Mae survived and is still dealing with lingering symptoms.