York Statue at Mount Tabor Park in Portland destroyed by vandals
The statue was destroyed overnight representing the third case of vandalism in four months.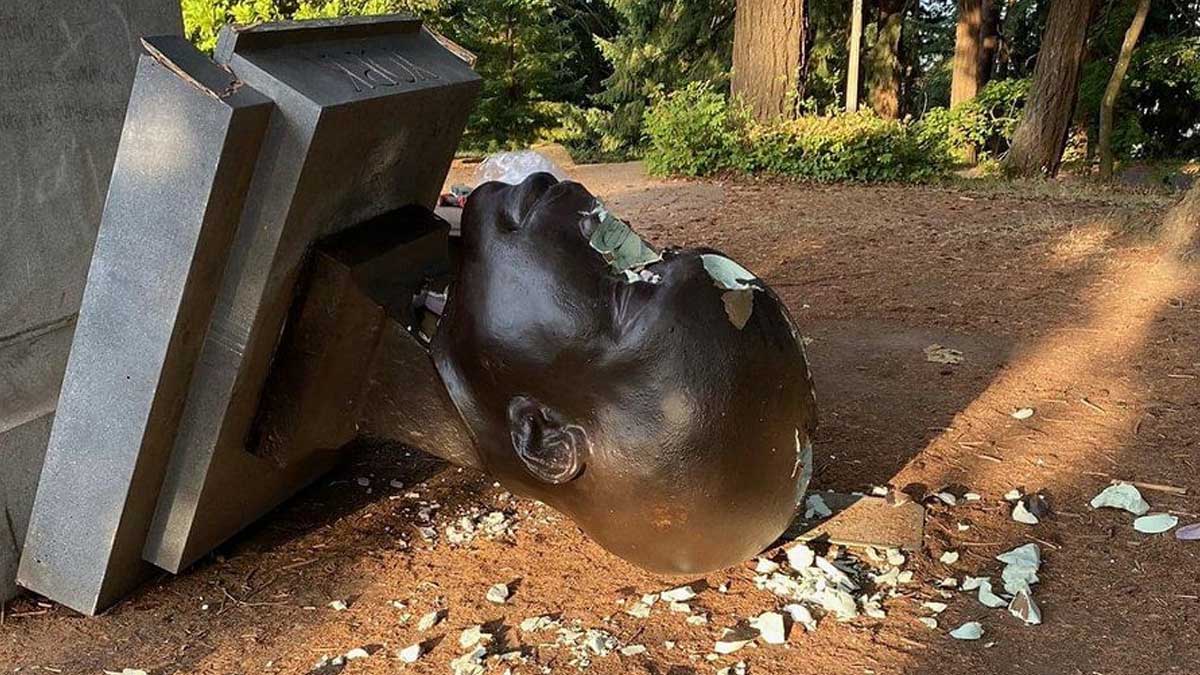 [PORTLAND] – (MTN) For the third time since March 2021, the bust of York, a slave that accompanied Lewis & Clark and the Corps of Discovery, was severely damaged by vandals overnight. In the most serious damage to the bust to date, York's bust was knocked off the pedestal and his face smashed in, shattering the installation. No suspects have been identified and no one has claimed responsibility for the destruction.
Lewis and Clark and the Corps of Discovery traveled from St. Louis, Missouri, to modern-day Fort Clatsop, south of Astoria, Oregon. Among them was a slave by the name of York, who William Clark owned. York became the first African to cross North America and reach the Pacific Coast in known history.
Upon their return, York is said to have asked for his freedom which Clark denied. The historical record of what happened to York after the Corps of Discovery is unclear. Still, many believe he was either sold to a new slaveholder or was granted by Clark to move to Kentucky to be closer to his wife. It is believed he died of cholera.

The monument didn't always have a bust of York. In 1933 a statue of Harvey W. Scott, the editor-in-chief of The Oregonian and later a principal shareholder, was erected at the summit of Mount Tabor. Scott was venerated after his untimely death in 1910. However, his legacy was already being called into question when his statue was erected 23 years later.
Scott fought in a volunteer militia in the Oregon Territory from 1855 to 1856 against the Nisqually, Muckleshoot, Puyallup, and Klickitat first nations. He supported the Union and the new Republican Party editorially during the Civil War while being an outspoken critic of women's suffrage and public education. On October 20, 2020, his statue was toppled, and in February 2021, replaced by a bust of York by unknown parties.
There are no known drawings or artwork of York, so the bust on Mount Tabor is a representation. The statue was previously vandalized in March 2021, less than a month after its installation. There were no arrests made in that incident.
Jeannette K Grode, 43 years old, vandalized the statue on June 8 while taunting witnesses. She covered the Mount Tabor Park monument in purple spraypaint while telling people to have her arrested and claiming she was racist.
The Portland Police Bureau reported on June 10 that Grode now faces four criminal charges. Criminal Mischief II is the most serious charge, a Class A Misdemeanor that carries up to a year in jail and a $6,250 fine. She was also charged with Abuse of Venerated Objects, Unlawful Applying of Graffiti, and Vandalism of Protected Park Property and Vegetation. She was issued citations instead of arrest due to ongoing COVID restrictions limiting bookings.