91.4% of WA state employees fully vaxxed – local and national update for October 14, 2021
Skagit Regional Health fired one employee today for violating hospital policy.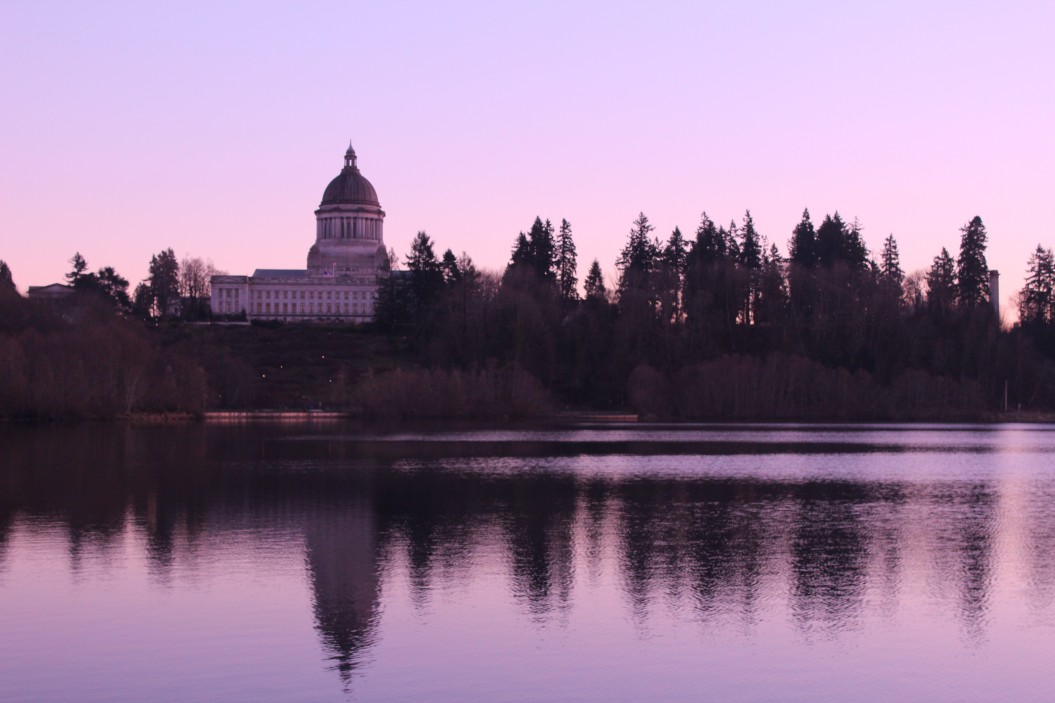 Knowledge is the best tool to fight against fear. A wise person chooses to be informed so they can make sound decisions. To join the fight against COVID misinformation, you can share this update through your social media platform of choice.
[KING COUNTY, Wash.] – (MTN) Governor Jay Inslee reported the state does not anticipate widespread service disruption from the looming vaccine mandate and stated 91.4% of all employees have provided their vaccination information.
New Covid-19 cases were slightly lower while hospitalizations were almost unchanged.

People attending large indoor and outdoor events will have to provide proof of vaccination or a negative COVID test starting November 15.
An Eatonville Elementary School teacher sent her students home with more than homework assignments and good job stickers. We have a parent confirmed report of a new Covid-19 case at Mark Twain Elementary in the Lake Washington School District.
The FDA recommended booster shots for certain people who received the Moderna vaccine.
Alaska, Idaho, Montana, and Wyoming continue to struggle but we can look on the bright side – it is Health Care Worker Appreciation Month in Idaho by declaration of Governor Brad Little.
This update uses the latest data from the Washington State Department of Health (WSDOH), released on October 14, 2021.
---
Washington State Update for October 14, 2021
Washington state Covid-19 update
New cases were up for the five most vaccinated and eight least vaccinated counties, but the overall trend remains positive.
| Percent of Total Population Fully Vaccinated | Average 14-Day New Case Rate (unadjusted) |
| --- | --- |
| 60.00% or above (5) | 228.7 (up) |
| 50.00% to 59.99% (14 counties) | 426.8 |
| 40.00% to 49.99% (12 counties) | 519.3 |
| 29.90% to 39.99% (8 counties) | 765.0 (up) |
14-Day New Covid-19 Cases per 100K average by Vaccination Rate, Not Adjusted for Population
Through October 13, Washington's statewide 14-day rolling average dropped slightly to 351.4 Covid-19 cases per 100K.
Ferry County (1,289.5) and Garfield County (1,393.3) remain the two counties with new case rates of over 1,000 per 100K residents.
Columbia and Grant counties reported new case rates between 800.0 to 999.9 per 100K.
Counties in the 600.0 to 799.9 per 100K range include Chelan, Klickitat, Lincoln, Pend Oreille, and Stevens. Mason County remains just under the 600 threshold.
New cases and hospitalizations by age were statistically unchanged from yesterday.
| Age Group | 7-Day Case Rate | 7-Day Hospitalization Rate |
| --- | --- | --- |
| Ages 0-11 | 146.4 | 1.0 |
| Ages 12-19 | 168.7 | 1.6 |
| Ages 20-34 | 151.3 | 3.6 |
| Ages 35-49 | 154.4 | 7.3 |
| Ages 50-64 | 113.4 | 13.1 |
| Ages 65-79 | 85.3 | 19.1 |
| Ages 80+ | 84.1 | 33.7 |
7-day case rate and 7-day hospitalization rate is per 100K within the age group – the target for 7-day case rate is <25.0, but there are other factors such as vaccination rates within the age groups, how many total tests within the 7-day period, and the positivity rate within each age group
The USA Today COVID Tracker reported 90 deaths on Wednesday. The number is inflated due to several days of data being reported.
Proof of vaccination or negative Covid test will be required at large events beginning November 15
Governor Jay Inslee announced new requirements for people 12 and older who attend large events in Washington.
Starting November 15, people over 11 years old who attend indoor events with at least 1,000 people or outdoor events with at least 10,000 people will need to show proof of vaccination or a negative Covid-19 test to attend. The negative test has to be in the last 72 hours. A PCR or rapid test will be accepted.
Many large venues in Washington state such as T-Mobile Park, Lumen Field, and the soon opening Climate Pledge Arena already have similar requirements in place.
Outside of Lumen Field, pop-up vendors are offering rapid tests for entry but at a premium price.
Statewide employee fully vaccinated rate creeps upward
On Monday, the state of Washington reported 89.5% of impacted employees had provided proof they were fully vaccinated – this morning the number had increased to 91.4%. According to Governor Jay Inslee, approximately 5,000 state employees have not provided proof of vaccination, requested an exemption, or indicated they were going to retire or resign. Another 2.4% of employees have requested a medical or religious exemption.
Almost 600 employees have sued the state of Washington in Walla Walla to try and block the vaccine mandate. Another 19 local, county, and state employees filed a federal lawsuit in Spokane claiming the vaccine mandate was a violation of their civil rights.
State officials indicated today they do not expect widespread disruption from the mandate. The only state agency that has postured for potential issues is Washington State Ferries, which is reducing services starting October 16.
Malcontent News remains confident that between vaccinations and accommodations, 97% to 98% of all state employees will be working as normal on October 19.
Eatonville elementary school teacher sends students home with her resignation letter
Students attending Eatonville Elementary School came home with more than homework and good job stickers this week when a teacher included a resignation letter.
Parents reported the letter was included with other school material this week.
"I received my letter of termination last Thursday and I only have a few more days as your child's teacher," the letter said.
"I am not sure what the Eatonville School District has planned for filling my position or the countless other positions that will be lost on the 18th but please remember, YOU are your child's first teacher and number one advocate."
The letter called earlier safety protocols "a joke" and complained that the school has a "no entry" sign.
There is little to indicate there will be a mass exodus of teachers or other professionals in Washington state based on all the currently available data.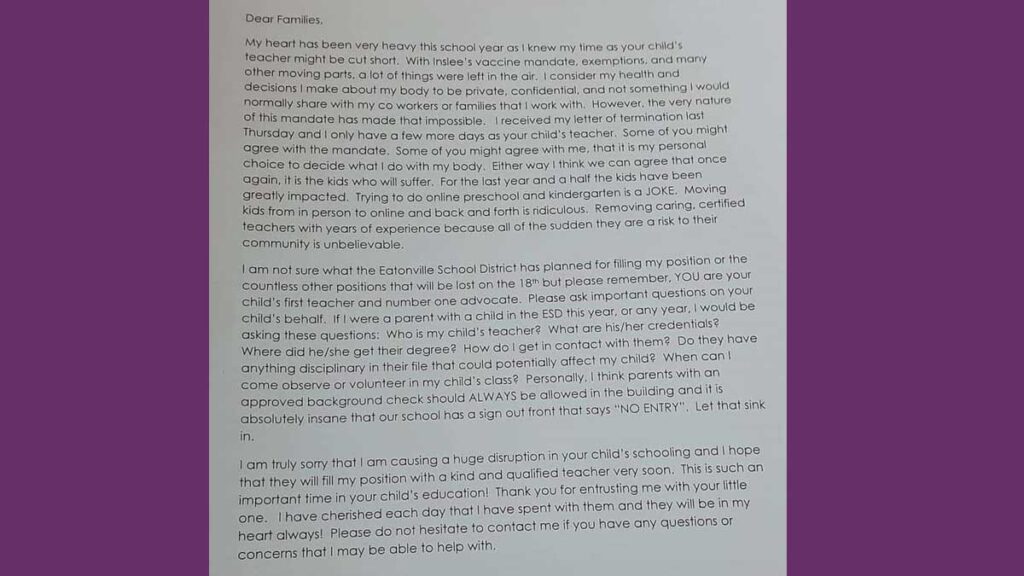 Travel Advisories
Due to an increase in acute care hospitalizations, we're adding a recreational travel advisory to the East Hospital Region. This includes Adams, Asotin, Ferry, Garfield, Lincoln, Pend Oreille, Spokane, Stevens, Wahkiakum, and Whitman counties. Acute care and ICU capacity remain limited, and the ratio of Covid-19 patients to other hospital patients is extremely high. Please reconsider non-essential travel plans to these counties.
We strongly advise against all nonessential travel to Alaska, Idaho, Montana, and Wyoming. Hospital resources in these regions are constrained, and you may receive inadequate care in Alaska, Idaho, and Montana if you experience a serious medical emergency.
We are not adding a travel advisory for the Northwest Hospital Region which includes Clallam, Jefferson, Kitsap, and Mason counties but don't recommend engaging in risky recreational behavior on the Olympic Peninsula. Although hospitals are very constrained, the region is adjacent to the Puget Sound and West Hospital Regions, which have adequate resources.
Thank you
Thank you to our new subscribers and those of you who have made one-time contributions. On behalf of the entire team, thank you for helping us keep the lights on!
Vaccination
FDA panel supports booster for Moderna Covid-19 vaccine
A federal advisory panel voted Thursday to support booster shots of the Moderna COVID-19 vaccine for people 65 and up, as well as younger adults with certain medical problems or jobs that put them at increased risk for infection.
According to a report in USA Today, the booster shot will be a half-dose of the same vaccine already given. Company data suggested that the lower dose was as effective but had potentially fewer side effects.
The Food and Drug Administration committee, whose decision needs to be verified by a different advisory panel as well as top federal officials, spent Thursday reviewing data about the safety and effectiveness of a third dose of Moderna vaccine, as well as the effect boosters are having on a COVID-19 outbreak in Israel.
Tomorrow the committee will discuss the Johnson & Johnson vaccine and potentially make a recommendation for booster shots.
Any recommendation by the FDA will be subject to further review, and ultimately a vote by the CDC.
Hospital Status
According to the DoH COVID Dashboard, 91% of all staffed acute care beds are occupied, and 16.5% of patients have Covid-19. Statewide, hospitals have the staff to support approximately 620 additional acute care patients. ICUs are at 86.5% of capacity statewide, with 27.0% of ICU patients fighting Covid-19 – an estimated 317 patients with 51% on ventilators. The state has the staff to support approximately 160 additional ICU patients.
The 7-day rolling average hospital admission rate for new COVID patients dipped to 90. The Department of Health reported 1,156 Covid-19 patients statewide on October 13, with 163 requiring ventilators. Data for Tuesday was adjusted to 1,141 patients and 155 on ventilators.
The East and Northwest Hospital Regions remain highly stressed.
| Hospital Region | Counties | ICU Occupancy | ICU COVID Patients | Acute Care Occupancy | Acute Care COVID Patients |
| --- | --- | --- | --- | --- | --- |
| East | Adams, Asotin, Ferry, Garfield, Lincoln, Pend Oreille, Spokane, Stevens, Wahkiakum, Whitman | 91.2% | 39.9% | 91.5% | 25.3% |
| North | Island, San Juan, Skagit, Whatcom | 62.9% | 22.3% | 87.0% | 10.1% |
| North Central | Chelan, Douglas, Grant, Okanogan | 93.1% | 50.0% | 77.6% | 21.7% |
| Northwest | Clallam, Jefferson, Kitsap, Mason | 90.1% | 40.0% | 95.9% | 22.1% |
| Puget Sound | King, Pierce, Snohomish | 89.9% | 23.2% | 94.8% | 13.7% |
| South Central | Benton, Columbia, Franklin, Kittitas, Walla Walla, Yakima | 88.9% | 28.7% | 84.5% | 22.4% |
| Southwest | Clark, Cowlitz, Klickitat, Skamania | 66.6% | 25.7% | 84.6% | 16.8% |
| West | Grays Harbor, Lewis, Pacific, Thurston | 84.0% | 24.9% | 88.5% | 17.1% |
Hospital status by region – ICU Occupancy should be below 80%, ICU COVID Patients should be below 20%, Acute Care Occupancy should be below 80%, and Acute Care COVID Patients should be below 10%
Back to School
School District
Status
Less than 10 Active Cases
10 or More Active Cases
Bellevue

YELLOW

– Ardmore (2*)
– Bellevue (7**)
– Big Picture (1*)
– Cherry Crest (1*)
– Clyde Hill (1*)
– Chinook (4*)
– Eastgate (2*)
– Enatai (3*)


– Highland (9**)


– Interlake (4*)
– Lake Hills (7**)


– Newport (6**)


– Newport Heights (1*)
– Puesta del Sol (1*)
– Sammamish (4*)
– Sherwood Forest (2*)
– Spiritridge (1*)
– Stevenson (2*)
– Tillicum (1*)
– Wilburton (3*)
– Woodridge (3*)
None
Lake Washington

YELLOW

– Bell Elementary (4*)
– Blackwell Elementary (1*)
– Carson Elementary (2*)
– Dickinson/Explorer Elementary (1*)
– Eastlake High (3*)
– Finn Hill Middle School (4*)
– Franklin Elementary (1*)
– Frost Elementary (2*)
– ICS (1*)
– Inglewood Middle School (2*)
– Juanita Elementary (3*)
– Juanita High School (4*)
– Kamiakin Middle School (2*)
– Keller Elementary (1*)
– Kirkland Middle School (1*)
– Lakeview Elementary (4*)
– Lake Washington High School (2*)
– Mead Elementary (2*)
– Muir Elementary (1*)
– Northstar Middle (1*)
– Redmond Elementary (2*)
– Redmond Middle School (1*)
– Redmond High School (2*)
– Rosa Parks Elementary (3*)
– Rose Hill Middle School (1*)
– Timberline Middle School (2*)
– Twain Elementary (1* – see notes)
None

Northshore

YELLOW

– Arrowhead Elementary (3)


– Bothell High School (29**)


– Canyon Creek Elementary (10)
– Canyon Park Middle School (14)
– Cottage Lake Elementary (1)
– Crystal Springs Elementary (29)
– East Ridge Elementary (2)
– Frank Love Elementary (16)
– Hollywood Hills Elementary (69)
– Inglemoor High School (2)
– Innovation Lab High School (2)
– Kenmore Elementary (8)
– Kenmore Middle School (31)
– Kokanee Elementary (13)
– Leota Middle School (4)
– Lockwood Elementary (27**)


– Maywood Hills Elementary (6)


– Moorlands Elementary (3)


– North Creek High School (8)


– Northshore Middle School (7)
– Ruby Bridge Elementary (4)
– Secondary Academy for Success (6)
– Shelton View Elementary (7)
– Skyview Middle School (11)
– Sunrise Elementary (7)
– Timbercrest Middle School (9)
– Wellington Elementary (30)
– Westhill Elementary (12)
– Woodin Elementary (24)
– Woodinville High School (13)


– Woodmoor Elementary (15)



Local Districts Scorecard – * indicates positive cases only ** indicates 5 or more confirmed positive cases
We redefined the school district statuses. Information for classroom and building closures has been a challenge to obtain, both for closures and reopening. We are adopting moving any school with more than 10 active COVID cases reported into the red, and we've adjusted the third column to reflect this change.
Lockwood Elementary in the Northshore School District has 6 confirmed Covid-19 cases.
We have a parent confirmed report of a single Covid-19 case at Mark Twain Elementary School in the Lake Washington School District.
We continued to encourage parents to request improved daily data reporting from the Lake Washington School District.
Kirkland-Bellevue-Woodinville
No update
National Round-Up
Johns Hopkins University Cumulative Case Tracker is reporting 120,321 new cases and 3,054 deaths nationwide on Thursday.
Alaska
Alaska added 986 new cases with 209 patients hospitalized with Covid-19. Twenty of Alaska's 31 hospitals are operating under crisis standards of care. There are 21 staffed ICU beds statewide despite the arrival of hundreds of government contract healthcare workers two weeks ago.
After making progress with a reduction in new cases last week, the number has been slowing increasing again with a new case rate of 852 per 100K residents, the highest in the United States. The numbers are increasing despite Anchorage cutting back on Covid-19 testing due to budgetary issues.
Idaho
Officials in Idaho haven't released hospitalization numbers since Monday when they reported 653 hospitalized and 175 in the ICU. Of the 274,560 cases reported statewide since the pandemic started, only 3.5% were due to vaccine breakthroughs.
State officials reported 1,935 new cases and 30 additional deaths today. New cases are increasing again after appearing to flatten out over the last couple of weeks. At the current rate, Idaho will add 13,300 new cases a week – infecting 1% of the state's entire population every 10 days.
Idaho Governor Brad Little declared October Health Care Worker Appreciation Month. Generosity has poured in including thank you signs, baked goods, meal deliveries, and open tabs in hospital cafeterias. Hospital workers are appreciative of the support, but some reported they are so busy trying to save lives during crisis standards of care, they can't stop and enjoy the show of support.
Montana
Montana reported 1,300 new cases, 13 deaths, and 479 people hospitalized. The hospitalization number dropped sharply, however, every 11 days 1% of Montana residents become infected with Covid-19.
Wyoming
In Wyoming, 461 new Covid-19 cases were reported but no deaths. Hospitalization data was not updated by the state.
Misinformation
Taking the day off
Like, Share, Follow, Support