King Co will require proof of vaccination – local and national COVID update for September 16, 2021
New cases in Washington decline for the third day in a row while the rest of the Pacific Northwest struggles.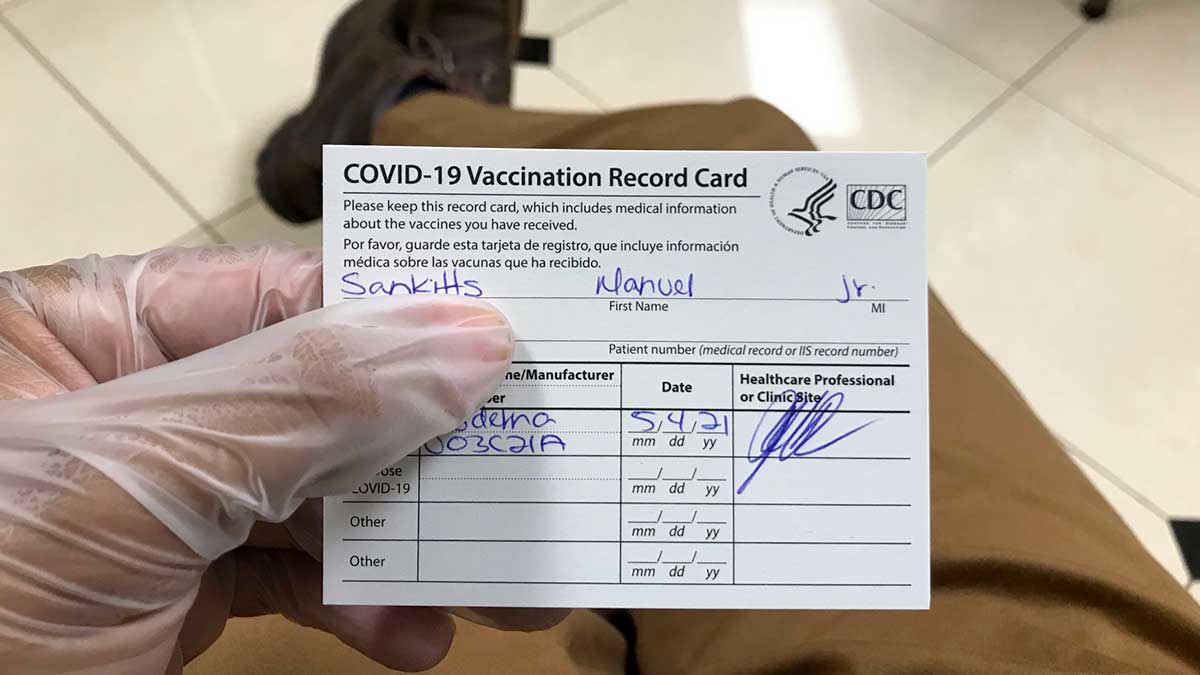 Knowledge is the best tool to fight against fear. A wise person chooses to be informed so they can make sound decisions. To join the fight against COVID misinformation, you can share this update through your social media platform of choice.
[KING COUNTY, Wash.] – (MTN) Today is Yom Kippur, so this will be an abbreviated COVID update. Today provided more indications that for new cases Washington is moving past the peak, but the percentage of tests coming back positive jumped significantly. For Washington state, this is the most positive COVID update since August 17.
The gap between the most vaccinated and least vaccinated counties continued to widen.

Seattle and King County announced the region is implemented a so-called "vaccine passport" that will begin on October 25.
We issue two corrections to our school district COVID dashboard, and 2 more Northshore SD schools have 5 or more confirmed COVID cases detected.
Regionally the situation in Alaska and Idaho has gotten worse, with Alaska down to 14 ICU beds statewide, and Idaho moving to crisis standards of care statewide.
This update uses the latest data from the Washington State Department of Health released on September 16, 2021.
---
Washington State Update for September 16, 2021
Washington state COVID update
Another decline in new trends, which is good news. In the South Central Hospital Region, which includes Benton, Franklin, Klickitat, Walla Walla, and Yakima counties, new cases are 862.8 per 100K people while the Central Hospital Region, which represents King County, had a rate of 288.8.
| Percent of Total Population Fully Vaccinated | Average 14-Day New Case Rate (unadjusted) |
| --- | --- |
| 50.00% or above (12 counties) | 494.1 |
| 40.00% to 49.99% (18 counties) | 717.4 (down) |
| 27.30% to 39.99% (9 counties) | 754.1 |
14-Day New COVID Cases per 100K average by Vaccination Rate, Not Adjusted for Population
Through September 15, Washington's statewide 14-day rolling average was 484.9 COVID cases per 100K. Lincoln (1,384.6 per 100K), Franklin (1,226.8 per 100K), and Stevens (1,106.5 per 100K) reported an extreme number of new cases. Counties in the 800.0 to 999.9 per 100K range include Adams, Asotin, Benton, Chelan, Clallam, Douglas, Grant, Lewis, and Okanagan. This is an encouraging sign in case numbers, although there remain concerns with growing reports statewide of people finding it challenging to get tested. Additionally, home rapid tests are not included in the data.
The Washington State Department of Health reports a data backlog for test positivity, with the published number 14 days old. According to Johns Hopkins University Medicine, the positivity rate for the last 30 days is 14.02%, and over the previous 7 days, 16.98%. These 7 day rolling average for positivity jumped almost three percentage points from yesterday and the 30 day rolling average moved above 14% again. A single day of data does not make a trend. If we see similar numbers on Friday this would be a red light on the dashboard that access to COVID testing is more than an anecdotal issue.
The Department of Health changed how they are reporting Cases, Hospitalizations, and Testing by Age, yesterday. With the second day of data, we can provide a trend, but two days of data don't show a complete picture. For right now consider these the current numbers. The data is encouraging.
| Age Group | 7-Day Case Rate | 7-Day Hospitalization Rate |
| --- | --- | --- |
| Ages 0-11 | 200.1 (down) | 0.7 |
| Ages 12-19 | 233.3 (down) | 2.2 |
| Ages 20-34 | 233.3 (down) | 7.0 (down) |
| Ages 35-49 | 217.3 (down) | 12.3 (down) |
| Ages 50-64 | 161.4 (down) | 20.0 |
| Ages 65-79 | 119.4 (down) | 25.0 (down) |
| Ages 80+ | 123.6 (down) | 37.7 (down) |
7-day case rate and 7-day hospitalization rate is per 100K within the age group – the target for 7-day case rate is <25.0, but there are other factors such as vaccination rates within the age groups, how many total tests within the 7-day period, and the positivity rate within each age group
The USA Today COVID Tracker reported 52 deaths on Thursday.
King County announces testing and vaccination requirements to enter restaurants, bars, gyms, theaters, and more
King County Executive Dow Constantine, Seattle Mayor Jenny A. Durkan, and community, health care, small business, and arts and culture partners joined in support of requiring verification of full vaccination or a negative test to enter certain indoor and outdoor activities and establishments.
A Health Order issued today by Public Health – Seattle & King County Health Officer Dr. Jeff Duchin, going into effect on October 25, will protect customers and workers through providing safer spaces, protecting our health care system, and helping prevent business closures. It will apply to:
Outdoor events with 500 people or more – such as professional and collegiate sports and entertainment events
Indoor entertainment and recreational events or establishments – such as professional and collegiate sports, entertainment, performing arts, museums, theatre, live music, gyms, and conferences/conventions.
Restaurants and bars (including indoor dining) – this does not apply to outdoor dining, take-out customers, and places that aren't primarily used as a restaurant, such as grocery stores.
The order gives the option for a longer preparation period for smaller restaurants and bars with a seating capacity of 12 or less, with an implementation date of December 6. The entire order is not expected to be permanent. It will be reviewed no later than six months after the October 25th implementation date to assess its continued need based on future outbreak conditions.
An analysis by the University of Washington's Institute for Health Metrics and Evaluation (IHME) conducted for King County found that the vaccine verification policy at restaurants, bars, and gyms/fitness centers alone could have a significant positive impact, preventing between 17,900 and 75,900 infections, 421 and 1,760 hospitalizations, and 63 and 257 deaths locally over six months with the order in place.
"We are at a critical point in this pandemic, with high levels of new COVID-19 cases and hospitalizations, and no certainty as to what will follow the Delta variant," said King County Executive Dow Constantine. "Vaccination is our best shield against this deadly virus. With over 85 percent of King County residents having received at least their first vaccine dose, vaccine verification will help keep people safe and keep businesses open."
Corrections
We have two corrections today both related to the Lake Washington School District. The first involves Robert Frost Elementary. We received multiple parental reports that due to quarantined students, one classroom had been made virtual. The way we report data, placed Robert Frost Elementary in the closure column. Those reports were incorrect and we will update the scorecard today.
The second error involves Henry Thoreau Elementary. On the Lake Washington School District COVID scorecard, there is a single active case at the school. We received the official communication from the LWSD, indicating there was one case, and three students quarantined. Yesterday, when the scorecard was updated from 1 to 4, the footnote asterisk was not removed. Because the asterisk remained, it created confusion on the number of active cases. We apologize for the omission, and we have updated the scorecard to indicate that the number is active cases and quarantined combined.
Travel Advisories
We recommend avoiding all travel to Spokane, Yakima, Klickitat, Benton, Franklin, and Walla Walla counties, along with the states of Alaska and Idaho. Hospital resources in these regions are so constrained that you may receive inadequate care if you experience a medical emergency.
Thank you
Thank you to our new subscribers and those of you who have made one-time contributions. On behalf of the entire team, thank you for helping us keep the lights on!
Vaccination
No update
Hospital Status
According to the DoH COVID Dashboard, 22.7% of all acute care patients hospitalized in Washington have COVID. A hospital system caring for this many COVID-positive patients in acute care is considered to be under "severe stress." ICUs are at 91.8% of capacity statewide, with 36.1% of ICU patients fighting COVID. This is unchanged from yesterday
The hospital admission rate Epidemiologic Curve dashboard is not working for the second day in a row. The Department of Health reported there were 1,654 COVID patients statewide on September 15 and 259 on ventilators. New cases were up slightly, while the number of patients on ventilators decreased.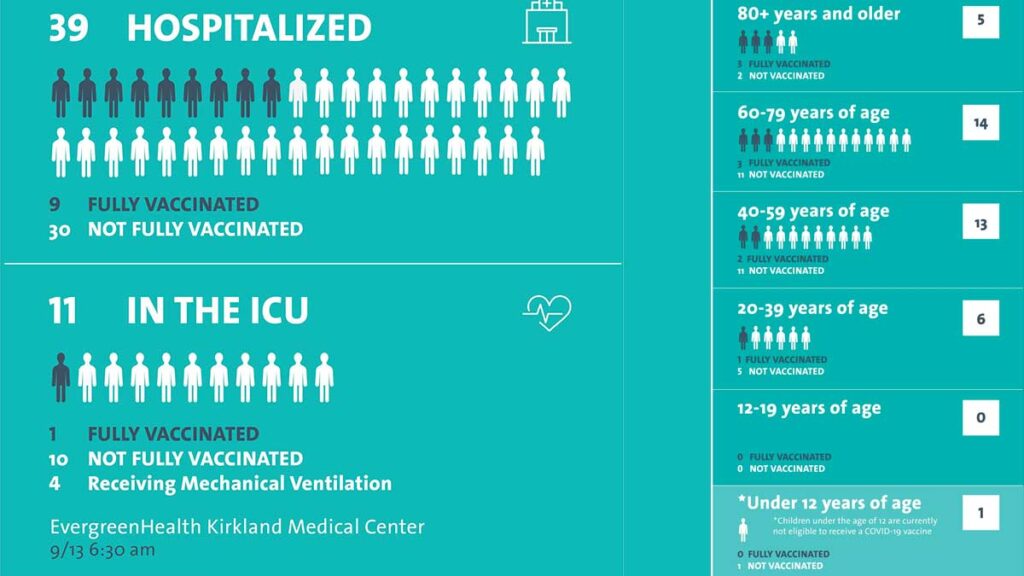 On September 13 EvergreenHealth reported 39 COVID patients in Kirkland. This morning they released detailed information about the patients. 77% of COVID patients are unvaccinated, which includes a pediatric patient under 12-years old. In the ICU 91% are unvaccinated and 4 are on ventilators.
Two-thirds of the vaccinated patients are 60 years old or older, while 51% of all patients are birth to 59 years old.
Back to School
School District
Status
Quarantines
Closures
Bellevue

YELLOW

– Bellevue (3)
– Chinook (1)
– Highland (3)
– Interlake (1)
– Newport (3)
– Newport Heights (19)
– Sherwood Forest (11)
– Spiritridge Elementary (23)
– Stevenson Elementary (2)
None
Lake Washington

RED

– Alcott Elementary (1*)
– Carson Elementary (2*)
– Dickinson Elementary (1*)
– Eastlake High (1*)
– Einstein Elementary (1*)
– Ella Baker Elementary (1*)
– Robert Frost Elementary (9)
– Juanita Elementary (2*)
– Juanita High School (37)
– Peter Kirk Elementary (1*)
– Redmond Elementary (2*)
– Redmond Middle School (1*)
– Robert Frost Elementary
– Rose Hill Elementary (1*)
– Rose Hill/Stella Schola Middle School (1*)
– Thoreau Elementary (4)
– Kamiakin Middle School (140)
– Mark Twain Elementary (3*)
Northshore

YELLOW

– Arrowhead Elementary (11)
– Bothell High School (42**)
– Canyon Creek Elementary (17)
– Canyon Park Middle School (5)
– Cottage Lake Elementary (12)
– Crystal Springs Elementary (14)
– East Ridge Elementary (15)
– Fernwood Elementary (8**)
– Frank Love Elementary (20)
– Hollywood Hills Elementary (4)
– Inglemoor High School (5)
– Innovation Lab High School (4)
– Kenmore Elementary (37**)
– Kenmore Middle School (37**)
– Kokanee Elementary (20)
– Lookwood Elementary (1)
– Maywood Hills Elementary (10)
– North Creek High School (15**)
– Northshore Middle School (7)
– Ruby Bridges Elementary (6)
– Secondary Academy for Success (1)
– Shelton View Elementary (18**)
– Skyview Middle School (77)
– Sunrise Elementary (21)
– Timbercrest Middle School (23)
– Westhill Elementary (6)
– Wellington Elementary (24)
– Woodin Elementary (5)
– Woodinville High School (19)
– Woodmore Elementary (20**)
Under Investigation
Local Districts Scorecard – * indicates positive cases only ** indicates 5 or more confirmed positive cases
The Lake Washington School District data hasn't been updated since Friday. As noted in our corrections section, we have updated the report to indicate that the parental reports we received were inaccurate.
Northshore School District now has 7 schools reporting 5 or more confirmed COVID cases with an expanding number of students in quarantine across the district. We would appeal for other school districts to follow their model of transparency.
Kirkland-Bellevue-Woodinville
No update
National Round-Up
Johns Hopkins University Cumulitaive Case Tracker is reporting 171,350 new cases and 2,678 deaths nationwide.
Today is Yom Kippur, and we are providing an abbreviated national news section.
Alaska
For the second day in a row, Alaska reported more than 1,000 new confirmed COVID cases.
Doctors, nurses and administrators around the state have described staffing shortages and an overburdened system trying to provide care for higher numbers of COVID-19 patients and non-COVID patients alike.
Providence Alaska Medical Center doctors announced this week the hospital has started rationing care under crisis-care protocols, a worst-case scenario that forces providers to prioritize patients most likely to recover. Limited resources at Alaska Native Medical Center are prompting longer waits and delayed surgeries. Alaska Regional is prioritizing surgeries for the most critical patients and postponing or rescheduled others.
Smaller outlying hospitals are struggling to transfer seriously ill people or scrambling to care for them in place.
Alaska's 7 day rolling average case rate is shocking – 667 new cases per 100K residents. Almost 52% of new cases are among people age 10 to 39. Officials reported there are only 14 ICU beds available in the entire state.
Idaho
Idaho officials announced this morning that all hospitals are now operating under crisis standards of care. This is the first time a full state has had to make such drastic measures. Hospital officials made public appeals for weeks as the condition deteriorated, but Idaho's own state public health officials and lieutenant governor actively worked to undermine those efforts.
"It's just nonstop trying to find placement for these patients and the care that they need," said Brian Whitlock, the president and CEO of the Idaho Hospital Association, who noted that hospitals across the state are struggling with the same issue. "It really is a minute-by-minute assessment of where beds are open, and hospitals saying we don't know where we're going to put the next one."
Health leaders in Washington state said that they are attempting to help their neighbors states, but they are keeping a close eye on their own bed space.
It's become an ethical challenge, as Washington has been aggressive in its Covid safety measures while Idaho's state leaders have done little to address the latest surge.
Dr. Doug White, the director of the University of Pittsburgh's Program on Ethics and Decision Making in Critical Illness, said that while Washington's health care services may feel a moral obligation to help, the need for action falls to Idaho's state government.
Oregon
Ten months after making comments at a Stop the Steal Rally, and his refusal to wear masks even around patients, Dr. Steven LaTulippe has had his medical license revoked. His license has been temporarily suspended, but state officials made a change in his status today.
Misinformation
Taking the day off
Like, Share, Follow, Support