Local and national COVID update for September 15, 2021
Cases continue to trend lower in highly vaccinated counties as cases grow in local school districts.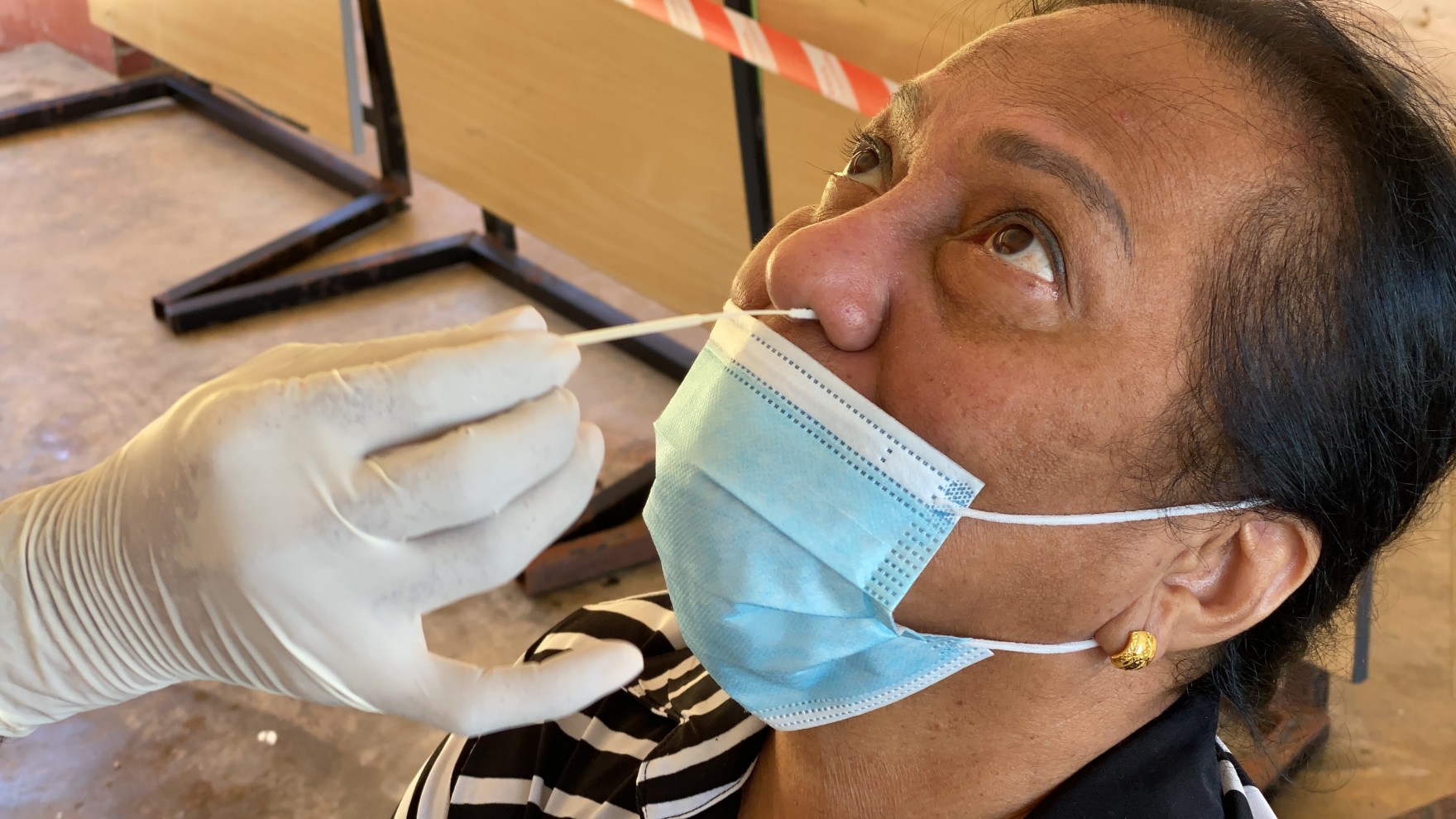 Knowledge is the best tool to fight against fear. A wise person chooses to be informed so they can make sound decisions. To join the fight against COVID misinformation, you can share this update through your social media platform of choice.
[KING COUNTY, Wash.] – (MTN) Hospitalizations have dropped 9% in Washington state from the record high set on September 9, but resources remained stretched to the limit with hospitals struggling with a crush of patients.
The number of schools in the Lake Washington and Northshore School Districts with COVID cases continues to grown.

The Washington State Department of Health has requested 1,200 medical professionals to reinforce hospitals. Health officials in Spokane express outrage that the Spokane County Fair is ongoing, with reports of only 25% of people wearing masks indoors.
Skagit County is restricting COVID testing, and Washingtonians are complaining about a lack of access to get tested for COVID in Eastern and Southwest Washington.
The planned protest at Skyview High School in Vancouver was a bust today.
There remains confusion and disagreement between the FDA, CDC, and the Biden Administration about the start of general booster shots for people who received the Pfizer vaccine.
In the misinformation section, we explain HEK-293 and the use of fetal stem cells in the development, testing, and production of medications and vaccines. If you're trying to get a religious exemption because of HEK-293, you should read up on the other medications that have used the cells.
This update uses the latest data from the Washington State Department of Health released on September 15, 2021.
---
Washington State Update for September 15, 2021
Washington state COVID update
Today's data shows a continued downward trend in new cases. However, there are concerns that new cases are being under-reported in Eastern and Southwest Washington. In the South Central Hospital Region, which includes Benton, Franklin, Klickitat, Walla Walla, and Yakima counties, new cases are 854.8 per 100K people while the Central Hospital Region, which represents King County, had a rate of 295.5.
| Percent of Total Population Fully Vaccinated | Average 14-Day New Case Rate (unadjusted) |
| --- | --- |
| 50.00% or above (12 counties) | 496.3 |
| 40.00% to 49.99% (18 counties) | 736.8 (down) |
| 27.30% to 39.99% (9 counties) | 764.6 (down) |
14-Day New COVID Cases per 100K average by Vaccination Rate, Not Adjusted for Population
Through September 14, Washington's statewide 14-day rolling average was 493.1 COVID cases per 100K, which is the first time since August 24 the state average has been below 500. Lincoln (1,303.2 per 100K), Franklin (1,192.6 per 100K), and Stevens (1,145.5 per 100K) reported an extreme number of new cases. Counties in the 800.0 to 999.9 per 100K range include Asotin, Benton, Chelan, Clallam, Cowlitz, Douglas, Grant, Grays Harbor, Lewis, Okanagan, and Pend Oreille.
Last week Yakima County reported the closures of outdoor testing centers due to severe wildfire smoke creating low air quality. Additionally, there was the Labor Day holiday week in the last 14 days, and most testing centers were closed on Sunday and Monday. Questions were raised about the limited availability of testing centers in Eastern and Southwest Washington today by several reporters during the Washington State Department of Health press conference held today.
Washington State Secretary of Health Dr. Umair Shah said there were "no imminent plans" to reopen mass testing sites, but indicated they were working with local and federal partners.
"We have added community-based testing sites but not huge testing sites," Dr. Shah said.
The Washington State Department of Health reports a data backlog for test positivity, with the published number 14 days old. According to Johns Hopkins University Medicine, the positivity rate for the last 30 days is 13.33%, and over the previous 7 days, 14.36%. These numbers indicate the state is under testing, and the jump of the previous 7 days rolling average to over 14% is a sign there is an increase in under testing.
The Department of Health changed how they are reporting Cases, Hospitalizations, and Testing by Age, so we can't provide an indication on if these numbers are an increase or decrease from previous days. If you are comparing it to previous days you should not interpret this data as indicating a massive jump in numbers.
| Age Group | 7-Day Case Rate | 7-Day Hospitalization Rate |
| --- | --- | --- |
| Ages 0-11 | 212.0 | 0.7 |
| Ages 12-19 | 249.6 | 2.1 |
| Ages 20-34 | 257.6 | 7.9 |
| Ages 35-49 | 233.7 | 13.1 |
| Ages 50-64 | 173.3 | 19.6 |
| Ages 65-79 | 127.5 | 26.9 |
| Ages 80+ | 129.7 | 44.6 |
7-day case rate and 7-day hospitalization rate is per 100K within the age group – the target for 7-day case rate is <25.0, but there are other factors such as vaccination rates within the age groups, how many total tests within the 7-day period, and the positivity rate within each age group
The USA Today COVID Tracker reported 56 deaths on Wednesday.
Skagit County announces restrictions on COVID testing
Citing an increasing number of people who live outside of Skagit county, and people seeking testing for work or school, officials announced new restrictions on who can access the Skagit County Public Health test site.
"Our staff is taxed to the limit, just like our hospitals are right now," said Danica Sessions, Skagit County Public Health spokeswoman.
Officials reported they were performing 400 tests a day, and half of the people being tested didn't live in Skagit County. On Monday, several people were turned away because they weren't a resident of the county or did not have any COVID symptoms.
Spokane hospital Chief Medical Officer slams officials for having Spokane County Fair
Providence Health Care, which announced yesterday they were stopping all non-emergency surgeries held a press conference to discuss the current state of Spokane hospitals. Chief Medical Officer Dr. Dan Getz expressed outrage about the Spokane County Fair being held.
"It makes zero sense in the middle of the pandemic and we're hearing reports that we're lucky if a quarter of those people are wearing masks," Getz said. "And, so what it tells me is the community doesn't understand the level of crisis that we're dealing with and they don't understand the incredibly difficult decisions that they're making and delaying care for people."
Spokane County Commissioner Josh Kerns released a statement about the decision to keep the fair going.
"Our community has had so many events taken from them over the last eighteen months. The fair staff has worked closely with the Washington State Department of Health and the Spokane Regional Health District to make the Spokane County Interstate Fair as safe as possible. Large events have been happening across the State of Washington including the Washington State Fair, College Football games, and professional sporting events."
Providence and Sacred Heart have a combined 150 COVID patients under their care – including 29 from Idaho. Of the 18 COVID patients on ventilators, none of them are vaccinated.
Anti-vaccine protest planned at Skyview High School in Vancouver is a bust
The group Waking Up Washington planned a protest at Skyview High School in Vancouver, Washington on Wednesday, but it appears it was a protest of just two people.
The Seattle Truth Network, in coordination with Wake Up Washington, is planning an anti-vaccination event on September 25 at Rooster's Bakery and Cafe in Woodinville.
Washington state requests 1,200 additional medically trained people to come to the state
"Washington state has requested 1,200 personnel to help our system," Dr. Scott Lindquist, State Epidemiologist for Communicable Disease for the Washington Department of Health said. Nineteen months of relentless demand drove many skilled medical workers to walk away from being hospitalists through early retirement, moving to private practice, or taking more lucrative jobs as a traveling healthcare provider.
"Our healthcare workers are truly stressed now."
The question of looming vaccination mandates for healthcare workers at both a state and federal level was raised. "Last year before we even had vaccines in our state, all of us said if we just had a tool to fight this pandemic. As a country, we did everything we can to develop a vaccine," Washington state Secretary of Health Dr. Umair Shah said.
"Vaccines are free they are safe they are effective."
"When we go through all these efforts – when you hear certain people saying I'm OK with losing my job, we hope you will reconsider this."
Travel Advisories
We recommend avoiding all travel to Spokane, Yakima, Klickitat, Benton, Franklin, and Walla Walla counties, along with the states of Alaska and Idaho. Hospital resources in these regions are so constrained that you may receive inadequate care if you experience a medical emergency.
Thank you
Thank you to our new subscribers and those of you who have made one-time contributions. On behalf of the entire team, thank you for helping us keep the lights on!
Vaccination
September 20 is just 5 days away, and there is still no final decision or guidance on what a vaccine booster shot program for the general public would look like. Today the staff of the Food and Drug Administration deferred on providing their recommendation until September 17. The agency released a 23-page document, Vaccines and Related Biological Products Advisory Committee Meeting, September 17, 2021.
"Factors supporting licensure of a booster dose should consider the effectiveness of primary vaccination with COMIRNATY over time and against circulating variants, the effectiveness (and its duration) of booster vaccination in preventing important COVID-19-related outcomes in individuals who have already received a primary vaccination series, the dynamics of the pandemic in the United States, and the risks of booster vaccination in the general population or in certain subpopulations."
"Some observational studies have suggested declining efficacy of COMIRNATY over time against symptomatic infection or against the Delta variant, while others have not. However, overall, data indicate that currently US-licensed or authorized COVID-19 vaccines still afford protection against severe COVID-19 disease and death in the United States. There are many potentially relevant studies, but FDA has not independently reviewed or verified the underlying data or their conclusions. Some of these studies, including data from the vaccination program in Israel, will be summarized during the September 17, 2021 VRBPAC meeting."
Booster shot approval would only apply to recipients of the Pfizer vaccine if the program moves forward on September 20.
New data from a large COVID-19 trial done by Moderna, indicated that the vaccination protection provided wanes after 6 to 12 months.
"This is only one estimate, but we do believe this means as you look toward the fall and winter, at minimum we expect the estimated impact of waning immunity would be 600,000 additional cases of COVID-19," Moderna President Stephen Hoge told investors.
The research showed that people who received the vaccination in 2020, had a statistically higher infection rate than those who received their shots in 2021. Data from multiple studies and the CDC indicates that Moderna is highly effective against the Delta variant.
"The first six months are great, but you can't count on that being stable out to a year and beyond," Mr Hoge said.
Finally, the Nicki Minaj kerfuffle over the cousin's friend with the swollen testicles allegedly from the COVID vaccine (no, it doesn't do that) reached such a fevered pitch, an exasperated Dr. Terrence Deyalsingh, the Health Minister of Trinidad & Tobago made a statement during the nation's COVID update.
Hospital Status
According to the DoH COVID Dashboard, 23.0% of all acute care patients hospitalized in Washington have COVID. A hospital system caring for this many COVID-positive patients in acute care is considered to be under "severe stress." ICUs are at 91.9% of capacity statewide, with 35.9% of ICU patients fighting COVID. This is a new record for patients in ICU and the percentage of patients with COVID.
The hospital admission rate Epidemiologic Curve dashboard is not working for the second day in a row. The Department of Health reported there were 1,636 COVID patients statewide on September 14 and 266 on ventilators. This is the third day of decline, and total hospitalized patients are down 9% from the September 9 peak.
Dr. Scott Lindquist, State Epidemiologist for Communicable Disease for the Washington Department of Health talked about the trend in the state numbers. "We are starting to see a downward trend, but I would be cautious about this," he said, adding "It is encouraging to see this stalling out."
Despite the improvement, the hospital system in Washington state remains on a razor's edge. "All of our resource hospitals are over capacity, every one of them," said Dr. Steve Mitchell, Medical Director, WMCC, and Emergency Department at Harborview Medical Center.
"All of them are going through incredible lengths to care for patients. They are also taking staff that don't normally work in ICUs and extending the staff into critical care units."
"When our ICUs and our alternative ICUs are full…they back up into our emergency departments. The trickle-down from that is patients wait for a long period time waiting for a bed and ambulances keep coming. Those same ambulances can't unload into our emergency department so they then become unavailable for other emergency calls."
"I want you to hear this, this is not just my hospital, it is every resource hospital throughout our state."
Dr. Mitchell also discussed patient transfers and the growing challenges to balance resources across Washington. "Over 1,000 requests since July 1 from hospitals who have been unable to place their patients from small rural critical access hospitals to a location where they can intervene and fix those patients."
"Just yesterday there were 2 patients that both had severe COVID in far North Central Washington. After many hours of searching…we found that they could accept them in King County."
"So sad to see the younger age of the people in our critical care unit," Dr. Michell said as he talked about 4 critical patients in their 20's under treatment for COVID at Harborview Medical Center.
Of the four, one had very recently died, another was on ECMO, and the last two were being proned to help them breathe. Three of the four were unvaccinated. The vaccinated patient is severely immunocompromised.
Back to School
School District
Status
Quarantines
Closures
Bellevue

YELLOW

– Bellevue (3)
– Chinook (1)
– Highland (3)
– Interlake (1)
– Newport (3)
– Newport Heights (19)
– Sherwood Forest (11)
– Spiritridge Elementary (23)
– Stevenson Elementary (2)
None
Lake Washington

RED

– Alcott Elementary (1*)
– Carson Elementary (2*)
– Dickinson Elementary (1*)
– Eastlake High (1*)
– Einstein Elementary (1*)
– Ella Baker Elementary (1*)
– Robert Frost Elementary (9)
– Juanita Elementary (2*)
– Juanita High School (37)
– Peter Kirk Elementary (1*)
– Redmond Elementary (2*)
– Redmond Middle School (1*)
– Rose Hill Elementary (1*)
– Rose Hill/Stella Schola Middle School (1*)
– Thoreau Elementary (4)
– Robert Frost (?)
– Kamiakin Middle School (140)
– Mark Twain Elementary (3*)
Northshore

YELLOW

– Arrowhead Elementary (10)
– Bothell High School (35**)
– Canyon Creek Elementary (16)
– Canyon Park Middle School (5)
– Cottage Lake Elementary (12)
– Crystal Springs Elementary (14)
– East Ridge Elementary (12)
– Fernwood Elementary (7)
– Frank Love Elementary (20)
– Hollywood Hills Elementary (3)
– Inglemoor High School (5)
– Innovation Lab High School (3)
– Kenmore Elementary (5)
– Kenmore Middle School (37**)
– Kokanee Elementary (20)
– Maywood Hills Elementary (10)
– North Creek High School (13**)
– Northshore Middle School (7)
– Ruby Bridges Elementary (4)
– Secondary Academy for Success (1)
– Shelton View Elementary (18**)
– Skyview Middle School (71)
– Sunrise Elementary (19)
– Timbercrest Middle School (23)
– Westhill Elementary (6)
– Woodin Elementary (4)
– Woodinville High School (18)
– Woodmore Elementary (18**)
Under Investigation
Local Districts Scorecard – * indicates positive cases only ** indicates 5 or more confirmed positive cases
The Lake Washington School District data hasn't been updated since Friday, but we do have a parent report that a classroom has been quarantined at Robert Frost Elementary.
Northshore School District now has 5 schools reporting 5 or more confirmed COVID cases with an expanding number of students in quarantine across the district.
Kirkland-Bellevue-Woodinville
No update
National Round-Up
Johns Hopkins University Cumulitaive Case Tracker is reporting 143,895 new cases and 1,823 deaths nationwide.
Yesterday the United States hit another milestone nobody wanted to see – 1 in 500 residents have died of COVID since the first officially recorded fatality in Kirkland, Washington on February 29, 2020.
To put that into perspective consider this. Lumen Field where the Seahawks and Sounders FC play can seat 72,000 people. If the stadium was full for a game, 144 random fans would not leave the stadium alive.
Although the national rate is 1 in 500, for King County, it is 1 in 1,221. The significant improvement over the national average is due to several factors including early action at the start of the outbreak, lockdowns, social distancing, mask wear, a gradual return to normalcy in the spring of 2021, and a high vaccination rate.
Alaska
Alaska shattered every previous COVID record today reporting 1,095 new cases along with a record number of hospitalizations, ICU patients, and patients on ventilators. Yesterday the largest hospital in the state had to move to crisis standards of care. The impact of the decision is starting to ripple across the vast and remote state.
Nearly all hospitals are struggling, and each is grappling with how best to respond to unsustainable patient levels, Dr. Anne Zink, Alaska's chief medical officer, said Wednesday.
"They're almost all at a crisis level right now," she said. For smaller facilities, enacting crisis standards of care may not always make the most sense based on the types of resources and protocols already in place.
"We've had increasing challenges accessing particularly things like (kidney) dialysis" and other similarly specialized care that is only available at a few hospitals in Anchorage, Zink said.
Alabama
The good news is the number of patients hospitalized with COVID continues to decline, but within those numbers, there is a dark reality. Dr. Don Williamson, president of the Alabama Hospital Association, said Monday that he's "hopeful but not confident yet that things are beginning to improve," and noted that "one of the reasons our hospitalization numbers appear to be stable to declining is because we've had a pretty substantial daily death count. We're reporting more than 40 deaths a day now for almost three weeks."
As of today, 84% of the 2,355 hospitalized COVID patients are unvaccinated, including 761 in the ICU. The state has 558 patients on ventilators, with a national survival rate of just 20% to 30%.
Arkansas
COVID hospitalizations have declined for more than a week, but the state is seeing a similar trend to Alabama. ICU cases have increased by 18 within the last 24 hours, bringing the total to 450. According to the ADH data, this is the first time ICU cases have increased in five days.
Arizona
Attorney General Mark Brnovich filed a 14-page complaint in federal court that seeks to invalidate President Biden's vaccine requirements for federal workers and large companies. In the complaint, Brnovich makes a false claim on the process of undocumented immigrants as part of his legal argument.
"In a nutshell: unauthorized aliens will not be subject to any vaccination requirements even when released directly into the United States (where most will remain), while roughly a hundred million U.S. citizens will be subject to unprecedented vaccination requirements," the state told the court. "This reflects an unmistakable — and unconstitutional — brand of favoritism in favor of unauthorized aliens."
Immigrations and Customs Enforcement have contracted agencies to FEMA to provide health inspection to undocumented immigrants who will be held or released into the United States, this includes COVID testing and vaccinations. So far in 2021, almost 1.3 million people have been processed along the U.S. border.
Arizona will likely record its 20,000 COVID death next month.
Florida
After months of complaints from local, county, and federal officials, Florida is providing COVID death data at a county level again. People on both sides of the mask and vaccination argument have lamented not having access to the data to serve as proof points for the need, or lack of need for masks in schools, as one example.
Florida new cases continue to decline and are now 45% of peak levels, hovering between 11,000 and 12,000 reported a day. Hospitalizations are down from a peak of over 17,000 to 10,979 reported today. 2,673 are in the ICU. The state of Florida does not report how many patients are on ventilators.
Lisa Wilson of Belle Glade, Florida is a tireless advocate of vaccination who even went door to door to fight misinformation and talk to people about getting vaccinated. She persuaded pastors in church to advocate getting vaccinated, along with friends, neighbors, and family. Despite all her efforts, COVID took a terrible toll.
In the last three weeks, Wilson lost 6 relatives, all of them unvaccinated. Wilson remains baffled about why her family members so steadfastly refused to get vaccinated.
"In my grandmother's case, I think some of her children advised her not to do it," Wilson said. "They said she was too old, that it wasn't safe, that she never left the house, anyway."
The last time she talked to her uncle during a Facetime chat from his hospital bed, he told her he wished he'd followed her advice.
"Tell all of our family to get vaccinated. It's horrible. It hurts," she said he cried, as he gasped for air.
She said she couldn't bring herself to talk to her grandmother on Facetime. When she took her grandmother to the hospital, doctors said her prognosis was grim.
"I didn't want to see her with tubes running everywhere and watch her struggling to breathe," Wilson said. "Other grandkids did it and they regretted it."
Georgia
Georgia's top epidemiologist said Tuesday that 60% of COVID-19 outbreaks in the state over the last several weeks have occurred in K-12 schools.
"Which is about a seven-fold increase than it had been even in previous waves in this pandemic," state epidemiologist Cherie Drenzek said during a Board of Public Health meeting.
With a 240% increase of COVID-19 cases among children since July, Georgia's students are at the center of the current surge.
"The magnitude of this, of the number of cases here in this age group among school children, is very significant," Drenzek said.
Drenzek said the current surge has caused more than 100 recent outbreaks in schools statewide since July 4.
Hawaii
After standing at the edge of an angry COVID volcano, Hawaii appears to have reached a peak.
Lt. Gov. Josh Green said there were 448 people hospitalized with COVID on Sept. 3. The state is now down to 346.
"That's a sign Hawaii is moving in the right direction," Green said.
But he added Hawaii health officials won't know for sure until at least Friday. That's when they'll get a complete picture of how much the virus spread over Labor Day weekend.
"I suspect our cases have plateaued. And our hospitalizations should drop in the next two weeks. Unless we get a surprise," Green said.
And while cases are going down, some facilities are still struggling to meet patient needs.
Idaho
The northern half of Idaho continues to operate in crisis standards of care and officials seem pessimistic that the southern half of the state can avoid reaching the same situation.
"Our cases continue to increase," said Elke Shaw-Tulloch, public health administrator for the Idaho Department of Health and Welfare. "The flow of sick people into hospitals continues to increase. It's incredibly high and the stress on the hospitals is very real."
The IDHW says a record number of people are being hospitalized with Covid right now. If that doesn't change soon, hospitals in southern Idaho could have to implement crisis standards of care.
635 COVID-19 cases were identified among teens ages 13-17, representing a record in Idaho for the entire pandemic. Adding to that, case rates are increasing among this particular age group at a faster rate compared to any other age group, at any point during the pandemic.
"The number of children 12 to 18 that are positive, is greater this week than last week it is growing at an accelerated rate and our internal data shows a positivity rate of 20%, which is incredibly high," said pediatrician and CEO of Primary Health Medical Group, Doctor David Peterman.
"I'm incredibly disappointed and to a certain degree disheartened because we know that something as simple as having our children wear masks in school, and teachers and staff, we can slow the spread of covid," he said.
That's unlikely as Dr. Ryan Cole, who called the COVID vaccination "needle rape," works with the American Frontline Doctors, and considers masks useless, is one off the leading health officials in the Gem State.
According to campaigners and former officials in Idaho who spoke to Business Insider, Cole's elevation demonstrates how the state's public health apparatus was stripped back and politicized as the pandemic rages.
The CDH is Idaho's biggest health authority, covering Ada, Boise, Elmore, and Valley counties. Its board is elected by 12 commissioners, three from each county.
Cole made it onto the board thanks to a backlash against CDH restrictions which propelled coronavirus skeptics into positions of power.
Illinois
In Illinois, the 88 hospitals in the southern part of the state are completely full while COVID testing is indicating positivity rates over 20% in the same region.
Louisiana
In Louisana, the number of COVID patients has plummeted in the last four weeks, while morgues and funeral homes struggle to keep up with the recently deceased. Just like in Alabama, the good news of declining hospitalizations is masking a grim reality.
"Everybody's focused on the front line and whatnot, but not the ones dealing with the bodies," said Cedrick L. Lawson, who works alongside Cobb as an assistant manager.
He said morgues have become so crowded, hospitals will sometimes call his home even before a patient dies to make sure someone can come pick up the body quickly and make space for the next.
On any given day, Cobb and Lawson host up to 10 funerals, back-to-back, with practically no time in between. Often they're so busy attending to grieving families, they forget to eat.
Oklahoma
Eighteen months into the COVID-19 pandemic, and there is still a wait at some local hospitals for beds. Health care leaders met virtually to give updates on numbers and data they're closely following.
"Given Labor Day activities, I think that all health care providers probably have their fingers crossed and are hoping for the best but not assuming that will hold once we get at the requisite days past Labor Day," Patti Davis, President of the Oklahoma State Hospital Association said.
Dr. Woody Jenkins, in Stillwater, said their hospital capacity is maxed out. "Overall, our patients are younger and sicker than the last surge," Jenkins said. "The length of stays are longer, to past 20 days, and some have been on the ventilators for over 10 days."
Another major concern, according to Jenkins, is losing nursing staff to mental health strain and fatigue.
"We must find a way out of this darkness and navigate toward brighter skies," he said.
In Edmond, Oklahoma, six parents have sued the school district seeking an injunction to block quarantine requirements for students who have a close contact exposure.
"Our battle really isn't with the district and the teachers or even our superintendent. We really want our school district to come in compliance with the law and keep healthy kids in school," said Brian Shellem, who filed the lawsuit with five other parents.
Finally, Oklahoma has found a unique way to lower the number of reported COVID cases in the state. State officials have stopped COVID testing within the state's prison system.
Oregon
Two out of five nurses with Kaiser Permanente are considering leaving the industry altogether, in a recent survey done by the hospital network and insurance provider. Nurses are ready to quit not due to low morale or vaccine mandates, but the offer made in ongoing contract negotiations with Kaiser and staffing levels that many consider dangerous.
Kaiser Permanente is offering a 1% raise across the board, and a 1% lump sum raise for each year of the contract. That rate of pay increase doesn't even keep up with inflation going as far back as 2010.
Kaiser says to address future costs and affordability, it is, "proposing a market-based compensation structure for those hired in 2023 and beyond."
The union sees that as unacceptable.
"The current proposal on the table is that they want to put in a two-tier wage system where new hires will be paid less than what we are paid, meaning that our work that we perform–it's not worth what we're currently being paid to do," said Holt.
Misinformation
A growing strategy among those seeking an exemption from receiving the COVID vaccine on religious grounds is a firmly held religious belief against abortion and a belief that life starts at conception. The argument then becomes because fetal stem cells were used in the testing or development of the COVID vaccines, it is against one's belief to accept the vaccine.
Of eight COVID vaccines evaluated, two used fetal stem cells in the development, with one of those distributed in the United States. The Pfizer and Moderna mRNA vaccines were tested on fetal stem cells, and the Johnson & Johnson vaccine was used during the production of the vaccine.
Ha! I got you! Not so fast.
The cells used come from a genome known as HEK-293. The original 293 cells were derived in 1973 from the kidney of an aborted human embryo of unknown parenthood by transformation with sheared Adenovirus 5 DNA. After many attempts, cell growth took off only several months after the isolation of a single transformed clone. The cells used today are thousands of generations old and are clones of the original cells gathered in 1973.
They're still aborted cells! Test tube or not!
This is where the argument falls apart. HEK-293 cells have been used in either the development, testing, or production of a long list of medications.
If you've "done your research" and have been using "alternative treatments" as preventatives or treatment for COVID, you better sit down. Zithromax, Hydroxychloroquine, and Ivermectin have all been tested as part of their production and development using HEK-293 cells. Other common vaccinations include Rubella, part of the MMR, and the chickenpox and shingles vaccines. If you used the monoclonal antibody treatment Regeneron, you've also used a drug developed with HEK-293 cells.
Additionally, as far back as 2003, the Catholic Church released a statement specifically addressing the use of HEK-293 cells for the development of medications. The Jewish and Islamic faiths have made similar statements and years before the development of the COVID vaccine.
If you've ever taken any of these drugs or vaccines, especially the prescription drugs, or your social media is covered with claims praising the use of Hydroxychloroquine or Ivermectin, your religious exemption is probably in jeopardy.
Tylenol / Acetaminophen
Advil / Motrin / Ibuprofen
Aleve / Naproxen
Pseudoephedrine / Sudafed / SudoGest / Suphedrine (and we can add Meth to that list)
Diphenhydramine / Benadryl
Loratadine / Claratin
Dextromethorphan / Delsym / Robafen Cough / Robitussin
Guaifensin / Mucinex
Tums
Maalox
Docusate / Colace / Ex-Lax Stool Softner
Senna Glycoside / Sennoside / Senna / Ex-Lax / Senokot
Pepto-Bismol
Phenylephrine / Preparation H / Vazculep / Suphedrine PE
Mepyramine / Pyirlamine
Lidocaine / Lidoderm / Recticare
Levothyroxine / Synthroid / Tirosint / Levoxyl
Atorvastatin / Lipitor
Amlodipine / Norvasc
Metoprolol / Toprool XL / Lopressor
Omeprazole / Prilosec OTC / Zegerid OTC / OmePPi
Losartan / Cozaar
Albuterol / Salbutamol / ProAir / Ventolin
Sacubitril / Valsartan / Entresto
Tenapanor / Ibsrela
Enbrel / Etanercept
Azithromycin / Zithromax
Hydroxychloroquine / Plaquenil
Remdesivir / Veklury
Dapaglifozin / Farxiga / Ipragliflozin / Suglat / Enavoglifozin / Jardiance
Ivermectin / Stromectol
Canagliflozin / Invokana / Sulisent / Prominad
Metformin / Glucophage / Riomet / Glumetza
Cerivastatin / Baycol / Lipobay / Fluvastatin / Lescol / Pitavastatin / Livalo / Pravatatin / Pravachol / Rosuvatatin / Crestor
Simvastatin / FloLipid / Zocor
Oxbryta / Voxelotor
Lisinopril / Qbrelis / Zestril / Prinivil
Regeneron / regen-COV
Hepatitis A vaccine
Rubella vaccine
Varicella vaccine (chickenpox)
Zoster vaccine (shingles)
Rabies vaccine