Russia-Ukraine War Update for July 7, 2022
Ukrainian forces raise the national flag on Snake Island as fighting in Ukraine is put on pause.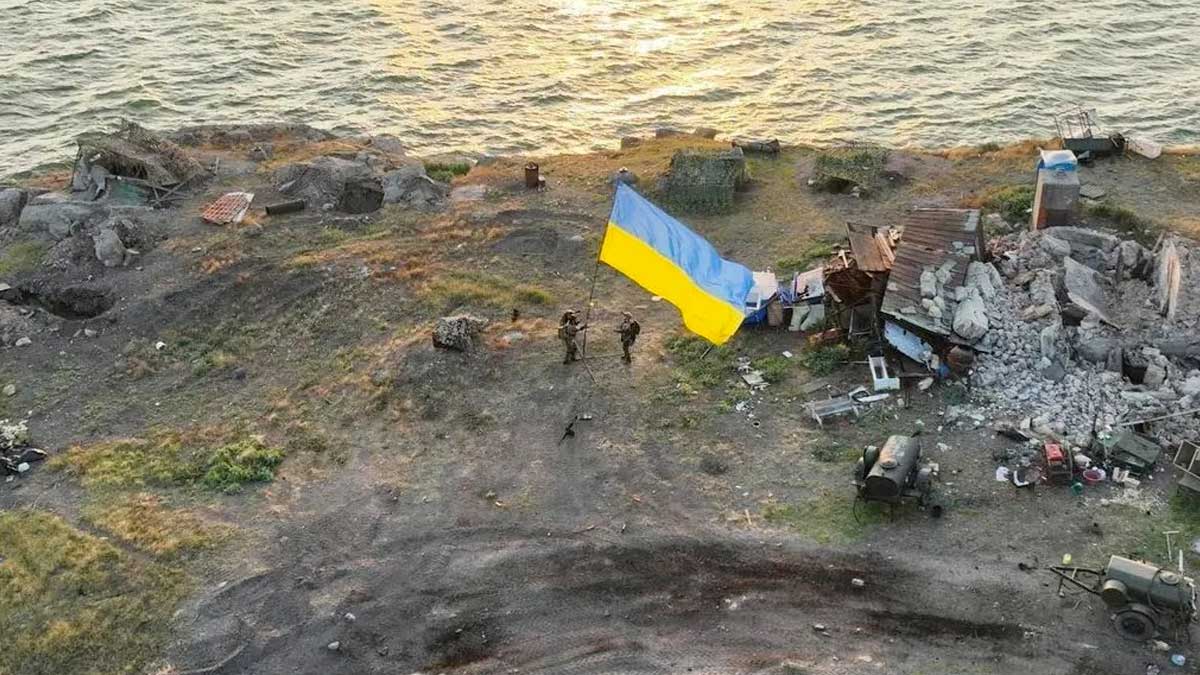 [KYIV, Ukraine] – MTN It has been 3,051 days since Russia occupied Crimea on February 27, 2014.
On July 6, there weren't any territorial changes related to liberation or capture, nor major combat operations by either belligerent across the entire theater. Artillery, rocket, and air strikes continued, as well as skirmishes, reconnaissance in force, and positional battles.
Donetsk regional Governor Pavlo Kyrylenko urged the 350,000 civilians still living in the oblast to evacuate the area. Kyrylenko has stressed that fewer civilians will enable combat forces to focus on fighting and be less concerned about collateral damage.

Northeast Donetsk – Russian forces attempted to advance on Hryhovika and Verknokamyanske and were unsuccessful. Southwest of Lysychansk, Ukrainian forces topped a Russian advance toward Spirne.
Near Lyman, Russian forces shelled Raihorodok and may be setting conditions to start an advance from Lyman.
The most intense fighting in Ukraine was in the Svitlodarsk bulge. Russian forces tried to capture Novoluhanske and Luhanske and were not successful. Ukraine also maintained control of the Vuhledar Power Plant.
Southwest Donetsk – Zaporizhia – In southwest Donetsk, there were scattered artillery exchanges from Horlivka to Donetsk city to Velyka Novosilka in the Donetsk Oblast and Hulyaipole to Orikhiv in the Zaporizhia Oblast. Insurgents destroyed a railroad bridge between Melitopol and Tokmak in an attempt to disrupt Russian Ground Lines of Communication (GLOC – aka supply lines)
Kherson – In Kherson, Ukrainian forces destroyed an ammunition depot adjacent to the Kherson city train station. Residents reported they could hear small arms fire coming from the direction of Chornobaivka.
Fighting continued near Snihurivka and at the Ukrainian bridgehead across the Inhulets River at Bila Krynytsya-Bilohirka.
Russian forces fired artillery and MLRS in the northern part of Kherson in an attempt to slow the Ukrainian advance. Fighting continued in Arkhanhel's'ke.
Kharkiv – Russian forces attempted a spoiling attack on Sosnivka and were unsuccessful. Positional fighting near Vesele left the town contested but leaning towards Ukrainian control. Russian forces did airstrikes on Rubizhne [Kharkiv], a no man's land in northeastern Kharkiv.
Izyum – Russian forces did not attempt to advance south of Izyum, relying on artillery to shell Dibrivne, Krasnopilla, Dolyna, and Velkya Komyshuvakha. Russian troops made a small advance on Kurulka to test Ukrainian defenses and retreated.
Sumy – The settlements of Myropilska, Krasnopilska, and Khotinska were attacked by Grad rockets fired by Multiple Launch Rocket Systems (MLRS). There were no injuries reported.
Odesa – Ukrainian forces arrived on Snake Island and did a flag-raising. There is no intention of occupying the island at this time. Ukrainian air defenses destroyed a cruise missile fired at Odesa.
Daily Assessment
The Russian Federation Armed Forces entered a theaterwide operational pause, although we cannot determine how long this will last.
We cannot determine if the significant reduction in artillery fire by Russian forces is due to this pause or interdiction of Russian supplies.
Russian forces appear to be setting conditions to advance on Slovyansk-Kramatorsk when the operational pause ends.
It is yet to be seen if Ukraine will hold a defensive position in Siversk or fall back to the Slovyansk-Karmatorsk-Soledar-Bakhmut line.
Russian forces continue to struggle in Kherson, where Ukrainian forces continue to make incremental gains and can attack Kherson city.
To read the rest of our report, become a Patreon! For as little as $5 a month, you get access to the daily Russia-Ukraine War Situation Report. The report provides analysis, maps, detailed information about all the axes in Ukraine, international developments, information about war crimes and human rights, and economic news. As an added benefit, you get access to flash reports, breaking news, and our Discord server.