Amazon union-buster calls Black organizers "thugs" at NYC Distribution Center
Homelessness, racism, moving 1,800 packages an hour in 10 hour shifts, and 150% turnover is just another day at Amazon.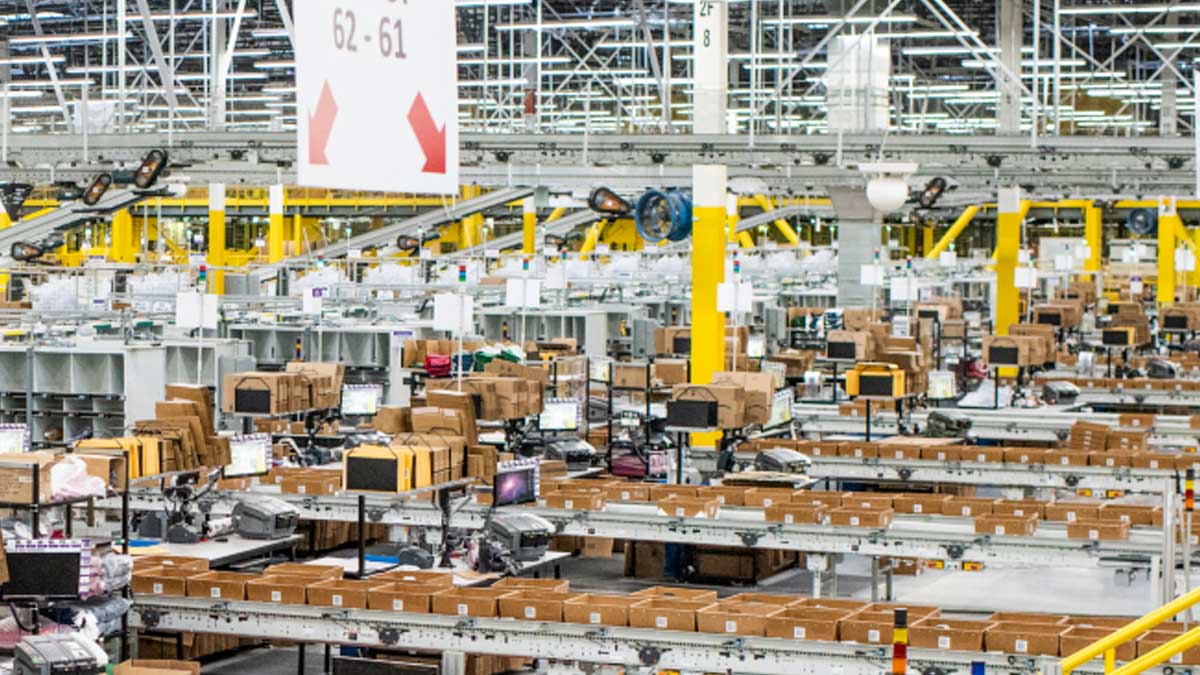 [NEW YORK] – (MTN) The same union-busters who prevented a worker's union at an Amazon facility in Bessemer, Alabama, are now helping the company in Staten Island, New York. JFK8, New York City's only Amazon fulfillment center, has a concerning workplace culture, according to several employees.
Amazon's JFK8 employs consultants to prevent employee activism, but it's one symptom of a system designed to increase productivity and one that mistreats women and employees of color, according to four current and former employees. Malcontent News also obtained two federal complaints filed against Amazon with the National Labor Relations Board regarding illegal union-busting techniques and harassment—complaints filed while some workers can't afford rent and sleep in their cars.
According to a Truthout report, Amazon pays multiple union-busting companies like the Burke Group thousands of dollars to prevent organizing. Natalie Monarrez, an Amazon employee of three years, says on May 4 she spoke with Bradley Moss, President of the Eastern Division of the Burke Group. Moss is the same union-busting consultant who worked at the Bessemer location.

"He said the organizers [at Bessemer] were just Black Lives Matter protesters," Monarrez said. "Then he shifted over to, 'These guys in front [of JKF8 are] never gonna get off the ground. They're just a bunch of thugs.' I knew exactly what he meant."
Monarrez says Moss was referring to union organizers outside JKF8 who pass out literature, connect with workers and host barbecues—and who are Black. It's not the first time Amazon was racist; Vice reported in 2020 that during one executive meeting CEO Jeff Bezos attended, a company exec called organizer Chris Smalls, who is Black, "not smart or articulate."
Hiring union-busters aren't the only way Amazon prevents unionization. Employee and organizer Derrick Palmer recently filed a complaint with the NLRB after an incident on June 12. An Amazon manager took union literature and papers Palmer left on the break room table for other employees. Palmer says the manager wouldn't reveal who told him to confiscate the material and says complaints have been filed previously for the same thing. After recovering his property, another manager tried to take similar literature from worker organizer Connor Spence.
Amazon has also put up anti-union signs in the bathrooms, according to Palmer, and Malcontent News obtained photos of anti-union digital signs inside the building with messages like, "Be careful who you trust." Although there has never been an Amazon Labor Union, or ALU, at JKF8, the signs say the ALU has a "history of financial trouble." This is in addition to a fence Amazon built around JKF8, which according to the Commercial Observer is designed to make organizing harder. Palmer filed charges with the NLRB because of the fence on May 11.
---
Employees say the internal culture is racist, too. Palmer says he believes being Black is part of the reason he hasn't been promoted. After showing managers he had achieved enough "Matrix points," a sort of internal tallying system of leadership and experience, management denied him an interview for promotion even though he had exceeded the requirements. Additionally, the New York Times reports that while many hourly workers are people of color, management is overwhelmingly white. Spence agrees, saying many managers are white men hired "fresh out of college."
The company culture and union-busting do nothing to help employees who are struggling, Monarrez says. Monarrez, who also filed an NLRB report after a now-terminated manager physically prevented her from using the bathroom, says she and nearly 100 other JKF8 employees are homeless and sleep in their cars in the parking lot after work. Monarrez has been homeless for three years. She lost her job after the 2008 recession and had a difficult time finding work, so she moved to New York City and began working for Amazon in 2017.
Monarrez lives on just more than $19 an hour, but in New York City rent can be more than $2,000 per month for a one-bedroom apartment, which she can't afford it. She says she's gotten a gym membership so she can take a shower. However, it's not easy to work 10-hour shifts handling around 1,800 packages per hour and not be able to afford basic necessities.
"I wish people knew the truth," Monarrez says. "It's really bad, and we need help."
Smalls, Palmer, Spence, and other labor organizers at JFK8 are doing their best to help. Every employee Malcontent News spoke to knew about each other's struggles and had established relationships. Smalls says the barbecues he hosts outside the building help workers come together.
Because JKF8 has about 5,600 employees, Spence says they need about 1,700 signatures to vote on creating a union. They're making steady progress, and Spence says they may hit their goals and push for a vote this year. But if it takes longer, they're willing to put in the work.
In Bessemer, union efforts failed after 738 voted for, and 1,798 voted against a union. However, Amazon installed a mailbox there, and some reports say it's possible Amazon tampered with votes. In addition to union-busting tactics, JKF8 has a turnover rate of about 150 percent. Spence says this means that in a building of 6,000 people, they may hire and fire as many as 9,000 employees in a year, making it difficult to unionize.
---
"It's not the only reason they do it, but trying to prevent labor organizing is one of the components of that business model," Spence says. "High turnover prevents labor organizing."
Still, there are ways the public can help. Smalls says locals are welcome to come and volunteer and that anyone can donate.
"We are self-funded," Smalls says. "Donate whatever you can on amazonlaborunion.org. Help us amplify anything online. If they can volunteer, they can come on down."