Mark Twain Elementary closes classroom – local and national COVID update for September 7, 2021
COVID cases grow in Lake Washington schools and if you want to watch live sports, you're going to need a vax.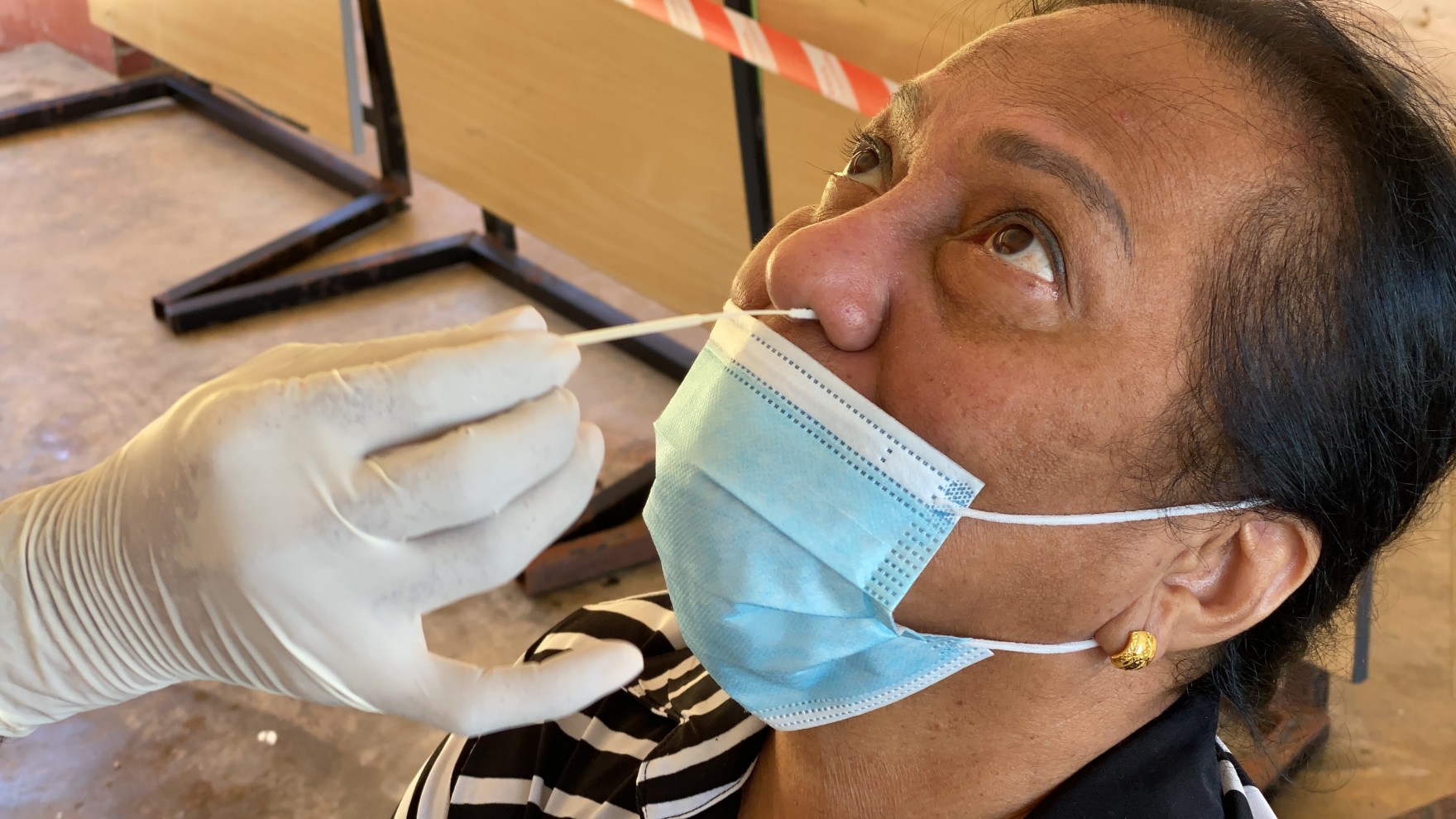 Knowledge is the best tool to fight against fear. A wise person chooses to be informed so they can make sound decisions. To join the fight against COVID misinformation, you can share this update through your social media platform of choice.
[KING COUNTY, Wash.] – (MTN) The number of students in quarantine at Kamiakin Middle School almost tripled today, and a second-grade classroom at Mark Twain Elementary was closed due to "multiple confirmed COVID cases." All three school districts we are following are reporting students and faculty in quarantine.
If you want to watch live professional sports in Washington, you're going to need a COVID vaccination or a PCR test, with every team along with the Huskies and Cougars announcing requirements today.

Washington state COVID numbers are incomplete due to the long holiday weekend, but they aren't good as hospitalizations, and ICU patients set new records. In a press conference today with the Washington State Hospital Association, the alarm was sounded about the impact COVID is having on pregnant women and shrinking available medical resources.
Vaccination rates at a local, county, state, and national level grew as fewer people are vaccine-hesitant. It was reported up to 200 Seattle Police Officers will resist or quit over the City of Seattle vaccine mandate, and someone has set up a website calling for officers to resist.
There was a lot of irresponsible hype about the Mu variant this weekend after several news sources ran with a story about the variant being identified in 49 states. No, you don't need to lose sleep over Mu. A pre-print report that was recently released and is well researched indicates the number of COVID mutations is declining at a country and global level as more people get vaccinated.
Nationally, Idaho had to move to "crisis standards of care" today in two districts, imperiling the health of Idahodians that require medical resources. Hawaii got an emergency shipment of oxygen from the mainland over the weekend, averting a crisis. Remember the ivermectin story out of Oklahoma last week? We go over what went sideways with that and what is truth and reality as more information has come out. The short version – almost everyone got it wrong except the doctor interviewed in the first place.
Finally, my day started at 7 AM, and I haven't had lunch or dinner. There are probably a lot of typos – your patience is appreciated. (OK, just did a ton of edits)
This update uses the latest data from the Washington State Department of Health released on September 7, 2021.
---
Washington State Update for September 7, 2021
Washington state COVID update
Today is the first update from Washington state since Friday. Data isn't complete from all agencies, making the fidelity of data cloudy for the next couple of days. Through September 6, Washington's statewide 14-day rolling average was 517.7 COVID cases per 100K, which is statistically unchanged from the last update. Clallam (1,042.1 per 100K), Columbia (1,147.0 per 100K) Franklin (1,217.4 per 100K), and Okanogan (1,015.5 per 100K) reported an extreme number of new cases. Counties in the 800.0 to 999.9 per 100K range include Asotin, which dropped below 1,000.0 over the weekend, and Benton, Chelan, Cowlitz, Douglas, Garfield, Grant, Lewis, Pend Oreille, Stevens, and Yakima. Lincoln county fell off the list, dropping to 760.2
King County is at 311.8 cases per 100K, a slight decline.
The Washington State Department of Health reports a data backlog for test positivity, with the published number 14 days old. According to Johns Hopkins University Medicine, the positivity rate for the last 30 days is 13.29%, and over the previous 7 days, 15.31%. Hospitalizations were down for the 20 to 34 and the 50 to 64 age groups. The data released today should be considered incomplete due to the 3-day holiday weekend.
| Age Group | 7-Day Case Rate | 7-Day Hospitalization Rate |
| --- | --- | --- |
| Ages 0-11 | 27.4 (down) | 0.2 |
| Ages 12-19 | 22.4 | 0.2 |
| Ages 20-34 | 58.5 (down) | 1.3 (down) |
| Ages 35-49 | 47.3 (down) | 2.8 |
| Ages 50-64 | 33.2 (down) | 3.7 (down) |
| Ages 65-79 | 17.8 (down) | 3.8 |
| Ages 80+ | 4.9 | 1.5 |
7-day case rate and 7-day hospitalization rate is per 100K within the age group – the target for 7-day case rate is <25.0, but there are other factors such as vaccination rates within the age groups, how many total tests within the 7-day period, and the positivity rate within each age group
The USA Today COVID Tracker did not report the number of COVID-related deaths today.
Huskies, Cougars, Mariners, Seahawks, Storm and Kraken requiring vaccinations for home games
In an avalanche of announcements today, almost every major college and professional sports franchise announced that proof of vaccination would be required to attend home games in Washington state.
The Seattle Seahawks announced that the team and Lumen Field will require proof of COVID-19 vaccination. All guests age 12 and older will be required to provide proof of COVID-19 vaccination or a negative COVID-19 test result taken within 72 hours before kickoff to attend Seahawks games at Lumen Field. The Seahawks will begin enforcing the new policy starting with the team's home opener on September 19 vs. the Tennessee Titans. In accordance with current Washington state and King County mask mandates, fans and staff will also be required to wear masks at all times except while actively eating or drinking, regardless of vaccination status.
The Seattle Kraken and Climate Pledge Arena made an identical announcement almost at the same time. In compliance with the mandate from Washington state, Climate Pledge Arena and the Seattle Kraken have announced that all guests, ages 12 and over, attending Kraken games, concerts, and events at Climate Pledge Arena will be required to provide proof of vaccination upon entry. In the near term, all guests will also be required to wear a mask while attending events until further guidance from Washington state.
The Kraken and Climate Pledge Arena will introduce a seamless and convenient process to allow guests to show proof of full vaccination via their smartphones. Additionally, Climate Pledge Arena will require proof of vaccination for all events.
A few hours later, the University of Washington Huskies and the Washington State Cougars made their announcements. The Huskies will implement a vaccine verification system for all Husky Athletics tickets events beginning on Sept. 25, starting with the Huskies' football game against California at Husky Stadium.
Husky fans over the age of 12 will need to provide proof of vaccination or proof of a negative COVID-19 test within 72 hours of the event.
The Washington State Cougars will require proof of vaccination for fans age 12 and older, beginning with home games at Gesa Field in October.
Cougar fans that are not vaccinated will need to show proof of a negative COVID-19 within 72 hours of the event.
Shortly after the college announcements, the Seattle Storm and the Angel of the Winds Arena in Everett made their announcement. According to a team spokesperson, the team will require proof of vaccination or a negative COVID-19 test within 72 hours of game time during playoffs, which begins on Sept. 23.
Until then, the team plans to provide vaccinated and unvaccinated sections for its remaining two home games on Tuesday, Sept. 7, and Friday, Sept. 17.
An hour later, the Mariners and T-Mobile park made a similar statement. However, any proof of vaccination requirement won't happen unless the Mariners make the postseason. For now, the Public Health order for masks applies to fans ages 5 and older in all locations of T-Mobile Park, including seats and concourses, but masks are not required while fans are actively eating and drinking. The proof of vaccination policy won't be installed until potential postseason games at the earliest.
4 ejected and 6 arrested on Seattle to Anchorage Alaska Airlines flight forced to make an emergency landing over mask wear
Four passengers were ejected from Alaska Airlines flight 109 before it even departed Seattle for Anchorage, Alaska, and another 6 were arrested when the flight had to divert to Juneau. Officials in Seattle had to escort 4 people off the aircraft on Saturday before it even left the gate for being disruptive and refusing to wear masks.
After the plane took off, 6 additional passengers from the same group became combative. They refused to follow directions, and things escalated to threats directed at passengers and the flight crew, with one stating, "we are locked and loaded." The cabin crew became so nervous about the threats they approached several passengers, asking if they could assist if the group got more violent.
The pilot announced the aircraft had a mechanical problem and needed to make an emergency landing in Juneau. When the plane landed, local and state police were waiting, boarded the aircraft, and escorted the six men off the plane in handcuffs.
Alaska Airlines stated the six men removed did not continue to Anchorage on Alaska Airlines flight. There was no information at press time on whether any of the six men were booked or are facing criminal charges.
Seattle Police Officers Guild "unofficially" sets up anti-vaccination website
Someone within the Seattle Police Department has set up a website encouraging officers not to report their vaccination status to the City of Seattle, with the vaccination looming. The introduction of the website reads, "Welcome fellow SPD family members who have made it here. As you are aware by now, the city is demanding that all SPD officers provide the City with proof of vaccination or submit a request for vaccination exemption by September 22, 2021. This mission is one of human rights, constitutional rights, civil liberties, and freedom of choice. We all must band together in our stance for freewill, personal choice, medical freedoms and consent without coercion, retaliation, harassment, disciplinary action, or termination."
The legality of local and state government-mandated vaccinations was addressed by the Supreme Court in 1905, in the case Jacobson vs. Massachusetts. As reported on Saturday, the WFSE reached an agreement with the State of Washington on modifications to the vaccination mandate that provides more equity. This agreement doesn't impact SPOG or the Seattle Police Department. It is also clear the union, for that matter, any union would have pursued a Constitutional legal avenue if a valid one existed.
The site states it is not affiliated with the Seattle Police Officer's Guild but uses the SPOG rallying cry of "hold the line." Interestingly, the site does not state if it is affiliated with the Seattle Police Department.
The about section states, "My name does not matter. I took an oath, just the same as so many of you. I am someone who refuses to sit back and watch the futures of so many great men and women be placed at risk of being ripped away by a government entity who has no right forcing us all to to [sic] submit to a vaccine and disclose private medical information regarding the same."
Jason Rantz reported that up to 200 Seattle Police Officers refuse to get vaccinated or hand over their information for verification. This would represent about 19% of the current force but does not align with other municipalities, states, schools, and private businesses that have had vaccine mandate deadlines pass. The state of Hawaii mandated 14,000 workers to get vaccinated, and so far, 92.6% have gotten at least the first dose. Vaccine mandates at hospital systems and colleges have yielded 95% to 99.6% compliance.
Reports King County and Seattle are working on a vaccine verification program to access non-essential businesses
KOMO reports that Seattle and King County are working on starting a vaccine verification program similar to those implemented in Honolulu, New York City, San Francisco, and Clallam and Jefferson counties. No details were announced, but similar programs in other cities and counties have required proof of vaccination to enter bars and restaurants.
The program would not be implemented until at least October, and according to Constantine, would have at least a five-week lead time to give people time to get vaccinated.
First deadline to get first vaccination to meet October 18 state work vaccination requirement has come and gone
For employees planning to get vaccinated by the October 18 stated deadline, the date for the first dose of the Moderna vaccine was yesterday. The interval between the first and second shot is 4 weeks, followed by two weeks to reach maximum effectiveness. Guidelines still under consideration by the federal government would call for a booster shot 8 months after the second dose.
The Pfizer vaccine, which is fully FDA approved for people 16 years old and over, has a deadline of September 13. The first vaccine to reach full approval has a 21 day period between the first and second shot.
The Johnson & Johnson shot is a one-and-done shot, requiring 14 days to reach maximum effectiveness. On paper, state employees could wait until October 4. However, federal distribution of the vaccine has ground to a halt, making doses difficult to find.
King and Pierce counties outdoor mask mandate begins
Washington's two most populous counties, including the cities of Bellevue, Seattle, and Tacoma, had their outdoor mask mandates go into effect today. People who attend outdoor events with 500 or more people will be required to wear masks regardless of vaccination status. Mask wear is highly recommended in crowded outdoor areas where social distancing is impossible, and movement is restricted. Mask wear is required outdoors if you're unvaccinated in almost all situations.
Did you go to the Ellensburg Rodeo or Dave Matthews Band shows at The Gorge?
County officials in Kittitas County are appealing to anyone who went to the Ellensburg Rodeo or Dave Matthews at the Gorge to get a COVID test over the next few days. Officials in Kittitas County are going to be adding testing capacity. The public health community is concerned that the combination of these two events and public schools starting this week will break the back of the local hospital.
Kittitas Valley Hospital is a small acute care facility with 25 beds. They are currently full, and 24% of their patients have COVID. According to a spokesperson with the facility. Officials warned in a Washington State Hospital Association press conference today that the ability to move patients between Washington hospitals is starting to gridlock.
Pediatric death
The Washington State Hospital Association reported a pediatric COVID patient died in Spokane at Sacred Heart last week. No additional information on age, hospital or city of residence was given. This is the 13th COVID-related death of a juvenile patient in Washington state.
Thank you
Thank you to our new subscribers and those of you who have made one-time contributions. On behalf of the entire team, thank you for helping us keep the lights on!
Vaccination
King County Health reports 84.4% of all eligible residents age 12 and older have received at least one dose of the COVID vaccine. Additionally, every eligible age group from 12 to 80+ years old is over 70% for at least a first dose. Twenty to 29 years old are the furthest behind at 71.5%, with adolescents from 12 to 19 years old at 72.5%.
Washington state reports that 73.9% of all residents age 12 and up have received at least one dose of the COVID vaccine.
Nationally the United States reached a milestone with 75% of all adults 18 and over, with at least one dose of the COVID vaccine.
United Kingdom vaccine advisory board does not recommend vaccination for 12 to 15 year olds
The United Kingdom vaccine advisory board determined that children age 12 to 15 were at such a low risk from COVID that vaccination would provide only a "marginal benefit."
The UK's four chief medical officers have now been asked to have the final say and consider the wider impact on schools and society.
Health Secretary Sajid Javid said a decision would be made shortly.
The Joint Committee on Vaccination and Immunisation did advise widening the existing vaccine program to include an extra 200,000 teenagers with specific underlying conditions such as children with chronic heart, lung, and liver conditions.
A CDC study released last week, Hospitalizations Associated with COVID-19 Among Children and Adolescents — COVID-NET, 14 States, March 1, 2020–August 14, 2021, found that children 5 to 11 years old were at a significantly lower risk than children from birth to 4 and 12 to 17. The CDC study found that the hospitalization rate among unvaccinated adolescents from 12 to 17 was 10 times higher than among the vaccinated.
University of Washington Medicine appeals for pregnant women to get vaccinated
A spokesperson from UWMC outlined data on the increasing number of pregnant women hospitalized in Washington state today in a press conference with the Washington State Hospital Association. In a recent study evaluating 800,000 pregnant women at more than 500 medical facilities, researchers found that being unvaccinated increased the risk of early delivery (before 37 weeks) 22 fold. Unvaccinated pregnant women had a 14 times greater risk of needing a ventilator and a 15 times greater risk of death.
When the blood oxygen level in a pregnant woman drops to a dangerous level, early delivery may happen spontaneously. In other cases, it may need to be induced to try and save the mother and child. UWMC reported turning away patient transfer requests for pregnant women who needed ICU-level care and not just due to COVID. The hospital has no capacity for interstate transfers.
Hospital Status
According to the DoH COVID Dashboard, 22.2% of all acute care patients hospitalized in Washington have COVID, another new record. A hospital system caring for this many COVID-positive patients in acute care is considered to be under "severe stress." ICUs are at 88.8% of capacity statewide, with 34.9% of ICU patients fighting COVID, virtually unchanged from last week.
The new hospital admission rate for COVID patients is 173 per day, down significantly from last week – however, the Washington State Hospital Association note in a press conference this morning that hospital occupancy information was incomplete due to the holiday weekend. On September 6, there were 1,585 patients hospitalized with COVID and 246 on ventilators, according to the Department of Health. This was a new record.
The WSHA reported 1,674 COVID patients hospitalized, up 7% from last week, a new record. The number of ICU patients on ventilators was up 34% from last week.
The Washington Department of Health has not responded to our request to explain the difference between the state and WSHA numbers.
EvergreenHealth reported 39 COVID patients at Kirkland and zero at Monroe on Monday. This is lower than the 44 reported last week but higher than the 35 reported on Friday.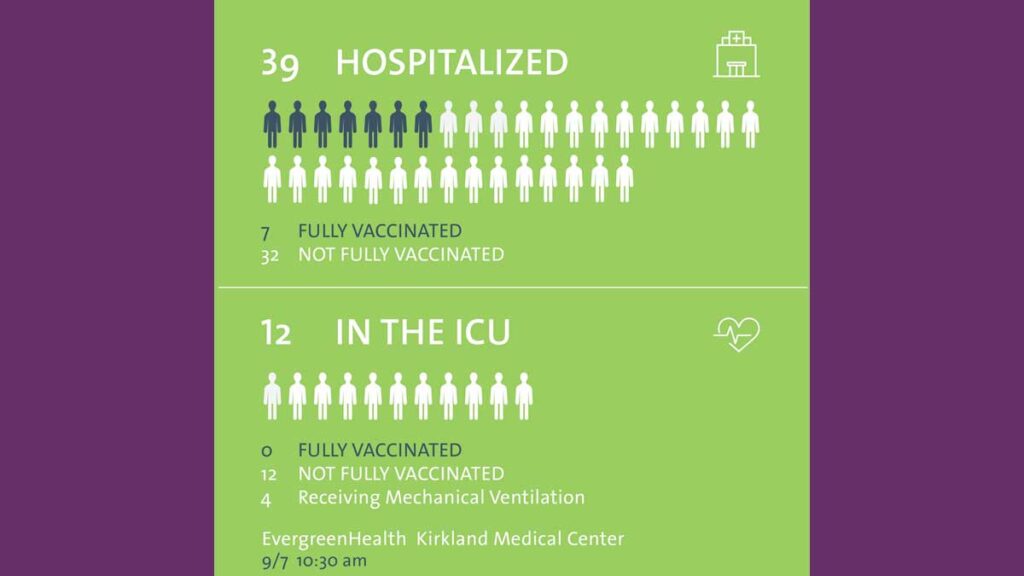 During the WSHA press conference today, red flags were raised on several issues within Washington state, as hospitalized patient numbers and ICU use continues to grow. It was explained that staff and equipment for kidney dialysis are in critically short supply in Washington, impacting more than COVID patients.
When the Delta variant exploded in India, officials saw numerous patients with kidney and pancreas damage developing type 1 diabetes as a long-hauler syndrome. A recent study by the Washington University of Medicine and US Veterans Affairs sees a similar trend in the United States.
Additionally, the organization reported that Washington state is already "triaging care." Currently, the Washington Medical Coordination Center, operated out of Harborview Medical Center, assists hospitals in Washington state to "find beds for patients where beds can't be found…beyond the normal system."
Routinely, hospitals work within their networks and with agreed partnerships to move patients. A year ago, the state agreed to share resources so that if moving patients within networks wasn't possible, coordination could happen across the state. Larger hospitals are on a "guaranteed acceptance" if a patient has nowhere to go, but that is not a long-term commitment, and the WMCC has no commitment to coordinate with or accept out-of-state patients.
"If you come in with a stroke or a cardiac event, there is no bed for you," said Dr. Linda Eckert of Kittitas Valley Hospital. "This isn't just a COVID emergency. This is an emergency for rural residents."
When questioned about what going to "crisis standards of care" would look like, WSHA president Cassie Sauer explained that Washington has an agreement not to let a single hospital going into crisis care. If resources were to become exhausted, a hospital region or the entire state would move to crisis care standards.
"Healthcare is not an unlimited resource," Dr. Sauer concluded.
Data for pediatric patients receiving acute care or in a PICU due to COVID is not available.
Back to School
School District
Status
Quarantines
Closures
Bellevue

GREEN

– Bellevue (4)
– Chinook (4)
– Newport (1)
– Sammamish (1)
– Somerset (1)
– Tyee (1)
– Woodridge (6)
None
Lake Washington

RED

– Kamiakin Middle School (81))
– Juanita Elementary (1)
– Juanita High School (8)
– Mark Twain Elementary – 2nd-grade class (multiple confirmed cases)
Northshore

YELLOW

– Bothell High School (12)
– Canyon Park Middle School (1)
– Crystal Springs Elementary (5)
– Fernwood Elementary (3)
– Frank Love Elementary (1)
– Hollywood Hill Elementary (1)
– Inglemoor High School (1)
– Hollywood Hills Elementary (1)
– Kokanee Elementary (1)
– Maywood Hills Elementary (3)
– North Creek High School (1)
– Northshore Middle School (2)
– Ruby Bridges Elementary (15)
– Shelton View Elementary (5)
– Skyview Middle School (2)
– Timbercrest Middle School (2)
– Westhill Elementary (1)
– Woodin Elementary (3)
– Woodmoor Elementary (6)
None
Local Districts Scorecard
All three area school districts are now reporting COVID cases and quarantines. The Lake Washington School District moved into red status less than one week after school started.
Bellevue School District is reporting exposures and confirmed cases at 7 different schools. However, they currently have less than 10 confirmed cases.
The Lake Washington School District has hit growing quarantines and exposures at two schools, while infections spread to four facilities. Kamiakin Middle School now has 81 students, with 53 more exposed to a COVID positive student.
Additionally, in a message sent to parents this morning, school officials indicated an entire classroom at Mark Twain Elementary was put into quarantine.
"We are writing to inform you that there have been positive cases of COVID-19 reported that involves our school. The individuals and the families who tested positive, along with close contacts, have already been notified by the school. This letter is intended to keep our community informed to what is happening at Mark Twain. Currently, we are following the direction of the Department of Health and shutting down a classroom in an abundance of caution because of multiple positive cases."
There was an additional single case at Juanita Elementary reported over the weekend.
The Northshore School District is reporting 19 facilities with students or faculty in quarantine. Currently, none of the 19 schools impacted have reported widespread exposure.
The next board meeting for the Lake Washington School District is September 13, 2021, at 7:00 PM and will be remote only.
Kirkland-Bellevue-Woodinville
No update
National Round-Up
Johns Hopkins University Cumulitaive Case Tracker 73,331 new cases and 530 COVID-related deaths on Tuesday. These numbers are missing many reports nationally due to the Labor Day holiday.
About the Mu variant
An article over the holiday weekend about the Mu variant got a lot of attention in the press. Catchy headlines announce that Mu has been found in 49 states (including Washington) and now represents 4% of all cases in Alaska.
Mu, also known as B.1.621, is considered a "variant of interest" by the World Health Organization, had blaring headlines that the variant represents 39% of all COVID cases sequenced in Columbia, is worse than Delta, and breaks through vaccines more effectively. The variant gained the "variant of interest" distinction because of the number of genetic mutations, its increased resistance to current COVID vaccines and people infected do become sicker.
Scary headline-grabbing stuff!
Mu only represents 0.2% of cases globally, and that 39% number of Columbia is under 1,000 total cases. Additionally, there are signs that the number of Mu cases globally is in decline.
When a virus mutates, it becomes concerning if it is more transmissible, more deadly, and can escape vaccine immunity. Data from Belgium indicates that Mu is more deadly, and data from multiple countries shows that it is better at causing breakthrough cases than Delta. An official R0 is not available for Mu, but nothing indicates it is equally or more transmissible than Delta. Because Mu can't outspread Delta, it can only establish itself in small pockets of unvaccinated communities.
For another variant to become the next globally dominant strain, it will have not only to be more vaccine-resistant than Delta, but it is going to have to out replicate it. That's a tall task for the next mutation.
The end of the pandemic and moving to an endemic is in sight
Are you ready for some good news? A report published as a pre-print in medRxiv called COVID-19 vaccines dampen genomic diversity of SARS-CoV-2: Unvaccinated patients exhibit more antigenic mutational variance and provided insight into how increasing vaccination rates are impacting the formation of new COVID mutations.
A critical disclaimer, the article has not been peer-reviewed, and several of the researchers have connections to various firms and agencies. However, the researchers include doctors from the Mayo Clinic and Harvard and analyzed genomic sequencing information globally. In a discussion, Dr. Katelyn Jetelina referenced the study today, along with a couple of our researchers.
The study examined 1.8 million genomes from 183 countries and territories between December 2019 and May 2021 and identified 1,296 unique lineages for COVID mutations. The study reached three critical conclusions:
The diversity of COVID mutations is declining globally
The diversity of COVID mutations is declining at a country level
Areas with more vaccinated people are seeing less total mutations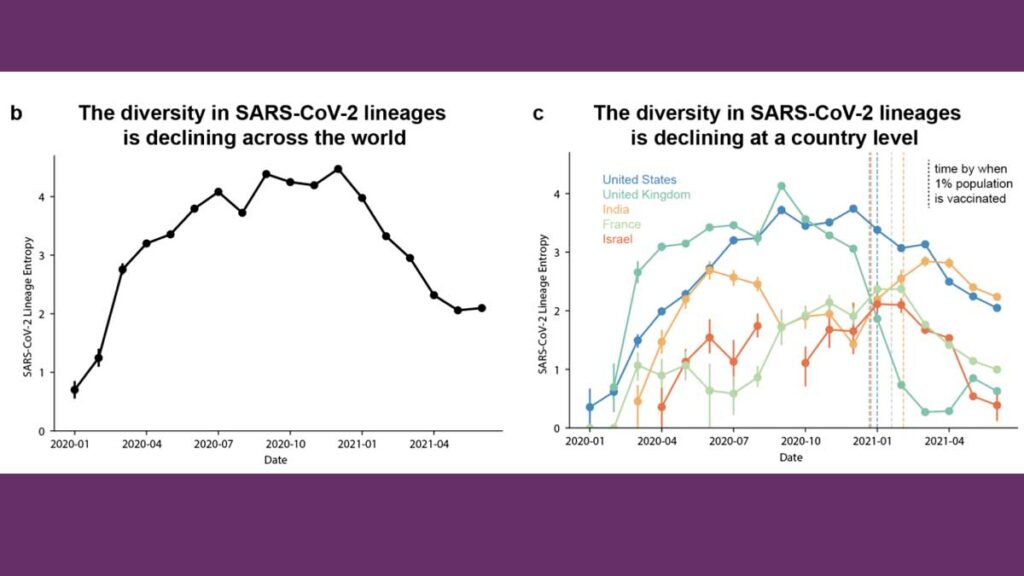 The study also indicated that vaccinated patients with breakthrough cases produce significantly fewer mutations than unvaccinated patients.
The good news is as more people get vaccinated, the number of variants is in decline, and as of early this summer, globally, we are starting to win the war. The Delta variant waves in India and the United Kingdom ran for 40 to 60 days before sharply declining. This happened because Delta is so infectious, it spreads easily among the unvaccinated and runs out of uninfected hosts.
There are signs that the United States is reaching a national peak, but there will be hotspots for weeks to come. The more vaccinated people, the harder it will be for COVID to produce a variant that can out replicate Delta and can breakthrough vaccinated and natural immunity.
We will never eliminate COVID, but if we can slow down the mutation of the existing strains, it becomes increasingly unlikely we will get something worse than Delta, that can also out replicate it.
Biden Administration to announce a new national COVID strategy on Thursday
President Joe Biden will deliver remarks on Thursday laying out a six-pronged strategy involving both the public and private sectors in his administration's latest efforts to stop the spread of the coronavirus and boost vaccination rates.
The announcement from White House press secretary Jen Psaki comes as the U.S. reached more than 40 million recorded cases of COVID-19 since the pandemic began and as health officials race to contain the highly contagious delta variant.
We can tell you this much. It will not include a national mask or vaccine mandate.
Today, the United States reached a grim milestone of 650,000 COVID deaths and is currently adding more than one million COVID cases a week.
Alabama
Alabama continued to struggle with COVID and reported having negative 92 ICU beds over the weekend, meaning 92 more patients needed ICU bed care than the state's hospitals had formal ICU beds. While some hospitals had available ICU beds to care for the critically ill, others had patients awaiting that care. More than half of the state's 1,618 ICU patients on Sunday had COVID-19. In plain language, Alabama is in "crisis care management" even without the declaration.
Of the 2,713 people hospitalized with COVID-19 statewide on Sunday, 84 percent were unvaccinated, according to the Alabama Hospital Association.
This evening, a group of night-shift nurses and hospital workers gathered outside UAB Hospital, briefly refusing to clock in for work in protest of long hours driven by the ongoing coronavirus pandemic and what they say is unfair pay.
"The COVID pandemic and recent Delta variant surge have stressed the healthcare system and put tremendous pressure on our staff – including nurses on the front lines," UAB Hospital Chief Nursing Officer Terri Poe said in a statement.
Lindsey Harris, president of the Alabama State Nurses Association, spoke to reporters after the workers entered the hospital. Although she had not spoken to the specific nurses who gathered at UAB tonight, Harris said Alabama nurses are paid 8% less on average than their counterparts in neighboring states.
Many hospitals are losing thousands of nurses and skilled professionals moving to contract work and traveling nursing due to significantly higher pay.
The state held a moment of silence today for the 12,000 Alabamians who have died from COVID.
Arizona
Tucson cannot force its employees to get a COVID-19 vaccine, and the city puts millions of dollars of state revenue at risk if it continues to enforce a mandate handed down by the City Council last month, Attorney General Mark Brnovich said Tuesday.
"Tucson's vaccine mandate is illegal, and the city could be held liable for attempting to force government employees to take it against their beliefs," Brnovich said in a released statement. "COVID-19 vaccinations should be a choice, not a government mandate."
If the city does not rescind or amend the policy within 30 days, it could lose state revenue dollars, Brnovich's office said.
In other news, the Cyber Ninjas are still sick with COVID and have not released their election report to the Arizona state Senate.
Florida
A Florida doctor said she would no longer treat primary care patients in person who has not received the COVID-19 vaccine.
Linda Marraccini, a family medicine doctor in South Miami, sent a letter to patients informing them that because the Pfizer vaccine has been approved for general use by the Food and Drug Administration, unvaccinated individuals will no longer be allowed to attend in-person appointments at her practice.
"This is a public health emergency — the health of the public takes priority over the rights of any given individual in this situation," Marraccini wrote in the letter obtained by NBC Miami. "It appears that there is a lack of selflessness and concern for the burden on the health and well-being of our society from our encounters."
Dr. Marraccini is not the first physician to make this announcement, and doctors can fire patients if they follow a procedure that does not medically abandon their patients.
There is a lot of evidence that the surge in Florida has reached its peak. Sewage samples from the Space Coast paint a different picture, with the amount of COVID in the waste system doubled from what was tested a month ago.
Georgia
Georgia set a new hospitalization record with 6,032 COVID patients statewide. In another tragic tale, a 4-year-old girl in a pediatric hospital recovering from abdominal surgery became infected with COVID and died one day later.
"It's an empty hole in our heart, and she was amazing," Chris Wishart told WRDW. "I couldn't have had a better daughter. She was everything I'd want in a daughter."
Hawaii
Maui County will require vaccination cards to access indoor restaurants, nearly identical to a vaccination ID mandate in Honolulu. The program will go into effect on September 15.
Hawaii got an emergency shipment of medical-grade oxygen on Sunday, preventing disaster at state hospitals that were critically low of the important resource. Another shipment is expected later this week.
Idaho
The sum of all fears became a reality today as multiple hospitals in Northern Idaho went to "crisis standards of care," including the Panhandle and the North Central Health District. The Idaho Department of Health and Welfare announced the decision Tuesday morning. It applies to North Idaho, based on a recommendation from a large health care committee and patient-advocacy stakeholders from around the state.
Kootenai Health in Coeur d'Alene and surrounding area hospitals have run out of resources to care for the influx of patients.
According to the Idaho Department of Health and Welfare, hospitals and healthcare systems potentially affected are:
Panhandle Health District — Benewah Community Hospital, Bonner General Hospital, Boundary Community Hospital, Kootenai Health, Shoshone Medical Center.
North Central Health District — Gritman Medical Center, Clearwater Valley Hospital and Clinics, St. Joseph Regional Medical Center, St. Mary's Hospitals & Clinics, Syringa Hospital & Clinics.
The move allows hospitals to allot scarce resources like intensive care unit rooms to patients most likely to survive.
Other patients will still receive care, but they may be placed in hospital classrooms or conference rooms rather than traditional hospital rooms or go without some life-saving medical equipment.
"Crisis standards of care is a last resort. It means we have exhausted our resources to the point that our healthcare systems are unable to provide the treatment and care we expect," Idaho Department of Health and Welfare Director Dave Jeppesen said in a statement.
This standard of care isn't just for COVID patients but any other medical care. Travel and activity in this area should be avoided because a medical emergency or car accident could result in not receiving adequate care due to a lack of resources.
Ohio
A judge ruled Monday that an Ohio hospital cannot be forced to give a patient ivermectin for Covid-19, reversing an earlier decision that ordered it to administer a parasite medication that has not been approved to treat the disease.
In an 11-page decision, Hamilton County Common Pleas Judge Michael Oster Jr. wrote that there "was no doubt that the medical and scientific communities do not support the use of ivermectin as a treatment for Covid-19."
Jeffrey Smith has been at West Chester Hospital since July and has been intubated since August 1. The original order has run its course. Julie Smith, the patient's wife, claims that her husband's condition has improved, but he is still on a ventilator.
UC Health, which operates West Chester Hospital, did not immediately respond to a request for comment. A spokeswoman told The Cincinnati Enquirer that the decision was "positive."
"We implore all members of the community to do what we know works: wear a mask, become fully vaccinated and use social distancing whenever possible," Martin told the newspaper. "At UC Health, we respect the expertise of our clinicians and appreciate the scientific rigor used to develop treatments, medications, and other therapies.
"We do not believe that hospitals or clinicians should be ordered to administer medications and/or therapies, especially unproven medications and/or therapies, against medical advice."
Oklahoma
Last week we shared a local news report from Oklahoma from Dr. Jason McElyea about ivermectin overdoses overwhelming hospitals in the rural southeast portion of the state. In his report, he indicated that patients, including gunshot victims, had to wait in ambulances for available resources.
Rolling Stone and several other publications picked up the story. Over the weekend, one of the hospitals denied the claims made by Dr. McElya. Fox News then jumped on that claim, roasting Rolling Stone for publishing false information.
Having shared the KFOR story ourselves, we monitored this over the weekend and were prepared to do a retraction. Today, INTEGRIS Gover Hospital made a statement, "what we can confirm is that we have seen a handful of ivermectin patients in our emergency rooms." The hospital added: "And while our hospitals are not filled with people who have taken ivermectin, such patients are adding to the congestion already caused by COVID-19 and other emergencies." In a follow-up message Monday night, hospital spokesperson Kristi Wallace said they had no beds available that night.
So what went wrong here? The original story we linked to provided quotes from Dr. McElya but didn't fully explain what he said. In another article done by Tulsa World, more context from the same interview was provided. He told a story about being unable for hours to find space at a big-city hospital for a gunshot victim he was treating in a small-town emergency room — but this article did not attribute the scarcity of appropriate beds to ivermectin. In fact, the article did not mention ivermectin at all.
When Northeastern Health System Sequoyah issued a statement saying he hadn't worked there in more than two months, that the hospital hadn't seen any patients with complications from taking ivermectin and that it "has not had to turn away any patients seeking emergency care," ring wing media pounced on the story as badly as KFOR did.
One thing that jumped out at us was the word "northeast," as the original KFOR story referenced "Southeast Oklahoma." At the time the statement was made over the weekend, several other hospitals had not released statements.
In reaching the finish line, it appears KFOR didn't provide proper context, aggregators (including us) were too quick to grab the story, the right-wing media was too quick to jump on a single denial, and Dr. McEyea statement as presented by KFOR was taken out of context.
Everyone screwed up – including us – we aren't going to retract the story now there is more context, but we do apologize and will not use KFOR as an aggregate source in the future.
Texas
A 74-year-old man whose family sought a court order against Memorial Hermann over his COVID-19 treatment has died.
Pete Lopez of Richmond had been at Memorial Hermann Sugar Land for almost a month battling COVID-19. According to his family, he was put on a ventilator on Aug. 19.
His family, who has been appealing with Memorial Hermann to administer the controversial drug, won a court order for the hospital to treat him with the controversial drug.
Despite the family's court order win, they claimed the hospital refused to administer the drug.
According to Snider, Lopez was previously prescribed ivermectin by VA Medical Center, but he was admitted to the hospital before he was able to take it.
"He had the prescription with him at the hospital, and the doctors knew that," Snider told Eyewitness News on Sunday. "We have been asking them to administer it since day one."
A judge signed a court order in favor of the family on Sept. 3, according to documents.
Vermont
Three Vermont State Police troopers out of the Shaftsbury barracks have resigned, and a criminal probe is underway into allegations that they may have violated federal law by making fake Covid-19 vaccination cards.
The matter has been referred to the U.S. Attorney Office in Vermont and FBI, which is investigating, according to a statement released by the Vermont State Police Tuesday afternoon in response to questions raised by VTDigger.
Michael Schirling, the commissioner of the Vermont Department of Public Safety, told VTDigger he couldn't comment beyond the statement.
"Because there's an ongoing federal investigation, I can't get into in any more detail than what's in the release," he said.
Two of the troopers, Shawn Sommers and Raymond Witkowski, submitted their resignations on Aug. 10, according to the state police statement. That's a day after another trooper brought the matter to a supervisor.
As a result of further investigation by the state Department of Public Safety, the third trooper, David Pfindel, resigned effective Sept. 3, according to the statement.
According to the statement, the troopers "are suspected of having varying roles in the creation of fraudulent COVID-19 vaccination cards," a possible violation of federal law.
Misinformation
Taking the day off