The final day for state employees to get the COVID vax is here – local and national update for October 4, 2021
As of September 20, over 68% of state employees had reported being fully vaccinated.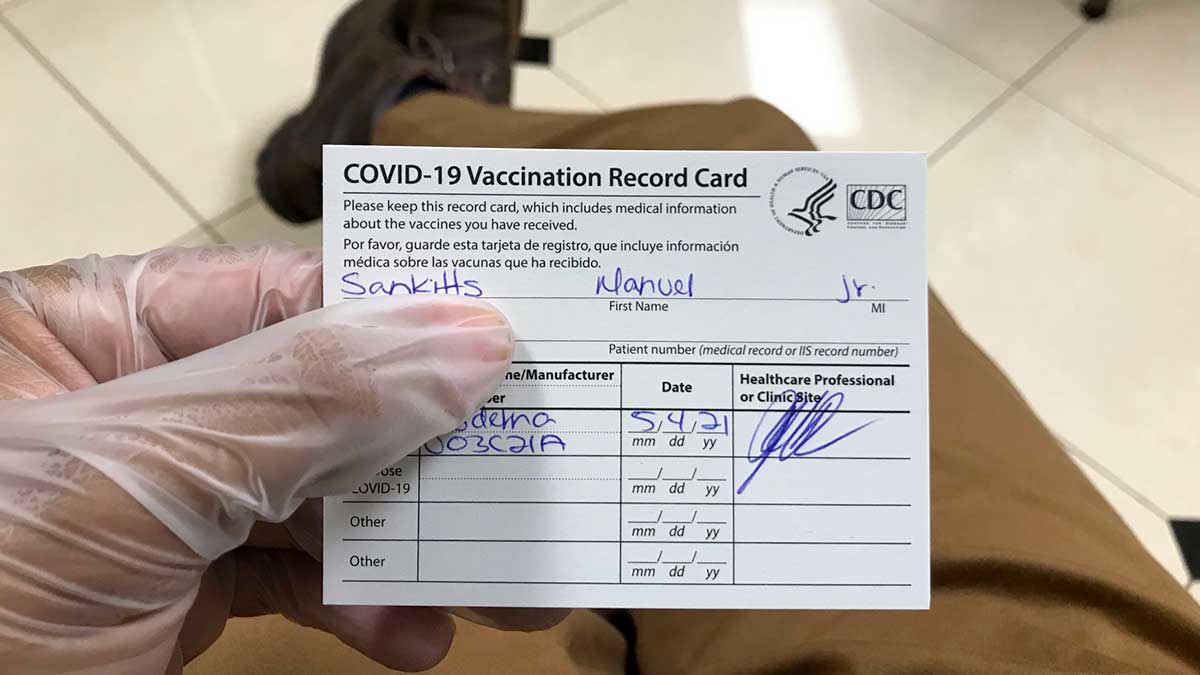 Knowledge is the best tool to fight against fear. A wise person chooses to be informed so they can make sound decisions. To join the fight against COVID misinformation, you can share this update through your social media platform of choice.
[KING COUNTY, Wash.] – (MTN) The big news of the day is there are only hours left for state employees to get their final dose of the Covid-19 vaccine or face termination. New cases rates were up slightly over the weekend, while vaccination rates increased significantly from last week.
The number of students with Covid-19 increased in the Bellevue and Lake Washington School Districts while declining in Northshore.

One of the largest creators of Covid-19 misinformation was from Leavenworth, Washington, and he was recently fired from the hospital he worked at. Up to 3,000 gathered in peaceful protest against vaccine mandates in Olympia over the weekend.
There is controversy over the obituary of Jessica Berg Wilson, 37, who died on September 7 allegedly from an extremely rare condition called VITT after receiving a COVID vaccination.
Johnson & Johnson is expected to submit paperwork with the FDA seeking permission to start a booster shot program.
In the misinformation section, we go over religious exemptions one more time including the religious claim the vaccination is the mark of the Beast.
This update uses the latest data from the Washington State Department of Health (WSDOH), released on October 4, 2021.
---
Washington State Update for October 4, 2021
Washington state COVID update
New cases increased slightly statewide over the weekend. In the South Central Hospital Region, which includes Benton, Franklin, Klickitat, Walla Walla, and Yakima counties, the 14 day moving average for new cases dropped to 708.9 per 100K. The Puget Sound (Central) Hospital Region, which represents King County, increased to 265.0.
Many counties saw a significant jump in vaccination rates ranging from 1/2% to 1.5%. The number of counties in each bracket shuffled again. The number of new cases is significantly lower in counties where 60% or more of the population is fully vaccinated.
| Percent of Total Population Fully Vaccinated | Average 14-Day New Case Rate (unadjusted) |
| --- | --- |
| 60.00% or above (4) | 223.8 |
| 50.00% to 59.99% (13 counties) | 573.0 |
| 40.00% to 49.99% (14 counties) | 684.5 |
| 29.30% to 39.99% (8 counties) | 702.7 |
14-Day New COVID Cases per 100K average by Vaccination Rate, Not Adjusted for Population
Through October 3, Washington's statewide 14-day rolling average is 436.2 COVID cases per 100K, a small increase over the weekend.
Lincoln County reported 1,040.7 new cases per 100K over the weekend, ending the statewide streak at just one day.
Counties in the 800.0 to 999.9 per 100K range include Ferry, Frankin, Grant, Grays Harbor, Okanogan, Pend Oreille, and Stevens. Stevens County is just under 1,000 cases per 100K.
Counties in the 600.0 to 799.9 per 100K range include Adams, Asotin, Benton, Chelan, Columbia, Cowlitz, Douglas, Klickitat, Lewis, Mason, Skagit, Spokane, and Walla Walla. Adams County remained just under 800 while Garfield and Yakima County are just under 600.0.
New cases were up for all age groups except 50 to 79 years old. Hospitalizations, however, were mixed.
| Age Group | 7-Day Case Rate | 7-Day Hospitalization Rate |
| --- | --- | --- |
| Ages 0-11 | 210.7 (up) | 1.0 (up) |
| Ages 12-19 | 246.0 (up) | 0.8 (down) |
| Ages 20-34 | 203.2 (up) | 5.4 |
| Ages 35-49 | 201.4 (up) | 7.8 (down) |
| Ages 50-64 | 141.4 | 14.1 (down) |
| Ages 65-79 | 108.6 | 20.3 |
| Ages 80+ | 118.5 (up) | 35.9 (up) |
7-day case rate and 7-day hospitalization rate is per 100K within the age group – the target for 7-day case rate is <25.0, but there are other factors such as vaccination rates within the age groups, how many total tests within the 7-day period, and the positivity rate within each age group
The USA Today COVID Tracker had not been updated when we went to press. The state of Washington is not reporting the percentage of positive cases.
One of the largest creators of COVID misinformation is from Leavenworth
He went by bloodytnvc5 on Tik Tok and was infamous for using a Pharoh's face and headdress as his alter ego and for wearing blue medical gloves. A three-month investigation would reveal one of the most prominent creators of hate and Covid-19 misinformation on Tik Tok was a cook at Cascade Medical Center in Leavenworth, Washington.
Cascade Medical Center, a 25-bed acute care hospital nestled in a Bavarian-themed town in the Eastern Cascades, fired two employees earlier this month, according to the Director of Public Relations, Clint Strand. Matthew Wilson of Leavenworth, 33, and Alyssa "Lyssa" Riggs of Cashmere, 21, presented themselves as a doctor and nurse on social media, leaving a trail of destruction in their wake.
Wilson was meticulous in hiding his identity, using the Pharoh's face and only showing his hands, encased in blue medical gloves. He would use a whiteboard to share his content to bypass artificial intelligence moderation while filming himself in examination rooms and surgical suites. His videos frequently used medical equipment as props. As Wilson and Riggs spread their lies, residents of Chelan County were flooding the emergency department gasping for breath, infected with Covid-19.
After months of investigation, Tik Tok creators ThatDaneshGuy and Guilt, along with a team of researchers, tracked down Riggs. Once they discovered her identity, they learned Wilson was the man behind bloodytnvc5.
Keep reading on Malcontent News.
Up to 3,000 gather in Olympia to protest vaccine mandate
As many as 3,000 people gathered on the state Capitol Campus Sunday afternoon to voice opposition to Gov. Jay Inslee's vaccine mandate for state workers, The Olympian reported.
Inslee's emergency order requires roughly 63,000 state workers to be fully vaccinated by Oct. 18 or lose their jobs, The Seattle Times reports.
The gathering was officially called the "No, you move" Rally Against the Mandate. The event did not attract counterprotesters.
Controvery swirls around obituary for Jessica Berg Wilson
An obituary for Jessica Berg Wilson, 37 stirred up controversy late Sunday when Twitter fact-checkers marked it as Covid-19 misinformation. Berg-Wilson's parents claim that she died on September 7 of Vaccine-Induced Thrombotic Thrombocytopenia (VITT). The extremely rare condition was identified in April 2021 specifically to adenovirus-vector vaccines such as Johnson & Johnson.
The FDA suspended the administration of the Johnson & Johnson vaccine on April 23 after several reports of blood clots and six possible deaths. During a five-week pause, researchers determined the incident rate was less than 3 per million people, and that common anti-clotting drugs like heparin were contraindicated. In contrast, the risk for serious blood clots due to a Covid-19 infection is 207 per one million.
As of June 30, the CDC has confirmed 35 incidents of VITT and 3 fatalities after 12. 5 million doses were administered.
Twitter has since removed the Covid-19 misinformation warning off the obituary but questions remain. VITT typically manifests itself 2 to 4 weeks after the Johnson & Johnson vaccination. There were very few doses of the J&J vaccination in August, with the U.S. government rationing distribution from June to September. It wouldn't have been impossible for Berg-Wilson to get the Johnson & Johnson vaccine, but it would be unusual.
The obituary, which politicizes her death, raises red flags for some people. VAERS does indicate the death of a 30 to 39-year-old female from Washington state who received the Janssen/Johnson & Johnson vaccine. The report did not share when the entry was made, the date of the incident, the location, or who the reporting party was. VAERS also needs to be taken with a huge grain of salt because it is a public, self-reporting tool.
Travel Advisories
We recommend avoiding recreational travel to Spokane, Yakima, Klickitat, Benton, Franklin, and Walla Walla counties. If the number of new cases in the South Central Hospital Region continues to decline, we will likely lift our advisory for this region in the next 7 days. We strongly advise against all nonessential travel to Alaska, Idaho, and Montana. Hospital resources in these regions are constrained, and you may receive inadequate care if you experience a medical emergency.
We may implement a travel advisory for Northwest and East Washington Hospital Regions based upon renewed hospitalization data now available from the Department of Health.
Thank you
Thank you to our new subscribers and those of you who have made one-time contributions. On behalf of the entire team, thank you for helping us keep the lights on!
Vaccination
Deadline for single dose Johnson & Johnson vaccine and second dose for Pfizer and Moderna vaccine is here
Today is the last day for thousands of state workers to receive their second Pfizer or Moderna dose or the single-dose Johnson & Johnson vaccine. As of September 20, over 68% of state workers reported they were fully vaccinated. Data from companies, schools, and other states such as Hawaii and New York, indicates final acceptance would likely exceed 95%.
The latest survey from the US Census Bureau indicated 8.2% of all adult Washingtonians still refuse to get vaccinated.
Multiple unions have reached agreements at a municipal, county, or state level, to extend the deadline past October 18 for individuals who received at least their first dose. Additionally, workers with denied exemptions requests will be given extra time.
Johnson & Johnson will seek FDA approval for booster shot
Johnson & Johnson is planning to ask federal regulators this week to authorize a booster shot of its Covid-19 vaccine, the New York Times reported on Monday, citing officials familiar with the company's plans.
While scientists are divided over the need for booster shots when so many people in the United States and other countries remain unvaccinated, the Biden administration announced the push for an extra dose in August as part of an effort to shore up protection against the highly transmissible Delta variant.
The Food and Drug Administration last week scheduled an October 15 meeting of its expert advisory committee to discuss whether to grant emergency use authorization for a booster shot of Johnson & Johnson's vaccine.
Pfizer vaccine booster shots are now available
Booster shots for eligible individuals are now available statewide. Individuals who received both doses of the Pfizer vaccine more than 6 months ago, are 65 or older, or are immunocompromised can receive their third dose immediately.
In the Kirland-Bellevue-Woodinville area, Walgreens, Rite-Aid, Bartell's, and QFC are offering booster shots. Additionally, the third dose is available at the CVS located within the Target store at 17,700 NE 76th Street in Redmond.
Most locations require an appointment, which can be scheduled online.
Hospital Status
According to the DoH COVID Dashboard, 17.8% of all acute care patients hospitalized in Washington have COVID. Currently, 91% of all staffed acute care beds are occupied statewide with approximately 646 available. ICUs are at 88.6% of capacity statewide, with 29.0% of ICU patients fighting COVID – an estimated 306 patients with 59% on ventilators. The state has approximately 136 ICU beds available.
The 7-day rolling average hospital admission rate for new COVID patients was 127. The Department of Health reported 1,215 COVID patients statewide on October 3 with 182 on ventilators. Data over the weekend is typically incomplete, and we expect these numbers to be adjusted tomorrow.
| Hospital Region | ICU Occupancy | ICU COVID Patients | Acute Care Occupancy | Acute Care COVID Patients |
| --- | --- | --- | --- | --- |
| East | 90.7% | 45.9% | 88.8% | 26.0% |
| North | 77.2% | 32.3% | 86.9% | 12.9% |
| North Central | 88.9% | 52.4% | 76.2% | 23.7% |
| Northwest | 92.5% | 41.0% | 96.3% | 25.8% |
| Puget Sound | 91.5% | 24.0% | 94.7% | 14.1% |
| South Central | 87.4% | 34.4% | 82.6% | 23.0% |
| Southwest | 72.2% | 33.7% | 87.6% | 23.5% |
| West | 87.2% | 25.2% | 86.4% | 18.2% |
Hospital status by region – September 30, 2021 – ICU Occupancy should be below 80%, ICU COVID Patients should be below 20%, Acute Care Occupancy should be below 80%, and Acute Care COVID Patients should be below 10%
There was very little change in the status of Hospital Regions over the weekend.
Back to School
School District
Status
Less than 10 Active Cases
10 or More Active Cases
Bellevue

YELLOW

– Bellevue (6**)
– Big Picture (1*)
– Chinook (3*)
– Eastgate (1*)
– Enatai (3*)
– Highland (6**)
– Interlake (3*)
– Lake Hills (4*)
– Newport (4*)
– Newport Heights (1*)
– Puesta del Sol (1*)
– Sammamish (1*)
– Sherwood Forest (2*)
– Spiritridge (1*)
– Stevenson (1*)
– Tillicum (1*)
– Wilburton (2*)
– Woodridge (3*)
None
Lake Washington

YELLOW

– Bell Elementary (1*)
– Barton Elementary (1*)
– Dickinson/Explorer Elementary (1*)
– Ella Baker Elementary (1*)
– Eastlake High (2*)
– Finn Hill Middle School (3*)
– Franklin Elementary (2*)
– Frost Elementary (2*)
– ICS (1*)
– Inglewood Middle School (1*)
– Juanita Elementary (1*)
– Kamiakin Middle School (4*)
– Keller Elementary (2*)
– Lakeview Elementary (4*)
– McAuliffe Elementary (1*)
– Muir Elementary (1*)
– Northstar Middle (1*)
– Redmond Elementary (2*)
– Redmond Middle School (1*)
– Redmond High School (2*)
– Renaissance Middle School (1*)
– Rosa Parks Elementary (1*)
– Rush Elementary (1*)
None

Northshore

YELLOW

– Arrowhead Elementary (2)
– Bothell High School (22)
– Canyon Creek Elementary (10)
– Canyon Park Middle School (4)
– Crystal Springs Elementary (23)
– Cottage Lake Elementary (4)
– East Ridge Elementary (3)
– Fernwood Elementary (2)
– Frank Love Elementary (7)
– Hollywood Hills Elementary (12)
– Inglemoor High School (1)
– Innovation Lab High School (1)
– Kenmore Elementary (1)
– Kenmore Middle School (14)
– Maywood Hills Elementary (9)
– North Creek High School (4)
– Ruby Bridges Elementary (1)
– Secondary Academy for Success (7)
– Shelton View Elementary (4)
– Skyview Middle School (17)
– Sunrise Elementary (1)
– Timbercrest Middle School (7)
– Westhill Elementary (35)
– Woodin Elementary (8)
– Woodinville High School (13)
– Woodmoor Elementary (11**)
None

Local Districts Scorecard – * indicates positive cases only ** indicates 5 or more confirmed positive cases
We redefined the school district statuses. Information for classroom and building closures has been a challenge to obtain, both for closures and reopening. We are adopting moving any school with more than 10 active COVID cases reported into the red, and we've adjusted the third column to reflect this change.
The Northshore School District saw a large number of quarantines end over the weekend moving the district back to yellow. The Bellevue School District has two schools with more than 5 confirmed COVID cases.
We continued to encourage parents to request improved daily data reporting from the Lake Washington School District.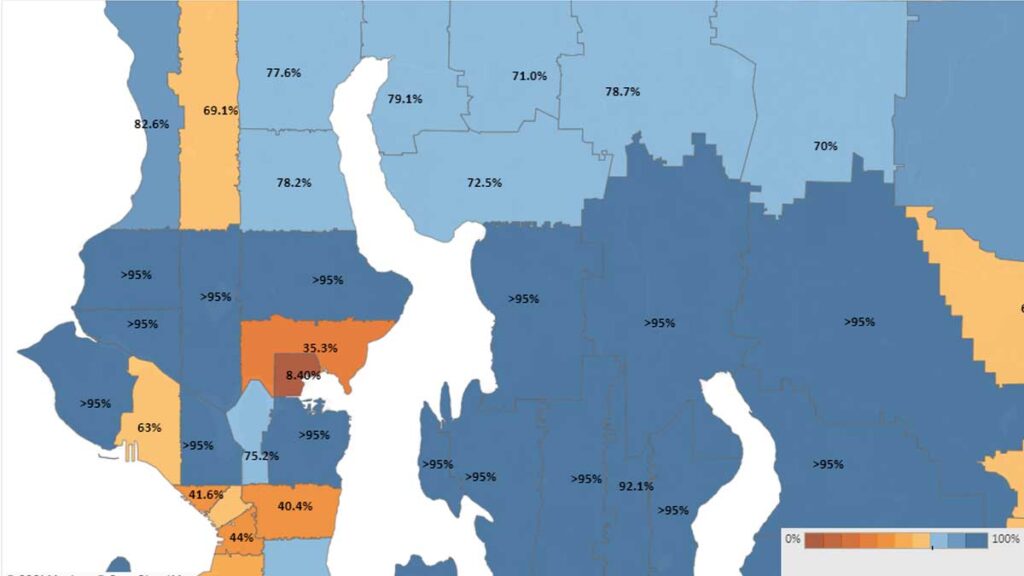 Vaccination rates continued to climb for adolescents between age 12 and 19 in the northeastern parts of King County but still lag far behind the east-central region. In the northern half of Kirkland, the lower vaccination rate for teens is keeping the overall vaccination rate lower than the southern half of Kirkland.
Kirkland-Bellevue-Woodinville
King County Public Health updated the vaccination rates by zip code, with the numbers improving throughout the region. The northern half of Kirkland, Bothell, and Kenmore, continue to lag behind the rest of the local area.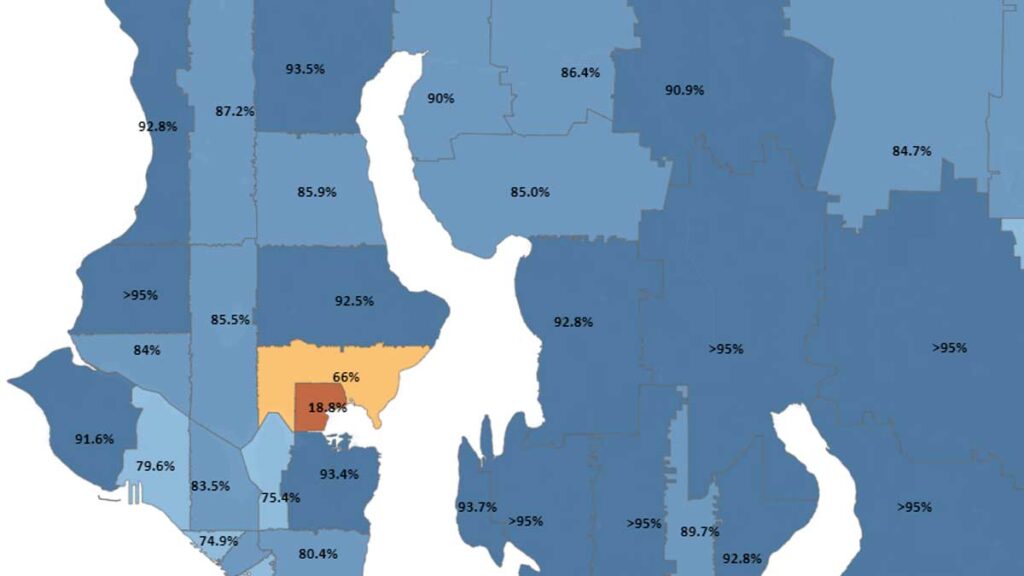 | Zip Code | Percent vaccinated, at least one dose, 12 and older |
| --- | --- |
| 98155 | 92.5% |
| 98028 | 90.0% |
| 98011 | 86.4% |
| 98034 | 85.0% |
| 98033 | 92.8% |
| 98072 | 90.9% |
| 98052 | >95.0% |
| 98004 | >95.0% |
| 98039 | 93.7% |
| 98005 | >95.0% |
| 98007 | 89.7% |
Vaccination rates for those 12 and older by zip code – at least one dose
National Round-Up
Johns Hopkins University Cumulative Case Tracker is reporting 25,215 new cases and 237 deaths nationwide. Because most states don't report data over the weekend, the Monday update is incomplete.
Southwest Airlines is joining United, Alaska, JetBlue, and Hawaiian in mandating vaccines for their employees. its 56,000-person workforce must be vaccinated against Covid-19 by December 8 to continue working at the airline because of new federal rules, joining other carriers who made similar announcements last week.
No state round up – taking the day off
Misinformation
Today is the last day for many in Washington state to get the single dose Johnson & Johnson adenovirus-vector vaccine, or the second dose of the mRNA vaccines from Pfizer and Moderna. With the number of people saying they'll never get vaccinated down to 12% nationally and just over 8% in Washington, the anti-vaccination movement continues to shrink. Over 2,000 workers have applied for a religion-based vaccine exemption, and many have already been rejected.
Which religions hold the belief that followers should reject vaccinations?
To research this, we wanted to look back before 2020, and we decided to use a source from academia. The Health and Wellness portal of Vanderbilt University Medical Center has a white paper on the topic, published in 2010.
The short answer is none of the major religions nor their branches have an anti-vaccination doctrine. The multifaith movement Faith 4 Vaccines provides additional clarity. Over 70 religions are part of the group, which supports ongoing vaccination efforts and equitable distribution.
Some religions have come forward with direct statements to the faithful that getting a vaccination for Covid-19 is accepted in God's eyes.
Even among religions people commonly believe are against vaccinations, faith leaders have stated their support pubicly, in some cases decades ago. The Church of Christ, Scientist, which strongly encourages members to rely on faith and prayer for healing, does not have an official doctrine against Western medicine or vaccinations.
The Jehovah's Witnesses haven't been against vaccination since 1952. In an article published in 2011, the group provided a list of health recommendations, including encouraging vaccination.
There are a few small sects, mostly aligned with Christianity, that have an established theological objection. That includes Dutch Reformed, Faith Tabernacle, Chuch of the First Born, Faith Assembly, and End Time Ministrie.
For the strictest adherents of Islam and Judaism, some shun vaccines and other Western medicine. Making a claim along these religious grounds while not having a demonstrated history of adhering to grooming, clothing, dietary, and work schedule requirements will likely be problematic during the evaluation process.
For those who follow a faith supportive of Covid-19 vaccination, there are two primary justifications for continuing to seek a religious exemption. The first is a firmly held belief against abortion.
We evaluated eight Covid-19 vaccines and found that five used cloned fetal cells in testing or development, and two used the cells in production. The Pfizer and Moderna mRNA vaccines were tested on fetal stem cells, and the Johnson & Johnson vaccine used the cells during production.
The cells used in the vaccine development or testing come from a genome known as HEK-293. The original 293 cells were derived in 1973 from the kidney of an aborted human embryo. Hence the code, Human Embryonic Kidney – 293 – HEK-293. The cells were successfully cloned and have reproduced countless times, replicating every 24 to 48 hours.
Many hierarchical religions explored the implications of HEK-293 years ago and decided that the material does not represent human life. Additionally, HEK-293 has been used in the development, testing, or production of many common medications.
If you've ever taken any of these drugs or vaccines, especially the listed prescription drugs, a religious exemption request is probably in jeopardy.
Tylenol / Acetaminophen
Advil / Motrin / Ibuprofen
Aleve / Naproxen
Pseudoephedrine / Sudafed / SudoGest / Suphedrine (and we can add Meth to that list)
Diphenhydramine / Benadryl
Loratadine / Claratin
Dextromethorphan / Delsym / Robafen Cough / Robitussin
Guaifensin / Mucinex
Tums
Maalox
Docusate / Colace / Ex-Lax Stool Softner
Senna Glycoside / Sennoside / Senna / Ex-Lax / Senokot
Pepto-Bismol
Phenylephrine / Preparation H / Vazculep / Suphedrine PE
Mepyramine / Pyirlamine
Lidocaine / Lidoderm / Recticare
Levothyroxine / Synthroid / Tirosint / Levoxyl
Atorvastatin / Lipitor
Amlodipine / Norvasc
Metoprolol / Toprool XL / Lopressor
Omeprazole / Prilosec OTC / Zegerid OTC / OmePPi
Losartan / Cozaar
Albuterol / Salbutamol / ProAir / Ventolin
Sacubitril / Valsartan / Entresto
Tenapanor / Ibsrela
Enbrel / Etanercept
Azithromycin / Zithromax
Hydroxychloroquine / Plaquenil
Remdesivir / Veklury
Dapaglifozin / Farxiga / Ipragliflozin / Suglat / Enavoglifozin / Jardiance
Ivermectin / Stromectol
Canagliflozin / Invokana / Sulisent / Prominad
Metformin / Glucophage / Riomet / Glumetza
Cerivastatin / Baycol / Lipobay / Fluvastatin / Lescol / Pitavastatin / Livalo / Pravatatin / Pravachol / Rosuvatatin / Crestor
Simvastatin / FloLipid / Zocor
Oxbryta / Voxelotor
Lisinopril / Qbrelis / Zestril / Prinivil
Regeneron / regen-COV
Hepatitis A vaccine
Rubella vaccine
Varicella vaccine (chickenpox)
Zoster vaccine (shingles)
Rabies vaccine
This is a partial list of common drugs. Many other medications have used HEK-293 as part of their testing, development, or production.
At some point in their development, other common vaccinations, including Rubella, part of the MMR, Hepatitis B, Varicella (chickenpox), and Zoster (shingles), use HEK-293. For healthcare workers, the MMR, Hepatitis B, Varicella, and if over 50 years old, Zoster vaccines are required in Washington state. That includes EMTs, paramedics, firefighters, and police officers who hold an EMT certification as part of their job duties. If there is no historical objection to receiving these vaccines, reviewers will likely reject a religious exemption request.
The second objection among fundamentalist Christians is that receiving the vaccination is the Mark of the Beast.
16 And he causeth all, both small and great, rich and poor, free and bond, to receive a mark in their right hand, or in their foreheads:

17 And that no man might buy or sell, save he that had the mark, or the name of the beast, or the number of his name.

REVELATIONS 13:16-17 – KING JAMES BIBLE – PUBLIC DOMAIN
The University of Chicago has an analysis of Biblical scripture and what John the Elder likely meant when he wrote about "the Mark of the Beast." Scholars largely believe that the Beast was Emperor Nero of Rome. A papyrus scroll from the late third or early fourth century provides support to this claim.
As emperor, Nero's face would have been on Roman currency, and Roman citizens would not be able to run a business without a letter bearing his seal. The mark of the Beast is both on the head and in hand.
A counter-argument is John wrote Revelations in Greek for a Greek audience. Because John wasn't within the Roman Empire and Nero was dead, he had nothing to fear and wouldn't need to use coded language. However, Nero traveled to Greece in A.D. 66 and was a lover of Greek culture. The Greeks even delayed the Olympic Games by one year so that Nero could be a competitor – a high honor.
Seen through this lens, it becomes more apparent why John the Elder would warn the Greek people, who held Nero in esteem. Although Revelations is believed to have been written 20 to 30 years after Nero's appearance in the Olympic games, there was a widely held belief that Nero would return and rule in madness again.
John the Elder would have good reason to fear retribution from the Greeks themselves and the potential spiritual return of Nero. Additionally, the religious argument of the Mark of the Beast has been used for decades for other modern constructs. Examples include social security numbers, bank account numbers, credit cards, and licenses.
Other governments and businesses have honored the requests from the faithful who have previously demonstrated deeply held beliefs that align with religions against vaccination. However, faking deeply held religious beliefs is easily identified when a person's behavior before January 21, 2020, is considered.